Gloomlogue - a fantastic, feature rich Windows Phone photo editor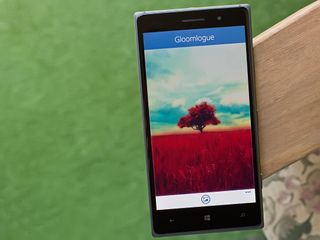 When Gloomlogue first hit Windows Phone Store shelves earlier this month, I have to admit that I expected to find a basic photo filter app with a funny name.
However, when I launched Gloomlogue and dug into things what I found was a feature rich photography app that is rather impressive. You start editing your image by cropping it to a 1x1 aspect ratio (making it Instagram friendly) and then choose from fifteen gloom filters. From there, you head over to a very respectable photo editor to make any final touches you would like.
Gloomlogue has seen its fair share of success over on iOS and the Windows Phone version easily ranks up there with the top photo editors for this platform. It is a Windows Phone app well worth trying.
Gloomlogue has a ton of features and the photo editor can be slightly overwhelming to some. However, the layout and flow of the app helps ease you into all of these features to reduce any panic attacks you might have when you discover what all this Windows Phone app can do.
The first order of business you will need to take care when you begin using Gloomlogue is to find a photo to edit. The only control button on the main menu will send you to your Windows Phone Picture Hub where you can pick an existing photo to edit or launch the camera app to capture a new image to edit.
Once you have a photo in hand, your next task is to crop the image. Gloomlogue only supports a 1x1 aspect ratio for cropping your images. You can pinch to zoom into a portion of a photo but the 1x1 ratio makes the image Instagram ready. I wouldn't mind seeing addition crop ratios available but the 1x1 crop isn't terrible.
After you crop your image the next step in using Gloomlogue is to choose a gloom filter or mode. While not an official definition of a gloom filter, to me it adds a soft or hazy tone to your images with slightly oversaturated highlights. Some of the modes will add tints to the image or tweak the overall color temperature.
There are fifteen gloom filters that include Normal, Cool, Warm, Noir, Vintage, Dusty, Vignette, Boosted, Faded, Milky, Shadow, Soleil, Lomy, Ombre and Poster. There is an adjustment bar to set how much of the mode is applied to the image.
When you have the gloom mode set just right, tap the check mark at the top of the screen and Gloomlogue will take you the app's photo editor. This is where the photography app gets a little punchy with all the features. The tools Gloomlogue offers includes:
Border: Add a simple border around your image with the ability to customize the width of the border and color.
Orientation: Flip or rotate your image as needed.
Text: If you need to add a label, phrase or any other text message to your image Gloomlogue has nice selection of fonts, colors and text sizes to choose from. Text can be centered or justified left or right on the image.
Adjust: This is where you will find exposure adjustments for brightness, contrast, exposure and saturation.
Filters, FX-Effects and Effects: These three features include 45 image filters, 14 special effects and 19 effects that can be applied to your images.
Blur and Enhance Tools: Here you can soften or auto-enhance your image as needed.
Frames: Along with the solid borders, Gloomlogue has 54 frames to choose from.
Sharpness: Gloomloque has seven levels of sharpness to increase image detail.
Angle Tool: If you are so inclined, you can tilt your image with this free rotation tool that support 360 degrees of turn.
Light: Add a little bokeh or light leak effects with 33 light filters with adjustable opacity.
Color Fix: Adjust the RGB color levels with this tool.
Mirror: Four directions of reflection can be found with this editing tool.
Distort Tool: Here you can warp, twist and spin your images with 16, adjustable distortion effects.
HDR: For those who prefer the High Dynamic Range look for photos, Gloomlogue will let you adjust the noise suppression, saturation and strength levels to give your photos that HDR look.
Color-Swap: Here you can replace one color tone with another.
Mono: This tool lets you preserve one color tone while the other colors are converted to grayscale.
At the bottom of the editing screen you will find the number of changes you have made to an image, undo and redo buttons and a button to show the original image.
If my math is correct, Gloomlogue has 181 effects or borders you can apply to your images. Add all the adjustments you can make to your images and Gloomlogue weighs in as one of the heavy weight Windows Phone photo editors.
While the feature set is impressive, I think the layout of the editor could be streamlined a little by combining the three filter tools and combining the orientation, angle and mirror tools. I don't think the current layout is bad or a deal break by any means but I often found myself bouncing around the app a lot trying to find a certain filter style.
After you have tweaked your photo to your liking, at the top of the editing screen you will find a share and save button. The share button opens up your typical Windows Phone sharing options (email, messaging, Twitter, Tap to Share, etc.) Saving an image will send it to your Pictures Hub in the Saved Pictures Album. Images are saved at a resolution of 1200 x 1200 pixels and 96 dpi.
Overall Impression
There is a good number of quality photo editors available in the Windows Phone Store and Gloomlogue makes the choice a little harder to make. Granted Gloomlogue does give your images a unique feel with the gloom modes, which seems to work well with portraits and landscapes but can add a little pop to any image.
Luckily, we can have more than one photo editor installed on our Windows Phone.
I would have liked to have seen a full range of cropping options but can live with the 1x1 crop. You will also see frequent reminders to rate the app in the Windows Phone Store that can be annoying but once you rate the app in the Store, these disappear. So remember to rate the app once you get a feel for things.
At last check, Gloomlogue is rated at 4.5 Stars in the Windows Phone Store and even with the cropping restriction, I would go ahead and bump Gloomlogue rating up to the full 5 Stars.
If you try Gloomlogue, let us know what you think of the photo editor in the comments below.
Download Gloomlogue for Windows Phone (Free)
Windows Central Newsletter
Get the best of Windows Central in in your inbox, every day!
George is the Reviews Editor at Windows Central, concentrating on Windows 10 PC and Mobile apps. He's been a supporter of the platform since the days of Windows CE and uses his current Windows 10 Mobile phone daily to keep up with life and enjoy a game during down time.
I didn't like the editing style of this app. Looks more like screwing up the picture than editing.

I tried it and didn't like the effect. As far as I could tell I couldn't find a way of using the editor without applying the effect. Fhotoroom and Fantasia Painter remain my top image editing apps on WP.

I tried and didn't like it too. Whatever, it's free and I'm happy seeing more apps comes to this platform.

It's always nice to see new apps. Personally I didn't like this one, and the editing style. But I hope someone enjoys it.

Yeah, it's not my style of editor either and I **hate** being forced into the InstaSquare, 1x1 aspect ratio.

This is one of the best photo editors ive used, lot of filters, effects, borders to choose from!

The filters are awful though.

Not for me! Though some are awful, u r right!

Thanks for the info!! I'll download it and see if it's worth trying

It's amazing.......make your own if you don't like it!
Well done dev

This is a fun app to use. I like it very much for making stylized artsy edits.

I installed it when it came out and it is quite good.

I like the amount of filters it has, but definitely not my favorite edition app.

It's excellent so glad it came to windows phone

I use lots of photo apps, but I have to say that this one really isnt making an impression. LoMob blows this out of the water and that app is years old.

Photo editors...photo editors every where!!!!!

Glomlogue - making every photo look like crap. TM.

One of my favorites. Has a nice effect that is different from all of the Instagram clones out there.

"A feature rich photography app that is rather impressive and feature rich." Heh.

My first impressions were bad but after giving it a good try I came away with nice results... The UI is a bit funky but and could be streamlined as the article states.

I love this app very much & my wife apprently loves it too. More frames & the need for really cool collages would be nice.

Article about this app already posted before

THIS IS AN AMAZING APP!!! i don't understand why people complain for little details when big names come to the platform and release their apps!!! Come on people!! It's great that developers support windows phone...and you complain for too much editors in the store? JESUS!!!! This app is fully-packed with great features!!! Have you even tried it?

Until it lets me use the entirety of my pictures and doesn't crop them in squares, I wouldn't call this anywhere near fantastic..

Wtf!! It has the same UI just like Instasquarer! Bullshit!

I've installed.possibly all the photo apps of.the store.but the one I find myself using most of the time is this one...

Be polite even if you don't like it, otherwise it be back to square one whine, whine that Windows phone is lack of apps.

Blah blah blah..... I know, I know you have been paid well.

Windows Central is paid by developers to advertise apps?!?!

This world is so predictable - whenever anything new comes to the market, everybody feels the calling to istall that) However, it can be not worthy installation at all) I use Windows since the very start of the company dealings, it's really a brilliant invention, a multifunctional soft with much space for developments. Photos are part of our memories, so we try to snap them asap and edit with the best tools) Aside from the Gloomlogue, which leaves no doubts of its fantastic features, I use http://ams-collage.com/ to create my own masterpieces) And don't forget old sport Photoshop - never fading effect for photos, as for me) Good luck!)

Ugh! Such detailed controls wasted on an app that demands 1:1 square output and overall gloominess. Sad. Who the hell wants to be constrained like that? What other photo editor has such granular controls (like individual rgb sliders)? Thumba Pro does but Thumba Pro doesn't put out high-res files. Suggestions?
Windows Central Newsletter
Thank you for signing up to Windows Central. You will receive a verification email shortly.
There was a problem. Please refresh the page and try again.