Glympse travel tracker for Windows Phone gets an update after a three year hiatus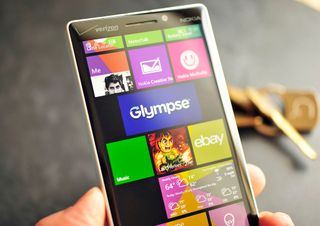 Glympse (www.glympse.com) is probably one of the most useful services when making a car trip. The free service allows you to share your journey with friends or family so that they can track you in real time. For instance, imagine you're meeting up with a friend in the city. You can give them a Glympse along with your ETA, allowing your compadre to see where you are (and perhaps preventing an unnecessary call when you're running late).
Gympse originally arrived on Windows Phone back in 2011 and before that it was even on Windows Mobile 6. The app had a handful of updates jumping from 1.0 to 2.0 in five months, but after November 2011, the well went dry. The deserting was particularly painful because it wasn't until Windows Phone 8 and the background GPS tasks that Glympse had the potential to be fully unleashed. On Windows Phone 7, the Glympse app had to stay in the forefront, losing the signal if tombstoned.
However, June 17, 2014 is the day Glympse finally returned to Windows Phone.
From the new app description:
Background operation - Glympse will now be able to run in the background. This enables users to share their location continually, for the amount of time set, while using other applications and without having to update settings to allow permission for Glympse to run while the screen is off.
International phone number support - Glympse now leverages the default messaging app on the device to allow users to share their location with any phone number supported by their carrier.
Easier view-in-app capability - Viewers can now easily launch and view a Glympse in the app from a link received in a text message or email through the "View in App" button in the Glympse web-viewer.
The app still works for Windows Phone 7.x users as well, but if you're on Windows Phone 8, you'll see the most benefits with the new background process.
The app feels fast and fluid, and I like the new UI design, which is vibrant and bold. Glympse is simple to setup, not requiring an account. A user simply creates a profile with their name and optional photo, and they then can send the Glympse to anyone in their contacts via email or a phone number. From the invite, the recipient gets a personal URL in which they can follow your trip in real-time on their phone or PC (it's a webpage based system).
I've always found Glympse to be a fascinatingly useful app, but I was quite upset to see them abandon Windows Phone. Now, the company is embracing the new Microsoft, and I couldn't be happier. So do me a favor, give the app a shot, leave a review and welcome Glympse back to Windows Phone.
Thanks, richard_rsp, for the tip!
Daniel Rubino is the Executive Editor of Windows Central, head reviewer, podcast co-host, and analyst. He has been covering Microsoft here since 2007, back when this site was called WMExperts (and later Windows Phone Central). His interests include Windows, Microsoft Surface, laptops, next-gen computing, and arguing with people on the internet.
Dunno if it would be that useful...??! I am really pissed off because of it being not available in my region!!

I find it useful. The service has been around for years and years, suggesting others find it useful. Whether you do or not is certainly your business, but the longevity of a service implies that people have a need for this app.

Hmmm........ We'll that's true though... The good thing is at least they are back to updating it.

I've been waiting for this app for ages and now that it's available it doesn't install because I'm on the 8.1 developer preview :( Still, hopefully an update will come quickly. Just glad it's coming.

That's odd, I installed it with no problem on both Icon and 1520. I see it can't be installed to the SD card, but that's not that big of a deal I don't think.

i had no problems using or installing this with the developer preview on a 1520 or a 920

I had the same problem. I uninstalled existing app and was able to reinstall it without any issues.

Installs and runs just fine on WP8.1 Lumia 925. Nice app !

Installs and runs just fine on WP8.1 Lumia 925. Works OK in the Netherlands Nice app !

Speaking of useful... It would be useful to be able to receive email notifications when someone replies to our comments... Any word on when a fix is coming.

I really wish you guys could update your comments page where the last or (most current) comment is on the top. Because it "seems" so many of these commentors don't even read the article and they post comments without any thought. Yes, those "seems faster" will disappear and be relegated to the bottom. Oh how I wish you guys would take that step. And there's nothing worse than someone starting off with "off topic" and doesn't even comment about the article at hand. Yes I am currently off topic but only because of the first comment. That said. I actually read the article and downloaded the app on both mine and my wife's phone and think it's something we both would find useful.

Dude you can't blame me!! The app wasn't available in my region so I was really pissed off!!

i rememebr using it on my windows mobile 6, and it worked outside us

This app is a very nice one to have, so you can allow the people you are planning to meet up with track your route; and you will not have to notify them if you are going to be late. One thing I would suggest is give them a heads up because the web link will come from a different phone number.

Was excited to use it but not available in my region :(

Damn, I was hoping they were finally going to make it available outside the U.S. Either that, or hopefully EchoEcho get's an update so it useable in 8.1, so far it is still broken. I used to use EchoEcho all the time with my wife. My job has been all over the place and returning home at unpredictable hours. I would send her a "glympse" so she could see where I was and how long before I would be home.

Hopefully it will be available outside the US!

It should have been available outside US.. Really sad.

It is as I'm in The Netherlands and it works OK here. Lumia 925, WP8.1 DEV I installed it from the US App-store though....

I'm in The Netherlands as well and waiting years for this app. On their website it said they are working on getting the app available in more regions. But I think it says that for 2 years already. Now the app has finally been updated but still it's not available outside the USA :( I don't understand the reason cause the app works perfect on Android over here...

I now have the International Beta so it will likely be in the store soon I am in the UK

3 years... Hm that's a long time

WooHoo - been using this since app since I had my Blackjack! The lack of background capability was the worst! Well...that and trying to remember the unique code to type into the app when trying to view another Glympse!

Ha. I still have my BlackJack. First 3G phone on AT&T. Great memories.

Not available for me in the UK.

Do you need to keep the app open for it to track you? If so, that plus GPS running seems like it may be a battery killer

The app can run in the background with the screen off. It uses some battery, but its not nearly the amount that it required with Windows Phone 7 and having to leave the screen on! IMO, well worth it to let people know when I am arriving! Love this app!

Not available in Poland :(

Excellent. I'm hitting the road next week to go see my new granddaughter in North Carolina. This will be perfect for my son to have so he doesn't text me every hour along the way as he tends to do when I'm traveling. :P

Finally! I can download it again!

Yes I love this app. Had to stop using it because of no updates. I ride motorcycles and when its time to meet up and someone not there its a tough time. Can answer phone while riding. Now we can see each others progress

That's what I was thinking. I ride too...

I use this everytime I go riding. When I'm on my way home from the mountians here NC, I send my wife a Glympse along with couple other riders so we. know all is home safe.

Wahey now if I knew anyone in the US who had this, a Windows Phone, who knew my email/number and was on a journey and wanted me to, I could track them. Apart from that I'm calling chocolate teapot.

Don't need to be on a WP to track a Glympse...can be on any other device. You don't even need to have Glympse installed on the other device to track them. My buddy came over from Chicago and I tracked his progress from Chicago all the way over. He was using his Android phone, and I didn't even know Glympse existed until then. Its a great App.

Sorry, I should have added a sarcasm smiley or something. I don't doubt the usefulness. I was about to try it but unfortunately they may have added the ability to recognise international numbers but they forgot to add the ability to use it internationally. So my original comment stands - to me, useless.

Sorry bro...missed the sarcasm entirely!

Signup for the beta as I did or change your region to US and start downloading....

Well yeah . . . but no thanks

Been waiting for this one for a long time. Excited!

You cared enough to comment, so you could actually care less.

Finally. Don't need Waze anymore! One less Google service.

Waze for traffic and reporting, though, is great!

I was going to say that Waze does this for me and I'm only running one battery sucking app instead of two.

While it was handy in the beginning, the lack of background update support in the previous version was frustrating since I had my GPS software running in the foreground most of the time. When I switched to using Waze for GPS I found that it had the same functionality and have been using that and dumped.

I liked the previous version better than this one...even had a transparent tile...this one does not! I'm very confused by this story, b/c the Glympse version I installed Sunday, had a transparent tile, and had a welcome screen describing what their WP8 app could do that WP7 couldn't, etc. I actually preferred the look and feel of that version over this new one.

Give them positive feedback in the Store! It's clear they're back on WP now and have someone working on the app, I'm sure they're open to feedback on how to make it better.

Will do! Its incredibly useful! Saves the 'how long/where are you' calls from folks as we're driving...love it!

Daniel any idea why they only support USA on Windows Phone but on Iphone/Android support seems to be for multiple countries. It`s very disappointing!!

That's a very interesting point, I forgot about it being available in ALL regions on Android!!

And i thought that it would be, bug fixes and improvements
:)

Just tried downloading it here in South Africa: Doesn't appear to be available in this region. Thought they were going to release it internationally?

If your WPC comment email notifications aren't working please use the "Help&About tab to send WPC staff a heads up!.. I know a few of you are having problems receiving replies to your comments.

i look at that background color and i'm reminded that the os is still stuck with only the black and white theme. smh. ffs microsoft, how hard is it to add a couple more colors?

I guess only Americans travel and need to communicate their whereabouts

I thought that the NSA does that for them ;P

Not available in UK for me either

love all the apps but my brother is on ios and my sister on Android and they want nothing to do with apps that would work for the 3 of us which is nuts in my book

If you just want to send them a Glympse they don't need to have the app installed. It uses the browser.

I used to love this app (on WM). But with it being so neglected, I found no use for it anymore. Oh well.

International version coming very soon. In fact, we can add you to our International Beta Program if you write to us and let us know you're interested! https://glympse.zendesk.com/anonymous_requests/new

Nice!!! Thanks for your support on WP platform!

Ok, that's fine but why does WP have to have two versions when Android and iOS only need one?

Thanks for bringing it back to WP!!!

I love Lumia icon's design

BlackBerry incorperate Glympse into BBM, making it more useful than Foursquare.

Why not in the UK?.....i've downloaded this on the developer version of 8.1 in the UK and it works a treat.

That's what I don't understand, I can download and sideload this on my WP but can't download it on the device because I'm in a different region!!!

On the minus side, pinning secondary tiles (to send a specific glympse) doesn't work in this version. On the plus side, trying to do so displays an error that says they will bring this functionality back in "next week's update." Hopefully that means they plan to have updates more frequently than every 3 years going forward... :)

There's hope for Flickr yet ;)

Is there a way to search for apps based on how long they've gone untouched? There was an article about the "zombie apps" recently... We need to shame them into action! :D

Downloading now! I read on my iPod touch days about an app like this. Don't know if it was this one actually but i thought the idea was really clever.

I like the concept and appreciate the dedication to empowering user privacy, but 4 hour maximum? When I read the description of the app I thought it would be a great tool for my father and his friends who like to take motorcycle trips (they start in different states and meet up a day or so into the trip). I thought it might have been nice for my mother to be able to know where my father is while on these trips... 4 hours is really limiting the scope.

Use Waze. Solves your problem and you are only running one app for nav and route sharing.

International Release please (Australia) Can't understand why I was able to use this years ago on WM 6.x and yet we've been region locked out of the WP version!

Join the Int'l beta program...details are above!

Back in the Windows Mobile 6 days I used to drive from Michigan to Texas in one shot. I used Glympse to let my parents and friends track my progress. As more apps started to be released with location sharing I kept being reminded of how they all failed hard compared to the real-time aspect of Glympse. Glad to see them back on board.

Glympse - back to the future for WinMo users of yore!

Maybe for americans it's useful. They are used to being tracked. But I think idea of being followed by someone is hideous. Probably I'm too old.

Ah I see. Only "Americans" are tracked. Maybe you are too old.

I've already used this twice today, and got my girlfriend to install it on her iPhone. I, of course, preferred the WP version... But I wish the WP app had a "smart dialer" instead of having to open the phone book, at least for names, emails or phone numbers that have already been used before in Glympse (if it's the API that doesn't allow access to the WP phonebook directly). Awesome app, awesome service.

Not available in the UK for me. Fine on iphone and Android, but not WP!

Got an email from the Glymse team they will be releasing the International version soon..

This app is only halfway useful. Yes it does show you your friend's location BUT, it doesn't allow you to navigate to those coordinates with a GPS app.

I'm in Brazil using USA setup on phone in order to get Cortana and able to download this and exe. Will try functionality soon though. Waze sucks my battery, how about this app? Since it runs on browser, maybe it's better on this regard. Anyone commented on already? Haven't read, rushing here.

How on earth do you set it to continuously update location ? I am in the UK and its working fine using UK locations on 8.1 DP with US as set region

where can this wallpaper in your home?

By reading the description... I wanted the app...but sadly it isn't available in India!!! So please make it available in here too..

We released Glympse internationally this week, so now you can get the app worldwide in the Windows Phone Store! Thanks for your patience and hope you enjoy it :)
Windows Central Newsletter
Get the best of Windows Central in in your inbox, every day!
Thank you for signing up to Windows Central. You will receive a verification email shortly.
There was a problem. Please refresh the page and try again.