Go behind the scenes of Halo: Nightfall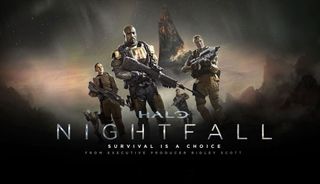 Halo: Nightfall is making its cinematic debut this week when it joins Regal Cinema's pre-film show "Cinema FIrstLook." The trailer gives you a behind-the-scenes look at the motion picture prequel to Halo 5: Guardians which launches for Xbox One next year. Halo: Nightfall is the origin story to Agent Jameson Locke who is said to be a prominent playable in Halo 5.
The motion picture is a story about heroes and the good and bad sides of heroism. Halo: Nightfall follows Agent Locke and his team as they are ambushed by terrorist during an investigation for ONI. During the course of the show they start to question their superiors and are torn between fighting for their loyalties or their lives. Halo: Nightfall comes with Halo: The Master Chief Collection and will consist of five episodes that are made available on a weekly basis.
Windows Central Newsletter
Get the best of Windows Central in your inbox, every day!
Mister number Johnny Five

Doesnt seem to be as much marketing for Halo TMCC compared to Halo 3 and 4, I remember the TV ads for H3 in particular.

Well it is a remastering so it doesn't need much marketing because the demand is already there. I say November 1st you'll see the marketing speed into 5th gear.

With a title like this, do they realm have to market it? Halo franchise has sole 60 million copies

Bro,you sole me, like realm sole me.

The marketing of Halo 3 is realm what sole me on it in the first place.

Is this the shots that's going to be exclusive to Xbox one? I am bummed. I hope they at least sell episodes on Xbox videos

By the sounds of it will work on any currently supported xbv device according to the preorder for mcc(unlike that ep. Of top gear that came with fm ultimate)

I really enjoyed Forward Into Dawn. I hope I am able to watch this without buying the game since I'm far more interested in the story than the game. I don't own an Xbox and don't plan to since all my gaming is done on the PC.

Im sure they will release it to the masses later on(much later if your not gold) this maybe just considered a early access like other forms of content they've offered in the past

I watched Forward Into Dawn on Netflix a few times now. Really enjoyed it. Hope they release this in a similar fashion.

Finally there talking about the only new piece of content coming in this compilation

CANT WAIT TO WATCH IT. AWESOME. IM EXCITED.

"The trailer gives you a behind-the-scenes look at the motion picture prequel to Halo 5: Guardians". I thought Nightfall was a TV show, not a motion picture (i.e. movie). No? Which one am I thinking of, then, the Spielberg one?

I'm really impressed with the production quality, or at least based on what we've seen in clips and trailers so far. Looking forward to Nightfall!