GoComics launches official app for Windows Phone, get your Dilbert on the run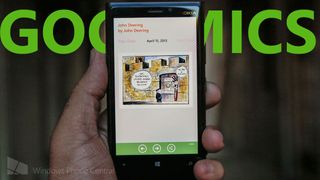 GoComics is a popular website launched back in 2005 for both strips, panels and editorial cartoons. It features virtually all of the major comics and cartoonists you can think of. And there is now an official app for Windows Phone to satisfy your comics need on the run.
If you need your Calvin and Hobbes fix on the run GoComics can help. The app just came out earlier today and looks to be a fairly smooth implementation for the medium. Launching the app and you'll be on the 'menu' portion of the panorama. You'll get the option to drill down into comics, editorial, popular, or funnies in Spanish. Tapping any one of those will give you the alphabet picker list where you can search out your favorite panels (for comics) or authors for editorial comics. What's cool about the author list is that it is separated by left, middle and right. So you can filter down to your preferred political position. Although I do recommend viewing comics from opposing views, its good humor to see how everyone views each other.
Back on that main panorama if you swipe to the right of 'menu' you'll find yourself in the featured section. Here is where the folks behind GoComics prominently place reader favorites. You'll see familiar faces like Garfield, Foxtrot, Dilbert and more. Tapping anyone of them will place you right into the strip. One swipe to the right of featured and you'll find my comics, favorites and extras. Comics that you subscribe to show up under 'my comics' and any you mark as favorites pop up under favorites, it's pretty straightforward. But in order for those to work you need to create (or log in with) a GoComics account. You can do both through the app under the extras section. You'll also find a blog that stays up to date with the latest news in the comic world.
Overall GoComics is a fairly nice application for getting some light humor on the run. I would have liked to see some Windows Phone 8 features, like: double wide tile, lock screen support (hello!?), and whatever else you guys and gals come up with in the comments.
That said, GoComics is available for both Windows Phone 7.x and 8, that's a good thing. You can download it right here in the Store, use the QR code below, or swipe to the right in our app.
Thanks for the tip Paul!
Windows Central Newsletter
Get the best of Windows Central in your inbox, every day!
=D will keep me entertain for days!

Literally the app I have been lusting for since 2010 when I got my first WP!!!!

Ha ha, he said get your Dilbert on

My inner child is laughing

Very good and clean app. Impressed!

This app is fail. Won't even let me create an account.

Same issue here. But that is not a fail. Just a bug which should be ironed out by a update soon. You can still read comics :)

You can still make an account on the computer, and then sign in through the app.

Did that. Was able to make the account but still will only ley me log in online not on the app. Total fail. I'm not searching through all these comics everyday and how stuff like this doesn't get caught in the first 30 seconds of testing is beyond me.

Worked for me. I created the account at their web site using IE on my phone. Once I got an email to activate the account, I can then login and use the extended features. While login is not required to search and view the comics, you need it to subscribe and add favorites.

We're looking into it, thank you for your patience!

Update:
The issue was with a remote API, not the app, and has been resolved. No update will be required. I've added "better error messages" to my list of suggestions (sorry!).

Didn't know it, but I'm enjoying it. Clean interface, a large collection and a great way to keep your mind off things.

I have been using "Calvin & Hobbes Tile" to get my C&H fix. We'll see how this compares.

Its Garfield for me. Did you notice the navigation buttons? Very neat app.

For me it's Garfield, Calvin & Hobbes and Peanuts! :-)

Wow I didn't even know this website existed. Gonna download this and finally free myself from the Sunday paper completely :)

Dear developer, please release this application in Indonesia! :)

That will be thirty rupee's please.

Just switch your region and restart your phone to download.

Rubbish, no Archie or Jughead. I just pin a bookmark with the website with daily cartoons, easier and quicker.

Not available in Malaysia. Is it free btw? if so I can change the region to US and download it.

Switch to Singapore. It's free but may have ads, even though I did not see any on the app on the phone yet. On the web site you can go Pro and pay if you want to be ad-free.

any app for read comic format?

Huge thanks to WPCentral and Sam for this great article! As a developer for Andrews McMeel Universal, I would love to hear your suggestions, especially for Windows Phone 8 specific features.

lock screen for a comic of the day, maybe even see if you can fit 2 or 3 panel comics on a double wide tile. I applaud you for targeting 7.8 and 8, finally a developer that "gets" it.

Thanks for the suggestions!
Would the double-wide tile panels display the comic avatar, the actual comic (cropped or scaled), an indicator that new comics were available, or something else?


Update 1.0.1 submitted with general bug and stability fixes. Thanks for being patient folks!

There will be another update to address the overall sign-in issues. Doing everything we can to address usability bugs as quickly as possible. Thank you again for being patient.

Update:
1.0.2 submitted with sign-in bugs squashed and improved stability.