'Good-bye' to AMD Catalyst Control Center, and 'Hello' to Radeon Software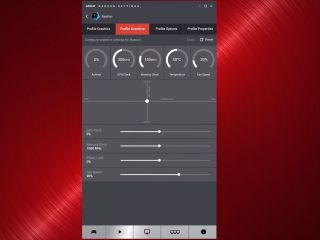 If you own a Windows PC with an AMD Radeon GPU, you are, more than likely, not been happy with how the company has handled the development of its Catalyst Control Center. Now the company says it is ditching Catalyst in favor of a new driver and video settings system it is calling Radeon Software.
The first version of the driver, which will be labeled Crimson, is due for release by the end of 2015. The Radeon Settings user interface will take the place of the old Catalyst Control Center, and AMD says old Catalyst users will see a huge speed improvement when they use Radeon Settings. The top of the user interface will have tabs that show how to handle settings for gaming, video, display, and AMD's Eyefinity mutli-display technology.
The gaming tab will load up all of the PC games that users have installed on their hard drive, and Radeon users will be able to create individual graphics profiles for each game, including if they will use overclocking on the graphics chip. More options to change things will be available in the video and display tabs, and the Eyefinity should allow for a quick and fast set-up of a multi-display rig.
Source: AMD
Windows Central Newsletter
Get the best of Windows Central in in your inbox, every day!
Finally! Now we want DirectX 12. ;)

Don't we already have that..?

not if there aren't any games yet that use it...

Never had a problem with AMD drivers. Constant issues with NVIDIA on the other hand.

I think Microsoft owns them now

That looks like a phone app, a universal control app. Phones with windows 10 mobile, AMD chip, and win 32 capable confirmed. /s

That is... A very bold statement.

It wouldn't be far off if they were close to Intel but AMD is not good with making their chips smaller and more efficient.

I've been an AMD fan for a while and I must sadly agree with you. I had some hope when they announced Mullins, but... Yeah, nope.

Yep big & hot & the way they manage ram sucks

Just get me my 8 second startup back! New updates now take 90 seconds to start!!

Agreed...anything over 60 sec is too much =s

Pretty happy with my 12. And that's not on even on new hardware.

If your using a intel/amd gpu combo, then I recommend using leshcat drivers with windows 10. Back to 1 second boot with a ssd (850 evo). Stock OEM drivers are too TMM-esque (from Vista) for my liking.

Im pretty happy with my 2 sec startup! lol

Looks like those tabs (gaming, video, etc) are at the bottom of the interface according to the screenshot. Would be interesting to see if this carries over to the FirePro side, though pros aren't generally too concerned with the form as much as the function. My company has started to bypass the FirePro Control Center altogether and has been writing to the cards through the SDK. Still would be nice for folks that don't need to know the ins and outs of the cards, though, and just need their FirePro to hum along nicely!

What drivers to i have to indtall for dual amd graphics 1 apu and 1 discrete gpu on a laptop

Depends on the exact models, use the forums!

I dont think hybrid cross works in laptops even then only a few support dual discrete eg. Eurocomm, dell, sager

Yay. I'm tired of nVidia running away with things. And I've used nVidia my whole life. Posted via the Windows Central App for Android

About time. I switched to NVIDIA eons ago, but Catalyst is forever a negative memory. What trash.

Yeah, it's horrible they have done away with manual switching on W10. Forcing that to work either corrupts the drivers or in the worse case scenario destroy's your o/s install. W10 is sure picky about files being replaced via CMD lol.

I never really had an issue with the catalyst control center software but this looks nice!
As long as it works :) Posted via the Windows Central App for Android

Didn't really like catalyst control centre design wise. This looks nice though

Will this be on all AMD processors? Posted via the Windows Central App for Android

Looks a lot better, I really hated AMD Catalyst Control Center.

Thank the lord. Everytime I reboot my computer I have to manually adjust the display ratio using catalyst. Such a pain in the a###. Hope the new version corrects this.

You could have used a script and set it to execute as a service at boot lol.

I need this ASAP! I have a Radeon R9 M265X on my Toshiba U55 Laptop and the catalyst software is lame and the things I like from Nvidia was the GeForce optimizations. And the Gaming Evolved is not 4K ready, so is very anyoing to use.

Looking promising. Needed an overhaul.

So we can actually control GPU speeds from this?
That's really well done, since I didn't really like the design of MSI Afterburner, which I was forced to use to overclock and then underclock my processor and GPU... Posted via the Windows Central App

Finally. CCC on my old HP laptop takes forever to use and/or load. Sometimes it's fast. Most of the time it's slow. At least it's not as slow as itunes for Windows (I only used it to back up my mom's iphone 4 locally which I set up to backup to icloud; she actually will be using a Lumia 520 when we go to a different carrier. I use an 822 on that one carrier and will be using an 830 on the better one.) Itunes takes, literally, 2-5 minutes to register every click in the interface usually.

If your on W10 and using a Intel cpu/amd gpu combo, I recommend using leshcat's drivers.

NVIDIA Windows 10 SLI drivers have been a nightmare. They still are 3 months after Windows 10 was released. Not sure how AMD thigns are going but we'll see if I buy NVIDIA again after my 3k spent on triple titans and 800 spent on the ASUS Swift NVIDIA G-Sync monitor. 3.8k for crashing every 15 minutes is not a good use of my money. Maybe AMD wants my next wad of cash.

AMD has been great for Windows 10 drivers. All of my crashing came from Microsoft.

Haha, was about time. Their drivers and software sucked for ages. Always had some wierd problem with them. Nvidia, rulles!!! For the moment...

It would be nice if they give regular driver updates

they do make updates pretty often, just not "official" ones. they usually do 4 or 5 beta updates over a month or two before releasing the official one.

That's a bad news for me, as I use ubuntu and AMD has issues with supporting Ubuntu.

you can't use the supplied Linux drivers?

will give this a try, never found CCC very useful so I always used MSI afterburner

Good riddance. The Catalyst Control Center sucks.

I just saw this.My task manager says Catalyst Control Center is the Host Application and Monitoring Program. Please tell me how to replace it with Radeon. Thanks Mike
Windows Central Newsletter
Thank you for signing up to Windows Central. You will receive a verification email shortly.
There was a problem. Please refresh the page and try again.