Good Technology's Enterprise app for Windows Phone releasing soon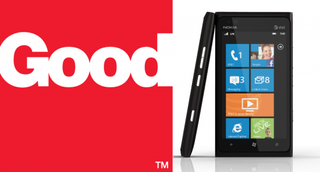 We reported a few weeks ago that Good Technologies was planning on releasing their Secure Enterprise Messaging app for Windows Phone in a deal with Microsoft giving business users a new tool in their arsenal.
This morning Good is evidently alerting users that their app should be hitting the Marketplace in the next 24 hours:
That's some good news (morning pun!).
As we previously mentioned, Windows Phone has not been the strongest contender for enterprise even with Exchange support. Giving companies the additional option of having Good Technology on board in combination with the extremely popular Nokia Lumia 900 seems like a win-win for Microsoft in getting their mobile OS the attention it deserves and a nod to enterprise.
The full feature set for the Good for Enterprise™ Windows Phone® app is listed after the break. We'll keep you posted when it goes live in the Marketplace.
Thanks, WPMan, for the heads up
Good for Enterprise™ Windows Phone® Key Features included in this release:
EMAIL
Email push notifications
Message synchronization status bar
Folder subscription with email history
Type-down Addressing to select email address
Move messages between folders
Filter messages by unread, flag or Urgent
Flag for follow-up
View image attachments
Search email folders
Bulk email/move/delete
Out of office auto-reply
Customize email signature
CALENDAR
Calendar reminder notifications
Show meeting as free/busy/tentative/OOO
Busy-meter in month view
CONTACTS
Corporate directory lookup
Add, edit and delete Contacts
Search Personal and Directory Contacts
Pin up to 9 favorite Contacts
New feature updates to the first release of Good for Enterprise – Windows Phone will be available in the near future! Stay tuned!
Daniel Rubino is the Executive Editor of Windows Central, head reviewer, podcast co-host, and analyst. He has been covering Microsoft here since 2007, back when this site was called WMExperts (and later Windows Phone Central). His interests include Windows, Microsoft Surface, laptops, next-gen computing, and arguing with people on the internet.
Now if IBM would relase a similar Lotus app businesses would be all set.

I'm not sure why IBM has been dragging their feet on a WP Lotus Notes/Sametime client.

I stand corrected. Apparently IBM is making Lotus Notes Traveler for Windows Phone 7. Looks like Nokia and HTC won them over:

http://www.edbrill.com/ebrill/edbrill.nsf/dx/lotusphere-2012-mobility

A nice beta link would be good.

The experience with the andoid version will show that this release will be a not so nice beta...

I haven't looked at the app yet, but I don't understand what this offers that isn't already in Windows Phone or why anyone would suggest that Exchange support is lackluster. Enterprise support for things like VPN, and such, sure I get that... but Exchange and SharePoint support has been quite good... unless I'm just misunderstanding something.

I'll also add that it does a fine job of honoring my Exchange Server security policies by requiring a pin on the device itself, which is much better about keeping the whole device secure, and I have used remote wipe on it as well.

I'm the Good adminisrator where I work so I can answer that.

#1 it actually encrypts the corporate data. WP7 does not offer native device encryption, which for companies that require it, is strike 1, 2, and 3. If they would have put encryption support in WP7.5 I could roll the hell out of those devices and kick Android to the curb.

#2 All the corporate information is stored inside of the Good application, and you can simply password protect the Good application. This keeps all the data inside of that one app which allows users to bring their own devices and we don't have to worry about accidently wiping all their family pictures off of their phones when they enter their Good password wrong.


Sametime client would be handy...

Communicator 2007 App would be nice. Not everyone is running 2010 and can run Lync.

Considering the extra work that needs to be done to deploy Lync mobile, there's probably no chance Communicator will ever see the update. The support lifecycle for OCS is nearing its end as well.

Yes I would imagine for a lot of people the Exchange Server 2010 offers pretty all they need out of the box. I can only imagine that it is better policy management and maybe even better encryption of the data on the phone itself. To my mind it is just a specially licensed version of EAS and a more traditionaly calendar view.

Windows Phone has ZERO encryption support, so if that is a requirement, you can't use Exchange ActiveSync... you need Good.

Windows Phone has no on-device encryption. That's the primary feature that the Good mobile app provides. From the leaks we know that bitlocker is coming in WP8 however that usually requires a TPM. Since none of the phones out now have TPMs inside that feature may not be available if current windows phones can be upgraded to WP8

BitLocker does not require a TPM - you can use a USB flash drive instead. However, there is no support for USB flash drives on Windows Phones so I suppose your point is still valid!

So is this Nokia exclusive or not?

Does this mean I can now check my office
Email? Do we need to install anything on
company exchange servers? If there is some
Install required then it will be a bummer.

Contact your system administrator. This is to enhance the built-in capabilities of Exchange and WP for enterprises that require it. Many companies do fine with just Exchange and WP as they are.

Its been a long time coming. It does begin to validate the Windows Phone platform in the eyes of large corporations. Essentially the Good Technology client creates a sandbox on phones. This sandbox can have its own security policies attached and can be independent of the underlying phone's capability for the most part. Also this client can detect if the underlying phone OS can be rooted or otherwise jailbroken. It usually is encrypted.
So corporations are then able to use this to create a sandbox on an employee's corporate or personal device, into which corporate data (most of the time, just email and related information like tasks..but also increasingly secure document storage..) can be deployed. If a phone is lost or misplaced or an employee terminated or leaves the sandbox can be erased without affecting the rest of the content. Also due to strong encryption even if the phone OS front end is broken getting into the sandbox may be more difficult than most users with malicious intent would be willing to endure.
Today you already have Good clients for iPhones, iPads and most android devices. Other competitors in this space include Mobile Iron. These sorts of products have their own server software installed alongside Exchange or Lotus servers in corporations.
Downloading the client from the Marketplace only helps if you have the server side setup.
Since most corporations have already started piloting using personal devices for corporate mail purposes, this sort of technology is becoming important as users bring devices of all kinds (iOS phones and iPads, Android phones and tablets, Windows Phone, Blackberry etc..). Many large corporations and government contractors have started using this sort of technology.
No, I dont work for Good, but I have used their products on iOS :)

The mobile contact at my company just got an email from good.com, announcing the launch for WP support. Now I'm just waiting for it to appear on the marketplace here in Chicago so I can set up my Titan II.

Also, on the good for enterprise page of good.com, it very clearly states the support for WP, iOS and Android. Ahhh, the big three.. signs of the times haha.

Good App available on Marketplace

Daniel,
I know this is an old article, not sure if its monitored...but hoping you or some one might have information on it. When is the next GOOD Technology App or Update coming for Windows 10 Mobile?
Windows Central Newsletter
Get the best of Windows Central in in your inbox, every day!
Thank you for signing up to Windows Central. You will receive a verification email shortly.
There was a problem. Please refresh the page and try again.