Google Search app redesigned for Windows Phone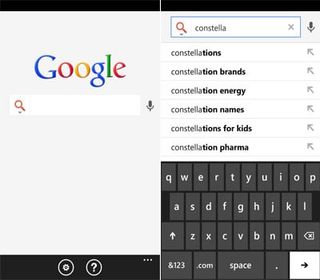 Google has just published a new post on the official mobile blog detailing a redesigned Google Search app that is available on the Marketplace, which sports the following features:
Google Autocomplete: As you type in your search, our autocomplete feature offers search predictions that often match your intended search term making search entry easier and faster.
Voice Search: With our voice feature, you can avoid typing all together. Simply press the microphone and begin speaking your query.
My Location: With your permission, Google can use your device location to provide nearby results easily and accurately. For instance, a search for "coffee shops" quickly displays the nearest places you can go to for a cup of coffee.
This is available in English, Spanish, French, Italian, and German. Although it appears the app is only available in the U.S. You can download the Google Search app from the Marketplace.
Source: Google
Rich Edmonds is Senior Editor of PC hardware at Windows Central, covering everything related to PC components and NAS. He's been involved in technology for more than a decade and knows a thing or two about the magic inside a PC chassis. You can follow him over on Twitter at @RichEdmonds.
Not available in the UK .. What the fuck!

It's still v.1.0.0.0 here...?

It didn't get updated, they submitted it new. It was missing before.

Come on with the UK version!!

I honestly don't see the point in restricting the app to the US only. It's available world wide in the browser.

App is available in Germany from day one. But Bing is better since they left the beta status here. Only the local scout is missing...

Who cares? Bing is much better and integrated into the phone

maybe in the US, everywhere else it's a fart compared to Google. The only time I ever open Bing is when I hit the stupid button by accident.

I use bing vision to scan QR codes and Microsoft tags. But that's about it for my Bing usage.

Bing is great in Sweden. Just that US really go all features we only can dream about. But just as a search engine, I can't understand peoples complains against Bing. All searches I needed has worked, and Bing is increasingly growing now, it basically gets better every day

yeah i never use GOOGLE ether , its horrible . specially google maps always finds the LONGESS way possible lol ... BING is amazing specially in Canada! I always KILL my friends in Search wars! on our smoke breaks when we argue about random things LOL. when i saw this thread i was like ... why do we have a Google app? remove that ** from my marketplace! lol


@ sogeman.. Did you just call the WP search button stupid? Oh man! You better pray to God for forgiveness.. Apologize now!

Bing on my phone is not as good as the Bing search tool on Waterfox/Firefox. For example, if I want to track a package, on my PC, I can just type in the tracking number and Bing can tell it's a FedEx tracking number and provide me with a link to check on it. On my phone, Bing doesn't know what to do with the same number. I've had to save a link to the FedEx web site.
Bing is great on my PC, but it seems limited on other devices. I've never found anything useful on Bing for XBox. I know it's limited there. I would have expected more from my phone.

Bing is fine for a quick search but whenever I need something serious I end up having to use google. Bing pictures is especially annoying. Can't pinch zoom, can't save, etc. Stupid.

Bing search and Google search are equal in results, this was tested.

I wonder if it have something more to do with the Google tracking you, tracking and searching goes well hand in hand?
Looks like it depends also how you use a search engine since in as happy as can be with Bing these days.

It's available in Austria. Probably just takes a while to hit all the markets.

Man Google really is going to get caught with its pants down when the new version of Windows hits along with WP8 at the end of the year.
They either need to start developing real apps now ( for both) or the big little advertising company that can is going to be left behind.
For the people that are not stateside, you aren't missing much from what I have seen and read.

Review are horrible, so ill pass. Lazy work from google

Can't see any reviews - at least not for the app that's linked off the article

Who needs Google when Bing is out there, there is nothing that Google search is providing that Bing doesn't already have, really.

Outside the US, Bing is shit compared to Google.

Not available in Australia as well. Google can suck kangaroo balls.

Hahha, hhah literally laughing

Bing is better and integrated, you don't even need a app, which is the main purpose of windows phone...

In recent studies Bing has been proven to be more efficient at giving you the results your looking for over Google, so who needs a Google app on the Windows Phone?

That's an ignorant comment @schlubadub

Rolling on laughing floor?

Bing destroys Google. IDGAF

I've converted over to Bing even on the desktop. Not a fan of how Google has been running things over the past year+.

I use Bing mainly. Google is for everyone else not me

Not in Canada yet either.

Yes it is. I clicked on the link in the article and it was sent to my phone (I'm in Calgary btw). Note that it shows up in your app list as "google," not as "google search."

Go to the WP blog and tell MS what you don't like about Bing. This may make them change it.

It's not Google... Can they make it Google? ;) ;)

Not available in Singapore too =[

Who needs Google when we have Bing integrated into our phones. It works just as good for my use here in Sweden. Also it has the vision thing and more. Super. Just hit the search button where ever you are and start searching. This is the first phone I actually use the search button on.

here in NZ i only use Bing :)

Not available in India! Unfortunately Bing is really bad on India! The maps especially is poor...

I don't really see the need for this app, Bing is fine most of the time. When it isn't WP has a good web browser to use the other search engines.

same here in Philippines, not available!, bing is not good here, specially their maps. damm MS limitations! I should have switch to andriod or iphone(at least they got google maps n search, wich is complete)

Not available in ru market. Suck
Windows Central Newsletter
Thank you for signing up to Windows Central. You will receive a verification email shortly.
There was a problem. Please refresh the page and try again.