GoPro Control is the first third party app to control your GoPro camera via Windows Phone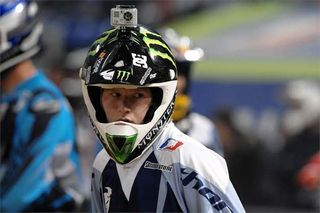 Hey thrill seekers, we know when you're busy attempting a double black diamond for the first time you want to save that first person view with your GoPro. And if you're reading Windows Phone Central you probably want to control it with your Windows Phone.
Well, we still have a few weeks left before we get any official GoPro companion app for Windows Phone, but in the meantime check out this third party app called GoPro Control.
GoPro Control is meant to give users an interface to control a Wi-Fi enabled GoPro. Great for adjusting settings on the fly without having to access the camera. With GoPro Control you can:
Turn camera on/off
Start/stop recording
Switch between modes (burst, video, photo, time-lapse, etc.)
Change all settings (camera name, resolution, frame rate, ProTune, white balance, etc.)
Sounds like it is identical to the upcoming official GoPro app, the one catch is that live preview is not yet supported in this app. As you can see from the screenshots above, the interface itself is also very Spartan and doesn't look as polished as the official GoPro app.
We're working on getting one of the new fancy pants GoPros' to test this and the upcoming official app out. In the meantime, keep in mind there is no trial for GoPro Control and it does cost money.
The app goes for $2.49 and you can grab it here in the Windows Phone Store, use the QR code below, or swipe right in our Windows Phone Central app.
Thanks for the tip Soikka!
Windows Central Newsletter
Get the best of Windows Central in in your inbox, every day!
They should at least let you try it before you want to buy it. Looking at their other apps they don't really have good reviews

Shit. I don't think I have a wifi enabled GoPro but that's an amazing app

When is the official app coming? Did they announce one?

2nd paragraph, first sentence with link.

But reading the whole article is hard

Ah, link didn't show on the app

No worries. When you're in the app swipe to the right and you'll see the 'more' section. There it highlights all the links and cool stuff in an article.

How does the wifi work. Gipro is for outdoor use. There is nor always wifi in the outdoors. Is it through tethering. How ling does the connection last? What about battery draining?

It's built into the camera. Not exclusively. wifi is built into the camera. the camera is wi-fi enabled, it is not data enabled. Wi-fi will consume battery, thus shortening over all battery life. If you hav a GoPro and have not read the user manual, now would be a great time.

Sounds nice! Is this already available? I am so interested to try this. - The Balancing Act
Windows Central Newsletter
Thank you for signing up to Windows Central. You will receive a verification email shortly.
There was a problem. Please refresh the page and try again.