The gorgeous Realarm enters open beta for Windows 10 UWP version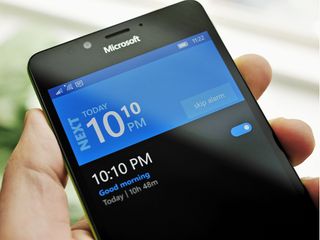 One of the most attractive and configurable alarm apps for Windows Phone 8.1 is getting a Windows 10 makeover.
The Universal Windows Platform version of Realarm (Beta) is now live in the Store, and anyone can download it for their Windows 10 Mobile device and now PC or tablet as well. And boy, does it look gorgeous with some well-done animations too.
The developer is busy bringing over all the 8.1 features to the new Windows 10 one, but they did note in a reddit thread what is new with the UWP app:
You can use your music library (yes, finally!)
You can combine hourly/minutely recurrence with weekly recurrence
Lock screen badge notification (remaining hours until next alarm is super handy!)
Lock screen detailed notification
Alarm Puzzles
You can define custom snooze times for each alarm individually
Settings synced across devices
Notification of upcoming alarm in Action Center (you can skip alarm directly from there)
You can choose when to be notified, separately for each alarm so that you can skip alarm for next morning in the evening
When you snooze alarm, you can dismiss it instantly from Action Center; you don't need to wait until it goes off again
And much more is coming soon...
So far, I am really enjoying the design and fluid animations of this app. There are even light and dark themes with system Accent color matching. The Live Tile is also quite active with a neat countdown until your next alarm along with valuable details about it.
We have written a lot about this app in the past and give a very strong recommendation. The beta version is off to a great start, and you should give it a go and help the developer out with any suggestions or bugs you may find.
Download Realarm for Windows 10 and Mobile (opens in new tab)
Daniel Rubino is the Executive Editor of Windows Central, head reviewer, podcast co-host, and analyst. He has been covering Microsoft here since 2007, back when this site was called WMExperts (and later Windows Phone Central). His interests include Windows, Microsoft Surface, laptops, next-gen computing, and arguing with people on the internet.
It's raining, dancing, shouting and singing apps

You forgot rapping and hugging but you added shouting.

Great job Viktor! I'm going to download it right now

I want a Dutch version, please.

Contact the developer - perhaps he could use your help in translation. In the credits of the existing (non-beta) app, people are listed who helped with the translation. You would probably just need to get him the translations and he'd handle the code part.

Please be patient. It's too early for localization. UI is changing quite often and new things are added. Once I bring all parts from old app, I will start with localization. Thanks for offer!

Thanks Zack, I had always great feedback from you :)

I don't understand why this Win10 mobile thing won't die like they keep saying! Surely these major companies can see that market share determines development! Right! (insert Hugh sarcasm here!) hahaha....and as usual here come the nay-sayers--->

Some companies are giving up on app support but others are hanging in there.

Its a UWP app so it will also be available on laptop/PC, and Xbox One Posted via Surface Pro 4 or Microsoft Halo Phone

I think it's hilarious that just because a few apps are released Windows 10 Mobile is doing great, LOL.

I think it's hilarious that if an app leaves Win10m is "dead". LOL

You hehe to start somewhere... And I see yep gaining momentum.

This week we lost the app for one of world's biggest online marketplaces, Amazon. But hey, at least we have a shiny alarm feature!

Hands down the best alarm app on Windows Mobile , been using th non beta for years.. Great to see a universal app from the dev

Does it work with Cortana and replace the default alrams?

No Cortana (voice commands) yet. But definitely on my to-do list. In meanwhile, you can check WP8 app and use voice commands there.

Excellent redesign. Are you able to use backups from previous version?
Posted from Windows Central for Windows 10

Thanks. At the moment no. Hopefully in next update.

Oh oh oh Stop comin'n here LOL

Looks gorgeous! And much more like the touch friendly alarm app from Windows 8.1 rather than the very desktop focused Windows 10 UWP. Might have to check this one out as setting alarms on the fly with the default app is currently a bit of a pain.

The app asks for permission to the Picture Library. Does this mean R/W access to your pictures???

Just Read only. It's for choosing an background image for live tile.

Nice, but unable to use backups from current version.

On my to-do list. Hopefully in next update. Sry guys, please be patient :)

Love this app. Love that there's a new version coming.

Thanks Richard. It was your review what started the big bang :)

The app is gorgeous. MS should hire this guy as a developer for their UWP alarm app (as well as some other apps).

They don't miss talents at MS, they miss the effort :)

Used it when I was on W10m. Best alarm app out there! Posted via the Windows Central App for Android

Yay! I use Realarm daily, and I've been waiting for this!

Not working for me. Every time I try to save an alarm, the live tile shows "Not saved correctly please launch the app"

Hi, please make sure you wait until saving is completely. Do not hesitate to contact me for further support on email.

Just wait for few seconds bro

This is one of the few alarm apps that let you set a custom snooze time. Most give you canned selections that just don't work for me. :D

Best alarm on W10, but that is just because the competition is garbage. A big plus for me is that it has a 24 hour option that works, so I will not set the alarm wrong. The UX is just terrible, to many steps to change the alarm, with a pointless save button.

Wonderful! I'm glad to see the dev isn't adopting the awful "hamburger menu" aesthetic.

100% agree. No hamburger in my app! :)

Well sorry! Lol I have to use the ugly hamburger menu in my app Posted via the Windows Central App for Android... I'm sorry

Cool, not tried this one, now going to download

I also want to say, for other W10 devs out there: This is how you design an app. Georgeous, clean design. Attention to the spacing, fonts, etc. I've seen some other apps touted on WPCentral that frankly are a bit of a mess. Type that goes right to the edge of the live tile, sometimes 2 or 3 different font types, cluttered app interface. You won't find any of that here. Currently this app isn't quite as functional as the original, but it's just a beta. That said, the minute you open the app, you get a feeling of quality and care. I group this app in the same category as Poki, myTube, Tweet It, and others. There is no doubt the dev has spent hours sweating the details.

Thanks for understanding. You are right, lot of polishing already done and lot of ironing the details in front of me :)

I like the puzzle thing in alarm
its very innovative hats off to developer

Love this app but it seems I cannot install this version on my 950xl. I keep receiving the error 0x8E5E0408 :(

Got it now. For some reason I was getting that error while I was using continuum. After I restarted the phone I was able to install the app.

I really liked Realarm but stopped using it because it was too time consuming to reenter a lot of standing reminders I had every time I had to do a hard reset for W10 mobile. The app had an option to back them up but only if you gave it unrestricted acccess to your one drive account. I could never get a justification or explanation from the author. I hoped the new version would eliminate that requirement, buit apparently not. I just can't see giving an app that much access when the backup amount is absolutely microsocopic compared to other apps that can do backups and restore without having free reign of your OneDrive. Dissapointed.

Well if you knew how to develop an app, then you'd know that he'd have to pay for a server to store your backups instead of using it on onedrive. The app is free therefore no one's paying him to store your backups.

App is using as few requirements as possible and as comfortable. App reads your files and writes files to your OneDrive. Then it reads your profile name, which showed in 'Signed in as XY'. That's it. If interested, here are scopes I use: onedrive.readwrite and wl.signin . You can read about them here: https://msdn.microsoft.com/en-us/library/hh243646.aspx If I used it to spy users, don't you think app would not pass certification or someone would reveal it? :)

Will it still alarm if I close the app from the task switcher?

Can we have a dismiss alarm and all the alarms under it. E.G. Alarm until 7:30 interval 4 mins from 7:00 I can dismiss all incoming alarms from the 7:04 one or 7:00?

I'm still rocking 8.1 and relying on Realarm for my alerting needs. It is one of my most loved and used apps. I look forward to continue using it when I update to Win 10 Mobile. Thank you dev/s keep up the good work. I appreciate it.

I'm not using my 920 as a daily driver now (bought an Android to try it). But I just downloaded the beta to have a look and it looks absolutely gorgeous. I plan to come back to W10M fairly soon, and I'll definitely use that on my phone. Thanks to the dev for putting the effort, and for being responsive here on WC. Lots of updates already planned I see. I hope people don't hesitate to support you by buying additional features (I've seen there are in-app purchases even if I don't know what they are for, so I guess additional features).

This app is great indeed... I'm using it everyday, I just woke up with it. =}
Windows Central Newsletter
Get the best of Windows Central in in your inbox, every day!
Thank you for signing up to Windows Central. You will receive a verification email shortly.
There was a problem. Please refresh the page and try again.