This gorgeous video shot with the Microsoft Lumia 950 makes us want to hit the beach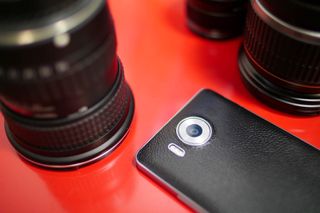 Say what you want about Windows 10 Mobile but if one thing still holds true it is the fantastic imaging the Lumia 950 and Lumia 950 XL are capable of doing.
Take this video shot by Christopher Westerholm using his Lumia 950 at the shore one weekend. The video combines some of the best abilities of the 20MP shooter including slow motion and the zooming ability. Of course, adding in some pumping music, shooting at the "Golden Hour", and having a knack for composition and editing never hurts as well (the notes mention it was edited in Premiere Pro CS6 and polished in FilmConvert).
All I know is even when occasionally grabbing my iPhone 6s Plus or Samsung Galaxy S7 both phones still pale compared to the high-end Lumias (more so the iPhone, which I think is just awful).
Then again, at the end of the day what matters most is do you know how to use the tools you have and not necessarily the technology you bought. Indeed, Christopher here has demonstrated his skill in all of these areas. Well done, Chris!
Windows Central Newsletter
Get the best of Windows Central in in your inbox, every day!
Daniel Rubino is the Editor-in-chief of Windows Central, head reviewer, podcast co-host, and analyst. He has been covering Microsoft since 2007 when this site was called WMExperts (and later Windows Phone Central). His interests include Windows, laptops, next-gen computing, and for some reason, watches. Before all this tech stuff, he worked on a Ph.D. in linguistics, watched people sleep (for medical purposes!), and ran the projectors at movie theaters because it was fun.
Great example of the 950's imaging capabilities. Used my 950 up at the snow here in Australia the other week and everyone was asking what I used to record the stunning video.

Do you have a 950 or 950XL? :) I've noticed people often CBF'd typing/saying the full thing, so they just say 950.

doesnt matters, both have same cameras

I know that, that's -clearly- not what I'm asking him.

They both apparently have the same screen yet the 950xl performs better if you look at gsmarena review.

An even better example of great editing capabilities. Any consummate editor can take adequate raw footage and make it look great. If that video is HD, then it's easier to transform into something stunning. I'm not implying the camera hardware / software on the Lumias is 'adequate'; far from it. The cameras are superb, the best I've used. Even on my retired L735 handset the manual controls were superb, and I've yet to find an Android app that matches the ease of use and flexibility. Likewise, I've not come across an Android phone with a camera that rivals the Lumia hardware. A shame that MS sailed in the wrong direction on the consumer side of smartphones.

Imaging is great on the 950. Now if my wife didn't have to lug around a giant backup battery due to the horrible battery drain everything would be good.

I'm curious what apps she uses and if her phone is up to date. Haven't had that issue with mine yet.

Oh, please. Battery life continues to be horrible on the 950. My 1020 is a lot older yet STILL beats the camera and battery life. The only thing I can't do on the 1020 is the slow motion, which I've never cared for anyway.

Grab a type c car charger. Charges in minutes.

Jamie, take your troll comment and stick it. It's a real problem.

I had to do a hard reset to fix the battery issue.

I hard reset my test 950 unit every insider update. It has YET to improve the battery.

Calling BS! Learn how to use your phone. I'm getting great battery life on my 950 and just upgraded to the latest build earlier today.

Well, I call BS on you. My wife and I both have a 950 and battery life is still laughable.

Mine has fantastic battery life

Don't doubt that she is suffering, but mine is actually very good. I am assuming, because you are here, that you have checked her background app permissions and stuff? I have the xl, so that may be the reason.

I use to love the Lumia devices. The last one I loved was (and is) the 1020. I also have a 430, 640 and 950. They each such.

Don't see how you couldn't love the 1520, and 930, if you love the 1020... Those are great devices.

Cool, I should do a video like that with my 950XL from here in Anguilla

Im wasting my 950 taking pics of my yard flowers....

Lol! At least you have something to take pictures with/of. This video is so nice, wow.

this video is amazing... but yeah don't feel bad... only thing i take pictures with my 950 XL is those of food... which everyone and their mother does...

Very Terrance Malick-y. I approve.

THANK GOD SOMEONE ELSE KNOWS TERRANCE MALICK TOO!!! O_O :D -- W

Yes❗ Very Emmanuel Lubezki like :D

I bet this video is impressive, too bad video is such a horrible experience on the WC app.

Works fine for me.....
Update: So video plays fine however doesn't work full screen.

Really? You're videos actually go full screen when you select that option? No. It doesn't. At least the controls are accessible now.

No. No they don't play full screen

Butt hurt fan boys down voting true statements.
Sad.
If you're that big of a fan, it seems you'd want and expect more from the app.

The guy also has footage from the Lumia 920 and the 808 Pureview! Simply incredible!

I have both. Might have to add the 950XL. Current price drop is tempting.

My advice is "go for it". Seriously they have sold the factory and I don't know how long L950 will continue its production. I'm considering one too. Tempting but have to wait for the next discount. In my country, 950 & xl have just gone back to full price. Crazy.

Guys, now I got down vote for cheering people to buy 950 and saying myself is tempting to buy one. WTH?

Don't take it personally........ Take it extremely personally.

There are trolls that are paid to make Windows fail unfortunately.

I'd like to give the camera for the 950XL a big thumbs up, but this hokey Windows 10 Mobile makes the phone crash appx. 20% of the time when taking photos.

The pureview cam is one the top reasons why I picked up a 950 XL. Thanks for this Daniel! Good job Chris!

Nice... Outrageous! I should get one soon :D

I've shot ~15 gigs of videos and photos with my Lumia 950 xl last week at the shore; and omg how good is that shooter even in full-auto mode

Reminds me of Apple's "Shot on an iPhone 6S" commercials that are meant to show off how photographers and cinematographers utilize those devices. Microsoft should definitely consider using this and similar videos to show off Lumia's imaging prowess as well. Say what you will about the Lumia 950 and 950 XL (Which clearly haven't been popular, even by Lumia standards), but they still have damn fine cameras. Now maybe we can get back some of those old imaging features too, eh Microsoft? ;)

Was just going to say that. The software isn't doing the hardware justice. The crashing (as I mentioned above) and all the features we loved. I can't remember what it was called now, but I loved the feature where you could take a burst of something going by and then it would hold the background and show multiple stages of the moving object going by. Wish we still had that, or even a third party app that does it. At this point I'd take burst back.

Yeah, I would definitely love to see the return of Lumia Smart Shot and other great apps like Lumia Storyteller, Lumia Refocus and more. Preferably integrated directly into the default Microsoft Camera app. Built-in Hyperlapse support would be sweet as well, to get some awesome stable timelapses.

You should put it up to vote on user voice.

I like how the Apple commercials shadow box the images. I'm sure they'd say it's for an artistic effect, but I think it's really to the negate quality issues that may show if they used the entire screen. Particularly for people with large, high resolution televisions.

Hmmm the camera on the lumia 950 is great, but focusing is really behind. It is rather slow and has terrible focus bounce during video, which is annoying, as the experience has gone down rather than up since the 920, in some respects. I'm comparing it to my galaxy s7, which produces photos on par, and much smoother video thanks to the instant focus. If they fix that, they are onto a winner, as lumia has always had great cameras, it just feels like its standing still, which makes me sad :'( Posted via the Windows Central App for Android

Did you get the firmware update? Seems to fix a lot of the focus stuff.

I haven't yet, because AT&T.

Firmware now made me use the 950 more than my iPhone 6. The HDR seems better on the 950 and I am now getting better shots all round with the Lumia. The only things that keep me on the iPhone are the occassional missing app, and most importably Apple Pay.

That's great now ! I wish my wife's phone would stop rebooting when she use the camera. It's her second 950 come on Microsoft make this thing work.

Just gorgeous. I'm such a sucker for the Lumia camera.

O.T. Anybody know were buy Battery Lumia 1520 ORIGINAL... I bought one and only load up 70/80% Thank you

My buddy bought one here and it's perfect. I'll be picking one up in about a month. let me know if you get one first. Obviously, from these guys, or another place. Thanks, and good luck. I guess I cant post a link...marked as spam, or I just don't know how. its a place called three six one part, with the usual suspects in front and back. good luck

wish i've slow mo recording on my 1020 !!! Redstone on 1020 is much faster than 10586 build why ms is doing like this?

Would love to see more such articles from Daniel. Just hate those WhatsApp "how to" articles now a days occupying Windows central.

Windows Central app is still CRASHING!!!!!!!!!!!!!!!!

Yeah it sucks. Keeping my 1-star rating til it gets fixed.

It's a shame. It wasn't tested on DXO mark. Posted via the Windows Central App for Android

Good to see such video's, too many people know about windows phone, hell they only knew about samsung or apple knowadays... A shame because the windows platform is great

Brilliant... I to got some fantastic photos and videos in Italy with my Lumia 950. I also had latest iPhone with me. And trust me the Lumia blew it away.

I like reverse effect of sand the most!!!

Great work, nice one. Since MS does not give a damn about advertising this phone, users will.

Wonder how well does the 2016 MS phone can do in shooting.

I own 950xl the camera just rocks a stand alone

I enjoyed reading the article by the Rubinho (Brazilian style). I particularly enjoyed "die Begeisterung". From the slew of writers on the WC team, I have mostly been impressed by the style of the "Deviner". More of that Dan.

Boo for no panorama support.

I'd boo that too. Luckily we have it (at least insiders do already) with w10m =)

I'd boo that too. Luckily we have it (at least insiders do already) with w10m =)

"This gorgeous video shot with the Microsoft Lumia 950 makes us want to hit the beach" I thought the video would make us buy the Lumia 950.

Mr. Rubino, could Windows Central make a demo video showing how to use all the features of the camera in 10?

You need that shooting skills to make that! Not only a good device.

Agreed; Would be great to know more about the lenses and settings.

This is really great. I'd love to see a video showing what went into it. Were there added lenses, tripods, stabilizers, etc? Why'd the video maker choose Adobe PP over Vegas Video Pro? Those would be some cool educational articles as opposed to the ones about...Whats that App?

I hope that the rumored Surface Phone uses the same type of camera as in this Lumias, and also the Karl Zeiss lenses and maybe if they could bring an insane camera as the Lumia 1020 something with 41MP or even more if possible.

Unfortunately, this is the last flagship Lumia. Microsoft has executed the Lumia brand. Lumia 1520 will remain my favourite. It's a phone that never got it's due credit when copycats like Galaxy and seniors like iPhones stole all the show. I call L1520 "The anonymous hero of the movie that never reached it's ending."

ha. good video. too short. could be if a bit longer.

Damn it! I miss Windows 10 Mobile ao much!! And I'd really like to get a Lumia 950, or even the upcoming Surface Phone too. The only thing (and I mean the ONLY thing) keeping me on Android is that I can't live without DBZ Dokkan Battle anymore. If only Bandai released this game on Windows 10, I'd repair my old 930 in a heartbeat! Posted via the Windows Central App for Android

Great Video! The take away here is to record your videos in landscape mode. I see so many people ruin good videos by taking them in portrait mode when they clearly should be taken in landscape mode. Videos taken in portrait mode look like you are peaking through a crack in a door. On top of that when you play back on a widescreen monitor or TV, there are large black bars on both sides of the screen. Too bad there is not a setting on every phone that allows you to take videos in landscape mode no matter how you hold the phone.

Was gonna ask if he actually edited on the lumia. That would have been mind blowing. Still a great video though.

Nace footage but i wonder why this Windows versión haven't the capability of record on 5.1 channels even Lumia 830 have this capability and a "high end" phone like 950 haven't ..
Windows Central Newsletter
Thank you for signing up to Windows Central. You will receive a verification email shortly.
There was a problem. Please refresh the page and try again.