GPS Voice Navigation is back online and available in the Windows Phone Store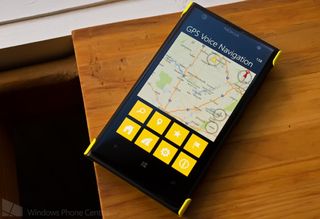 The past few months have been a bit of a roller coaster ride for the Windows Phone navigation app GPS Voice Navigation.
Last month the app was recognized as the Best International App at the Mobile Excellence Awards. Then the app was pulled from the Windows Phone Store due to a dispute with Nokia Maps. And now, the app has been re-released with a few features missing and a few new ones added to the mix.
While we don't know the particulars of the issues that caused the app being de-listed, it's nice to see the developer being able to work around the restrictions and re-release a rather capable Windows Phone navigation app.
As a result, a few features had to be tabled due to terms of use restrictions. The re-released version lacks off-line mapping, 3D mapping and night mode features. The new version does have map caching, a new home screen design and an "insert via" functionality which allows you to add intermediate points to your route.
While Nokia Maps is no longer available you still have access to Bing, Google and MapQuest maps. As well as adding new features to GPS Voice Navigation, the developer hopes to restore the missing features (off-line maps, 3D view, etc.) eventually.
Additionally, to prevent those who purchased the original version of GPS Voice Navigation from paying twice, the new version is free for a limited time.
GPS Voice Navigation has been around for some time and always struck us as a quality navigation app. It is available for both Windows Phone 8 and 7.x devices.
You can pick up your copy of GPS Voice Navigation here in the (opens in new tab) Windows Phone Store (note: the old link found in previous articles is now inactive). Remember it's currently free but for a limited time only.
George is the Reviews Editor at Windows Central, concentrating on Windows 10 PC and Mobile apps. He's been a supporter of the platform since the days of Windows CE and uses his current Windows 10 Mobile phone daily to keep up with life and enjoy a game during down time.
No offline maps... ?? This app is dead..

They had to remove the Here maps,so no off line maps,Il stick with Here maps.

How much did it cost originally?

Nokia beamer is in app store but we need Nokia black to use it.

What no offline anymore? But I have the old version (paid) installed so I guess I still have offline navigation?

Nokia is not acting fairly here, certain countries do not have voice navigation, you are told by the HERE drive that "you are in an area not yet covered" and there is no time frame to indicate how long we are going to wait. then someone comes with a relief and Nokia block him/her!!!!. If nokia could find a way how users can use Here Drive in areas not covered, (manually setting Here Drive to accept/use what is there). HERE Drive is just 'A NICE TO HAVE' application in some areas said to be "not yet covered'. If HERE Maps can correctly show you the direction/path/route, why does the HERE Drive needs coverage (as per message whenyou tap drive to) yet they use the same map data?

I had to remove the old version of this app because it was interfering with Nokia Drive,so I kept this new version and use it with other maps,but to tell the truth I find that it sucks power it heats up my Lumia 820 a lot,some one else got the same problem on other models of Lumia ?

Dear Bruno, My name is Milena and I am part of the Travel and Navigation app program at Melon Mobile. I will try to give you few hints on the problem with the battery consumption/ the heating while using the GPS VN app. As you might know real-time GPS applications are CPU and battery intensive, so it is normal for the phone to heat up, especially after prolonged and intensive use. Getting very hot might be caused by a combination of factors:
* Hot environment ; keep the phone away from sunlight, sources of heat, even place it near air-conditioning outlets, if possible.
* Intensive routes - frequent map rotation, panning and zooming cause an additional CPU load. You could try to zoom out, switch off;Follow me; mode or pause the trip as often as possible to minimize CPU usage.
* Bad connectivity or signal reception - GPS signal loss or Internet connection loss cause an additional load on the network and CPU components of the phone, sometimes leading to excessive power consumption and heating
* Hardware issues of the particular device/model We have plans to improve the battery consumption with some of the future product updates.
Hope this information helps!
Meanwhile if you are interested you are invited to join our beta testing program where you will get to test apps before they are officially released on the market. If you would like to be part of the community, please reply here. Please let me know if there is anything else I can assist with! Best, Milena - GPS Voice Navigation team

Great to finally see a voice navigation app that supports landscape format. I'll have to test the acuity of this one's voice guidance accuracy and timing of commands, but I'm already liking what I see. The option to never have it advance the map (or change how often it does) for you is nice. Often times I want to see ahead for the next set of directions or exit, and Drive+ won't show you until the last minute even when you've spent hours on a straight highway (yes, you can likewise drag ahead in Drive+, but it keeps yanking you back to the local view every few seconds). I also like the "North-is-up" orientation here. I would like the option to drop pins, but that is a small thing. If it works well, Drive+ is getting un-pinned from the start screen.

Hi Milena,
Thanks for your precision,my comparison of your product was directly with Here navigation,and compared to them I found that your app has that kind of problem,however that does not mean its not good,however the limit of using it only on line means I can use it only in my country on a data plan,but I travel in Europe often and I need to navigate offline otherwise I have high costs on my data plan,I still have installed your other app,"GPS,Motion"witch I notice is not available anymore at the store,are you planning to rebuild it ?if not I will take it off,as for beta testing I think it could be a good idea,let me know were I could contact you via email.
Bruno

Hi again Bruno and thank you for your reply. Email betawp@melontech.com and mention that we've discussed this option through WP central. I suggest we continue this discussion over email. Looking forward to hearing from you Best, Milena
Windows Central Newsletter
Thank you for signing up to Windows Central. You will receive a verification email shortly.
There was a problem. Please refresh the page and try again.