Groove Music is here for Windows 10 and MSN Weather ditches ads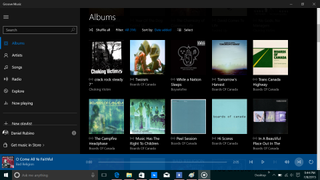 Late tonight, some new app updates have rolled through for Windows 10 and Windows 10 Mobile.
The big change is in regards to the Music apps, which now grabs the new branding of Groove Music announced earlier this week. Everything from the new Live Tile (which reveals now playing info) to the app itself has the new Groove label on it. No other changes are noted.
The version has been updated for phone and Windows 10 desktop. Look for version 3.6.1154.0 in the Store for the Groove labeled release.
Download Groove Music for Windows 10 and Windows 10 Mobile (opens in new tab)
Also, the MSN Weather app for Windows 10 and Windows 10 Mobile has been updated to version 4.4.156.0 and 4.4.157.0 (for Mobile). There appear to be some minor UI tweaks and performance improvements, but the biggest change is the removal of ads within the app. Indeed, many users using the Insider feedback app have complained about ads within Microsoft's first-party apps and it looks like they may be listening. Although we will have to see if this is just a glitch or a change in policy.
Download MSN Weather for Windows 10 and Windows 10 Mobile (opens in new tab)
If you are using Windows 10 grab the apps and let us know what you think!
Thanks, Aakash S., for the tip!
Daniel Rubino is the Editor-in-chief of Windows Central, head reviewer, podcast co-host, and analyst. He has been here covering Microsoft since 2007 when this site was called WMExperts (and later Windows Phone Central). His interests include Windows, Microsoft Surface, laptops, next-gen computing, and for some reason, watches. Before all this tech stuff, he worked on a Ph.D. in linguistics and ran the projectors at movie theaters, which has done absolutely nothing for his career.
MSN Money got a new icon too, on W10M at least

I thought it was just Groove, not Groove Music.

Yes it is. The will change the name on next update.

At least they have a name for the service. Not just a simple "apple music"

I'd honestly prefer "Microsoft Music," so people immediately know it's Microsoft. But I'll live. Maybe the brand not being associated with Microsoft is more of a good thing than a bad, but we'll have to wait and see.

I would like if microsoft making that service is international, not just in us

All the new MSN apps got a new icon.

That weather app lost the ads since quite a while for me

Not here. That was literally a before/after update situation.

Thank god. Ads in 1st party apps are terrible IMO

Samsung has ads on most of their apps. Trying to disable the voicemail app advertisements prompts a message saying you will lose features if they are disabled. They place ads right above and below critical control buttons. Seems like such a classless move. Posted via the Windows Central App for Android

Maybe it's a regional thing. I've never seen any ads since the revamp a few months ago

no actually it's removed with just now update as i am doing up to date comparison . as before it was hide and appear after sometimes but now it completely removed ater our feedback

Yeah Softpedia already posted a while ago
http://news.softpedia.com/news/microsoft-listens-to-windows-10-feedback-...

Same. Mine has been gone since this latest build was released. I remember how happy I was to see it was ad free after installing the latest build.

Might've been A/B testing, then? Seeing how big of a difference ads (or lack thereof) make in user satisfaction, to see if it was worth it.

I actually think Groove is a great name and love the fact that ads are finally gone on weather. P.S. love the fact that you like Boards of Canada

They relax me after a long day :P

Sorry, How do you get the "explore" and "radio" options in your music app, cant find them in mine..even with the latest groove update.

My guess is it's tied to the Groove Music pass? At least, I have one. Not sure if you do?

Oh maybe that's it, i haven't done the music pass in while.....its weird tho because how will people who don't have the pass know that there is a radio option....at least the option should be there with a message telling you to get the pass to use radio.

They should make it part of the xbox live subscription. I simply can't justify an additional 10-15-whatever per month on top of the XBL fee.

Try to tell that to the music and video industry who are hanging on to the past. You are asking for MS to fit the bill for their BS antiquated business models while all the while screwing the artists

Don't pay that then. Next time there is a sale buy a year subscription. I let go of my Zune pass in favor of the Pi Day offer of $31.41 for a year Xbox Music pass. Also I bought the year subscription to Xbox Live for $39.99. $71.40 for 12 months equals $5.95/month. I can certainly justify that price.

Xbox live is like £3 or $5 a month. Combining music into that price would be impossible. There's a reason Spotify is the price it is.. If MS did that they would essentially be giving music for free which just ain't going to happen..

You also get an additional 100GB of OneDrive space with the pass, fwiw

If you like chill music check out tycho or odesza

All the Boards of Canada was the first thing I noticed - made me think it could be my own music collection there. Mix in some Future Sound of London, Tycho, Air and depending on how I'm feeling, a bit of Aphex Twin and we've got the makings of a good day.

Just kind of pissed that I can't listen to some artist like the sea and cake or beach fossils as their record label isn't on groove

Need music controls on the Mobile Live Tile

Would be cool if they add that. The thing that would be special in windows phone would be interactive live tiles.

Send feedback guys, they do listen now at MS!!

Need music controls in the action center instead of that horrible disappearing drop-down we have today. It would be so much easier to just pull down the action center instead of having to lock and unlock your phone every 5 seconds just to change a song cause the drop down decided to disappear. Already submitted it via Windows Feedback and hope I can get some upvotes for it. :-)

Couldn't agree any more! I hate having to go to music app to party music. Need a play pause button in the action centre like my 5 year old Android phone has.

Just tap the volume buttons. It works with the lock screen too. The drop down comes back. Only bad thing is is that it disappears before the next track starts many times.

Just discovered this!! Hold your finger on the grey space in the drop down music controls and it'll stay on screen until you lift your finger off! Then go don't have to keep bouncing it around tapping the volume controls.

The lack of the entire warp records catalog from Groove is precisely why I use Spotify. It's great to see fellow Boards fans though!

Amen. Love BoC, shame Groove is missing the entire Warp, Thrill Jockey, and On-U Sound catalogs. (I did notice they recently got Temporary Residence, though, so there's that.)

I want windows 10 preview for developers but that seems far far away :c

yup it's only windows insider

Whatever I want a stable release of w10m

Great. Now give me back the Music Store. I just want to browse new releases...

If music is available in your country, it's now in the Store App and not part of the Music App.

The problem is that Music - Movies and TV doesn't work on Brazil on Windows 10 on the Store (??). But the service is here for a long time. It work on Windows 8.1, Xbox...

Most likely because its a preview and these sort of issues happen during preview

Windows 10 will RTM this week and they did not fix this yet.

Why isn't there a list of "recently updated" apps tho. Like an "app update history" section

I really wish Windows desktop got the "App updated" notifications that mobile does. They're useful.

Check to see if you turned notifications on in the settings. Also, you can add Apps to notifications list

I really hope they fixed that bug where music randomly stops playing. I'm tired of having to pull over or into something when driving just to fix it.

And we're tired of you not driving safely.

He is driving safely by pulling over to fix his music

Look at those ugly hamburger menus. Microsoft makes the worst apps now.

Hamburgers are beautiful.

They give you colon cancer if you have too many of them.

Why can't Microsoft go back to making beautifully designed apps? When I see MS go back to making apps worthy of praise they'll get praise. Until then they better prepare for a lot of 1-star reviews for their apps. That goes for all developers that use this hamburger garbage. If you want to see your review average go way down, put a lazy burger menu in your app.

Lol, that is the most ludicrous thing I've heard today. Hamburger menus are used everywhere, websites, mobile apps, etc. They've become a pretty common UI element for mobile. So you might want to get over it and accept them, because they're here to stay. And while I love the original Metro, the panorama navigation had serious limitations that made some of the apps a lot worse than a hamburger menu counterpart.

Would you be ok with a nuggets menu?

They're glorified web wrappers, not apps.

You sound like one of those people that would bitch, moan and try to sue somebody just because they put pickles on your cheeseburger when you didn't want them. Grow up.

dance to or play popular or jazz music . love it - groove music ( also cool : when in coming they bring for cross platform : naming become cool and understandable )

PC app for Groove has gapless playback for me now.

God that would be huge if true! How do you know you have it?

Not for me on my Surface 3. Are you sure?

Gapless for me on my SP3. Never noticed, though I dont care much either way.

Hasn't the PC version always had gapless? I thought only mobile didn't

I wasn't sure if PC always had it. Guess it has? But yeah for sure has been gapless for me recently.

Yeah confirmed it few hours ago on my L620
Flawless and Smooth

Actually on mobile (running 830) Its not hapless for me. Just PC.

Well I don't have one. Are you sure???
If it ​really is then that's good but then its buggy also since it doesn't work for all of us.

I am hopeful 10162 is coming very soon.. :)

I thot windows 10 mobile was going away....

It's not. If you actually took the time to read, it's only getting better with a more focused strategy instead of releasing a bunch of similiar devices all the time.

Skype for desktop should ditch its awful ads, they are the worse

You can disable ads in Settings for Skype, has been there for like...forever

And where is the setting for that? I only see the option to disable targeted ads, but looking at "home" I still get annoying and unrelated ones from google. I also still have them in conversations in single window view. Annoying as gets.

OneDrive for W10M updated here too :)

Hi Mr.Daniel Rubino! Avid fan here of Windows Central! Why do they have to put an ads there?!

Microsoft own apps should not include any ads.

How is Microsoft supposed to make money on Windows? People are so dumb. They are giving the OS away for free to users and to OEMs and people complain about tiny little ads at the bottom of an app. God!

+10 for your comment. In fact, MS's ad is all about MS's other services, which is acceptable in my opinion.

Yes, although I wish they'd make their ads intelligent and wouldn't show me their ads for apps or products I've already installed.

I do agree with this. All companies do it. Some even call you to offer something you already have.

Hope MSN weather is better than the Windows 8 version. That one will show no rain for the day, then you check the daily forcast and it shows a 80% chance of rain. Unreliable.

And that it takes FOREVER to load to begin with. The weather has changed by the time the app is ready.

A little off topic but I see in the screen shot you still have Movies and TV (though its a little blurred). I've asked Gabe and put this out as a tweet but my videos app on 10162 is called Film and TV. Same icon and if I search for Movies and TV in the store it returns Film and TV. Why is mine different?

it is country specific app is smae difference b/w English ( US ) & English ( UK ) : IN USA - it is called MOVIES and TV , and rest INDIA , ENGLAND etc ( film & tv )

Hopefully Groove does a better job of worrying about our locally owned music. Not all of us are into the streaming.

Even better than that, you can now store your music in your OneDrive\Music folder, and it becomes available on all your devices using the app :).

Groove should do ad based free streaming again. Wonder why they stopped it.

The Mobile Groove app still has that infamous black screen of death.

I've honestly never experienced that. The bug where it randomly stops playing music sometimes until you soft reset is a bigger issue.

Yeah. It does that as well...

I gave up on Music app, it screwed up my entire music library, don't know why but I lost tags on lot of songs and to make it even worse I lost some songs as well, not to mention that it refuse to play more than 50% of the songs that works just fine with 3rd players or if you run it from file explorer. So finally I delete all music from the phone, upload it again, install first 3rd party music player that appeared in the store 'QuickPlay' and have no problems anymore, and now I'm not going to even touch music shortcut until the next update...

I just put all my music in my OneDrive folder and play it from the cloud. Never really had a problem with losing music.

Weather, News, Sports and Weather were updated on Windows 10. Music and News were updated on Windows Mobile 10. Finally the News app on Mobile can share articles. They've listened to feedback.

Therre are share options for News, Sports, and Money on WIndows 10 TP. Unfortunately for me the share function only works with OneNote -- NOT web browser.

My Weather's live tile on Windows 10 stops functioning whenever I attempt to change its size after pinning the app to Start Menu. I have already reported this problem to MS. Do any of you have the same issue?

Ok I'll install wm10 on the next build

someone at wc has pretty nice taste in music. boards of canada is golden

Touch keyboard still doesn't come up when you click on the text entry box in Groove Music. Just another touch issue in Windows 10.

Out of the many touch issues.. Most are in OneNote, and Edge.

I thought it was just 'Groove' now not 'Groove Music' can't Microsoft make up its mind for once? I prefer just 'Groove' tbh

groove music sounds good as compared to only groove

It is "Groove"... Daniel made a typo. :)

Actually, I think he said that because after the update the app is named indeed "Groove Music". I think they'll ditch the "Music" in an update

I really hope so. The word 'Groove' already implies rhythm and feeling and sound...adding 'Music' would be redundant and unnecessary.

Didn't you hear it now falls under the office team "office groove"

I hope the mobile groove live tile supports album art display and the lock screen artist actually works. Never worked for me after updated to wp8.1 from 8

Now playing info doesn't work on mobile 1520

YES!!! ALSO - THEY MADE THE CONTROLS AT THE BOTTOM BIGGER AND SPACED OUT TOO!

Before, they were smaller and left-aligned. Now they are bigger and spaced out nicer. Much more touch-friendly! :)

What I thought they corrected verge and said its not groove music its just groove?

It is just Groove, they said it was a mistake and will be fixed in the next update.

Glad to see the Ads gone. It's just such a tacky addition and ruins the overall look.

No groove for me. Downloaded from the link but it just goes to the same music app that I had before. Anyone else?

It is the same app. Only the name is changed in this update.

Ok got the update but music pass still isn't registering. Am I doing something wrong or did I miss something?

I dig Groove. It beats Xbox Music

FLAC support is HERE!!!! (for mobile too)

Until iTunes, Amazon, Microsoft, etc. start selling FLAC recordings that are higher quality than the MP3/AAC tracks they already sell, then I don't see a reason to care whether or not my OS or media player supports FLAC (or whatever other esoteric file format they decide to support). That being said, I've pretty much settled on iTunes. With iTunes I don't have to buy and then play music through two separate applications (because the Music App is horrible on desktop). The music all costs the same, /shrug.

FLAC support has been there on mobile for atleast 1.5 months. PC longer than that. I tried it out when the second tp for phones came out and it worked.

I have no issues with having adds in weather. It's essential to business to advertise. Sometimes its actually something relative that I would need.

Please point me to one App in OS X that Apple Pre-Loads on their Macs which has Ads in it. The issue isn't whether or not the Ads are Essential to Business, or whether or not they "sometimes" have something relevant that you would need (seems to be the "go to" retort for people who defend anything a supported company would do). The issue is whether or not it's proper to insert those ads into Stock Apps Preloaded in an Operating System. Is it really essential, for example, for Microsoft to Advertise in the Skype App? An app that is monetized by services, already? I think your logic is on fairly faulty ground here. I think it was in extremely bad form, and really reflexted badly on the work they did in some of those apps. They're also a complete eyesore, and 75% of the time the ads were for Microsoft services that the user most likely already were using or subscribed to just by virtue of having a Windows PC and being able to access those apps (which, IIRC, don't even function correctly unless you're logged into your PC - like a smartphone - with a Microsoft account). Put ads in them on iOS, and Android... But don't put ads in stock apps on an OS that many people (like me) paid to purchace/upgrade to. "Thanks for your purchase of Windows 8.1 Pro + Media Center. Welcome to the Microsoft Ecosystem! Hope you don't mind the banner ads in the apps pinned to your Start Screen. Gotta make that money. $200 never enough ;-)" Give me a break. You are acting like Microsoft was giving away Windows 8/8.1 like Google gives away Android and their business model is perpetuated by Ad Clicks. /eyeroll

While apple makes a ton of money on each mac microsoft is giving away windows 10 for free. Same goes for skype. How many individuals do you think actually pay for skype instead of just enjoying the free skype to skype calls?