Good-bye Xbox Music and Xbox Video; Hello Groove and Movies & TV for Windows 10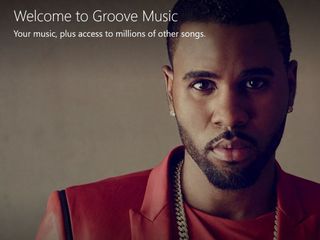 Update: Microsoft is apparently just calling their new music service "Groove" and not "Groove Music", despite the screenshot in the announcement blog post clearly showing the "Groove Music" name . Microsoft's Brandon LeBlanc stated on his Twitter account that the company is "working to fix" the incorrect name.
Original story: After the discovery of a "Groove Music" link in Windows 10 that led to the current Xbox Music app earlier today, Microsoft has now confirmed that the Xbox Music brand is being ditched in favor of the new Groove name. In addition, the current Xbox Video brand is also going away in Windows 10, to be replaced by the generic sounding Movies & TV name for the app.
Here's what Microsoft says Windows 10 users can expect from the new Groove app:
The Look and Feel: Groove provides an improved experience for listening to and managing your music in Windows 10. Getting into music is faster than ever with easy-to-use menus and navigation controls that work well with both mouse/keyboard, and with familiar touch gestures on touch-screen devices. Pinch to zoom in or out of different views, drag your favorite tracks in to playlists, hover over the Taskbar icon for playback controls, or right click for contextual menus to pin an album to your Start menu. And you can also infuse your personality in to Groove – choose a light or dark theme for the app depending on your mood, or pick an accent color in Windows Settings and the Groove app makes it shine.
Accessing Your Music on your favorite devices: We're also making it easy to access your content across your favorite devices – with built-in OneDrive integration making your favorite songs only a few clicks away. Upload all your MP3's to OneDrive, even songs purchased from iTunes, and access them all for free with the Groove app on your Windows devices, Xbox, the web — and even on your Android phones and iPhones (coming soon).
Music and the Windows Store: You can also sign up for a Groove Music Pass subscription – a premium ad-free listening experience with no interruptions. $9.99/month or $99/year gets you complete access to stream and download music from the Windows Store — one of the largest music catalogs on the planet with over 40 million tracks. Subscribers can also create custom radio stations based on their favorite songs, albums and artists. If you already have an Xbox Music Pass (like me) – don't worry! This will become Groove Music Pass and you don't need to do anything.
Here's what users can expect from the new Movies & TV app:
Enjoying Videos in Windows 10: You will find the Movies & TV app in Windows 10 better than ever for playing all your personal videos, as well as all the movies and TV shows you love. Import your personal video collection, and play back your content in a fast and elegantly designed app that is optimized for both mouse/keyboard as well as touch. Drag and drop videos between your collections, use right clicks and hot keys for contextual menus, or go full-screen with easy to use playback controls. We've also added additional file format support like .MKV too.
The Windows Store: Movies & TV has direct integration with the Windows Store, where you can buy or rent from all the latest movies and TV shows in HD, as well as thousands of other favorites. Weekly new releases, access to TV shows a day after air, deals and discounts, and personalized recommendations just for you. And on Windows 10 devices, Xbox and the web, the Movies & TV app lets you start watching purchased or rented content on one device, and pick up where you left off on another device.
Both Groove and Movies & TV apps will go live for Windows 10's general public PC launch on July 29. Microsoft adds that these apps will be "rolling out to other devices in the coming months."
Source: Microsoft
Get the Windows Central Newsletter
All the latest news, reviews, and guides for Windows and Xbox diehards.