Groove Music for iOS and Android to be retired on December 1
Following the retirement of Groove Music's streaming service earlier this year, Microsoft is preparing to kill off its apps for Android and iOS in December.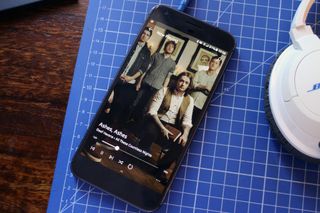 Microsoft already initiated the slow demise of Groove Music when it killed off its streaming subscription earlier this year. But while the app continues to live on as a general music player for Xbox, Windows 10 and Windows 10 Mobile, Microsoft has something more permanent in mind for iOS and Android users.
As first spotted by Microsoft watcher Richard Hay on Twitter, Microsoft has quietly announced (opens in new tab) that the Groove apps for iOS and Android will be retired on December 1, 2018. After that date, the apps will no longer function. So what will happen to your music? Luckily it'll still stick around in OneDrive. From Microsoft:
Still, you'll want to hold on to the app if you've already downloaded it. In a separate FAQ (opens in new tab), Microsoft says that both apps will no longer be available for download as of June 1, 2018.
Given Microsoft's change of course with Groove, and its own recommendation to switch to Spotify instead, it isn't surprising that the company would pull the apps from iOS and Android; they aren't getting much play anyway. However, it's still a downer for Microsoft fans who may have been sticking with Groove on either platform.
You'll have through December 1 to keep using both apps. After that point, Microsoft recommends either playing your music through the OneDrive app, through another streaming app, or via Google Play Music or iTunes Match.
Updated May 31, 2018 Added reference to Groove apps no longer being available for download on June 1.
Windows Central Newsletter
Get the best of Windows Central in in your inbox, every day!
Dan Thorp-Lancaster is the former Editor-in-Chief of Windows Central. He began working with Windows Central, Android Central, and iMore as a news writer in 2014 and is obsessed with tech of all sorts. You can follow Dan on Twitter @DthorpL and Instagram @heyitsdtl.
Ugh, Another thing that kept me in the Microsoft ecosystem gone. I am very meticulous about keeping my music library organized as I have tons of music from local or underground artists that are not, and will never be, on any streaming platform. Onedrive + Groove music was the perfect fit for me since it respected my metadata and was 100% streaming. It was super beneficial to have one app across all platforms... but I guess all good things... :(

Try Plex, very easy to set up and keeps you in control of your music on any devices you have

Not really. The basic app does virtually nothing. You have to subscribe to their service just to do anything. I refuse to do that.

YouTube and Amazon do this better than Microsoft did.

YT and Amazon don't allow you to stream your own music.

Google Music does, not YouTube Music (which is kinda confusing since they have essentially two music platforms atm). But yeah, unfortunately for OneDrive users there is no choice left that I know. This is why I simply buy high capacity MicroSD and put more music on their, I don't even consume any mobile data and get lossless quality with FLAC formats.

I specifically compressed all of my Flac files into wma (10pro) and stream it through Onedrive. Now I'm screwed if I want to stream it outside of any type of Windows environment (like at work which is Mac based). The groove app for android and iOs didn't even work with this format!

You can stream music right from the OneDrive App but it's rather bad.

If you use an Android phone there is an app called CloudPlayer which connects to OneDrive for streaming, it's what I use. It's also free, there are a few interface niggles, but otherwise it's a solid app.

Ohhh! Just tried it, seems pretty great so far! Well polished app! They should recommend this instead!

Yes thanks for mentioning! Microsoft should have mentioned that there are 3rd party apps available too.

The player doesn't support wma format.

Hm that's interesting. December is far away from now.

Looks like you can no longer download it starting tomorrow according to this FAQ: https://support.microsoft.com/en-us/help/4046109/groove-music-and-spotif...

Ouch, that's really unfortunate. Thanks for the catch. I've updated the article with that information.

That really sucks, I will be getting a new work phone next week and unable to install Groove. So much for 6 months to figure out where to move my music.

You can use CloudPlayer, it accesses OneDrive.

Tbh the app hasn't been gained any improvements or whatsoever, its pretty much abandoned long ago. Even Groove Music on Windows 10 hasn't gained any improvements and polish so far.

That's because the app as a stand alone player has no need for improvements. It functions just fine as a Onedrive streaming player. The webplayer was used daily on my mac at work, now I'm left with using the god awful iTunes player to locally play music since I don't have admin access to install any alternatives.

Movies & tv got to be next to go.. I have never bought anything from the (movie & tv) store. I do buy stuff from google movies instead (chromecast).

Actually, we're hearing the opposite about Movies & TV. I get they're both media so it's easy to equate, but they are not analogous. For one, Movies & TV does well for Microsoft as people DO buy and rent things on Xbox. So the whole "we make money" thing is a big difference between it and Groove. Not many people buy music today, let alone put their entire Mp3 collection OneDrive (most millennials don't even have a collection to store). The same goes for books in the Store. Not going away either, very different dynamics at work.

Phew, this makes me feel better.

They do need to improve Movies & TV sharing options, though. It's ridiculous that my own family, in the same house, can't access my library at the same time, given how sign-ins work. They also need to tone down the DRM--you can't even download a movie you own on one PC and move it to another PC to watch--even if you're signed in! You have to re-download the whole file again on the new device. Frustrating.

DRM part not a problem I don't think anymore I've downloaded a few to my phone and then transferred it to my external hard drive. And they all played/worked on my PC. Or laptop just fine. Did you have all your movies & tv snyc

I knew that this was the case, but I cannot justify purchasing movies through Microsoft until they announce that they are part of Movies Anywhere.

This! I stopped all my purchases from Movies & TV once they killed Groove. The killing of all these products and services have left a bad taste in my mouth.

Have you heard and talk about finally adding the Movies & TV app to popular streaming devices (Roku & Fire), iOS, or Android? This needs to happen before I could ever get serious about buying content from their service.
Also, I still prefer the Groove player design and layout on my Win10 Mobile to anything Spotify has to offer on the other platforms. However, I do like the streaming selection available now that I use Spotify.

I refuse to get anything through movies and tv, as they have deleted my digital purcahses with every other app they randomly get rid of. Music I purchased back in the day on Windows meida player worked like crap when you got them but the purchases never rolled over to another service Music/Videos I purchased on zune didnt roll over. I could manually download the music but the videos stopped working because I have too many ms devices. Songs I purchase on xbox music I wont be able to get now. Most of my purchased games/windows apps for my windows phone7 windows phone8 and windows phone10 are useless. MS band useless now, I am waiting for the cortana speaker to be killed along with the service and of course I think movies is next since they have been slow to get it to the standardized movie streaming platform, and slower to get to 4k videos.

Yes this is very true, but the streaming quality is usually unstable unless you have a ton of bandwidth avaliable. But in Netflixs case I never get quality drops.. Could it be their severs? Also I have purchased allot of movies on there, and too agree it would be nice to download and watch them on my android phone while making more sharing features acrossed my devices.

They don't interface with Vudu, whereas Movies Anywhere does. We BUY movies along with the digital versions so we get the absolute best visual experience from the disk, but still have ubiquitous access digitally. Movies & TV has always been woefully inadequate. And expensive. We also buy all our music (digitally, not CD) and add that to our library which IS stored on OneDrive. They haven't created a streaming service yet that satisfies our requirements.

I'm not a millennial and I'm sure most Microsoft users aren't either. It's one thing for Google to offer services like this for free and end up killing services but Microsoft continues to screw over their paying users because they are too dense to capture a market that's not interested while have those who are are left with no alternative. Who's going to continue to invest on Movies & TV now considering that the integration between Onedrive and Groove Music has been severed from anything outside of Windows?

That makes zero sense
Why would advocate for something to go that you've never used?

I really miss Groove... But been relatively happy with the family plan with Amazon Music

The lack of a family plan was one element that killed Groove for many people.

They should integrate the Groove Music player inside OneDrive. Wouldn't that be convenient..!

Oh that would be perfect.
I prefer Groove to the other music players on Android.

I thought about that same thing yesterday. Just add the streaming capabilities into OneDrive. But I think it's more likely that that Microsoft will again say "SCREW YOU" to consumers and will sunset support for the Music folder on OneDrive. I think they'll kill any support for music on OneDrive, suggesting that we use Spotify or some other piece of garbage.

That would be awesome. Or maybe Spotify integration. Microsoft's really making it difficult to be a Microsoft user lately

They sure are! I've started moving all my stuff over to iCloud. I never wanted to be an Apple user, but MS basically left me no choice. When i considered what i used to get from MS and all the stuff MS promised but never delivered, Apple is the only company that does what i want out of my services.

Well, that is the stated plan. They are moving out of the consumer market at a fair pace and pushing consumers away to other companies so MS can focus on industry cloud services. This is not news, though it is a big disappointment.

Or they could just make a Onedrive media player that works like Groove and Movies/TV. make it an app that can also be accessible on any web browser. Better yet, make it a PWA and this would be a perfect alternative to all streaming services.

Well back to managing and syncing songs on pc and phone with my eyes xd

Still available on Windows Mobile, so you do have options.

And how long will that last? I saw that statement too, my first thought was ya, sure.

Is there a 3rd party that can hook to and play from OneDrive ? (Android).

Haven't found any quality apps that will stream from OneDrive, but Google will let you upload 50,000 songs for free to stream through their Google Play Music. I'm uploading my collection there now. Sad to see Groove go, but I do understand the good business sense behind it, and literally the ONLY thing I used it for was streaming from OneDrive (just about the only thing it IS good for now that they've completely neutered it).

I will not use Google's crap.

The thing is. Google's crap is one of the few services that does everything Groove did.

You sure you are not Steve ballmer? Poor thing thinks he's getting "scroggled"

I spent over a decade collecting and converting my personal collection to the way I wanted it. I don't want Google's crappy encoding as an alternative, I just want an alternative that's works as seamless as Grooves did. Microsoft had a perfect opportunity to make an app/frontend that could consolidate various third party streaming services including their own cloud services similar to what Roku does and they squander it due to lack of vision.

There is Cloudplayer by doubleTwist. It's a good music player but I prefer Groove for its interface.

I've been using Cloudplayer. It is only for Android and hooks up to cloud services, specifically OneDrive is the one I use. I've been using it on my s9+ for the past month with a library on OneDrive of 15K+ songs and haven't had any issues. I have liked it better than Groove on Android. The best thing is that it will import playlist you've made from something like Media Monkey unlike Groove (my biggest gripe against Groove was the lack of real playlist support). Now to find a decent OneDrive player on windows that supports playlists.

It doesn't support WMA format. Neither did the Groove app on Android and iOS. but the web player worked perfectly fine anywhere.

Count me as another CloudPlayer supporter, the interface has some minor issues, but it supports OneDrive and is speedy.

Does anyone know how to get the Groove apk for Android and iOS? I back up all my apps to Google and Apple but since today is the last day to download the Groove app, I want a way to sideload it for future devices.

I also read on Thurrott that the team that makes the Photos/Remix app is disbanded an the teamleader out of a job. Bye Groove and Photos updates. I expect Mail/Calendar and News/Weather to follow suit when the PWA thing becomes bigger soon. The new Outlook.com is already way more responsive and functionality than the apps. An they already said they where 'winding down' development on apps like News and Weather

I guess it's time to pull my music down from OneDrive and free up some space for future photos.
Maybe I'll try Plex again. I used Google Play Music for a few months last year and didn't like the UI (I'm also not a big fan of Google in general).

That sucks. It's the only clean way to play my music on my iPhone without having to go through iTunes and migrating everything.

I would give up my surface phone in order to get groove subscription service back. Just kidding, I don't have or know anything about a surface phone. 😭😭 Every time I use spotify I get frustrated with how the interface is so horrible compared to how easy it was to use grove. Swipe up to see now playing, searching for artists/albums/songs soooo much easier if you want to tap the letter rather then having to painstakingly scroll down the list in spotify. Oh and for the app to actually work when you have no data connection. I'm sure it's better on android but on windows mobile, the spotify app is the absolute worst for offline connectivity. Almost all of the songs or playlists I listen to are downloaded but spotify continues to always try and "load" so it's a chore trying to load a playlist or even play something if you go through a deadzone as you load the app.

I've always wondered why offline functionality on all these music services suck so much compared to Groove. For some reason you have to flip a switch to play downloaded music. Groove had an option to play downloaded music if available by default. Or only show downloaded music when offline.

Apple Music works the same on PC, iOS, Mac and Android.

Unfortunately I went with Android. So those are my options.

They better be careful. The only reason I pay for Office 365 is for the extra OneDrive storage so that I can stream my music to Groove. Kill the app on the Xbox or W10 and I kill my subscription.

Don't think they care. I've planned to turn off my office 365 sub. There's zero reason for consumers to use MSFT for cloud storage anymore.

I feel the same. I won't be renewing my Office 365 subscription from now on. Looking where to move my music

I guess i'm the other way around. My family subscribes to O365 for the applications. The extra bit of storage is just icing on the cake that will now never be used.

Amen... I'm rethinking my whole storage subscription strategy now. I don't think anyone at Microsoft understands these ripple effects on the ecosystem, especially Nadella. I guess the fact that they now have surpassed Google in terms of market cap based on commercial cloud earnings reinforces that they don't care about the consumer space whatsoever.

Once they killed Groove Music, they killed the free onedrive storage for music. Your music on Onedrive is now counted as files that is taking up space so that extra storage for being an Office 365 subscriber might seem to be slightly smaller than what you think it is.

This really stinks. My wife and I use it to both listen to the music stored on my OneDrive. Would be nice if Microsoft offered a player for OneDrive, but I guess that's what Groove was and it soon will be no more. Guess its time to look into the other services.... It is a shame since this worked so well.

Ah well ... Google Play Music it is then ...

After using Spotify for 4 months I've settled on Google Play as well. It offers streaming of your personal collection from Google Drive as well as free Youtube Red. Integrates well with Google Home too.

Google Play Music will end in the years to come. They are bringing in Youtube Music to replace it. Will have the same features I hope.

Of course it'll end. Only because I've decided to use it.

Not surprising. Groove died when they discontinued Music Pass.

This absolutely sucks, because I still stream music from my OneDrive. It was the main reason I used Groove. I could store all the music I liked and stream or download what I wanted. It's a shame that they are ending the app. They really should incorporate it into OneDrive.

Lol at Nutella and his strategies that fail without fail!

Still pissed about the **** canning of Groove. Nothing I have found seems to compare. Been on Spotify since Groove's death, and it is a barely serviceable replacement.

They even had just added music videos!!!! For every song!!! Even spotify doesn't have that yet

Hopefully Windows 10 can finally get a usable music player. Groove is total garbage. No drag and drop STILL, can't en-queue from context menu, the list goes on... Missing most basic features WinAMP had 20 years ago.

I hope Windows Central will do a review of replacement apps! Especially ones that will stream from my OneDrive music folder where I have all my music stored. Yes, I am old-fashioned that way!

Hard seconded!!! I recently have really started reconnecting with the music I listened to in the early or mid 2000s, and most of that was MP3 collections that made it eventually onto my OneDrive, and which I've been enjoying on both my PC and my Pixel (2XL) via Groove. I don't have the bandwidth to add the added monthly expense of paying for bigger storage on Google Drive, and my MP3 collection is way too big for free storage.... .....and the OneDrive app itself is utterly untenable for use as a music player app.....so, what the #*&$ am I supposed to do now, Microsoft?

Good news. U can use Google Play Music. It lets you upload 50 000 music tracks that do NOT count against your Google Drive storage limit. So just like Google Photos you will get to enjoy free uploading, downloading and streaming on iOS, Android and every device that has a browser. For FREE.

There's no universe where I use their garbage.

Sure beats the alternative. You're missing out because of your grudge.

Ooh! I did not know that about the Google Drive music grace limit. I -think- I'm still under that number of tracks. So I'll look into it! Unlike others in this thread, I have no qualms using Google services - especially when and where MS just throws theirs away. I mean, I am using a Pixel 2XL after all, in lieu of a hypothetical Surface Phone, or even, let's say, a theoretical Lumia 980 XL. And I already have Google Play Music and YouTube Music on here anyway. And hell, if I'm being completely honest, the ultimate reason I went with OneDrive in the first place was because it came baked into Office 365. Had it not, I probably would've just stuck with Dropbox, which was my first exposure to cloud storage. Anyway, I will look into Google Drive posthaste! Thank you very much! And to the fella who says we shouldn't be using anything Google, get me a Surface Phone that's worth a damn, and we'll talk.

Try CloudPlayer, its free and works with OneDrive too!

It is only free for 30 days

I too would like to see a review of alternatives for people who want to keep using onedrive to store their music collection.

So ill still have Groove my my L640 XL?

yes. just about the iOS and Android app

I could be wrong but isn't this a reason people to stop using onedrive? Microsoft still want people to use their services right?

5/31 what a bad day! News Cortana is dead... or rather relegated to nagging wife. Then news that Groove even on iOS and Android is dead! I use it all the time on both PC and IPhone via OneDrive syncing, which is super easy, as an MP3 player. First we don't have a Windows phone for crying out loud, now they're pulling out of iOS and Android apps that were at least some salve to our bruises. Sad.

Good news! Now how the hell do I get this pos orphaned software off my phone and pc?

Groove Music great on pc/ w10m
would love for them to bring back some of the playlist like Heavy rotation

This is TERRIBLE news!!!!! I recently have really started reconnecting with the music I listened to in the early or mid 2000s, and most of that was MP3 collections that made it eventually onto my OneDrive, and which I've been enjoying on both my PC and my Pixel (2XL) via Groove. I don't have the bandwidth to add the added monthly expense of paying for bigger storage on Google Drive, and my MP3 collection is way too big for free storage.... .....and the OneDrive app itself is utterly untenable for use as a music player app.....so, what the #*&$ am I supposed to do now, Microsoft?

Try the CloudPlayer app. It's $8 but from my trial so far it is a small price to not have to move my music away from OneDrive. Also supports Android Auto which Groove did not.

Cloudplayer, eh? Okay. Thanks! I'll check it out!

Stupid. When will Spotify add a cloud music option?

If there were ever any doubt that there *definitely* are no plans for a mythical 'Surface' mobile device, the wind down of Groove/music streaming and relegating their consumer facing AI to a back end role, slams the door for good on that speculation.

I was hoping that at some point Microsoft would rebrand groove to microsoft music player; Then eventually Microsoft themselves or other OEMs could release an Android phone with all Microsoft services including Microsoft phone/messaging with integrated Skype, photos/music/video apps which would integrate with OneDrive etc. This would have indirectly brought Microsoft back into mobile using thier services. But without a music app Microsoft has squashed that dream... But I should have known, I've been let down far too many times now. For me OneDrive and groove integration was the last feature I loved to use from Microsoft. :-(

Gee I'd have loved that.that would be the dream!! Buuuuuut Ms just keeps changing their strategy too fast too often and too dramaticly...... So it looks like we can just expect more AI crap and could stuff

Clementine can play music allocated on OneDrive.

Groove is pretty good on Windows, but I tried the App on Android a few times and frankly, it was rubbish. It hardly had any features at all, and seemed like an afterthought.

I was almost positive that Samsung and Microsoft would make a partnership where they put the Microsoft launcher and all the Microsoft apps onto a Galaxy phone but now with the death of the Groove music app it kind of seems dumb they are even selling the Galaxy S9 on there website and the Microsoft launcher used the Galaxy S 9 to advertise it Well that dream is dead and they just recently updated Groove with an equalizer on Xbox and Windows 10 but that never made it out to iOS and Android They sure are burning a lot of bridges with me. I always thought Groove was such a cool name too it like called to me.

I gave Groove a try on my Pixel 2XL, and trashcanned it a day later. Did not respect track ordering, which is important for things like audiobooks not in Audible. I don't really do music streaming, as I have found those coverage maps to be more marketing than real life.

It all comes down to Money, Money, Money for corporate Microsoft and its partners!!! It sucks!

Time for the Microsoft Launcher team to step in and integrate streaming from OneDrive with a widget or in the Feed Page.

Spotify with OneDrive support? Would that make up for the drawback?

If Microsoft is intent on proving that it could not care a damn about me, why should I care a damn about Microsoft? In the meantime, please help those of us who have all our music in OneDrive to find an alternative to Groove. Typically, the Microsoft "help" page is virtually useless.

Groove allowed me to have my own music streaming service, full of all the obsure and geeky music I enjoy, all while keeping the FLAC version in my music folder on OneDrive. It came out around the time I got one of those Office 365 student deals with 1TB free storage, and was very encouraged by the announcement of Groove not long after. Previously I used Google Play Music to provide this; but preferred Microsoft's solution as it allowed me direct access to the FLAC versions of songs on my drive (whilst Google Play Music automatically converts them to mp3's/m4a's when they are uploaded). It would appear us music geeks aren't profitable enough to carry on supporting these services. Although I can understand that, I also share the sentiment that dropping support for features is the very reason I haven't invested in Microsoft products compared to Android/Google. Going forward, I suppose I'll revert to uploading my music collection to Google again, while keeping my FLACs on OneDrive until the subscription runs out.

@Dan It would be nice to see a follow up to this post with top picks/reviews for a replacement app. Is there something out there that will allow us keep our music on Onedrive so we can play it on our Windows, Xbox and in my case Android devices? Have playlists work across them?

I'm using 'CloudBeats' from the play store and it seems decent. Just needs albumartist sort!
Windows Central Newsletter
Thank you for signing up to Windows Central. You will receive a verification email shortly.
There was a problem. Please refresh the page and try again.