Microsoft has killed its Groove Music streaming service
The day has finally come – Microsoft has retired its Groove Music streaming service across all platforms.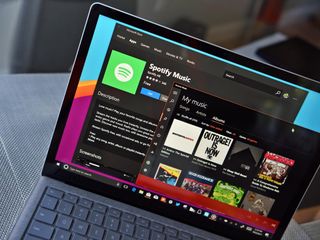 (Image credit: Windows Central)
Back in October of last year, Microsoft announced it was winding down support for its "Groove Music Pass", and all features related to streaming and purchasing content via the Groove Music app. Since its formal debut in 2015, with the release of Windows 10, Microsoft's music streaming service failed to gain traction among strong competition. This eventually led to Microsoft scheduling a shut-down of the service for December 31, 2017.
While a new year passed and Groove Music was still fully operational, as of January 2, the online elements of the app have been shut down entirely. Music can no longer be streamed through Groove apps, songs can no longer be purchased from the Microsoft Store and music video playback has been shuttered. Radio, Explore and Recommended features of the app have also been removed. By opening the Microsoft Store app on any Windows 10 device, users will now be greeted by a new menu, lacking the music tab.
For remaining Groove Music users, the local playback features of the app still remain functional following the shutdown. The app also still supports streaming via OneDrive, which allows local files to be played across various devices. But for those looking for a full-fledged music experience, better services can be found elsewhere.
Microsoft recommends users switch to Spotify, with a partnership between the two companies that allows users to seamlessly migrate to the service. With apps across Windows 10, Xbox One and mobile devices (yes, that includes Windows 10 Mobile), the service is among the most universal on the market. If Spotify isn't for you, make sure to take a look at our list of Groove Music replacements for PC.
Windows Central Newsletter
Get the best of Windows Central in in your inbox, every day!
Matt Brown was formerly a Windows Central's Senior Editor, Xbox & PC, at Future. Following over seven years of professional consumer technology and gaming coverage, he's focused on the world of Microsoft's gaming efforts. You can follow him on Twitter @mattjbrown.
Does anyone know if the Onedrive Music syncing works in the UK because I can't seem to get it to work?

Make sure your files are in a root folder named "Music", on your OneDrive.

Music folder/ support most audiocodes except flac at the moment

I have the same issue, just contacted Microsoft support tech and he said this is no longer supported and I was misuderstanding the support documentation (after much back and forth, ~4 hours, and sharing sessions and pointing to support docs that say "Music you upload to your OneDrive music folder can still be streamed and downloaded on your devices with the built-in Groove Music app."). My music is on OneDrive in the Music folder and Groove app doesn't "see" any music in the Music folder thus can't stream from OneDrive. I can't get Groove to see any music in OneDrive on my Surface Pro (2017) or Lumia 950 XL. If I sync the folder locally to PC and point Groove to look there the music plays fine. Appreciate if anyone can confirm that streaming on OneDrive music using Groove PC / Mobile / Xbox is functional, and point me to a way to fix this...

Actually, I'm still having the Music tab on my device (de-DE).

I'm sure will change after an update.

We've been seeing the music tab disappear across the US and UK, although I assume the update is taking some time to roll out. The actual purchasing of music seems to have been disabled worldwide though.

You're right, it's gone for me now, too, though I can still search for music.

"But for those looking for a full-fledged music experience, better services can be found elsewhere." Better streaming services, perhaps. But for me, a "full-fledged music experience" includes proper library management and playback of local music side-by-side with streamed content. Last I checked, Spotify fell far short of offering that.

True. No one has a complete music solution like Groove was. Now you have to use multiple apps. If you want to manage a local library, Groove is still good for that and still plays your One Drive music. If you want to stream, you have to change apps. If you want a playlist that includes some local music and streaming, good luck. Its possible in Spotify, I think, but Spotify's handling of local files if horrible.

Google Play Music or Amazon Music have no issues with all that.

I use Amazon Music as my preferred Store now and Spotify for streaming

Tried Amazon Music Unlimited (if it's available where you are?) Selection seems pretty good and if you're already buying there it might be a solid shout.

I keep seeing it advertised but haven't felt inclined to try it.

Google and Amazon are fine on the phone. Just web players for streaming on PC - not local content management. Spotify could be the one, since its on all platforms, but its local content management is horrible.

I wish they would collab with Spotify and add their services into the groove app. That would be a real partnership.

I added a suggestion to the Feedback app that Groove should have extension support, that way Spotify and Amazon can integrate their services with Groove for streaming and music purchases.

Supporting OneDrive would be a partnership

I'm giving Spotify a full chance, but as of right now it is in no way a "better service" than Groove. Absolutely none. This just tells you how badly a job Microsoft did in promoting Groove. Because visually, usability, and just the sheer experience Groove is far better service than Spotify in the short time (since October) I've used Spotify.

I hate streaming services anyway. Would never pay for them. I like buying what I like and playing my music locally. Who needs these services all in my beeezwax.

Also remember that if you were paying the subscription the space on your onedrive has expired as well so be sure to make the necessary adjustments. I had 18 Gb of music there and was over the limit so I had to remove all of it. I liked groove, but without the streaming from onedrive I will be removing it.

You seem completely oblivious to the fact that its been mentioned over and over that streaming from One Drive still functions, and will still function.

No, he's not oblivious. He's saying that the bonus OneDrive storage for having a Groove Music Pass is now gone, so you now have less OneDrive space. It sounds like in his case that means he no longer has enough OneDrive storage to store all his music. I have an Office 365 subscription, so it's a non-issue for me. But I could see that it might affect some.

rth314 is correct. I had about 240gb available through different promotions so I thought I'd be ok and could continue streaming (which is what I was already doing). Until I got several messages about the promos ending and then a message how I was over the space limit. I removed as much as I could but I had too much music, no more streaming for me.

You can still stream music from your onedrive, its only the music streaming from the groove music library that is not working anymore.

But since they removed the space allowance for music this is of little help for anyone who isn't an Office subscriber, which is an odd core audience for music services. As the poster you're responding to made pretty clear. If you can't fit it on, you can't play it back. A NAS now trumps OneDrive playback by a long way, so time to give up on MS cloud services as they're wound down to be replaced by memories and tumbleweeds.

Spotify couldn't "match" even 1/3 of my library (all original rips). And some of what did match is terrible tribute bands and remake/remix music. At least groove still plays local music and music on OneDrive. Spotify on win10 mobile is missing features, not complete.

And you probably won't ever get those features, either. Personal cloud FTW.

And it's always going to be incomplete. Windows 10 Mobile is dead. Move to another platform.

This sucks. Once again MSFT screws over its loyal base. I've downloaded all of my purchases to my phone and pc, but the Groove app on Xbox didnt give an option to download to the console. So now I probably wont be able to listen to any of my purchased music while gaming. Thanks again, MSFT.

Actually, if all your music is on OneDrive--which ours is--the Groove app on Xbox is able to play from it with no issues (at least, none that we've run into).

Should also be able to attach a USB media drive if you've got local content already downloaded and play that as well? Less glam, but another way.

The app is still pretty nice, i will keep using it for my own music collection. Spotify app is ok for streaming, but it is crappy on WM, crashes easily.

And Spotify on mobile sucks ...

If you are using a Windows phone, expect apps to not be available or disappear. It has been that way for years.

indeed, I hoped that the groove app developers would rewrite the Spotify app as it is completely useless on Windows phone 10/lumia 950 xl, the 'flagship' Microsoft phone. I have to switch to Deezer to be able to listen to music on my Lumia. VERY disappointing, please make a new Spotify app! Also on slower pc's with win10 the audio service might not be ready so you have to restart Spotify... Ridiculous programming...

Unless Spotify at some point allows me to play MY music from OneDrive, I will definitely not be subscribing to them. Sure, I miss out on my music pass collection, but I can gradually work on buying those songs on cd's. Streaming services are downright evil. Owning your own copies of media is the only sane way to go.

Why would you ever want to deal with local music files? The world has moved one from that archaic system. Streaming is so much easier and cheaper.

Because some of us actually like high quality, non-compressed music files. The mp3 generation has no idea how much they are missing.

No one cares. A high bit rate MP3 sounds just fine.

Exactly. If you set Windows intel HDMI driver to 88khz or more bit rate, there no compressed or lossless... Just pure sound.

Doing that makes the compression more apparent.

I would agree with that for the most part. I am also confident that Spotify will one day offer FLAC streaming as well.

Well, let's see....perhaps because it's much slower and YOU DON'T HAVE INTERNET ACCESS EVERYWHERE? "The World" doesn't all live in metropolitan areas. Quite a few of us live in rural or small towns where the moment you drive out of the city limits you start losing cell signal. Also, since free wifi isn't EVERYWHERE, that forces you to use up your cell data...not everyone can afford large data plans. So, yeah, some people DO prefer to keep copies local, thank you very much.

Slower? I know you aren't used to modern platforms, but I rarely have any issues with streaming video let alone music. You can also pin tracks for local playback for the increasingly rare instances you don't have internet. Let go of the past. Everyone else moved on for a reason.

Maybe they don't want to keep paying a monthly fee and just have everything paid for and done with. Maybe they don't want to have to maintain a constant internet connection / have to download thousands of songs offline for each device they want to stream from without said connection. Maybe they don't like DRM. Maybe they would rather be able to put their MP3s on a stick for playback via literally any device they want without the need for a dedicated streaming service to be available on said device. There are plenty of reasons. Who cares which one it is? If they don't like it, then they don't have to.

Carry around a thumbdrive? Why would you ever need to do that in 2018? So limiting and annoying. Just get a modern phone.

whats limiting and annoying, have any real reason or do u just like to whine.

bleached just likes to whine about things and expects everyone to do what he does.

LOL to be fair I find myself unusually agreei g with Bleached on this one. I find it an oddity when people want to "collect" music. My kids have no concept of acquiring music, when they want it they stream it. Even GPRS would work for music let alone 3G and 4G. Maybe living in the UK with excellent cellular coverage, huge data plans we are spoilt. (I get 16gig per month for 17 pounds. Plus unlimited calls and texts) why would I want to carry a thumb drive or the hassle of filing music. Just stream it when I want it

A large thumb drive is just as handy as a phone, without needing to pair. Plug and play. Plus if a service like Groove shuts down, you don't have to scramble and rebuild your collection. And in my neighborhood for example with att internet, if you don't buy the unlimited plan, and youre talking about gaming, watching streaming shows and using the web for multiple people, you would quickly eat up your data and get overages. If i didn't get invokes i would have started buying albums again, but I'll resume buying next year after i build a home server to store my files.

Because a lot of music isn't on Spotify. Stop being a jerk just for the hell of it. I have heaps of albums and mixtapes not on spotify, hence why I have music on my OneDrive. Plus albums can get pulled down from Spotify occasionally. Happens.

Streaming is easier and cheaper, huh? Is your ISP free and unlimited?

Since when is having your own music files locally archaic? As for your cheaper argument, that entirely depends upon how much music you listen too. For somebody like me, streaming is expensive and not remotely cost effective.

Changed to Spotify on the last day, I miss Groove...

I still use a Zune HD and the Zune software on my Win10 machine, it's never been equaled.

Once again, really bad headline. Groove isn't dead. Just the random music streaming service.

It's more dead than a Windows Phone device is dead, yet y'all say Windows Phone is dead.... At least I'm still using 95% of the functionality of my Lumia 950 that I was before it was so called dead.
......
For most people the primary function of the Groove app is dead.
Can't say that for a Windows Phone device where it still can perform as ANYONE'S smartphone on a daily basis... Just can't Snapchat on it........ So, let me get this straight. You don't think Groove is dead?

I actually didn't like the streaming portion of Groove. I only really used it for OneDrive Streaming.

Understandable, but you have to admit that your usage doesn't represent the usage characteristics of most people on any music service.

Which was 90% of what groove was.

So how do those of us who still had active Groove subscriptions get our 120% refunds? This should happen automatically (it didn't for me). Now I need to spend my own time talking to their Support Team. Vexing.

Groove is still great ! It's my go-to music player for my local music collection !

It's not still great... 95% of it's purpose for the majority of users is gone now.

This is actually true for me. I've not launched Groove on any of my devices in 2 months. And that includes, Windows pcs, Windows mobile, Android tablet and my new Android phone. There's no reason for me to use Groove when I can use the god aweful Spotify app.

Lol. I see EXACTLY what you did there... Yeah, I hate it too, but I'm adjusting. The Spotify app could be better with a few updates.... Waiting

Where are you getting the "95% for the majority" figure from? do you have a link?

No link necessary.. Actually, in 2018, with no streaming service, or music downloads to offer, it's at at 1% usability. I was being nice by saying 5%. Lol

Why would I need a link?
You don't agree that the overwhelming majority of Groove Subscribers, and users, used this app for it's downloadable catalogue, and streaming service?
If that's gone now, what do you have left? What you have left is a very small percentage of people who use it as a standalone music player.. I bet 5% of usefulness left is generous.

More retrenchment for groove staff.
When will Nuttela be out of a job? I wonder

One cool feature I did find with the Spotify app for Windows is that if Spotify is playing on one PC, it will mirror on your other machine in absolute real time. For example,,, the other day I had Spotify playin on my laptop in my bedroom, and I had my Surface 3 with me in the house. When I opened Spotify on my Surface 3 there it was on the exact song that was playing on my laptop. I could control the playback on my laptop with my Surface 3 like a remote control, changing tracks, position, switching playlist, EVERYTHING!... On my Surface 3 I could pick up EXACTLY WHERE I LEFT OFF on my laptop. That's a VERY nice (and unexpected) feature of this ugly @s$ Spotify app, and we've been asking for MS to give us this in Groove for years...
.......
The Spotify app has some much better playback than Groove, and some useful features. The catalog is also way more complete than Groove; it just seems to play everything you ask from it...... My only problem is that it's ugly, slow, and so resource hungry that it will slow your machine down. It hangs up, and crashes.. It's ugly, and buggy, and feels like Android 2011. If only Spotify could be integrated with Groove we would then have perfect music experience. Sigggghh 🙄

Better playback? In mobile? I'm having a lot of cuts and interruptions while streaming on a cellular connection, while Groove on the exact same conditions streamed music flawlessly. It also freezes (the Resuming screen). I think it's fair to say that it's far from a solid app.

I definitely agree it's not a solid app.
You didn't read my comment to the fullest extent... Read it again, please.

And, no Leached, I don't give a FUKK what your cockroach opinion is about my comment, so just keep your trolling mouth shut, and go away.
.......
Comments from any other sensible users are very much welcome, and encouraged, and thanks for your maturity.

WAAAAAAHHHHHH TRRRRRROOOOOOOOLLLLLLLLLL Run home with your ball Rodney....mommy will take care of you!

Actually, the catalog of Groove music had a lot more song than the one of Spotify. Groove music had around 40 millions songs and Spotify only has around 30 millions songs, so it might just be that Spotify has more of the type of music you like, but on my side a bunch of my music isn't available on Spotify. (source: https://en.wikipedia.org/w/index.php?title=Comparison_of_on-demand_music...) Also, one problem with Spotify's library is that you can't have more than 10 000 songs in your online library for some reason, so on top of the songs that weren't available on Spotify, I had to get rid of half of my albums when I switched to Spotify. There's also a lot of problems with Spotify when it comes to playing albums and navigating your library. Spotify is good for people who only listen to playlists or random music, but it's really bad for people who primarily listen to albums. I also wish Spotify would be integrated in Groove. It was a much better app.

Huh? I doubt that. I mean, I very sad about Groove going away, but Groove didn't have the selection that others services have. Especially iTunes..
......
I know the majority of Windows fans hate to admit this, and hate to see me post this, but It's true.

Don't doubt it. It's fact. Microsoft had more songs on groove than a lot of other services. Fact bro.

Well, hopefully Spotify on W10 gets better. I think we can all agree with that one..

Since Spotify was supposed to be one of the most popular streaming services I was expecting an ever expanding selection of music. But like moving to an Android phone my experience has been subpar and dissappointing.

I have to agree... Sucks. But, it'll probably get better.

Microsofts history in music just makes me so sad.

And Spotify on windows 10 mobile is terrible. Crashes halfway through a song. Or won't play anything until after a reboot

The funny thing is. I have songs stopping midway on Android as well. No crashes though...

I've tried to move my music collection over to Spotify but it could only match about 50% of my library (which is about 3000 songs). Is there any viable alternative with streaming from an online library + cloud storage combined like groove?

I've washed my hands of Microsoft as a content provider. Groove's death broke me for Windows 10 Mobile. Microsoft's continued lack of integration with Movies Anywhere has stopped me dead from purchasing a single movie from the store too. Thank the stars that Vudu has a Windows app. So I can't go to Microsoft for my movies, TV shows, or music anymore. Shame. For a couple years there, Microsoft had a really robust all in one ecosystem for consumers. It's almost like someone at Microsoft doesn't care about the consumer space.

This is my experience as well. As soon as Microsoft killed Groove pass I stopped buying movies from their store because I simply don't trust them anymore. Microsoft... Do you see how that works?

It's obviously Nadella that doesn't care. If they were planning to ditch their consumer media offerings, why on earth would they only partner with Spotify. Who if I'm not mistaken is spiraling the drain financially? They should have just used Spotify for the backend and left Groove alone. Or.. Since they signed a partnership with Amazon, whom aside from being their neighbor also offers EVERYTHING and is the king of media. Why not sign some sort of deal with them? Short sighted or head in the clouds?

Probably because there's no Amazon music app for the few that's still sticking with Windows Mobile.

I love Groove and use it as my primary music app. I wasn't a subscriber, so this doesn't have a huge impact on me.

I really hate Spotify. I've been using it for the past week to try it and it's horrible. It's seems to have been designed for people who only listen to random playlists. Like there isn't even a way to add two albums one after the other for if you want to set a couple of albums in advance when you're going for a long drive without having to first create a playlist for those albums, it's really dumb. If you just start the first album, then add the second album to the queue, it will play the first album's first song to the end, then it will switch to the second album and only then it will continue the first album. For whatever reason it's treating the "now playing" and the "queue" as two separate things and it plays the queue before the now playing even though it's impossible to add something to the queue if there isn't already something in the now playing. There are many stupid problems like that, really basic stuff that any music program should be able to do, and whenever I try to find a solution I end up on Spotify's forum where people have been complaining about the same problems since 2013 and they don't do anything about it. Also, Spotify has a limit to how many songs you can have in your library, so when I switched from Groove to Spotify I had to get rid of half of my library... Oh, and one more fun problem, even if you select the option to not launch Spotify when Windows starts up, it will still randomly open every other day when Windows is booting up.

I used Windows phones for 6 years, from Windows 8 to Windows 10, and finally switched to Android (OnePlus 5T) yesterday. The journey with Windows was great, and I do miss a few functions of Windows here in Android, but Windows is on a downward slope, and it seems like it won't climb back up again.

I use Groove app on Windows 10 and on Android. Groove works great without subscription.
1 - Put your music library in one folder.
2 - Manually edit the album name in file settings, you can do for all album tracks at once.
3 - Use Windows Media Player to get the correct albums and artists metadata.
4 - Disable automatic metadata download in Groove App.
If you do this all your music will show up the right way, correct album, artist, year, etc..
5 - Move your library to Onedrive music folder.
6 - In Onedrive settings deselect your music from your PC so you can keep it in the Cloud and save space.
7 - Now your music will stay in the cloud but you can stream it with the Groove app when online. You can also use the Groove app to download any music you want to keep on disk.

I don't know why they didn't partner with TIDAL instead. Music at a bitrate of up to 2304kbps FLAC instead of the 448kbps ogg that Spotify extreme provides.

Has the Groove player gain any features and updates lately? This app is lagging behind compared to other media players from 1999. Customization options? EQ? Visuals? Drag and drop audio into player? UWP is a joke.

Nop. It's still the pathetic mess it has always been. Windows Media Player still beats it into a pulp.

Finally broke down and went all in with Spotify. Other than attempting to figure out how exactly to use Spotify I haven't run into any of the issues some have noticed. No skipping. No crashes. No restarts. I'm running WP 8.1.

Oh shoot, i forgot to download my music before the cutoff. Everything is listed as not having download rights

Ohhhh, no. You might be out of luck. Sucks.

Plenty of warnings were given....

There simply is no replacement for Groove if you're on Windows 10 Mobile. Aside from podcasts being separated out for some reason, I could do EVERYTHING in ONE APP! Unless there's another service that will offer local and OneDrive playback, an affordable streaming service (groove cost me $30 per year) and do it from one app and be available for mobile, then there's truly no replacement :(

Any advise on which Windows Store app to use to buy music now? Thanks

Amazon Music family subscription and Android phone and tablet... Windows only for work now...

Groove was built on the system as a music player when it was more focused as a music streaming service and incredibly, it was awful on doing both. Poor customization, few features… I only have a local playlist at my PC. I don't have streaming and things like that, I wanted something like the next version of the Windows Media Player 12. But no. I understand the appeal of copying something as famous as ITunes, but the Windows OS is supposed to be a system with the slow user in mind. A lot of the people who upgraded or got a new windows machine are lost on so many features that they will most likely die before they learn to use them all. And even power user, like me, are just annoyed at all the stuff that is not optional to install and sometimes not optional to even remove, at least not without a headache. Not for bias or anything, I tried Groove before hating it, but it is just bad. Again, I understand the appeal of copying from Apple, but don't copy their mistake of forcing people to use their own stuff. As a small edit, I saw that a lot of people actually enjoyed Groove. Well, it means nothing now, but if that was the case then I wished it was not taken out. Microsoft is becoming the kind of company that only does the very minimum necessary and nothing beyond that. "Your Windows start? Good, that is enough."

Cracks me up, I finallyu fired up my XBOX1-X this last weekend and it came with Groove app installed. Why bother when they won't be supporting it?

Sigh, a great service and app that died because of no support by Microsoft. This certainly could have made it independently of Windows Phone if more support was given to it.

It appears that if you've applied the registry hack that brings back the Marketplace features in Zune software, the music section in marketplace and Now Playing art have died. I was hoping the Now Playing art would survive :(

It's funny reading about all the problems people seem to be having with Spotify. I have no problems with it, but I am using it on iOS. No crashes, no freezing. Just albums from start to end. I don't use it every day, as I have a huge local collection ripped from CDs and/or downloaded from various sources. But Spotify seems OK to me.

"the local playback features of the app still remain functional following the shutdown." But since Groove is a pretty horrible player for local music, I hope Microsoft allows us in a future Windows update to completely remove the app from the system.
The old venerable Windows Media Player still beats the sh*t out of Groove in the library management and music playing departments.

Horrible how? Works fine for me

And Spotify just got sued for copyright infringment. This should be interesting.

i miss groove already Crying still

Does anyone have a GOOD suggestion to buy mp3 albums and single tracks now that the Microsoft Store doesn't sell music? Amazon once had a terrible "downloader" app or "locker" app or something like that and it turned me off ever using them again. Is that still the case?

It's not compulsary to use Amazon's downloader. You can just download their MP3s in the usual way with the browser.

7 Digital? They have hi-res FLAC downloads for some content too. Files download as .Zip and have no drm. Then there's the Google store

That's one thing they are good at

Anyone else notice how they removed the personalize playlist feature? I was able to use it a couple days ago, but now i can't. Now I can only rename my playlists. Funny part is that all of my playlists descriptions and pictures are still there. Now I'm stuck not being able to edit them.

For me, this was the straw that broke the camel's back. Two years ago, I bought a Windows Phone and was totally pro-Microsoft. I used Groove alll the time. Then last year they cancelled the phone and now Groove. I am back in the Android universe. I have given up on Microsoft.

Well. There's no way to understand Microsoft. In Portugal, Spotify is managed by a local company which is now part of Altice. I only discover that recently when I asked for informations on how to have a Partner Account for streaming live.
I don't know what this guys are doing: they have killed the best device for music; they have killed Lumia (and the new Nokia is a bad product); they have killed the several functions and apps, like Groove which was the best in the market but not sold properly by the Micrososft's Marketing department.
I have great news for them: I still own my 3 Nokia Lumia and guess what? I can't find nothing better than the 920 and I refuse to use any Android or iPhone despite what is said here https://www.windowscentral.com/chime-it-wise-buy-windows-phone-right-now
To my job the new Laptops are better than any Mac as the new creators features have been improved and a Mac doens't support some of the best softwares I need to use.
So, saying this...Microsoft is certainly preparing something (I call it the LinkedIn sindrome)...I am still using Microsoft and by one more reason: neither "Hey,Google" or "Siri" don't speak Portuguese (the real one...sorry but I don't speak Brazilian) but Cortana works.

How can they possibly think that anybody will continue to use Groove to play back locally stored music? Obviously people will stop using the app altogether and then six months from now they'll kill the app altogether and blame "low usage numbers".

Groove to Spotify ?? What? Microsoft probably means Groove to DEEZER MUSIC since their UWP APP is 100% Compatible with Microsoft's own Continuum! (Spotify doesn't work!) #OneCore #OnePlatform right ?

Groove music won't even sync my songs from OneDrive now on android....
Windows Central Newsletter
Thank you for signing up to Windows Central. You will receive a verification email shortly.
There was a problem. Please refresh the page and try again.