Microsoft throws in towel against Spotify, drops Groove Music Pass
Microsoft is throwing in the towel against Spotify and ending its Groove Music Pass. The Groove app for Windows and Xbox will remain, but only for local and OneDrive-stored music.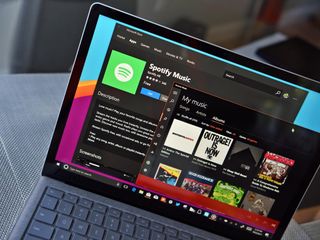 (Image credit: Windows Central)
Microsoft is announcing that its Groove Music Pass is coming to an end, with sales in the Store for music and its pass ending December 31. The streaming portion of Groove Music will continue to function until December 31, after which the service will be turned off for good. Refunds will be issued in a pro-rated fashion from the December 31 date.
To make the transition easier, Microsoft is partnering with Spotify, which will let users import their current Groove playlists to the popular streaming service.
Jerry Johnson, general manager of Microsoft Groove, detailed the change in a blog post today:
In notes about the app changes, Microsoft reveals the finer details of the change:
Microsoft has also written an FAQ about the change (opens in new tab) to provide more information.
A losing war with Spotify
The reason for the decision to kill off Groove? The competition is too fierce. Spotify has a presence in over 60 countries, offers a popular family pass, and boasts 140 million active users, of which nearly 60 million are paying subscribers. Groove, meanwhile, sees only a fraction of that usage and subscribers and is still far behind in functionality and user satisfaction.
Microsoft is sobering up to the reality that it will never catch up to nor compete with Spotify. As a result, there will no longer be any significant investment in trying to win a losing battle.
Indeed, it was only recently that Microsoft announced a new Spotify app for Windows 10 and one for the Xbox One, in what may have been a tit-for-tat deal.
See Spotify in the Windows Store (opens in new tab)
What happens next for Groove?
The Groove app for Windows 10 (PC and Mobile) and Xbox will continue to work and will be updated with normal functionality. However, numerous features will be removed going forward, including:
Radio.
Explore.
Recommended.
Store purchases of music.
Music video playback.
What will continue is the ability to play locally-stored music as well as streaming from OneDrive, where you can continue to store your music library to reach all your devices. After December 31, 2017 Microsoft will no longer offer the option to stream, purchase, and download music.
The same applies to the iOS and Android Groove apps, which will continue to function with OneDrive but without the radio/explore components.
Undermining consumer confidence
As a fan of Groove and its Music Pass going back to the Zune era, today's news is very disappointing and worrisome for me.
While Spotify is a juggernaut and it makes little sense to continue to throw money away, Microsoft's decision further undermines confidence in its commitment to the consumer space.
Long term, Microsoft will continue to build the platform and structure for other companies to create products – especially established services such as music streaming – nonetheless, this undoing of years of progress is damaging.
Going forward, should users expect the Movies & TV video-streaming service to continue against Amazon and Apple? What about Mixer versus Twitch in-game streaming, or Bing versus Google for search? These all seem like losing battles and services that Microsoft could cut at any time.
The dearth of Groove Music Pass users is clearly related to Microsoft's failed mobile business. Over half of music streamers do it from their phones. With no phone platform, Microsoft killed any viable chances for Groove success.
While today's decision is likely the rational one for Microsoft's business, it's the wrong one for consumers who invested in Microsoft for all these years. It's hard to recommend a Microsoft service, like buying movies, books, or even game streaming, with this decision. For years, Microsoft undercut and undersold Zune – and eventually Groove – and now that poor management is resulting in another significant loss for the company.
Daniel Rubino is the Executive Editor of Windows Central, head reviewer, podcast co-host, and analyst. He has been covering Microsoft here since 2007, back when this site was called WMExperts (and later Windows Phone Central). His interests include Windows, Microsoft Surface, laptops, next-gen computing, and arguing with people on the internet.
It isn't the 1st of April is it. Bye Bye Microsoft

That's the exact same thought that came my mind first. I had to make a mental check of what month it was...

Why is anyone surprised (except Nadella of course)? It was clearly stated by many that abandoning peoples first device (phones), that Nadella was also (unwittingly) giving up on Microsoft services... over time. Groove is just the first to fall. People will almost always use the core services of their first device platform (i.e. iTunes, gmail, google search, siri, etc.). Nadella is a smug fool. He thought he could make a great universal (mobile) services and people would adopt it over the platform defaults. Groove proves how wrong that is, and it's the one belief of his will crush Microsoft. Right now, I'm sure he still blames the folks at Groove for not making a better service. Unfortunately, it's not the service, it's his strategy. It is already killing usage on other Microsoft services like Cortana, Bing, Outlook mail, OneDrive, etc. They are all doomed to die because he 'didn't see the need for a third mobile platform' or something like that. People buy ecosystems. It's like going to grocery store, you strongly prefer one stop shopping over going 5 places to buy dinner. By killing mobile, Nadella took out milk and eggs from his grocery store. Why sell them? You can buy them elsewhere, and we don't make money on them. A grocery store without milk and eggs, nice. With Groove, it's more like he's ending the sale of potato chips. They're not really needed, just snacks. However, his grocery store selection is becoming smaller and smaller. He may claim the best meat (PC OS), but people are reducing how much of that they eat, and you can get meat at more complete grocery stores (with Apples). Nadella believes he can make a grocery store with only highly profitable items, and cutting anything that doesn't make money. However, without those items, people may not come in his store at all. Other stores attract customers with specials, and even loss leaders. Also, they have a full variety of products, so no need to shop elsewhere. Nadella is cost cutting and product trimming his way out of business. I'm sure this doesn't make sense him, and his smug look and fancy new book assure everyone that his consumer failures will not deter him. He may believe he can sell Xbox and run to the enterprise (if Xbox isn't already for sale). That may buy him some time, but we all know Google will come for him there. And they'll be back by generations of Google loyalists that started with an Android phone packed with Google services. For him, no worries, he'll retire extremely rich without regret to people he laid off and the business he destroyed. Business students will spend decades reading his book and studying his decisions for what not to do.

Thanks to think and say what I couldn't think clearly enough and put in words myself.

"Nadella is cost cutting and product trimming his way out of business" Bingo! MS is making moves like a company looking for ways to avoid/delay bankruptcy. When companies are growing, they typically will expand into new markets. When not, they will retract. As an MSFT stockholder, this worries me long term

If you don't know the history of ValueAct and Microsoft, then you should look it up. ValueAct sold out and is now abandoning their board seat if you want. You can believe they completed some mission to turn Microsoft into company that's going to make killer profits for a long time, but isn't that when you should buy more or at least let your investment continue to pay you income? Or maybe, just maybe, they pushed for the changes (Ballmer out, Nadella in, kill mobile, layoff Nokia employees, kill wearables, etc.) to increase short-term profits margins they knew would raise the stock price, and now they have sold out because they know they killed Microsofts long-term options. They were on the board, so they know the long-term strategy and outlook. You decide which is more likely.

Wanna know what this means? Get out. Sell that MSFT stock nao!

I hate it too, but MSFT's stock price is near an all-time high. It's this high BECAUSE of moves like this. The market loves it when MSFT exists a category that is dominated by someone else. I'm sure they were losing cash keeping the music pass humming along while not getting any new subscribers. The real issue is not any Microsoft product but their lack of marketing efforts in the consumer space.

I the beginning I thought that too. It's why I was so confused why MSFT would cancel their mobile OS. Surely they knew that would mean the end of their consumer presence, and maybe even Windows in general. That's when it dawned on me, about a year ago, that they already KNEW that Windows was lost and the war was over. You are right, this is just the beginning, but its by design. I believe MSFT and their Board leadership have decided they lost the platform war for the next decade. It was lost by Balmer, not Nadella. Don't blame him. He's just trying to save the company now by seeing the future and trying to position it as an enterprise services company like IBM, SAP, etc. If I'm right, XBox will be sold within 5 years once its certain that Windows is dead.

If it was planned, they would have never allowed statements like "1 billion Windows 10 devices". They fell and now are trying to cover it up as a strategic and planned pratfall. Don't let them fool you, things are not going as planned. You're right on Xbox, I'm sure discussion are already occurning with possible purchasers (maybe Apple?) behind the scenes. Anyone at Microsoft needs to ask themselves, do I work in a required enterprise cloud team? If not, you really need to get your resume out there.

I think you are selling Nadella too short. They will be studying it for a lot longer than a few decades.

The only problem with you statement is that Microsoft Mobile platforms never was the source of users for its services, else it would almost never had any. The majority of its services users' have been, are and for the foreseable future will be coming from either Windows or other platforms.

What is Microsoft? It is Azure and Office 360. Azure can survive this but Office 360 is not going to be the choice of a world used to Google Docs. Nor is outlook ever going to mean anything to Gmail users? And Google will starve the remaining platforms of Windows and XBox of useful apps. It is a shame the mobile vision of Windows Phone was a great experience.

I don't think Microsoft killed their mobile line. I think they plan to relaunch it as part of the Surface line of products and Windows Continuum across all devices. They won't simply let the Continuum feature walk without a mobile leg, so to speak. It would be a gimped platform if Windows 10 didn't have a proper mobile line of devices on which it can run. What is clear now is that Microsoft killed Windows Mobile. Everyone and their mom knows they are planning to launch a Surface phone at some point and that will be used to relaunch Windows on mobiles.

No one knows that but the hardcore contemplative and bloggers. Microsoft has never said anything about a Surface Phone.

Although I don't disagree with what you are saying, Microsoft's troubles began long before Nadella got there. Windows Phone and Zune had long since failed. Nadella, and believe me I'm not really a fan, is just the one facing the music (pun intended). Microsoft has no mobile platform. This will ultimately doom them. Until Microsoft fixes this, and it must, Microsoft will continue to slowly and surely lose relevency.

What would the next? Kill off Cortana for Alexa and Bing for Google?

Alexa/Cortana partnership already announced, so....

So nothing, they could do their typical thing and not talk about it anymore and let it just die in silence.

At first when i got the email, i thought this was a partnership, i was like 'oh this nice mergering data beases but i get to keep the Groove app that i like', but no. It seems like everything is going to be a near monopoly.

Alexa works way better than Cortana anyway. Mash Cortanas Seach abilities and system integrationin to Alexa and you have a winner. Cortana never lived up to the hype.

They did, but there is really no gurantee how long it will last. Cortana may eventually gets rebranded and be just an AI for enterprise solutions. Currently Cortana don't get as much as consumer penetration, comparing when it was announced where it was better than Siri and really competing to Google Now, which didn't even a proper digital assistant back then. The only big downside though, the rollout of Cortana to other countries with same features and capabilities as the US was slow to basically no progress. Then slowly Cortana do gain some new things while making the UX inferior on some aspects, yet still with slow rollout. Alexa just came out of nowhere but Amazon is really trying to make sure that everybody (at least where Amazon is at) will use Alexa and part of their lives, gimmick or not. So this is not about who is the first, but who gets it right and continue to push on.

Cortana is also being integrated with BMW and Nissan, so...

Cortana still isn't available in the netherlands, so it has become another Microsoft thing to skip here...

Cortana is not available in Norway either. I can understand that we with our small number of people (5 000 000), will come last in line. But allmost all Norwegian speak English fluently so why can't we have Cortina in English? I have a subscription on Groove. I used to have a Band 2. I have a Lumia 950 XL. I use OneDrive on a daily basis. But since Microsoft clearly show that they are moving away from customer product, I should probably just buy myself an iPhone, Apple Watch and an Apple laptop, and move away from this eco-system as fast as I can.

Already got Siri and Alexa, why do we need a 3rd AI platform???

Google Assistant and Alexa, you mean. Siri has been inferior ever since Google Now, and Cortana... It can barely set the timer on my PC, sadly. But I disagree. We do need more than 3 leading voice-assistant platforms, for the healthy competition. Without BB and WM, Android and iOS are getting rather stagnant, without revolutionary changes. No competition is never good.

Siri has been inferior since Apple bought it and discontinued the app in favor of a built-in approach. That said, Microsoft didn't bother to advertise a goddamn thing, and then wonders why they fail to attract users. Simply releasing an app is not enough!

Yeah, i really thought right about now they were going to start advertising it. but no, they just end it. Microsoft doesn't realize that the consumer space is going to be the profession space in a few years. I'm an older person going back to college right now, and i can see it wih all the young people there that they are only learning the free consumer stuff and using that for bussiness.

Microsoft's Cortana for Android can't even be installed outside the US unless you manually download it and sideload it.

There is a ton of competition. You don't think LG, Moto, Huawei and any of the OEMs aren't doing everything they can to try and compete with Samsung? They have the source code to Android and can do almost anything they want with it. Competition is strong within Android let alone against iPhone.

Siri is nowhere near what Cortana is.

Exactly! I LOVE Cortana. I got an Android Phone now and STILL use Cortana!

Also one of the first things I installed.

Obviously you live in tbe US. Outside the US Cortana is c r a p.

I live outside the US and Cortana is still pretty great. But surely MS being too US-centric in their services is another big problem.

Maybe because Siri isn't AI at all? Never has been? Even Apple doesn't call Siri "AI". Artificial Intelligence by definition is the ability to supplant human decision making through the SPECIFIC ABILITY TO LEARN from external input & have that learning be persistent, transcending individual interactions. Siri does not interpret inputs nor does it retain information about preferences you communicate through searches. It doesn't arbitrate between what you might like as a result based on anything retained from past interactions & it doesn't help make decisions for you. Siri is a voice recognition system and some arguably declare that interpretation to be a form of "Artificial Intelligence" - but I think most AI researchers believe that that no longer fits the modern definition of AI. It's not what you hear... it's what you hear, interpret, prioritize & act upon that makes something 'artificially intelligent'.

I think you might be wrong. I have asked Siri several question, such as "who is the president of the United States" - reply "it's Donald Trump". "How old is he?" - reply "He is 71 years old".

Well, we only have 3 more years before she goes rampant and either dies or turns into Space Hitler.

For many people, including myself, being "Not available in your country" for years equals dead

Bing is next, why do we need another search platform when google and yahoo are #1 and #2.

Bing Maps is powered by Here, so no, I don't think Bing will go away, since is the only alternative vs Google, which I don't like. Call me a Google hater but I don't care, with Microsoft my personal life keeps being private

Bing is more than a search engine. It's a platform. Not going anywhere.

I just asked Mike Ybarra via Twitter is Xbox next seeing that Groove has been cancelled. I have 2 One X preorders and would appreciate the heads up... will let you know what he says..

who the h*** care what he says ??? He will reply with the usual corporate nonsense. They are DONE! If they think the Cloud will save them ... GOOD LUCK!

That... doesn't make sense.

EVERYTHING is on the table for Satya to can it. If Satya can popssibly kill something he will

I'm a Google hater, too, which is why Microsoft has continually ticked me off the past couple years. I'll die clinging to my Lumia Icon!

Curious why you would feel that way when Microsoft clearly regards its mobile platform users with utter contempt.

You do realize that yahoo uses bing as its search engine....

I don't think Microsoft knows this, which is why when they can it, The guys over at Yahoo are going to troubleshoot the issue for a few days before they realize, hey, wait a minute!!??

Looooooooooooool
Very funny

Last i knew Yahoo was behind bing

Thats my point, if Yahoo is #3 and close to Bing, why do we need a #2?

You sound more and more ill-informed. Which in itself is reason for more search engines...

its sarcasm based on Nadella comment "did not get why the world needed the third ecosystem in phones"
IT obviously applies here, why need a 3rd platform for music, gaming,search or AI. Bing is a distant 2nd to Google which is really like being in 3rd place....I'll stay informed if you stay up to date..

Did you look in the mirror?

Otherway around..Though with Verizon buying them who knows what the future holds for that agreement.

You sound like an editor for Nadella's book. He's a joke.

Why bring Yahoo into the topic. Its web properties are faltering. Among the two, Yahoo should actually be the one considering shuttering its search engine.

In the history of Search Engines, there are examples prior to Google that were THE search engine and have withered away. So is there a need for another platform? Of course. If only to counter the dominance of Google. And Yahoo #2? When? Where?

Why do people think there is supposed to be a limit of 2 choices? Besides, I've only seen missus of search engine rankings in the order of Google, Bing, Yahoo.

Yahoo serves bing results...

Because they pay you to use it, and Bing is better for porn. The key is: Light searches with Bing/Heavy and more serious searches with Google. Yahoo is terrible at anything involving security.

Even Apple is re-embracing Google search again. The writing is on the wall.

Meanwhile, I'm just checking if Windows Central app got commenting fixed. If you see this message, it's fixed.

Yeah so good to have it back. Had to uninstall and reinstall Windows Central after the update today, but I can finally comment in the app again!!!

I switch to the web because I thought it hasn't but it is nice to know they finally got it.

It's fixed Finally! You have to log out and then back in again...
Don't know about avatar leaking though!

Looks like avatar leaking continues to be a problem unfortunately! Another two months to fix that one?!

YES, Finally I can comment again!!!!! woo hoo!

Just testing if in-app replies are working. Yup. Woot...

Not fixed for me, and I have the latest app update. Not only that, but I logged out to login again, and login on the app is broken too. I get it that we aren't very high on the priority list, but my patience has about run out. The website is marginally usable on mobile, and thanks to the over abundance of ads little more than an exercise in frustration on non-mobile. The ride was fun while it lasted.

Reinstall and it'll work.

Thanks. Resetting alone did not fix, even though it should have.

Every bad word said about Microsoft's CEO Nadella has proven to be true. He could give a rats ass about consumers! I bet Ballmer is looking better by the day!

I cannot believe you actually posted that. You do realize that people can read this...

"He could give a rats ass about consumers!" News flash, Einstein - he doesn't owe you anything. He answers to the board of directors. MS is not making real money in the consumer space, so he's being responsible by abandoning non-profitable ventures. There's a reason why MS stock is doing so well - they're making money hand over fist in the enterprise realm. Why should he be obligated to the consumer space. Did you make the same whine about IBM when they sold their PC business to Lenovo? The fact that IBM is still in business is a testament to their readiness to change direction as markets come and go. MS is doing the exact same thing. Get over it.

I can't say I'm surprised. Microsoft though has killed itself in the consumer space, I bought into the phone and the band only to see them killed rather than pushed hard. Thankfully I stuck with Spotify even though the Phone support on my Windows Phone was patchy, wonder how long before my purchased films disappear from the Video app? Even on that though I've moved to Amazon for any digital media. I was a huge MS fan and will probably move to the Scorpio rather than go the PS route but please keep the MS management and push to blend with the rest of the product set well away from the xbox division!!!

It's bad enough they're killing the Groove Music Pass, of which I'm a subscriber, but why are they removing the option to buy albums and songs independently from the Store? This completely undermines my faith in the Store, and I question whether I should be buying anything from there, as it seems likely they'll do the same thing for Movies & TV and Books in the near future too. Microsoft, you have no understanding of the long-term commitment needed to build a viable ecosystem. No one trusts you anymore: Windows RT (dead), Windows Phone 7 (dead), Windows Phone 8 (dead), Windows 10 Mobile (dead), Kinect (dead), Band 2 (dead), Groove (dead), and so on, and so on, and so on.

I agree. I don't use the music pass but all my music I buy from the store, it's really convenient. The store without music 👿

The Store is empty enough, now you can't even buy a song. WTF. Microsoft has lost the plot. Good look succeeding MS.

The store is useless without music and movies/TV. All the apps are ****, so why use the store at all anymore?

This is also what even baffles me, they didn't just kill off Groove Music Pass, which is the deal with migrating Groove Music Pass customers to Spotify is about. But they actually kill off the whole music offerings of Microsoft Store, which just only recently rebranded to make unified brand and experience to one store. This decision now jeopardize the other consumer offerings in Microsoft Store. Movies & TV and Books, which now signifies that they may as well swiftly get killed when the opportunity comes. Books is really the most unusual, only recently been introduced all while there is no devices, at least from Microsoft themselves to showcase eBook reading experience. No premium hero 8-inch Windows tablet out there, not even big name OEMs, but only some chinese brand tablets (which is not too bad) that is mostly unknown to most consumers. When they first introduced Books to Windows Store, its like what's the point? Its not comfortable to read books on big tablets like Surface Pro, even worse with bulkier convertables. Movies & TV is also on endangered zone, since only available Windows 10 devices which is mostly desktops and laptops. Though it will remain safe simply because of Xbox, though Groove Music is supposed to be safe too with Xbox but we know that isn't the case at all anyways. Especially when there is Netflix since that's their logic anyways. Is Microsoft Store eventually just offer apps, games and some hardware? It seems this is where it leads to. Lastly, is there something fishy about the Spotify deal here? Is Microsoft actually cornered by Spotify and big music labels? Like if Microsoft wants Spotify then they must discontinue their music service? Though killing off Music section from Microsoft Store doesn't make sense for Spotify since they themselves don't offer you to purchase track and owning it. So is there a pressure from music labels too?

So what about us, the users in countries where Spotify doesn't work?! I live in Egypt and we don't have Spotify service working here!

use youtube red although I don't like if you don't pay subscription you can't turn your smartphone off as you can with Spotify

YouTube Red is available in even fewer countries than Spotify.

There is this dandy little thing called ITUNES. Download it on your computer. You buy music from there, and load it on to your dying windows deivce....OR for even better results, buy an iphone of 5s or better, and pay 9.99 a month for apple music and never have to worry about the host flaking out on you like MS has constantly since nadulla took over.

Which only works (mobile) if you have iphone. I'm not being such to any one platform. I went from Groove to Spotify when I switched to my GS8. Actually, I tried Google Play Music's 4 month launch promo with Samsung for 99 cents and then I went with Spotify. It works everywhere, my phone, my watch, my Roku, Windows laptop and tablet, obviously, and even my old Lumia.