Spotify for PC now available for download in the Windows Store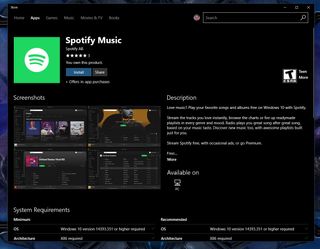 We've known Spotify was coming to the Windows Store for PC and it now looks like it's available and ready to download.
Announced at Build 2017 alongside iTunes, Spotify is a good win for the Windows Store in filling out with apps that folks rely upon. Not to mention anyone using Windows 10 S on the Surface Laptop or any of the forthcoming devices will definitely welcome it.
We first caught wind of an impending rollout thanks to a tweet from Michael Passingham, Computing Editor at Trusted Reviews, showing how Microsoft is promoting Spotify on the Edge start screen.
https://twitter.com/MrPassingham/status/877095432610095104
The app itself was previously only now listed in the Store and not available for download. Now, however, the app is live and ready to download directly from the Store.
Updated June 20, 2017: Updated to note that the Spotify download link is now live and working.
Download Spotify from the Windows Store (opens in new tab)
Richard Devine is an Editor at Windows Central. A former Project Manager and long-term tech addict, he joined Mobile Nations in 2011 and has been found on Android Central and iMore as well as Windows Central. Currently you'll find him covering all manner of PC hardware and gaming, and you can follow him on Twitter and Instagram.
http://target.georiot.com/Proxy.ashx?TSID=15093&GR_URL=https2F%2Fwww...

What is the target[dot]georiot[dot]com nonsense link attached to the Windows Store link?

Microsoft Store affiliate link. Nothing shady, if you buy something using one of our links we get a little kick back that helps pay for the site.

im copying this from spotify community to let u guys know xbox one wont get spotify in near future: I know people are frustrated by the lack of Spotify on the XBox One. I am, too. Spotify has an exclusive deal with Playstation. So basically, Sony handed Spotify a bag of money to keep Spotify off of the XBox. Obviously, none of us knows the details, but it's likely that Sony paid several million dollars to Spotity for a period of exclucivity. Since neither company will comment on the deal (other than to say there is one), we have no idea when this expires or how much money was involved. However, Spotify has teased a new Universal Windows app in conjunction with the Windows 10S launch. Since Windows 10S only runs Windows Store apps, and since Windows Store apps are easily ported to the XBox (In some cases, you can just tick a single box on the Windows Store interface), the technical steps needed to make this happen are already in place. So what this comes down to is that we won't see an XBox app until the Sony deal expires, and we have no idea when that will be. So if you want Spotify in the living room, your best bet is goign to be a Bluetooth speaker system or a streaming media player.

I do most of the apps from here

Good to know, thanks. What about free apps?

It's blocked by my (dns based) add blocker, so I don't trust it.. I'll search the store myself.

Searching the store for "Spotify" or "Spotify Music" did not return the app. I had to use the link from the article.

Is Spotify a centennial app or UWP?

Maybe you knew what he meant anyways, but I think he was talking about the difference between a Win32/WPF/... app ported through Centennial (which depending on how much work you put into the conversion, can act as just an app wrapper at the basic level), or a "true" UWP app built with the .NETCore.UWP framework and C#/XAML (which also runs on W10M, unlike centennial apps).
I know MS prefers users not to bother about these details, but they're still there and they matter, especially for mobile users :)

No Zac, Centennial apps are Store apps, but not UWP ones.

actually they are UWP apps... but they aren't UWAs; as in they do run on the Platform, but they aren't universal windows Applications

True, they are under the UWP category as well, but the thing is that the user that asked the question was probably thinking about UWA apps (C#/XAML/.NETCore.UWP)

Are we approaching semantics territory?

Avatar of Apathy: where were you when Avatar Aang was in trouble? You could have helped the earth kingdom.

We've been in semantics territory the moment somebody mentioned that Centennial is UWP. Yes, that's true, but 100% unhelpful - especially since this is a thread saying that Spotify is now in the Store.

I hope this will be better than the desktop app!

It's the same as the desktop app

Yes. But not yet available on mobile

It won't be. This is the current desktop app.

However, the updating process will be better and much more streamlined.

But isn't it Universal? It could (easily) be molded to adapt to smaller screens. At least I wish they would...

this new spotify is translated to uwp that doesnt mean it will work on mobile... PS. what i noticed that by downloading it from winstore it installs on the desktop version one... and also while i have back, forward, stop, pause and play... those wont work on this new spotify... so if someone doesnt like this not to include then i suggest not to download this new one yet until they put it back

PS when i rebooted my pc... it started to work like the old executive software

Even though it's probably the same as the current desktop version, I would still love to install this. I like having my apps UWP.

Centenial packaged win32 programs are not UWP apps. Therefore they will be not availble on mobile, xboxone, etc

I know. I wish it was though but that's sadly not the case. I'll call it a Windows Store app or Centennial app next time.

Question: Does average consumer care what type of app it is or just that it exists in the Store so they can get it? I'd wager that beyond Windows Central and its community, it's the latter.

i think they wont care... but windows 10 S users would care if its on windows store or not... since they can download apps/softwares from windows store only PS also while in windows store its also safe from virus, yet

I need a sleek, Groove-like Spotify on mobile

Why not available for mobile

Because it's a desktop app for PC just like Adobe Photoshop Elements which is also available in the Store.

If its a UWP app, then why not for mobile?

It's not. It's "just" a desktop program packaged for the store, as far as I'm aware. The code is not/not fully UWP.

I guess it is still win32 app.
Devs are giving poor response

UWP is Universal Windows Platform. We've had this discussion a million times that UWP does not and does not have to equal an app or game that runs on mobile.

Can a centennial app run on Xbox or any other device not being a desktop? If it does, then one can claim Centennial apps be UWP. Otherwise, there wouldn't be anything universal about it.

That's the issue, why not especially mobile?

If Microsoft forced developers to make a mobile version with UWP literally no-one would use the platform and it'd all be over. You need to understand, most of the big names see absolutely no value in supporting Windows 10 Mobile with an app. None of us particularly likes it, but that's where we are.

Then it defies the purpose of it being universal... Does universal mean only for one class of devices? Then it should be un-universal or exclusive of a certain kind...

When the developers decide to.

I'm guessing it'll be the other side of never.

Cool. So I'm guessing this might mean its coming to Xbox One as well. Since it is UWP.

Unlikely. Sony has that locked down it seems. Spotify powers PlayStation Music. Never say never but this app is PC only right now.

There is a support thread, I think the biggest one, of people complaining about this very thing. Its been active for years. Sad that they sell out half their user base :(.

Hmmm. But what is there to differentiate Windows between devices? Windows is windows surely.

Developer still has to choose Xbox as a target. If they legally can't... well...

That's pretty bad against MS. It's not like a developer has to differentiate between a Glaxay Phone or a HTC phone for Android. Or a tablet Android device. They all just have Android.

Developer does have to put sys requirements though. Your analogy is 100% accurate. Xbox has the same Windows kernel but different shell. It's more apt to say a developer choosing nougat as their target, but even that isn't technically the same thing. But either way, this isn't 'bad' mainly because your argument lacks understanding of development.

I really want to turn my PC into a Windows S PC :(. I just want to have UWP apps only

Then just install apps from the Store?! You already have that option, with the freedom to go beyond it if you really want to ;-)

Doesn't the Creators update for Windows 10 have the option to only allow store apps? Is that not the same thing? It should be under Settings->Apps->Apps & Features and then select "Allow apps from the store only" and tada! you can now add a 'S' to your PC

Cannot download but it already has one 5* rating.

That is what the store will turn out to be in the end (and what it should have been in the first place): a software repository for win32 applications that allow easy install, updating and a library function. iTunes and Office are coming too. Not all this UWP nonsense which makes no sense without mobile.

Being able to update seamlessly is literally the best thing about apps like this being in the Store imo

Well they do make sense with xbox and hololens (maybe more important than hololens is IoT if that gets off the ground). Of course, mobile would have been the biggest reason but there are reasons nonetheless.

Yeah yeah. Ask yourself how many people you know that are actively using UWP apps on Mobile, Hololens and Xbox on a daily basis. You still think it's worh the money and effort at this point? Maybe someday, at some point. But that's not worth investing in at this moment.

On Xbox everyone i know who has an Xbox uses UWP apps. Weather, news all sorts. There's hundreds of apps available for Xbox in the UK.

Apps on mobile are generally either for consuming content or finding content. While the latter isn't that appealing to xbox (especially since mobile excels in geographically relevant searching), the former absolutely is. Apps on xbox are great. The CW App, Netflix, Hulu, CBS, and more are just the big fish, but there are plenty of others that are useful on the big screen as well.

So you created an universal option to keep only producing software for one kind of hardware (pc)? That is dumb Nadella...

Their plan was first to do it like that., available on every device. But they failed so they need ppl to use win store by doing it other way so Win10s would be interested. Then after win store is popular they going back to the plan where it is available to every device... That is my though

Great, can we get some love for Sonos though, their PC app is horribly horrible compared to what's available on mobile. So clunky and ugly. I don't understand why more developers aren't porting their touch friendly tablet applications to W10. It's not like the users aren't there...... I know all about the 3rd party apps, they work, but not able to update speakers, or add speakers, and interface is also not great. Spotify Desktop app is actually good. Sadly, it's not a UWP, so no mobile love, but with MS all but conceding to Android and IOS, does it even matter?

This is why I won't buy sonos. They force you to use their app for everything (why the hell cant I plug a phone into via aux or Bluetooth)..and we all know windows users are poorly supported. I hate this app-only BS..

Cool deal, as long as it functions exactly as the original desktop app. Unlimited skips with ads. I know on the iPad and Android devices, you don't get that feature.

Yes that is basic in a free service with ads, and also hope plugs in like last.fm keep working in this UWP app

I see a WC article coming out soon..."The Difference Between UWP apps and UWA and how Centennial works"...

they already did many articles last year explaining this!

For all those wanting a UWP internet radio app that runs on Xbox and mobile, check out SomaFM.
https://www.windowscentral.com/e?link=https2F%2Fclick.linksynergy.co...

I hope this app behaves as the flash web app or win 32 app in the sense you can play the album songs you want and not in random order as on iPad and Android tablets

it probably behaves exactly as the win32 app since it just is the win32 app. only packaged for the store ;)

It's always random order if you have a free account regardless of platform. You need a premium account to play an album/playlist in order.

even as free user i can play my song on the list how i want + ads

I am using free account, i can play songs of my choice, but with ads banner+full screen ads. But i can live with this as i rarely open the app while playing music. BTW, i use Spotify mod on my Android phone. It's a win win game. 😀😀😀😀

Finally I'll get rid of that silly XP-style tray icon!

yah now the icon looks cool

Still waiting for the whatsapp to be available, it was listed in the store weeks ago

what does this app mean for the future of mobile?

nothing probably. as far as i know spotify discontinued further developement of the mobile app some time ago anyway

Absolutely zero. It's a desktop app for PC.

If mobile turns out to be full Windows as thought, then Spotify will be on Windows Mobile ;)

What is the benefit compared to downloading the application directly from Spotify.com?

easy install and clean deinstall. furthermore windows 10 S cannot install applications from the web ;)

Since it's all wrapped into one package, it doesn't modify the registries, it doesn't write wherever it wants on the disk (only to not remove those files during uninstall), and updates are handled seamlessly by the store, not by the app's built in updater.

Seamless install and clean uninstall experience, automatic updates, no writing/rewriting of registry and protection of your PC and OS even if something goes wrong with the app.

It shows one man already used this app before it released.

It actually shows 8 people already used this app before me.

maybe its country based... it shows 4 ppl for me

Amazingly, installing the Store version automatically migrates all data over from the pre-existing version and uninstalls it afterwards. It even replaces the old Spotify tile with the new one if you had it pinned. Startup entries are also automatically created. It may not be UWP but this is a first-class Centennial port. Great job by Spotify.

It is well done, but what bothers me is that the Spotify web helper launches on startup and isn't listed in task manager. Kinda surprising given that kinda contradicts what a UWP should be

Why is it being called a UWP app? It's just a port of the desktop program, and it can't be installed on mobile. Mobile users still have th garbage app Spotify stopped supporting a while ago. It's such a bad experience that I'm considering moving to Groove instead. I hope this is a sign of good things to come for Spotify mobile, but I don't have much hope.

A UWP app does not have to run on all platforms! That is left up to the developer.

Groove is really good now in my opinion. However, there is no free service with ads.

I'm ok with a paid version as long as it's good. I could redeem by Bing search reward points for free months.

Good idea! The only issue I have with groove is every now and then a song I have in a playlist will have an error saying the artist has removed it but it's in the store still and I have to download it. Possibly changed record label or something, not sure

anyone know of any other centennial apps that are out there? just wondering what's available

Spotify and iTunes are all I know of.

itunes is out in windows store already? not for me tho O.o

Sorry, I misread the question earlier. iTunes is on its way, but I don't believe it's available in the app store yet. I wouldn't recommend anyone use iTunes anyway. It's a pretty terrible program that Apple doesn't seem interested in fixing. When I had an iPhone, I only used iTunes for backing up my phone to my computer and for faster updating the OS.

well yeah im not going to use it either... its just good for those ppl who does use it so windows store would be popular

i think UWP is a name for new coding thingy... just like x86 is some kind of coding thingy so i guess theyre changing x86 into UWP coding... hope i understood right

UWP stands for Universal Windows Platform. Traditionally this has been reserved for apps that work cross-platform and not a port of a program. Fitbit is an example of UWP, but Spotify has their garbage mobile app and their decent desktop program. I tried downloading the ported version, but it said my phone wasn't a supported device. Honestly, it makes sense for Spotify to make a true UWP app. Have one app that runs on mobile, laptops, tablets, desktops, and even the Invoke. It would reduce the amount of time it would take to push out an update to all the platforms because you update it once and all the platforms get the update. They're giving themselves more work by having a mobile app, desktop x86 version, x86 port, and web player. That could be reduced to an app and the web player.

This starts with windows by default, remember to untick that

This is good. The future of apps on the Windows store.

Its region locked, i.e., not available in India. But then, Spotify service itself is not available in India.

Yes, you heard it right. Most of you guys in the West do not realise how long it takes for any product or service to reach Indian shores. I bet you did not also know that Groove Music service is also not available in India either.

wow wtf? not even groove? i though there is cortana for india... we in finland dont have cortana here :/ spotify is swedish country so its expected to be released here... i just dont understand why u guys got cortana but not groove?

It's pretty simple, licensing. Everytime we play a song on a streaming service, that service has to pay a record company for it, and a license in one country doesn't necessarilly mean that license will apply to other countries. Cortana is just a digital assistant that Microsoft owns. Other than operating costs, Microsoft doesn't have to put in extra money. From all of the comments of "when in India" on this site through the years, it seems like tech companies aren't including India in many things.

We got Cortana early for two reasons. One, India has the second largest English users in the world after USA. There are about 125 million of us as compared to 250 million in USA (2001 figures). UK, in comparison has only 60 million. And secondly, Indian English is so very similar to UK English that Microsoft needed very little work to adapt Cortana to India. So when we got it in beta here, it was if our speech language was set to English (UK). Even now, Cortana is available to us only in English and not in any of the 30 other major Indian languages. And shryx86 is right. We don't get Groove or Spotify or Pandora or Deezer due to the complexities of licensing regime. However, Apple Music is available and I have no idea how they did it.

well in finland we do use UK english also but our population is 5,4mil. x) it would be also nice to have even the english version of cortana to be released in finland... but as the microsoft ceo is indian... shouldnt he think of his homeland to have all the new stuffs... since india is a big country that would make money for microsoft

I'm from India and can download just fine. Maybe this is possile as I use local account. I hope Spotify won't launch their service in India ever. I don't want my beloved Spotify ruined by regional songs and Bolllywood songs. This just happen with GPM and Apple Music. I hate it.

This app appearing smells of MS paying Spotify for it to be there, they are so desperate. What would motivate Spotify otherwise? Hardly going to be all those surface or win pho users using the store. Most Windows users download programs. The whole store is a barrier to Windows take up IMO. MS needs to cut a deal with Apple or Google to get proper, full bodied, up to date apps. Let Windows users access their stores. I can't see this being sorted for MS unless they ditch their store and plug into one of their rivals

I feel like using a rival store would be the beginning of the end of the entire platform. How would MS compete? "Please use our emulator... trust us... its just as good as running it natively on their proper OS... well... maybe?" Edit (addition): Also, that would practically halt all Windows development. Why develop for Windows if you can just target Android/iPhone and have it run on Windows? Seriously... what would be the point of Windows in your scenario? If most of your time is spent in apps (which is an OS's purpose), you're stuck with *their* UI. Why even bother having an OS that is more likely to have bugs than if you got the native OS?

Android apps on a PC would be utter hot steamy garbage.

we would see the same thing happen when Blackberry decided it was a good idea to emulate Android apps on BB10.
.
Now BB10 is dead and Blackberry doesn't make any phones.

Ugh don't remind me about that. The PlayBook with Android apps was beyond terrible. My Z10 was bearable at best.

Security updates was main reason, I still use Spotify on Windows XP and app is not supported since 2015, So when using XP I use Firefox browser as the desktop app is vulnerable to hackers. On UWP there will be less risk and app will be patched in the background transparent to the end user. This is why I think Apple is building Tunes for Windows 10 as a UWP app

It's strange. When I click on the link provided by Windows Central, it pops up in the windows store, but when I search for it in the windows store directly, it can't be found. Not sure if being in Canada has anything to do with it.

i do see it... when i input spotify it shows automatically the spotify music without even click enter

the app is so sleek and smooth... to me this is only bug-free app in the store. no lag at all

yeah im so surprised that its so smooth... facebook and messenger apps are damn slow and buggy... maybe koz this is a convert from the software to uwp so there is no bugs? O.o

good job Spotify and Microsoft, u did ur homework correctly to birth the best music app in the store at the minute

this release should really be on the front page of the Windows Store. I had to search for Spotify and then scroll down the results past the fake ones just to get to the official app.

maybe it wasnt suppose to release it yet... i think it was for nerds that want to try it first that is there any problems...

Well it's just like the desktop App, lacking touch friendliness and all!!

This is part of the problem with the awful Windows Store. Why wouldn't this be on the front page, front and center??

maybe it wasnt suppose to release it yet... i think it was for nerds that want to try it first that is there any problems

"for nerds"....what an idiotic statement.

well im nerd :D and i dont mean for nerds as a bad word xD

Major problem that audio does not play in the background, Instantgo (Connected Standby). I thought thats the reason for this centennial converter, so features like this are added? Really pointless getting it from Windows Store then. Hopefully thats added soon.

what are u talking about? audio not running in background? O.o it works the same like the desktop software... just not the back forward play buttons on keyboard, that doesnt work

I'm talking about keeping the audio playing while the device is in standby. Surface and many other tablets have this power state. https://en.wikipedia.org/wiki/InstantGo

ah ok my bad... this is just first release so they would make it happen in the future?

PS when i rebooted my pc... it started to work like the old executive software.

Are you having memory leaks?

I don't use Spotify in any form or shape. But I installed the app and left a nice review in the store... Because I want to support more apps in the store! I hope if enough people will see installation numbers and good reviews it will trigger more companies to make store apps and eventually better store apps...
Please everybody, let's all do this!

thx this is what i want ppl to do also... but i want ppl to do the real review... just try it out a little bit and then give them some comments

Oh I know Spotify. But I prefer not to use their service. It has nothing to do with this app. I use other services.

Nice! But I'm sticking with Groove.

Tried it. They broke some cool functionality the desktop version has: - windows 10 overlay with album art when changing the volume or switching songs is gone in the store version
- lock screen media player is gone in the store version
- ugly icon; they should use accent color as background tile color.

Is anyone having issues downloading this? I keep getting an error
Windows Central Newsletter
Get the best of Windows Central in in your inbox, every day!
Thank you for signing up to Windows Central. You will receive a verification email shortly.
There was a problem. Please refresh the page and try again.