GroupMe jumps to Windows Phone 8 with v4.1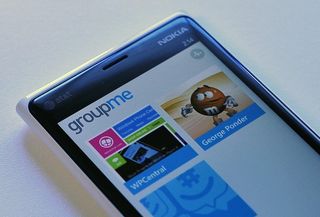 The popular Windows Phone messaging app GroupMe has made the move to Windows Phone. The version 4.1 adds Windows Phone 8 support, a brand new start screen with animated tiles, and a few under the hood tweaks to give the app a little more speed.
For those not familiar with GroupMe, key features include:
Start groups with the people already in your contacts… no need to remember usernames or PINs
Whenever you or anyone else in the group sends a message, everyone receives it. The conversation starts instantly
The app uses your data connection by default, but when you have a poor connection, you can switch to receiving messages via SMS to avoid missing messages
Share photos inline—take them on-the-go or choose from ones you've already taken.
Send a direct message to anyone who has the GroupMe app for free.
GroupMe is a free app for your Windows Phone and you can find it here at the (opens in new tab) Windows Phone Store.
George is the Reviews Editor at Windows Central, concentrating on Windows 10 PC and Mobile apps. He's been a supporter of the platform since the days of Windows CE and uses his current Windows 10 Mobile phone daily to keep up with life and enjoy a game during down time.
Stop showing off that white 920. I'm jealous. My yellow 920 hasn't even shipped yet.

I have the black one and I wanted the yellow.

I use this app. They need to update it further than what they just did. It doesn't utilize "live" tiles so if you miss a notification you won't know it until you open the app. They need to add support for home screen notifications. Also when sharing pictures it forces you to crop them into squares, annoying when you're trying to send a picture of something larger than a face.

Live tiles have shown missed notifications since before version 4, you're doing something wrong.

I'm using wp8 on a 920, there doesn't seem to be a setting for a live tile in the app, and I've pinned and repinned numerous times to see if it would work, nothing. I'm using it as a small tile.

I thought the sane thing until I realized it just doesn't show live tile for small tile. Regular tile it does

The weird thing is if you resize med with notifications to small it still shows the number. So I think it's a bug that it doesn't update when it's small...

I'm having the same problem with the small tile.. No live tile notifications.. The medium tile shows notifications though

Dat cropping ... Not cool

Surprisingly unstable. Hangs on "Adding Group". Hopefully this version upgrade doesn't require you to hit refresh to view replies. I was shocked at the lack of quality in the prior version - especially given that it's a Microsoft product now.

The app seems to be pulled from Marketplace in India. Can't find it since the 4.0 update. I have v3.5 installed

They don't seem to have the ability to share location with this. pretty lame considering iphone has it


edited below...whoops... don't let me get near technology... :-P

I have to admit that this new version, while vastly improved from the previous version, is a bit of a let down. There are no notifications beyond initial toast notifications unless open the app, and the refresh seems a tad off. No notifications on the lock screen? As GroupMe is owned by Skype, and Skype by Microsoft, I was hoping for a bit more integration.

Yep, and for those of us on WP7, this app crashes almost every time it opens and is really "laggy". That's too bad, since it's the closest thing to WP8 "Rooms" that we have available. For those experiencing the same thing, take the time to send a report via email every time this happens so that they will know it's a real problem. Like others, since this is ultimately Microsoft's baby, it would be nice to see them direct GroupMe to bring features in line with what's available for iPhone and Android and then to bring new features to WP first going forward. Perhaps they bought and used this pre-existing technology for "Rooms" just like they've borrowed tech from Skype and now are merging it with Messenger and Lync. Perhaps we'll see GroupMe slowly merged into "Rooms".

Responsible posting requires me to report that this GroupMe update seemed to solve the app crashing issue that I was having. Well done, GroupMe team!

Anyone else noticed a severe hit to battery life?
It worked OK (notification issues mentioned above) but I feel it is eating the battery on my 920.


i like to use groupme on my 920, but i never receive the PIN texted to my phone.... does any one know why?
Windows Central Newsletter
Thank you for signing up to Windows Central. You will receive a verification email shortly.
There was a problem. Please refresh the page and try again.