Gunhouse dev explains journey from PlayStation Vita to Windows Phone in our interview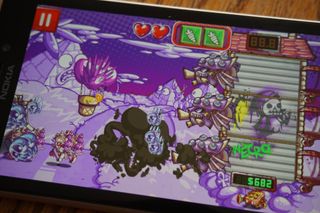 Last week we took notice of a new offering on the Windows Phone Store called Gunhouse that takes elements from puzzle and tower defense games. This is the first time I've seen this style and Necrosoft, the developers of the game, mixed the elements perfectly. Surprisingly, this beautiful and unique title is not available on iOS or Android. The only other system you'll find it on is the PlayStation Vita, another underdog platform.
The guys over at Necrosoft enjoyed our previous coverage so much, they offered to share their inside story with us. This week we had the pleasure of chatting with Brandon Sheffield, Director of Necrosoft Games and former editor-in-chief of Game Developer Magazine. A true industry veteran, he has also contributed to Dragon's Crown, Sine Mora, and Baynard Blast: Swine of the Night.
Tell us about yourself, Brandon. What do you do when you aren't developing games?
Gunhouse first launched on PlayStation. How did that go?
Why did you guys choose Windows Phone as the first proper mobile platform for Gunhouse?
What made you guys decide to launch Gunhouse as a free game?
Where did your motto, "Stupid games for jerks like us" come from? Gunhouse seems to embody that wacky ethos.
Where did the idea of Gunhouse come from? What games inspired it?
Your team recruited the composer of Fez's music for Gunhouse's soundtrack. How did that happen?
Gunhouse has a vividly unique art style that reminds me of a mixture of graffiti and comic books. How did the art style come about?
Do you plan on adding more levels to the game in the future?
You have more projects in the works, such as Oh Deer! and Gunsport. Do you plan on bringing those to Windows Phone?
Get the Windows Central Newsletter
All the latest news, reviews, and guides for Windows and Xbox diehards.