Halo 2's PC launch instability was unacceptable, and Halo 3 can't repeat it
If Halo is to be successful on PC, the games need to be brought to the platform in a stable and proper state.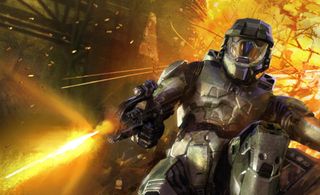 (Image credit: Bungie)
The multiplayer of Halo 2 on PC launched in a disastrous state. Riddled with countless bugs, it plays nothing like the original game did — and even if 343 Industries is able to fix these problems soon, it doesn't change the fact that Halo 2's success on the PC platform has suffered as a result.
The fact that the game was released in this state is extremely concerning, and if Halo is to truly succeed on PC, Halo 3 must be better. Here's why.
The past cannot repeat itself
One of the big reasons why Halo 3's release on PC needs to be excellent is because the Master Chief Collection (MCC) as a whole needs all of the positive reputation it can get. It's no secret to anyone that the original release of the collection on Xbox One was a catastrophic failure. While 343 Industries admirably patched the game up significantly in recent years, people haven't forgotten how broken it used to be, and it was unacceptable how broken it stayed for a long time.
Halo: Reach on PC released in a strong state, but there were notable issues with the multiplayer of Halo: Combat Evolved Anniversary on PC when it came out in March. Now that Halo 2 is here and performs even worse, many PC players are worried that this steady decline in port quality is indicative of a "relapse."
If this happens, and Halo 3 (as well as Halo 3: ODST and Halo 4) releases in a problematic state, the story of the MCC will change from being a game making an incredible comeback to a game that will be forever known as broken and unplayable. It simply won't survive having this reputation once again.
The competition is fierce
Another reason why Halo 3 and the MCC overall needs to be better is that the market is filled with alternative titles that fans will likely flock to if Halo turns out to be a buggy mess.
While the likes of Halo 2 and Halo 3 went mostly unrivaled during the 2000s, times have changed. There are tons of polished and well-designed shooters available to PC gamers right now, ranging from long-running favorites like Counter-Strike: Global Offensive and Rainbow Six Siege to newer titles like Call of Duty: Warzone and the upcoming Valorant. If 343 Industries and Microsoft want to keep folks interested in Halo on PC, they need to make sure that the games are as polished as their competitors.
As much as I understand the difficulty of porting these games to PC (especially in the middle of a pandemic), I don't understand why the games can't be delayed until they're ready. Perhaps Microsoft wants to have all of the MCC's games launch on PC before Halo Infinite arrives so that there aren't multiple Halo releases vying for consumer attention at the same time, but frankly, that's not an acceptable excuse for how Halo 2 performs.
Halo 3 is the most important release
Finally, it's critical that Halo 3 is ported in a proper state because of how important of a game it is to do right by. Halo 3 was a complete global phenomenon, even more so than its predecessors, and the fact that it was even blamed by cinema analysts for hurting box office sales goes to show just how much of a cultural impact it had on the world. It arguably represents the highest point in the franchise's history.
For Halo 3 to release in a terrible state on PC would not only be a devastating blow to the game's monumental legacy, but it would also be massively disappointing for the PC players who have waited 13 years to play it. Halo 3 deserves to be released on PC when it's ready to be released. To do otherwise would be doing it, and the Halo franchise overall, a huge disservice.
Your thoughts
What do you think of the Halo 2 PC release? Do you agree with me that Halo 3 can't release in this state? Would you rather they delayed them to get it right? Or is it better for them to launch before Halo Infinite steals the spotlight? Let me know your thoughts in the comments.
Halo 2 and Halo 2: Anniversary are available on Steam and the Windows 10 Store in a package deal for $10, while the full MCC is available for $40.
The groundbreaking remaster
Halo 2: Anniversary on PC
Earth isn't going to defend itself

Halo 2: Anniversary on PC brings both the original Halo 2 as well as the incredible remaster to the PC platform, allowing players to save Earth, stop the Covenant, and battle each other online until their fingers fall off.
Finish the Fight
Halo: The Master Chief Collection
Experience the entirety of Halo history

The Master Chief Collection is a collection of every Halo shooter from the pre-Xbox One era, offering incredible value at an incredible price.
Main
Best Xbox Game Pass for Xbox One
Get the Windows Central Newsletter
All the latest news, reviews, and guides for Windows and Xbox diehards.
Brendan Lowry is a Windows Central writer and Oakland University graduate with a burning passion for video games, of which he's been an avid fan since childhood. You'll find him doing reviews, editorials, and general coverage on everything Xbox and PC. Follow him on Twitter.