Halo and Destiny composer Marty O'Donnell found in contempt of court
By Brendan Lowry published
The dispute between Bungie and Marty O'Donnell continues.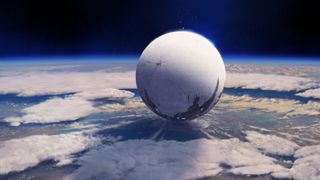 (Image credit: Bungie)
What you need to know
Former Halo and Destiny composer Marty O'Donnell has been found in contempt of court after uploading Destiny assets to YouTube and Bandcamp after being ordered not to share it by the court in 2015 following legal disputes with Bungie.
Multiple sanctions have now been imposed on O'Donnell as a result, and the composer has been ordered to pay for Bungie's "reasonable costs" that are related to the legal scuffle.
Bungie has called for O'Donnell to pay almost $100,000, an amount that O'Donnell's representatives are claiming is unreasonable.
O'Donnell is currently working with Highwire Games. The studio is making Six Days in Fallujah, a controversial first-person shooter that focuses on the United States military's offensive in Fallujah during the Iraq War.
Former Halo and Destiny composer Marty O'Donnell has been found in contempt of court after uploading Destiny assets to his YouTube and Bandcamp profiles. In a previous legal dispute between O'Donnell and Destiny developer Bungie that resulted in O'Donnell's departure from the studio, the composer was ordered by the court to stop sharing Destiny assets publicly and return them to Bungie in 2015. In 2019, O'Donnell began uploading videos and soundtracks to the internet that contained numerous Destiny assets, including finalized and conceptual variants of music tracks from Destiny's Music of the Spheres — a "musical prequel" to the franchise that didn't end up officially releasing until 2018, four years after the first Destiny game's release.
In legal documents obtained by Eurogamer, it has been revealed that Bungie put forth the motion that these uploads broke the 2015 court orders. The court agreed with the motion, and O'Donnell was held in contempt of court shortly thereafter.
Several sanctions have now been placed on O'Donnell, including a third-party examination of his electronic devices to ensure that Destiny assets are deleted, an order to pay for said examination as well as Bungie's legal proceedings, and an order to post a public message online in which he has to admit that he had no legal authority to share Destiny assets publicly and that anyone who obtained them must delete and refrain from sharing them. O'Donnell has also been ordered to pay any money he received from Bandcamp as a result of his Destiny uploads to Bungie directly.
At the time of writing, O'Donnell has not posted the court's ordered public message, although he has removed all Destiny content from his online profiles and platforms.
Between the cost of the contempt proceeding, the cost of the third-party examination of O'Donnell's electronic devices, and the sum of O'Donnell's Bandcamp sales, Bungie has called on the composer to pay the studio nearly $100,000 in total. O'Donnell's representatives have argued that an amount this high is unwarranted. Currently, the exact amount that O'Donnell will have to pay Bungie remains in dispute.
O'Donnell is currently employed with Highwire Games. The studio is developing the controversial first-person shooter Six Days in Fallujah, a game that focuses on the United States military's 2004 offensive in the city of Fallujah during the Iraq War.
Brendan Lowry is a Windows Central writer and Oakland University graduate with a burning passion for video games, of which he's been an avid fan since childhood. You'll find him doing reviews, editorials, and general coverage on everything Xbox and PC. Follow him on Twitter.
Windows Central Newsletter
Get the best of Windows Central in in your inbox, every day!
Thank you for signing up to Windows Central. You will receive a verification email shortly.
There was a problem. Please refresh the page and try again.