Halo: The Master Chief Collection currently has some online matchmaking problems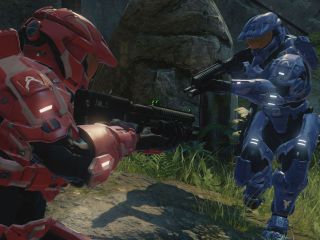 If you bought Halo: The Master Chief Collection for the Xbox One earlier today, but have yet to connect to the game's online matchmaking servers, you are not alone. Microsoft has admitted that the matchmaking features in the new first person shooter collection currently have some issues that need to be fixed.
In a post on the Xbox Live service alert page, Microsoft said:
In addition, playlists that are specific to one of the games in the collection, Halo: Combat Evolved, are currently not available. Have you encounted any problems with matchmaking while playing Halo: The Master Chief Collection?
Source: Xbox Live status (opens in new tab)
M$ IZ FLUBBING AGAIN!!!!
DIZ IZ STPID!!! MIVING TO ANDROID!!!! F*CK THIS!!!! There, now all of the complaining is out of the way.

Lol, the sad part is people have that mentality.

Lol. Thanks for saying what we all needed to let out. Glad you can read my mind through the internet...Wait...

Aah, aw you almost had me... Lol, good one =P

Hopefully it'll be fixed by the time I get my copy later today

Windows Central has become 'Halo Central' for the last couple of days!

You say that like it's a bad thing.

Now that's a news outlet I would follow!

Has not been working since last night! Hopefully soon! :-)

I haven't been able to get into a single game. :(

Me either. And that was through Tuesday night.

Probably won't have an XB1 till after tax returns season next year

I don't celebrate holidays genius e.e

You don't have to celebrate a holiday to receive a Christmas bonus. It's simply an incentive provided by some employers.

I can't willingly accept it since it pertains to the holiday.

I always wililingly accept bonus.

And here ladies and gentlemen is a fine example of a dumbass

Thank god I live my life and not yours.

Things have gotten better since very early this morning. The Halo 2 Anniversary maps seem to be working better than others.

The Xbox uninstalled my digital download and I had to reinstall. Taking the biscuit frankly. Can understand matchmaking issues. Usual problem really.

I can't watch the halo nightfall episode. It just says 'coming soon'

Did you purchase the collection? Comes with it. Contact Xbox support I you did.

Only played single player so far

At the Microsoft store release party there were definite issues with multiplayer. Some of the consoles eventually connected but others would not. Nobody really understood why. As long as the issue is addressed soon, it's really not a big problem. At least not for me. There are plenty of campaign achievements for me to earn in the mean time.

Call Bungie for technical advice! MS should that is!

They are too busy making that financial success but game failure.

yeah haven't been able to get into a match at all really, but they'll fix it in due time

I got to play a few games. Took forever to connect but they were fun. Though the other 30 or so times I have tried.. Nothing.

Can't find shit online ... :(

That's ok my internet is still downloading the game even though I preordered and predownloaded the game A week before launch

I've never played a halo game and I've owned Xbox since its birth. Is this the time?

You're too young, ask your parents.

Considering Halo is why I chose Xbox, I'd say yes.

I don't think enough people play anyways.. I never find a full game

I played minutes after midnight. In two hours I got to play 2 games in the H2 Anniversary. The first group was super happy and excited to play. I really suck at H2 Anniversary. I blame the press RB to pick up weapons and B to melee. I think I fixed it but we'll see. The game did look and feel spectacular.

You can change that button layout, I did.

The coop is lagging a lot

I appreciate the 'we ported it exactly as you remember, glitches and all' attitude, but I hope there is a unified controller setting so you can have the same button layout across games. I could not play match making, but once we got a co-op games going, it was buttery smooth until it crashed.

There is a default button layout across titles. Multiple choices.

Didn't work when I tried it.

I've managed to play two MP games, I hope I can play some more soon. But I'm having a ton of fun running through the campaign. =D

Haven't been able to get in any yet. Sucks

Got into one game but it was inceredibly laggy. Guess I'm waiting a bit longer *sigh*

Nightfall qr code bad & had to uninstall CH to get the 2 to download. Hate they went this route(just as much as I hated the format that topgear ep. that came with fm3) instead of going thru xbv. Also electronics boutique didn't have their Bandana Skull codes

Tried one game earlier...it loaded me into a map by myself!

actually, they announced that Halo CE Anniversary playlists would not be ready at launch.

"Some problems" is a rather large understatement at this point...

Can't get any sort of match going. Live 15 miles north of Seattle.... You'd think if any focus was going to regional matchmaking server support it would be to the hometown of Halo. Hmm. Perhaps later. Am loving campaign though, Nostalgia.

I'll play campaign until the servers have time to heal.

Still isn't working... I'm in Michigan just so people know
Windows Central Newsletter
Get the best of Windows Central in in your inbox, every day!
Thank you for signing up to Windows Central. You will receive a verification email shortly.
There was a problem. Please refresh the page and try again.