This Halo mod adds the Halo TV series' Chevy Tahoe to Halo 3
Master Chief, you mind telling me what you're doing in that 2001 Chevy Tahoe?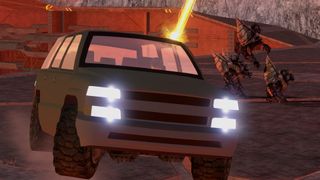 (Image credit: ImLucii1999 on NexusMods)
What you need to know
Modders have added a 2001 Chevy Tahoe SUV to Halo 3.
This mod was created after the vehicle was spotted in the official trailer for the Halo TV series and became a meme.
The mod replaces the Warthog in Halo 3's last level by default, but it also allows players to add the vehicle to other levels as well.
Recently, the official trailer for the highly-anticipated Halo TV series debuted on CBS ahead of the show's expected Mar. 24, 2022 release on the Paramount+ streaming service. The trailer prominently featured Spartans, the Covenant, and more — including an inconspicuous beige 2001 Chevy Tahoe SUV that was spotted in the background of a fight between Master Chief and a squad of Covenant Elites.
The Chevy's presence was quickly noticed by amused Halo fans on social media, with many of them wondering what a vehicle from the early 2000's era was doing in a setting 500 years in the future. Since then, the SUV has become something of a meme in the Halo community, and many have created comical images that show the vehicle placed within in-game cutscenes. But what if we, in the shoes of the Master Chief, could drive the vehicle in-game ourselves?
Image 1 of 2
That's where the "Chevrolet Tahoe - Tags and Warthog Run" mod from creator AWEIRDOGRUNT comes in. This mod adds a fully custom vehicle with working suspension, lights, and animations to Halo 3 on PC (through the Master Chief Collection). By default, the mod replaces the Warthog that players normally use to complete Halo 3's famous Warthog run ending, but players can also add the Chevy Tahoe into other levels by dragging and dropping the rest of the mod's contents into their game's installation folder. The mod creator provides full instructions on the mod page, so make sure you read up.
Hilariously, the SUV doesn't just seat Master Chief and Arbiter. It also has room for up to four Covenant Grunts to hop in the back as well, which is perfect for times when you have a burning desire to go on a joyride with the little guys. Just make sure you drive carefully; aliens probably won't wear their seatbelts.
Halo: MCC combines Halo: Combat Evolved, Halo: Combat Evolved Anniversary, Halo 2, Halo 2: Anniversary, Halo 3, Halo 3: ODST, Halo: Reach, and Halo 4 into one complete package that includes brand new cosmetic unlocks and gameplay features. It's easily one of the best PC games available, and we can't recommend it enough.
Finish the Fight
(opens in new tab)
Halo: The Master Chief Collection
Experience the entirety of Halo history

The Master Chief Collection is a collection of every Halo shooter from the pre-Xbox One era, offering incredible value at an incredible price.
Brendan Lowry is a Windows Central writer and Oakland University graduate with a burning passion for video games, of which he's been an avid fan since childhood. You'll find him doing reviews, editorials, and general coverage on everything Xbox and PC. Follow him on Twitter.