Halo: Spartan Assault avatar items beat the game to market by a day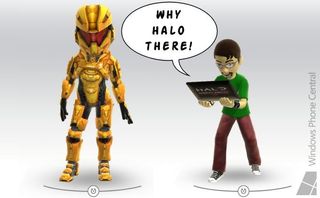 For at least a week we knew that the Halo: Spartan Assault launch party was scheduled for last night, July 16. But Microsoft didn't want to announce the game's actual launch date for some reason, so doubt remained that it would arrive this week. Well, Spartan Assault didn't release today, but this evening we officially learned that it's coming tomorrow.
Fans might have to wait another day to play Halo: Spartan Assault, but that doesn't mean they can't celebrate the game's impending release right this minute. Microsoft and 343 Industries have just released seven new Spartan Assault-themed avatar items on the Xbox Marketplace. Hey, at least our avatars can be dressed for success when the game launches tomorrow!
Costume play
What do the seven new avatar items consist of? Well, a Spartan Assault logo t-shirt in both male and female variations accounts for two of them. A stylish Palmer helmet t-shirt comes in boy and girl styles as well. The design resembles the emblems that players create for themselves in the Halo games. All four shirts cost 80 Microsoft Points (they're not quite defunct yet) or $1 each.
Of course, fanciful avatar stuff tends to be way more exciting than t-shirts. Thankfully, Microsoft also released full golden avatar body armor based on Spartan Davis, the game's new male character. The Spartan Davis Armor comes in both male and female varieties for a steep 320 Microsoft Points ($4) each. Spartan Assault's other protagonist Sarah Palmer's armor has been available since February, when it was released as part of the Halo 4 avatar collection.
Props for the prop
The seventh and final new Spartan Assault avatar item has quickly become one of my favorite props to date. It's a Windows 8 tablet with screen borders that match the actual Halo: Spartan Assault in-game border. I wouldn't want the corners of my actual tablet cut off like that, but it's a striking design nonetheless. The rear of the tablet is emblazoned with the game's logo. The Halo: Spartan Assault Tablet prop rings up at 240 MS Points ($3).
You can browse or purchase the full assortment of Halo: Spartan Assault gear at Xbox.com (opens in new tab).
Windows Central Newsletter
Get the best of Windows Central in your inbox, every day!
Paul Acevedo is the Games Editor at Windows Central. A lifelong gamer, he has written about videogames for over 15 years and reviewed over 350 games for our site. Follow him on Twitter @PaulRAcevedo. Don't hate. Appreciate!
You say goodbye, I say Halo.

Halo. Is it me you're looking for?

I can see it in your eyes,

Halo. What can I do for you?

You say YOLO, I say Halo ;)

Tomarrow! Why u no come? today! Why u no go?

Can anyone possibly make a background like that for both Surface RT and Pro?

It would be pretty easy for someone who owns the Windows 8 version, I'd imagine.

Hmm, good point, can probably find it somewhere in all of the files.

At certain participating locations and websites, skins can be made...I will gladly update when I can find the info! ;)

Hopefully it's found / made then, because that would be a nice background. ;)

You mean the angled corners or the logo?

We need more Windows Phone props!

Can't even buy a Windows Phone prop.

I have one. A yellow 920, don't remember how I got it though.

I think that was an Xbox tile one day on the 360 it was an article about it here I think

I agree. I got the one for watching that WP video but I want more!!! Do you here me Microsoft!!!

Spartan armor! YES YES YES! Me buy buy buy!

As an AT&T customer accustomed to Nokia exclusives and a Halo fanboy of nearly a decade, I'm going to be deeply upset for the next 30 days.

I feel your pain... I mean not exactly since I'm on Verizon, but I understand.

And as a Verizon customer and Halo fanboy, I'm going to be very happy by this time tomorrow!

I feel your pain, but hey, Josh and Siik will have to live with bugs that you and me don't have to. At least on the phone version. :D

As a customer anywhere outside the US, I will have clocked the game before you've even tasted the first level.

Halo halo, sweet dessert..

I'm still mad that I have to wait another month!

It would be nice if they gave you a free item when u buy the game

What is this, like buying clothes for your Barbie doll or something?

Would rather spend money on the game.......

I wonder how much Verizon paid to get the excusivity period.

Why don't Props show up in Windows 8?

i still cannot find the game :( Maybe they ran into some problems and delayed it?

As predicted, no Spartan assault in uk regardless of ms promise of July 18th release.... More lies......thankyou MICROSOFT !

so where is this spartan assault, I see the games under games but when I click buy it brings me to the windows 8 store where there is no halo