Halo Spartan Assault dropping on Xbox One and Xbox 360 this December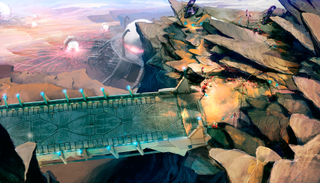 Have you played Halo: Spartan Assault on your Windows Phone 8 or Windows 8 device? It's probably one of the best mobile games that's been produced from within Microsoft. It's been a fun game whether you're using your smartphone, tablet, or desktop. Gaming on the go not comfy enough for you? You'll soon be playing Spartan Assault on your Xbox 360 and Xbox One video game consoles.
343 Industries and Vanguard games have announced that Halo: Spartan Assault will be available for digital download on both the Xbox One and Xbox 360. The game should be available sometime in December, so not too far away. Here's what's special about the Xbox One and Xbox 360 version:
Play longer than ever in a new online Co-op mode, and watch each other's backs with all-new Co-op missions
Engage in Operation Hydra, the expansion from the Windows 8 and Windows Phone 8 game that brings mystery and a chilling addition to the single player Campaign
Wage war against a persistent and overwhelming enemy – encounter the Flood for the first time in Halo: Spartan Assault
Go in strong with an expanded arsenal that brings you more weapons, more armor abilities, and more upgrades – it's the ultimate Spartan Assault experience!
It sounds like you're getting the game you've already experienced on your mobile devices, but there is one extra feature that's been announced for consoles – an all new online co-op mode. Yes, we're wondering the same thing. Will this co-op mode come to the Windows 8 and Windows Phone 8 versions of the game? Will players be able to play across platforms? Probably not, at least play between the Xbox One and Xbox 360 won't be supported according to Microsoft. There's little hope we'll see the phone and tablet version talking with either of the consoles.
You'll need to purchase the game again for console when it does launch. Any die-hard Halo fans out there looking forward to playing Spartan Assault on console? Did any gamers pass on the game the first time around and instead looking forward to the console version? Sound off below.
Source: Halo Waypoint, Via: GameSpot
Get the Windows Central Newsletter
All the latest news, reviews, and guides for Windows and Xbox diehards.