Halo Spartan Assault dropping on Xbox One and Xbox 360 this December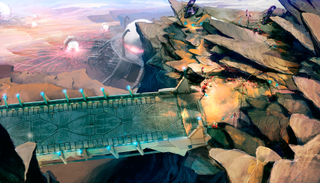 Have you played Halo: Spartan Assault on your Windows Phone 8 or Windows 8 device? It's probably one of the best mobile games that's been produced from within Microsoft. It's been a fun game whether you're using your smartphone, tablet, or desktop. Gaming on the go not comfy enough for you? You'll soon be playing Spartan Assault on your Xbox 360 and Xbox One video game consoles.
343 Industries and Vanguard games have announced that Halo: Spartan Assault will be available for digital download on both the Xbox One and Xbox 360. The game should be available sometime in December, so not too far away. Here's what's special about the Xbox One and Xbox 360 version:
Play longer than ever in a new online Co-op mode, and watch each other's backs with all-new Co-op missions
Engage in Operation Hydra, the expansion from the Windows 8 and Windows Phone 8 game that brings mystery and a chilling addition to the single player Campaign
Wage war against a persistent and overwhelming enemy – encounter the Flood for the first time in Halo: Spartan Assault
Go in strong with an expanded arsenal that brings you more weapons, more armor abilities, and more upgrades – it's the ultimate Spartan Assault experience!
It sounds like you're getting the game you've already experienced on your mobile devices, but there is one extra feature that's been announced for consoles – an all new online co-op mode. Yes, we're wondering the same thing. Will this co-op mode come to the Windows 8 and Windows Phone 8 versions of the game? Will players be able to play across platforms? Probably not, at least play between the Xbox One and Xbox 360 won't be supported according to Microsoft. There's little hope we'll see the phone and tablet version talking with either of the consoles.
You'll need to purchase the game again for console when it does launch. Any die-hard Halo fans out there looking forward to playing Spartan Assault on console? Did any gamers pass on the game the first time around and instead looking forward to the console version? Sound off below.
Source: Halo Waypoint, Via: GameSpot
No online co-op on Windows Phone is LAME

This is stupid - they should have kept this exclusive to Win8, Win8RT and WP8. Yes, they'll make more money this way, but they should have considered this an investment.
Another view is that it gives them one more game for XBox One this fall - no doubt the heat from PS4 is helping....

Exclusive? It is exclusive, to Microsoft, why would they stop people who own WP, W8 tablets and W8 or W8.1 from owning it on all Microsoft platforms? Your comment doesn't make any sense, more true Halo fans would join and enjoy it

Bringing the one musthave exclusive WP game to xbox is bad for WP. There are a lot of android and iphone owners who also own an xbox. They have now less incentive to switch. It all adds up and MS isnt doing WP any favors.

A move like this is always a double-edged sword, no matter what. It could go either way.

I really don't think that people will switch to Windows Phone just for one game. Yes, having it on the platform makes WP more compelling, but they're not going to switch just because they can't play it anywhere else.

Agreed. Plus this game's been out for months. Anyone that would have switched to play it already has.

Xbox One will be able to run Windows 8 apps, that includes games. Why would they go out of their way to exclude their own game?

It won't, or not exactly, or they just dont want to confirm it yet, all they said is that it'll be very easy to port to Xbox one

No, they were right in bringing it first to WP8 and Windows 8, and they were right for also bringing it to Xbox, but they were wrong in not adding in co-op multiplayer to the Windows Phone 8 and Windows 8 versions and making them cross-platform compatible. That would've been fantastic and a great setup for a commercial showing access on all 3 platforms.

Lol why would ms release a GAME on all their platforms except their GAMING platform...

Is the game worth 7 bucks. Or just wait and see what happens with Xbox version.

There's a free demo. Try it out and decide for yourself.

I'd say it was worth $28! @_@

As a Halo fan from the beginning of the franchise, I say no way is it worth $7! Way too many in app purchases for guns and armor, that last only one level. Then you have to purchase them again if you want to use them on another level. And that's just the tip of the iceberg as to why it's not worth the price.

You buy credits to use on a Rocket Launcher or Spartan Laser. NEITHER which are needed to complete the game, nor are they really that useful. You can still rape face with the Sniper Rifle and that's free, only costs EXP. Don't say the few *not many* IAP's in this game ruin it, because they surely don't. This game is great, maybe too expensive for people asking mommy for money, but $7 is nothing for this great experience. I'll gladly buy it a third time for 3x Achievements.

I agree with wpsteve. This would be a valid complaint if it was very difficult or impossible without in-game purchases.

I agree too. I loathe IAP, but this one isn't that bad. It's not like Tetris Blitz where it bugs the shit out of you all the time to buy stuff and you can't succeed if you don't; it's just a little added fun (still, they should change it so that if you buy a weapon you can use it permanently)

You must have not played the game after the last update. They added the option to buy the Spartan Laser, Rocket Launcher, Over Shield, Seeker Drone, Score Booster and Damage Booster with experience points as well as credits. It's a great game.

Play the demo and then charge you phone for the rest of the day

My desperate hope is that they add some online multiplayer Xbox support for us WP users with 8.1, then update h:Sa with these coop levels straight from the Xbox. Timing would work out, but im afraid thats probably never gonna happen

I tried out the demo but didn't really care for the touch screen controls. A controller would be much better. I'll probably get the XB1 version.

...and that's why they make it, just for you. ;)

Controller works on w8. Plug laptop into tv, freaking magic

The greatest thing ever. Playing games from the Surface Pro 2 to the TV is magical. It works great with Steam as well.

I wish I'd waited. I hate touch twin stick control and would rather play with a controller. Not paying x2 for this one though.

...but do you still not like twin stick shooters, because I'm betting that will still be the case =[

No I love twin stick shooters. I grew up in arcades.

"they are releasing it in the way would prefer to play it, but im still not gonna buy it" COOL STORY BRO!

The Flood?! NOOO!!! YOU LIED 343!

Flood broke into 343 just like flood broke into earth in halo 3. (get it while its free w/ gold!)

I'm happy about this. No complaints here.

Oh good, now IOS and android can play it without buying a Windows device. How extremely intelligent.

This is another odd complaint. Like jf says, its all of part of the ecosystem. Another reason for people to get an Xbox...

Why are you complaining about extra Xbox 360/One edition sales?

Its been EXCLUSIVELY on w8 and wp8 for long enough now, its probably been used pretty close to its fullest potential in bringing people to the platform. Now they're just opening it up to the rest of the ecosystem. It may even convince ios Xbox players that enjoy the game to consider wp8 more seriously.

No I am not buying this or skulls of shogun until there's a buy once play anywhere in the microsoft ecosystem (wp8-windows8-Xbox) price $10-$20 is reasonable

3 x $7 = $21. I guess I don't see why $1 blows the deal for you. Not everyone will want the game on all three platforms, so why should they have to pay the full $10-20?

Nah I haven't liked halo since 2

Wow, you've missed some great games

My only complaint is that ever since updating to Win8.1 the game won't run at all...anyone else having this problem?

There is a weird glitch with a few games in w8.1 that needs fixing. You can play it, but for some reason not in full screen. Try pulling it out from the side and making it partial screen. Expand it as far as it will go.

Better news than a sale. Cause i just bought it last week. Worth the money. But i would rather play a 2d Final Fantasy (Not the 1st one, got it already)

Cool, another chance to buy it and be screwed by this game, the first two times just weren't enough..bought it on Windows and couldn't play it for over a month until it updated..Bought it on WP and it won't install no matter how much free space I have... Can't wait for the agony the 360 will grant me..

Sounds like your doing it wrong. Mine works perfectly. Lumia 920 and surface rt.

It was well documented that the PC version didn't work for alot people, checkout the waypoint forums, I have 6gb free on my phone, it still says I need more room to install..

Stop using the term "drops/dropping"..... Its stupid!

What's your problem? They only "drop" that word "after the break" and only while they're shouting "hazaar" with a bunch of other "folks"..

Is there cross platform progress saving?

That's what I would like to know. Given that cross platform saving is there now between phone and Windows editions, I expect that it's not even an option for the Xbox editions to omit this feature.

How about droping Halo 3 and 4 for Windows 7/8?


It's 1080p native on Xbox One & Xbox 360.

Well, the control scheme works way better for consoles than touch devices.

Was actually hoping this would happen, good news!

I really like the new XBOXONE sound in the end of each game video, just amazing !!!

Are we hearing a different sound? Sounds like a shorter and sped up version of the 360 sound to me. Nothing special at all..
Windows Central Newsletter
Thank you for signing up to Windows Central. You will receive a verification email shortly.
There was a problem. Please refresh the page and try again.