Halo: Spartan Assault is set to land on Xbox 360 this January 31 for $14.99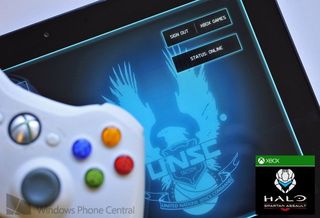 The top-down shooter game, Halo: Spartan Assault, has been crashing the party across multiple platforms including Windows Phone, Windows 8, and Xbox One. The game has been well received by many critics (including us here at WPCentral) and is helping to set a new standard of what we can expect on our multitude of Microsoft devices. The party is about to expand though – Halo: Spartan Assault will be heading to Xbox 360 tomorrow.
Microsoft has announced that the battle "expands to new warfronts" starting tomorrow, January 31, when the title will be available for digital download via the Xbox 360 marketplace. The game originally launched in July 2013 exclusively for Windows Phone and Windows 8 device, but has since been advancing across the Microsoft ecosystem of devices. Lucky Xbox One owners were able to obtain the game December, 23 and now those of you who are still rocking the Xbox 360 will get your shot.
The game, as previously mentioned, is a top-down shooter and was a team development by 343 Industries and Vanguard Entertainment. While the game wasn't created by the original Halo development team at Bungie, it has been critiqued to be a "true Halo game" by Game Informer and others.
As when the Xbox One variation of the title was launched, those of you who purchased the game may be eligible for a discount. The game will normally sell for $14.99, but if you previously purchased the game for Windows 8 or Windows Phone prior to December 15, 2013, you are eligible to download the Xbox 360 variation for only $4.99.
So get ready to jump into the immersive Halo: Spartan Assault storyline as you battle back the Covenant in 25 single player missions. If you have the game across multiple devices, you will be delighted to see that all of your progress syncs throughout, so you can pick up and continue with whatever device you have on hand.
Have you gotten your hands on Halo: Spartan Assault yet – how are you enjoying (or not enjoying) the game?
Source: Microsoft (opens in new tab)
Get the Windows Central Newsletter
All the latest news, reviews, and guides for Windows and Xbox diehards.
Good for you there's the lite version

Xbox 360 rules! May get this but not sure to go for the 360 or Windows 8 version to go with the WP version.

I really wanted this game to be good.

How so, because I didn't like it.

Yep, middling at best. Touch controls are a bummer

If I own the WP, PC and Xbox One version do I get it free on Xbox 360?

NO! but you will get it cheaper...$5 only if you purchased the previous ones before December 15th last year.

It's showing $19.95 for me. I brought Halo:SA on day one for Win8 PC and I brought it for my Win8 phone after 512mb patch :(

Maybe hold on a lil bit. Might take some time.

Hmmh, might pick it up for 5€.

As much as I like it i cant see me buying it again.... Would be nice to be able to buy something and download it across the different platforms. Appreciate that it takes a bit of work but it still grates a little....

Exactly! Its the same game in the same fricking ecosystem. One price and it should unlock anywhere else there are versions of it.

Not going to lie, the console version really isn't all that great.

I like it on Surface/tablet the best

Si, especially with the steelseries touchscreen gaming controls

I prefer it on consoles versus my phone.

Either is the phone version.

I'm still using credits so it won't cost me anything. Is this the first true game that syncs over all Xbox devices?

May have to pick it up if I can get it for $4.99. Does it automatically detect that it was purchased on my phone and give me that price or are there steps that need to be followed?

I wonder that as well, and I haven't read anything that explains this process. If I get it for $5 I'll definitely buy it on my 360 as well. Didn't enjoy it so much on WP since I'm not fond of touch based shooters, so should/could/would be better for me on console.

Yes, assuming you are on the same account, it will automatically give you the lower price.

Just went to check it and it is showing me $14.99. I went right into the purchase screen to see if it would change but no go.

Issues here as well. Actually have to pay about $8 USD, not $4.99 :( Why a higher price in Sweden?

I think they need to look at the elephant in the room. This game has been broken on windows phone 8 for months. Never gets past the connecting screen...

On what device? Worked perfectly on my L820 with no issues whatsoever. And I played it until all achievements were unlocked.

If I buy this for my 360, will I be able to download it to my xboxone when I finally get one free of charge?

I don't think so, but that would be cool.

Anyone know when it's set to land on 8 inch Windows tablets? It's still broken beyond use on those.

I haven't had a problem with it...

Wait nvm I played it on a surface rt

Yes, I am patiently waiting to play it on my venue 8 too. But I doubt it will be soon. That game is not updated very often. I think were also due for any extra mission pack.

Its a disaster on the Dell Venue 8 pro. Its basically unplayable on it.