Halo Wars 2 Xbox One beta switches from Domination to Deathmatch modes June 17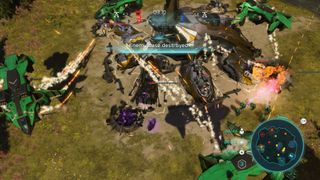 The current open beta for Microsoft's upcoming RTS game Halo Wars 2 on the Xbox One will end its Domination mode today and switch to the Deathmatch mode on Friday, June 17 until the end of the beta test on June 20.
While Domination mode is centered on the winning team gaining control of the map, Microsoft says Deathmatch mode is a simple "kill or be killed" scenario:
Everyone who plays in the open beta for Halo Wars 2 will get a black Beta t-shirt for their Xbox Live Avatar, and some players will get some extra avatar props:
In a separate post, Dan Ayoub, the studio head at Microsoft's 343 Industries, stated:
Microsoft plans to run another beta test for Halo Wars 2 at some point that will include Windows 10 gamers as well. The final version of the game is set for release on Feb. 21, 2017
Get the Xbox One open beta at the Xbox Store (opens in new tab)
See at Microsoft Store (opens in new tab)
do the beta have a single player (player vs ai) mode?

No, just online 2v2 currently.

so my partner will not like :) , it will be my first time playing halo wars, im noob , lol

No but if your lucky you might be matched to players half asleep a certain times of the day

Anyone tried it? Any good?

If you played the original this is sadly worse. The domination games don't give any time to build an army and they are over within 10min. Also the new leader specialty powers are hard to deploy so you wind up just activating the passive skills rather than the active ones

Damn what a shame Posted via the Windows Central App for Android (V10 or 5x)

Relax, guy. Its a beta afterall. You basically took a bite off a potato then stated that the fries sucked.

Lol & the common controls have been switch around making it a tad bit confusing if you were a heavy player of the original game

I 100% the first Halo Wars and played Halo Wars 2 at E3. I thought it was good so far. There are more things to build and command. It felt polished but I would really need more time with it to give a worthwhile review. I can tell you though, that I think it's good enough to actually purchase

I agree, it does feel quite polished. I loved the first Halo Wars and am looking forward to part 2. I hope they put a lot of effort into the single player. I want a nice, fleshed out story. Multiplayer is cool but I like playing campaigns by myself.

Have they brought back sculls/black boxes
Windows Central Newsletter
Get the best of Windows Central in in your inbox, every day!
Thank you for signing up to Windows Central. You will receive a verification email shortly.
There was a problem. Please refresh the page and try again.