Hands-on with Microsoft Translator 10 Beta for Windows 10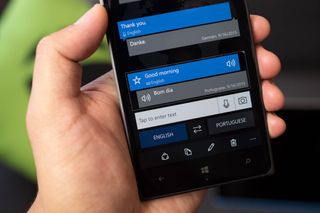 I've been playing with the Microsoft Translator Beta that was discovered this morning and love that it's a universal app. I can use the app on my Surface Pro 3 and Lumia 830 and have the same overall experience. Want to see it action? Watch our hands-on video.
The main section displays a history of your translation requests. At the bottom, there's a textbox where you enter the text that needs to be translated. You can also use the microphone and camera.
Below the text box, you select the two languages you translate to and from. Text translation supports 50 languages while camera translation supports 19 languages. It goes down to 10 languages for voice translation. Tap one of the languages to bring up the list. You scroll on both sides to select the languages and can tap the arrows in the middle to switch sides.
Camera translation is really handy because it may be faster than manually typing into the text box. If the language is supported, you can tap the camera icon on the main page to activate it and then point your camera towards the phrase. The translation appears right on top of the words. This may be very handy for street signs and restaurant menus.
Microphone translation is also handy when you don't want to type the phrase into the app. Just keep in mind that this method supports less than half the number of languages when using the keyboard.
Another great feature is revealed if you pin Translator 10 beta to Start. The live tile displays a new word or phrase every day. This works on both Windows 10 and Windows 10 mobile, along with all the other features. You can also mark translations as favorites for faster access. There's support for offline translations, but the app warns that isn't as accurate as online translation.
Overall, Translator 10 Beta is a great addition to the world of Windows 10 apps. The UI isn't very good-looking, but it works. Keep in mind that it is still marked as beta, so things may still change. Download Translator 10 Beta now if you haven't tried it yet and let us know what you think!
Download Microsoft Translator 10 Beta for Windows 10 and Windows 10 Mobile (Free)
Get the Windows Central Newsletter
All the latest news, reviews, and guides for Windows and Xbox diehards.