Hands-on with Microsoft Translator 10 Beta for Windows 10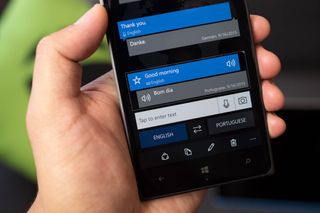 I've been playing with the Microsoft Translator Beta that was discovered this morning and love that it's a universal app. I can use the app on my Surface Pro 3 and Lumia 830 and have the same overall experience. Want to see it action? Watch our hands-on video.
The main section displays a history of your translation requests. At the bottom, there's a textbox where you enter the text that needs to be translated. You can also use the microphone and camera.
Below the text box, you select the two languages you translate to and from. Text translation supports 50 languages while camera translation supports 19 languages. It goes down to 10 languages for voice translation. Tap one of the languages to bring up the list. You scroll on both sides to select the languages and can tap the arrows in the middle to switch sides.
Camera translation is really handy because it may be faster than manually typing into the text box. If the language is supported, you can tap the camera icon on the main page to activate it and then point your camera towards the phrase. The translation appears right on top of the words. This may be very handy for street signs and restaurant menus.
Microphone translation is also handy when you don't want to type the phrase into the app. Just keep in mind that this method supports less than half the number of languages when using the keyboard.
Another great feature is revealed if you pin Translator 10 beta to Start. The live tile displays a new word or phrase every day. This works on both Windows 10 and Windows 10 mobile, along with all the other features. You can also mark translations as favorites for faster access. There's support for offline translations, but the app warns that isn't as accurate as online translation.
Overall, Translator 10 Beta is a great addition to the world of Windows 10 apps. The UI isn't very good-looking, but it works. Keep in mind that it is still marked as beta, so things may still change. Download Translator 10 Beta now if you haven't tried it yet and let us know what you think!
Download Microsoft Translator 10 Beta for Windows 10 and Windows 10 Mobile (Free) (opens in new tab)
I really liked this app. There's some issues but usable.

How is it better than windows (phone) 8 version?

I've noticed that for some languages, they have added camera support and voice support where they were not supported in the older app.

The UI is more efficient. The old app used a panorama control which is even against the Windows Phone 8.x UI guidelines for such an app where you want to get translations as quickly as possible.

I loved the bing translator for windows phone 8.1 when I went to China. Can't wait to try the new beta.

Hey! OFF topic. But I see everywhere that 735 is supported by windows 10 and is one of the first phone to get Windows 10 . Will my Lumia 730 will recieve the update at the same time as of Lumia 735. This is very confusing. Please help. Regards From India. :)

Update: Sorry but, we don't even have an oficial date to the release of W10M, imagine if someone know when an specific model will get the update. Hahahaha it's very funny to read the coments here hahahhaa
Come on. What part in the announcement of Windows 10 you didn't get that EVERY Windows Phone 8.1 will get Windows 10 Mobile? Edit: It can help (http://www.softandapps.info/wp-content/uploads/2015/01/Actualizacion-a-W...)

They did say that but then I beleive they backtracked.

Come on again. They have a official list with phones supported to the Preview (http://windows.microsoft.com/en-us/windows/preview-supported-phones)

You asked: "What part in the announcement of Windows 10 you didn't get that EVERY Windows Phone 8.1 will get Windows 10 Mobile?" And I believe that was what Microsoft originally stated but later added the 8gb of storage requirement. Is that not the case or did I miss something?

Wes...have a read of the comment you replied to. Read it fully. Then update your comment accordingly.
(Hint: the other person wasn't asking IF their 730 would get an update. They were asking when they'd get it in comparison to the 735)

How is it different from Bing Translator?

A bit off topic... Hey WC guys, a suggestion, when you do a hands on video for mobile builds please put the build under intense use which would mimic everyday use (multi tasking and the likes).so we can get a glimpse of how the Os would perform daily

It's cool to see how well it's on a 930 or 1520, but what about the x20 series with 512Mb?

True that. It's of no use to most when they are just scrolling about the live tiles and showing us the build number. Using a 430 or 520 for the hands on vid would really really show us how good or stable the build is

The video would be too long on a 52x since even the current build is very sluggish. (Way better than the prior builds, but I wouldn't call it usable.)

Now thats called an app. Great work by Microsoft. Amazing feature. A goosebump.

It goes without saying that the iOS and Android is/will be a lot better.

Your parents must be so proud

the word of the day feature was in the 8.1 app too

Not on the live tile though.

Word of the day was on the 8.1 phone app live tile a couple of years ago at least. It didn't always update for me but is very welcome feature, a great use for live tiles.

Featuring portuguese... :)

Well, if you think this UI isn't very good looking I wonder what's your opinion on the current WP8.1 app, that one really is terrible ahahahahahah

Hey guys look this windows mobile phone the elephone is outstanding hope can be use in US http://www.microsoftinsider.es/83515/elephone-vowney-el-nuevo-terminal-d...

Yes a really good price only 299 for 2k resolution and all the other specs is just ver nice

I wish we could get more detailed translations when translating a single word. Almost always does a word have multiple meanings in the other languages.

Yeah...you may want to be careful and NOT use the translation from "medium cook". Because no one will understand what the hell do you mean by "A cook from middle" lol

what do u say when you want your steak cooked medium? (not rare or well-done)

In Brazil we say "no ponto", Guim.

And in Portugal you just say "médio".
If you want it well cooked you say "bem passado" if you want it almost raw you say "mal passado". (see, if you put "passado" in the translator it will give you Past. Which is correct...except we gave that word multiple meanings and uses. It's a complicated language.
That's another thing. The app doesn't distinguish Portuguese from Brazilian and you can't really use both variants with the sort of carelessness you can get away with in English. So my advice is to just use if you really have to. In the case of Portugal you'll probably not need it at all since everyone learns English as a second language...unless you're dealing with old people and they learned French instead) Posted via the Windows Central App for Android

The first translation to portuguese is very bizzare! :-)

Someone at Microsoft really like 50 Shades of G R E Y whyyyy, Add colours or pure white.

They are slowly killing the metro UI.

Its already dead and buried, mate.

I'm an interpreter and I can say that this translator is just amazing. Now they are competing against google translate. The older translator sucks.

Need more languages! Also need to *hear* a spoken translation when converting to a foreign language. How to say "hello?" I need more than just the script/symbol of the foreign language.

You can hear. At least here I have this option

What would be really useful and a boon to Skype business, is if Skype translated what you said in real time AS you messaged a friend in another language. Can you imagine? They have the technology, why hasn't this been done?

Yeah I wonder... http://www.skype.com/en/translator-preview/

Lol. This dude should work for Apple... :) But it just goes to show how terrible MS is at marketing...

Actually don't think you can really fault Ms here. Skype Translator got a lot of coverage. This guy was obviously under a mountain for a while.

Lol. Also check out Hello in Firefox, works decent although not as good as Skype.

Does it support camera translation from Japanese to English yet?

I wish it would translate while typing, it is annoying to have to press the translate button each time. Also it doesnt autoswitch languages when you want to translate the other way around. You have to press the switch button. Because of these reasons I prefer T-translator.

Mark where did you get that Xbox pillow, I need one of those.

Google translator does have a option to take a photo and translate. You don't have to hold camera for too long in same position.

I hope you can paste and copy right from the app with out needing another app to do so .

It starts too long on my 640

That's because W10M isn't done yet. :)

Nothing wrong with the UI imo. :)
Windows Central Newsletter
Thank you for signing up to Windows Central. You will receive a verification email shortly.
There was a problem. Please refresh the page and try again.