Microsoft Translator Beta for Windows 10 and Windows 10 Mobile launched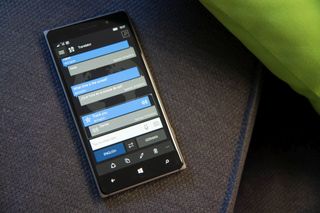 A few days after a listing for the Microsoft Translator beta app for Windows 10 and Windows 10 Mobile was discovered in the Windows Store, the app itself is now available for download.
As with the older Translator app that was released for Windows Phone and Windows 8.1, the beta for Windows 10 will allow users to translate text directly from 50 languages, along with text that is captured by a photo. It can also handle voice translation as well.
Text translation - Enter text to translate into one of 50 languages and scripts.
Camera translation - Point your camera at signs, menus, newspapers — any printed text in 19 languages and scripts — then tap to see the translation.
Voice translation - Translate by speaking one of 10 languages into your phone.
Offline translation - Download a translation pack so you can translate even when you're offline — handy when you're traveling and you want to avoid expensive data roaming charges.
Text-to-speech - Hear translations from a native speaker.
History, search & favorites - Your translations are saved, so you can search through your history to find them later. Mark translations as favorites to find them even more quickly.
Word of the Day - Learn a new word or phrase everyday by pinning Translator to Start.
Since this is a beta app, there might be some bugs and issues that crop up so be aware of that before you download and install this on your Windows 10 PC or Windows 10 Mobile smartphone.
Download Microsoft Translator Beta for Windows 10 and Windows 10 Mobile (opens in new tab) (Free)
Windows Central Newsletter
Get the best of Windows Central in in your inbox, every day!
What kind of link is that? Can't open :/ and couldn't find it on Store either.

Try browser version. I just downloaded using the link

Tried it, but the WC website is broken on mobile Edge; pressing the link eventually just reloads the page. Sad...

Just search for 'Translator 10 Beta'

Relax...nothing ever works

You're right ... It goes through Windows Central and an affiliate link before getting to the store. What the hell?

I'm still trying to figure out why some authors add it to their posted and others don't.

I expect one day all of these features will be built directly into cortana.

The same day cortana will be available worldwide..

Hence, it will never happen!

Great app ! Thanks Microsoft!

Downloaded, tested and liked. I remember to read on another site that was something missing from the WP8.1 version (as always) but I don't remember what it is...

how to read a QR code with Windows 10 mobile ?!?!

There's an app for that ;) would prefer the built-in one that was found in 8 and 8.1

Microsoft is all about BETA.

Is all about the BETA, 'bout the BETA, 'bout the BETA, no treble...

Working but still not showing in the camera lenses.

Microsoft must like star trek to include Klingon in the app

But not include nearly enough actual languages

Think they are adding by priority...

Yeah but it doesn't mean it's not a painful wait. Ill be satisfied only when they i get support for isiZulu

Incredible app! Well done, Microsoft!

Great app, but...................no transparent tile. Come on Microsoft.

Looks like they added some functionality for some languages, but still cannot download Thai for offline translation

Unfortunately they still don't support ambiguous translations.

Its 22.7mb on L1520, 55mb on 640xl and 18mb on L930!!!! why?

A little off topic but not entirely...
I like WindowsCentral and read it everyday but I think it's a shame that your website is absolutely and completely unusable on Windows phone. It's so bloated with ads and tracking stuff that it either takes forever to open or is just plain unresponsive. On the desktop/laptop on the other hand, because of those ads it's unusable on Edge (no adblock there). To make it (and web in general) a bit better experience on Edge I'm using the host file trick. So now on desktop Edge it works. Almost.. Because now, that you started using tracking links instead of direct links for everything I can't open the link to the store with this whole Translator Preview from the article. So, I tried Windows 10 mobile - it just frustrated me incredibly and I gave up.
Don't treat this as a rant and more as a user feedback. I fully understand that it's business and you need ads to make money but somehow most other websites can monetize their content without crippling user experience so much. And I wanted to say all this in a more suitable place but you don't seem to be interested in direct user feedback - I couldn't find anything for that on the website. In the long run being overrun by ads is not going to bring you money, it's just going to scare off the users. Something to think about.
Windows Central Newsletter
Thank you for signing up to Windows Central. You will receive a verification email shortly.
There was a problem. Please refresh the page and try again.