Microsoft Translator 10 Beta revealed in Windows 10 Store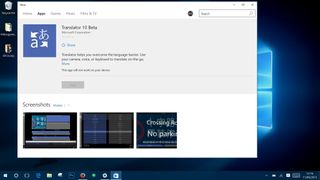 There's a new Universal Windows App from Microsoft headed our way in the not too distant future. As revealed by a listing in the Windows 10 Store, Microsoft Translator 10 Beta is the next version of Redmond's own language converter.
As of the time of writing we can't download the app on either Windows 10 or Windows 10 Mobile but the Store listing does at least give us a look at the new app and a few details. Functionally, it appears on a par with Microsoft's current apps. Features include translating using the camera, voice or text, and a whole host of different languages to choose from.
But there's no doubting the visual makeover with a Windows 10 flavor. As the screenshots below show.
Image 1 of 4
As already mentioned (and as we'd expect from Microsoft, honestly) it looks like it's a Universal App so we'll be able to translate on the go with Windows 10 Mobile. Functionality and appearance look identical, just, well, smaller, as these screens show.
While we may not be able to install it, it's good that another first party app is getting the Windows 10 treatment. We've included the Store link below so you folks will be able to download when it's live.
Download Microsoft Translator 10 Beta (opens in new tab)
Thanks Fahmi for the tip!
Windows Central Newsletter
Get the best of Windows Central in in your inbox, every day!
Managing Editor - Tech, Reviews
Richard Devine is a Managing Editor at Windows Central with over a decade of experience. A former Project Manager and long-term tech addict, he joined Mobile Nations in 2011 and has been found on Android Central and iMore as well as Windows Central. Currently, you'll find him steering the site's coverage of all manner of PC hardware and reviews. Find him on Mastodon at mstdn.social/@richdevine
I just want my new build! >_

Man I thought the new build was out, clicked update and nothing and then what >>>>> :'( :'(

Do we know if Microsoft is planning on integrating the translator app into Edge browser, even if it's a plugin, that would be nice.

Would come so handy when buying from German eBay or something.. Yes it's cheaper there.

Gabe aul said that today they will lunch it

OMG! They're going to LUNCH the OS? O.o That's a huge movement

which time zone? and when will it get released. I was hoping it would update this morning so that I can show it to people interested in Windows 10 Mobile

Oh hey, look, beta... Posted via the Windows Central App for Android

Yeah, but does it have "American?

Everyone knows that Canadian English and British English are way better

What about American British?

I hate to ask it, but what exactly is Redmond?

The place where Microsoft is located??

Redmond is a place in the US somewhere (don't ask me cause I'm in Canada) and it houses Microsoft's Head Quarters

Cant don't download to Mobile

Did you bother to read the post? I think probably not.

Why don't people read the post before commenting. Oh and for people commenting "When in India" or "When in UK" please stop it, it's gotten plain boring

me neither it says "this app will not work on your device" using an l929 wm10 fast ring Posted via the Windows Central App for Android on WM10

Hey you noobs down voting, reveal yourself or are you too afraid? Rather comment.

Please STAPH.gif with BETA lol!

Speech bubbles in a translator app ???

It's nice though. Seems to translate it to you more human way.

Leaving out the app download in the WC app is getting old.

Windows 10 app links don't work in the app. We're stuck with it right now I'm afraid. Posted via the Windows Central App for Android

Wow, now thats what I call "not so good" design. That Background Image makes the App look really cluttered. Dozens of squares all over the place. Moody colors. There is no real place I could lay my eyes on.. I know that this is not the Translator teams fault at all and its not them whom I blame, I just wonder why Microsoft is so reluctant to provide some of their App teams with good designers. I could come up with a better design in no more than 30 minutes and so could any UI-designer.

It's a Windows 10 app. Design was an afterthought.

That "background image" is what is being translated from camera.

Wait, actually that speech bubbles seems useful when you talk to someone and translate theirs and yours language in real time. Excellent idea.

Except this only adds to "blurry the line" between things that have nothing in common. Non tech savvy users are already challenged and confused and they can't distinguish between different programs and services. For example, my neighbors are an elderly couple and, despite how convenient I set up their computers, they struggle to understand the difference between Outlook.com and the mail app. If you now make apps look like a chat, this group of people will have even more problems in the future. I wouldn't be surprised if I get a call one day because they clicked on the Translator app by accident, yet, they can't find their contacts to chat with. There is a reason why most people don't like conversation view in email and there is a reason why your Word document looks different than your inbox. If you keep changing this because you (as a developer) think it looks cool, Windows as a whole will become an UI nightmare.

Good, the current translator app is shite

Hope they will fix it, try to translate home or chaser to a non-English Language and see what happens....

So what's the point of the App appearing in the store when you can't download it. Is this a bug in the App submission process or by design? If it's by design, then what's the rationale?

The Translator app was always lacking attention. The UI was terrible (inefficient on phone and with wrong translated button, yes seriously!), it only gave one single translation which is almost never the right one. I hope they give this new app more attention. Translation should be one of Microsoft's core competences. And I hope that we will be able to share selected text in Edge soon. Without this feature we can't translate text from a webpage with the old or new Translator app anymore. One of Windows 8's coolest feature.

I hope we see some more edge improvements soon. Obviously they are working on it, but it will be a shame if we don't get some sort of noticeable (by the average user) update before the first big(ish) Windows 10 update - I'd hoped things like a swipe gesture to go back in the browser would be implemented via a smaller update, rather than as part of a bigger one. The browser is good so far and I use it a lot, but waiting and doing big updates in one go feels too much like the IE development schedule.

ios and android versions looks more interesting than windows 10 version :(

You can download. And it is pretty good.

Nope... don't work... Could this be confined to US market only? Can anyone confirm? The Store isn't clear as to why I can't download. It just says: this does not work on your device (on both desktop build 10532 insider build and 10512 mobile build). Location: Netherlands

Yes you can download. I've downloaded and it's working. Location: BRAZIL

Probably you need the new build to download?

There has been only a few language sets for so long. Update new language packs

Links not working for me, maybe it's a Windows 10, thing... I think it's time to install firefox... Nope, installed firefix, it's not that..

Or if you read the post properly...

Sometimes I think Microsoft is cheating a bit with their universal app designs. The phone version looks great (and is long overdue, the Bing Translator app on my phone today is the same one I had on my Lumia 900 back in the day, only now it seems to be buggier) but the desktop version is just the phone version only stretched out to fill a horizontal screen, this is where the three column design used in Outlook Mail would make a much more plesant UI and UX so i hope it get cleaned up soon. But so long as the functionality is there during beta, that's the main thing. :) Ditto the name, I'd assume/hope the "10" won't stay in the name once it's out of beta.

I hope they have Japanese for offline download and camera available this time

Beta. Soon. Coming soon. Almost. Half baked. Story of Windows Mobile /Phone / Mobile again for windows 10 users.
Windows Central Newsletter
Thank you for signing up to Windows Central. You will receive a verification email shortly.
There was a problem. Please refresh the page and try again.