Hands-on with the new Live Lock Screen app for Windows Phone 8.1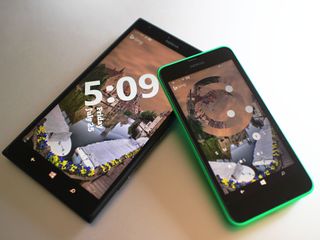 Microsoft has just released their Live Lock Screen app. It's currently in beta and only available for those on Windows Phone 8.1. The creative app replaces your normal Lock screen with one that is unique and animated. Check out our quick hands on with Live Lock Screen for Windows Phone 8.1.
First impressions? The app is nice for being a beta. You might notice a slight lag between pressing the power button to unlock your device and to have the display turn on with the new Live Lock Screens. That said, it's a very minor lag and wasn't always present when unlocking the device. Though it did feel a little more noticeable on our Lumia 630 with 512MB of RAM.
Yup. Microsoft managed to get the device working on low-memory devices. That's a relief since they had previously said it would require at least 1GB of RAM or more, and would have left out those with popular devices like the Lumia 520.
We like the ability to customize the images. You can have the Bing image of the day either automatically appear as an image. Or you can get creative with your own photo or photos. If you select more than one photo, the Live Lock Screen app will alternate between them in time intervals selected by you.
Take the Live Lock Screen app for a spin and let us know what you think of the app.
Have a favorite Live Love Screen out of the included six? Let us know which one it is.
Windows Central Newsletter
Get the best of Windows Central in your inbox, every day!
I'm really not seeing anything special about this app. It is really over hyped in my opinion.

It's just another great way to customize your Windows Phone and make it unique/yours.

It doesn't seem to want to work when playing a music app. I fired up Nokia Mix Radio, screen timed out and I noticed the Live Lock Screen app reverted back to the standard one.

That's why people are reporting bugs; so that MSFT can fix them before they ship the official release. Didn't sound like complaining to me.

I'm pretty sure Microsoft is aware of all the bugs in this app.

THEN WHY DO THEY HAVE BETAS? Lol, you know not of release cycles. Ever heard of a Beta Tester?

If they were aware of the bugs, if would not have been released yet. That's why its a beta, because we test it for them...

Beta. I really think most people that comment here should research what it means for an app to be in Beta. The complaining here is pathetic. I own and use an iPhone 5s, an HTC One Max, and a Lumia 1520. I am currently running iOS 8 Beta on my iPhone and it is filled with bugs but as a developer and tester, I was aware of this possibility when I installed it. On WPcentral it is like most of users here are simply not aware of what beta means or are just perennial whinners. Either way, it is irritating. No wonder some developers (Facebook) choose to have closed beta programs. I do not blame them. By the way, the app works just great on my Lumia 1520. A couple of hiccups but then again, it's still in beta!

I'm all for closed betas. Get your act together before you release something to the public.

its the users choise to install a beta app or not.

Exactly! That's the point you are missing; this has not been released to the public! It is still in beta; meaning, those that download it should be beta testers willing to help flush out bugs.Not people looking for a finished product. The only reason you know about this app being available is because the good folks here at wpcentral shared the info with us. And, don't worry, you are not alone. From reading some of the comments here, it is clear that a lot of people here need to research SDLC, and in that context, alpha, beta and beta testing.

I just hope that Microsoft releases it's update every 2 weeks just like their music and video hubs...

Instagram is still "beta" and advertised everywhere by Nokia and Microsoft, you know, to get new users on board with WP. Or are they actively looking for more testers? Think slapping "beta" on something has become an excuse for sloppy work. Sloppy as in slow or buggy, whatever.

For the record, the Facebook beta it's not private... It's public...

Many are being overly harsh about a beta... However, all this defense over it because its a beta brings up a couple of questions: • How is MS tracking bugs and suggestions on a beta without an in-app ability for feedback? • How long do Beta apps remain in Beta? Seems to me, and maybe my perception is wrong, that we have several apps that have been in Beta for quite a long time. What is the norm for turnaround time from Beta to full release? • On those other operating systems, how often and how many Beta are released on average, and what are their average turnaround times as well? Yeah, we need to remember its in Beta, but previous experience means these bugs won't be fixed until... What, 2015? For the record, I personally am not complaining about this app. I actually like the aesthetics, just wish it had the ability to load images directly from Onedrive rather than having to 'copy' the image and store on the phone. As a a test, I added 2 pics from Onedrive and checked the amount of storage this app was using. Then I added 2 more images and checked storage again and it went up, so the app indeed saves the pics locally. Most people don't care I'm sure, but it matters to me.

Of course it's going to save the images locally. The app is a lock-screen app. The biggest complaint people have with it is that it's laggy at startup. It would be even laggier if it had to authenticate to and then download an image each time you unlocked your phone.

People please, whenever an app in beta comes out I already know it will have some bugs. It's normal for a new app. If you don't like the app don't waste your time downloading.

So what? This is the entire point of having a Beta release. Its to hear criticism and find out what doesn't work. The complaints are helpful and people should have high expectations or else how is the developer going to know where he should focus his attention?

I'm afraid you're confusing two different things. One thing is to give feedback and one is thing is to be complaining and insulting an app. You you read carefully you'll be able to notice the differences in many of the comments here.

Did you give MS feedback, Mr. complainy pants???????

Hahaha. That was funny. But yeah, send feedback.

Blow???? Be glad to have DJCBS do it❕❕❕❕❕

Sorry Rod, I don't swing the same way you do...Also, he wrote "below". Are you that desperate? ;P

obviously you don't know NIST very well...

You have the best comments Posted via the WPC App for Android!

It's working for me my friend

To avoid the probelm (since it's not a fix), disable "show now playing on lock screen". They seem to function under the same principle and conflict.

Mine has done that twice now but, I wasn't playing anything. Just pulled it out to check email and it was gone.

I love the idea I love the style, but there's too many bugs and problems.
1-the lock screen launching is too slow.
2-the lock screen photos have very low quality (I think it needs customization for each phone screen).
3-the screen shot the app takes that shows up when you open the lock screen has the same problem as (2) and when swipe up the lock screen a little and then you swipe the screen shot up or down it acts like a normal photo.
4-the quick status is always a star not the app photo.
5-I think the font is big.

Go give all that feedback to MS from inside the app... Go, go on now!!

There is no feedback selection in the app

Well, wright a nasty review then... That'll actually stand out more... ✔✔✔✔✔✔✔✔

Then pipe down and wait.. Lol!

I quite LOLed at your "nasty review"

A review of a BETA app.... Give me a break!!!!

that's what betas are for

Do it right, I guess........ lol!!!!

Actually the 4th style has time in it. The three moving circles represent the three hands of clock

Yeah, but I thought it would also have numbers in it. Or maybe it will.

The hours, the minutes and the seconds should be written in the circles

Well where is the stripes lockscreen that was shown in animated prev. By ventasoft I want stripes ..!!!

When you click on the + to add a background image, then click on lock backgrounds instead of my photos. There are stripes there.

Anyone that can tell time, knows how to read analog though. So they don't NEED numbers. How many watches are out there that have no numbers on the face? Do you hear people complaining about that?

But they usually have lines at least. I can tell time, but like to use at least the lines for reference.

I have a fossil that has a gem at 12 and that's it. Been seeing alot that don't even have those lines as well.

And it doesn't work will music wallpaper. it disables your artist background when playing music.

It's actually doesn't even work with my normal lock screen

It works with normal lock screen but sometimes it doesn't startup so you will have to go to lock screen settings and switch the toggle off and on (the "show the artist background" toggle I.e).

Yea that's when I was hoping it worked instead it shows app flashes artist for a second

The artist background has been broken for me since I got 8.1. I just assumed I had to wait for Cyan for it to work.

I have cyan but its still broken...you have to turn off and on the artist background toggle in settings for it to work.
Maybe its the new music app that is causing the issue.

Just work if the image are on the OLD Music Hub. So, download MPATools and download the images.

Ho-hum, sounds like work and work is time and....yawn!

Artist background is partially broken for me too. Sometimes it shows up other times it doesn't. I really miss that feature when it was working properly.

Dude, you're getting a Dell!!!

If only there were a way to indicate that an application was in a pre-production state and would contain bugs and lack performance improvements.

I currently use Astronomy Picture of the Day to bring a new photo to the lock screen every day. It appears that with this new app, that is no longer a posibility. APOD has high quality pictures, so that would solve the low resolution / low quality problem you are having. Perhaps there is a way to configure it to use APOD, but I'm not seeing it.

On the fourth style, the three dots represent second, minute, hour hands of a clock.

The hours, the minutes and the seconds should be written in the circles.

I agree. Those circles are big enough for that.

The preview app that showed the demo is much better.. And shows the minutes secs and hrs written in circles with am and pm in between... And we are missing stripes option as well

Time doesn't show up? Look up Movado in Bing images, right now! LOL.
As for that 4th option there are seconds, minutes and hours represented by the 3 circles. It would be nice to include a digital representation as well or maybe just 12, 3, 6 and 9 markers as an option though so your point isn't lost on me.

It's not that great though. Will wait until they put out something that is actually a lock screen and not a patched together app.

I've uninstalled the app because it was a bit laggy for me to get use to, but now everytime I go to wake up my phone I get hit with a "resuming" screen and than my lock screen, I've restarted my phone but that didn't seem to work, anyone having the same issues?

Seconded. Animations are about as smooth a hitting a mini-tsunami riding a waverunner. And that's on the Lumia ICON. Imagine performance on a dual core device with 1 GB of mem. For frame of comparison, Powerpoint transition animations have been around the block since 1997. The specs of 1997's Best Damn Computer include " a 2GB hard drive, 32MB of RAM and a 12X CD-ROM drive."

I have a 925 and most of the animations (minus the yellow one) are nice and smooth

O really? My shit is mostly brown. Although sometimes green and red pigments are present. Care to dissent on the topic of bowel movements as well?

UGH! I"m getting this too after I uninstalled it!!! How do I fix it and make it go back to the native one without that 'resuming...' message?!

Did you manually select an image (or app) in the lock screen settings page after removing? Maybe that will reset it properly.

Reinstall the app, then uninstall it again without changing any of the settings. Worked for me.

Yep. After uninstalling it, I now get "resuming..." every time I fire up the phone before hitting the lock screen. Ugh. Beta is one thing, but this has now really screwed me. What the hell did it do to the os?

Same here. Restarting the phone and making changes to the native lock screen app did not help. I had to wipe my phone and start over (Settings > About > Reset your phone). That finally fixed the "Resuming.." issue for me.

You don't need to do hard reset . Just change some other picture from some app. Check if it's there lets say from Bing then change it back to your favorite picture and all should be sorted

Nope, that does not work. Something is definitely "stuck". Correction: Changing from a different app did seem to work... I enabled Facebook lockscreen and then disabled, and so far it's back to normal. Thanks!

925 here no lagging but I did set it to change every hour but is not working..it doesn't change..

Customization...that which so many salespeople and naysayers say Windows Phone can't provide.

Nice! BTW in the video it looked like you had attached neon light to 635...when you moved it I could see a light beneath it, maybe the shadow, but it looked cool.

Indeed it is I'm hoping the final release has more options

Prefer awesome lock screen app, have you tried it Sam? Shows weather, headline news, calender and notifications etc. Awesome lock- in store

I don't want Tim on my lock screen. He's a jerk.

Lol, sorry auto correct fckd me up. Seriously though try awesome locksreen

Everyone knows about Awesome Lock. And this is why the new beta lockscreen is awesome. With the new lockscreen API Awesome Lock could be updated to not only display information, but to also be interactive, which would be even more awesome!

Well excuse me know it all, didn't realize you spoke for 'everyone' so I apologize. Now what's this Could be u speak of Mr KIA. Wanker

Sam do you know how this can be extended? When API gets released, would the new designs from 3rd party devs show up in this app or as different app in applist. I think it would be latter but hoping for former.

But I feel that it's similar to Live Wallpapers on Andro so the big problem is it uses a lot of battery.

Well honestly I am lost, what is this useful for again???

I'm not even sure why the trend is to release beta apps at all. Especially Microsoft. If this thing needs another week or two to make it solid, freaking take the time. Are they just throwing shit to see what sticks? I also don't know why it's taken them so long to release something as trivial as this. Is coding for Windows Phone so god damn hard that it takes geniuses to port games and apps and make simple screensavers?

No one said you had to download the beta apps. You can wait for the full done versions... They aren't twisting your arm.

But he has a valid point... I mean, how many Microsoft software programers does it take to make a screensaver.. This thing was shown months ago on stage, yet this app, release just today seems the same as what was shown, laggy and useless. you do have 6 themes, but you can't modify them at all, you can't change the font, or color, you can't add or remove information, so it's basically, you can personalize your screen, just as long as you use one of our 6 screens. And really, what's the point of releasing everything as a beta... I mean, if it was something complex, I would understand (ie facebook & facebook beta) but this is just a screen that shows the date and time... like NIST says, take to more weeks, and release it as a full app.

How dare you criticize Microsoft using reasonable arguments? Posted via Windows Phone Central App

I start getting scared when people start agreeing with me.

This is not just a lockscreen with pictures it has its own complexes that MS faced when they were developing...and with beta tag added to it makes possible for MS to collect feedback from the users and release the latest version...assoon as possible First the people ask when the lockscreen app will be released ? And then after release they whine about ah release the damn fullfledged app..?For those who think like that just take your time until the full version is released..until then don't complain..

My Lumia 810 is showing none of these so called issues you guys are complaining about. This app works great!!!! HINT, don't download betas if you think they are bad. You guys deserve the frustrations if you clearly say you don't like betas but yet still download it. :)

Beta is a great way to find bugs. If you've never developed a software product, that's probably why you don't see the need for a beta. It's an amazing way to get feedback and even change the final product based on what people say. Plus, thousands of testers are significantly better than ten in house. You can't nor will you ever cover every use case by yourself, let alone how this might give them data on multiple phones.

Haahaa WTF did you just say? You're basically telling me that Microsoft doesn't have a testing department or access to the equipment they support? I'm in the middle of some application support right now at work, and I can pretty damn tell you it will be tested in every possible supported piece of equipment before it gets released. We even have a "test plan" as part of the project. Smh

That because your use case is not as big as Microsoft's. Microsoft has user all around the world, that's 173 countries or so with different language of choice. In each country they have many Lumias model available in the market, each model usually have more than one variant. Do the math and get how many use case they will have. Not to mention the use case of people have certain apps that doesn't work with this app, like someone said above which makes the use case become very high because Store has a lot of apps. Microsoft can test the use case one by one, but who know when it will be released? OR, when they think that the app is good enough and almost ready for the public, how about give it to the consumers as beta and let them find all the possibilities that can lead to a bug. They think smart.

So this screen saver is location aware and is different in every country? Different animations and themes in different countries? Really? Is that what you just said?

Oh my gosh, what's with all the whinning? The app is still in beta! People like you ruin it for the rest of us. If you don't want to be part of the solution then DO NOT DOWNLOAD THE APP! Wait till we have helped the developers pick out and clear the bugs! Sheesh! Very irritating.

It's not just him, almost everybody seems to be complaining about EVERYTHING thats being published on this site as of late. even good news turns into a shitstorm of negativity.

Beta or not, I totally agree.

My guess is that the lock screen was designed from the ground up to be static and they had to finagle quite a bit to make it live and interactive. It does not seem to have been trivial.

Pmsl, I think they use us to find bugs etc. Instead of paying their developers to make it solid they use us wp users. Shit app anyway, the app awesome lock is far superior and has zero bugs, NIST have u tried awesome lock?

What's great about it is the possibilities it opens for developers onces it gets out of beta, if they let developers access the codes for these kinds of lockscreens. Developers can already customize the lockscreen, but nothing close to what this app does.

Wouldn't it be easier to just make available the ability for programmers to make these instead of actually having to make the first one?

They are. This is more of an app showing you what you can do with the new API.

Yes it would, and we'd have way more options to choose from right now...

Trust me.. When other developers get their hands on the functionality the possibilities will be endless.. Also, there's way more functionality that can be added.. Maybe audio... Just use your imagination... I imagine more will happen with Start Screen background images as well..

Once again, I agree. Endless ways to customize the lockscreen.

That's what I said about your mom.

It really doesnt add anything to my lock screen ...it only made it a little slower

Yeah, kinda felt the same way as soon as I enabled it myself, but its kinda expected being that its just an app. This could have been implemented in the OS itself and maybe a complimentary app to work with it just like Glance Screen and the Glance Screen Background beta app work today. I question this whole app based system of WP 8.1.

But I get ..after years of nothing ,anything can get you excited

I surely hope this wasn't the thing to "upset the entire world across everything" ;)

No.. Lol!!! But, what happened with that❓❓❓❓

This is implemented in the OS. This is just an app that uses the lock screen API. The API is in the OS. Then devs make their own apps to utilize that, as they do with any other feature, like tiles. This is just an example app.

I agree -- Awesome Lock is so much more useful.

Agreed. I didn't see the point when everyone was complaining about it not being available, and having it now I still don't see what all the hype was about. The normal lock screen works just fine.

All the people whining for customization and when further customization is available, they can't see nothing special about it ....

Maybe it's actually not the same groups of people, huh?

Not amazing as they promised :c

Would like them to add the option of Bing images to the background too.

There is an option for bing images. Guess you didn't watch the video properly.

@sunbee I meant for the background too! Not the lock screen .

Yheaaaaaa !!!Mwahhhhh Microsoft. !! Truly love you for releasing it in 512 MB device

MS show thier Love for 512MB devices...

Agreed with you.. Totally over hyped.. Nothing special

It wasn't overhyped, it's exactly what they showed us! If you thought it was awesome when you saw it and think it's lame now that you have it... Well... it's not their fault. Also, think of it as a beta preview app. Once they give access to developers to the codes behind it other developers can turn this into whatever they want, so instead of having static lockscreen with some info we'll finally have interactive background, which I think is pretty awesome!

I download the Live lock screen to try it. I didn't really like any of the lock screens though it was fun to try them. So I want to revert back to the orginal and theres no simply option to do so, so I uninstalled the live lockscreen to get back to the stock one. But now there is an issue, the laggy and slow load times that happened with the live lock screen is now happening to the stock one!! Sometimes when I press the power button I will get the resume screen and loading dots for 2/3 seconds before the stock lockscreen shows. The live lock screen is way too buggy wish I didn't bother to try it :( Update: I discover by reading some the comments that the best option was to enable kids corner as then a pop will ask you do you want to disable the live lock screen, that worked! As it seems if you uninstal it without disabling it first it still funcations in some way to slow down the stock one. O.o

I agree with you. They should include different options like Xbox Music integration for example. I hope it for future updates

I agree, but as others stated, it is beta. Needs more features, but they will come. I like it, but I like having my Facebook photos on my lock screen. I am sure that is a feature they will add at some point.

Excellent app, especially for Beta release. Recommendations:
* Integrate with existing Lock Screen app in Settings
* Integrate with Bing Weather - backgrounds, temperature data, and/or hourly forecast data
* Add compatibility with Kid's Corner
* Add text "Choose your backgrounds... Press and hold for settings" to help users discover context menu
* In Add screen, move Backgrounds and Accent Colors to separate screens
* In Add screen, add swipe action to move between separate screens for Backgrounds, Photos, and Accent Colors (vs. current menu)
* In Add screen, add Select All option in each of the Backgrounds, Photos, and Accent Colors screens * Add a Feedback button, and/or link to Microsoft's User Voice site.

I would make it my default lock screen if they add weather to the mix. For now I need to keep weather hound, but I do like it.

I also would like it to have music support. I.e artist/album artwork on lockscreen

Other way round, it is up to the weather app devs (or any other type of app) to support the live lock screen API. You are looking at this app the wrong way.

Your first *recommendation rings loudly to me. That's a highlighted feature of the OS.

I'm with you on all of this, especially the kid's corner thing. My kids use kid's corner a lot.

OMG someone with a clue giving proper feedback. Thumbs Up Hartman If only the whiners had some brains they could post constructively.

+920 completely agree with First two points

i dont care if its laggy in 512mb devices, as long as my phone can taste it

Agreed. It's not bad and can only get better as they improve it.

Be careful Sam, that's what they said about Xbox Music.

Sam, I agree with you. It will get better and it is Beta. To get an Idea , Download the PREVIEW OF THE LOCKSCREEN OF WP8.1 . It's in the store made by the same team who brought us the MOVIE MAKER 8.1 App. It shows the numbers in the Clock and more Notifications . This will be a very great App . It already is ( In my opinion)

It's only laggy on first try... Keep on using it and it'll be smoother

Mmmm.. The "seems faster" brain wash WP style :D

Very very lagging on my Lumia 720

try to uninstall it...and if ever you chose to store your new apps to sd, try to store the app on your phone storage before reinstalling it... i think that could do the trick.. at least on my part it did well.

The new lock screen designs are nice, but it's completely lagged up my 1020. I'll stick to Awesome Lock until some bug fixes are introduced

Probably a performance tweak coming next week..... Hopefully!

Lags too much on my 1520 for my liking. I'll wait till it has better performance. I also would like a transparent background option.

Will stick to my old lock screen till the official release. Don't want my phone to lag anymore than it already is. *sigh*

So much this. It actually scares me that Microsoft seemingly don't care about having a slick UI anymore. Everything's just got laggier since 8.1. Beta is beta, but something like this should never be so slow, certainly not on a 1520.

Liked the analog one alot... So far no slogging..

Brings the phone to life. Needs more work though.

First it was lagging like hell on my lumia 620..the start screen also responded after a second or two..Now I can say that it has come back to normal..

At some point MS will need to start focusing on getting legitimate apps to the platform not stuff like this that excites only WPCentral

Considering the massive number of official apps we've been getting over the last six months I'm pretty sure it's clear that they are working very hard on it. Is there some sort of rule that anything that isn't a new official app (something MS really has no control over) should be put on hold?

These sort of apps are the ones that make the platform unique. MS can provide external branding with the legit apps you mentioned, and they can also provide internal branding with this kind of app.

Some long overdue productivity apps are coming for business users, I nearly cried yesterday I was so happy.. Might be the difference between company choosing WP over iPhone as we dump BBerry

What legitimate apps? Candy Crush? -_-;;

Really, really, beautiful. Anticipating for an update to make this beautiful app even more beautiful! Good thing it works on 512MB devices.

Works like Android... I'll wait until final version.

Lol!!... That's funny because it's mostly true..

Let's be honest, Android always evolves, take a look how it started, and where it is now. The material design is a total revamp of UI. While windowsphone is getting slower to catch up!

Material UI just made Android look more like Windows phone! It's Android that needs catching up in the UI section, not Windows Phone.

True that! WP was always the best looking OS. Awfully open nature of android has kept their boat floating so far. You can do anything with a lagdroid. It'll probably just run slow.

Best comment of the day. So true

The live lock screen turns off the kids corner. Hope they'll fix this. Also the addition of weather from third party apps like Amazing Weather on the default lock screen would be nice.

Ya, a weather option must be there

Same here. I use kids corner, so hoping that will return. Due to problems with Xbox Music the artist art doesn't always work properly. So while I am underwhelmed right now, I am hoping the final version will address these things.

Yes, to me disabling kids corner it's a deal breaker. My kid uses it every day.

Liking it, just need notification icons instead of generic stars and also weather integration and it'll be sweet

In running the dev preview on my 1020 and I still have the normal lock screen notification icons. My wife's1520 has the star thing going on. Wonder why the difference.

The star symbols a notification from an app w/o lock screen notification.

I think it's more a temporary placeholder - Whatsapp, Instagram and email all show icons on the normal lock screen, but not yet on the live one. I'm guessing that will come in time, or the final release.

From lock screen settings in setting, may be ?

Use another lockscreen app & set it to control the Lockscreen

Do NOT uninstall it, that'll lead to some issues.

Turn kids corner on and then off, it'll force it to turn off. I've turned it on and off several times today.

Go to Settings, Lockscreen and chnage from there, choose your photo, bing, or anything you want to show in your lockscreen like you normally do.

where did you get that wallpaper of the Lumia 1520?

That's today's Bing Wallpaper of the Day (USA) ... Try searching for Bing Gallery (can't remember the exact link sorry) or use the WindowsPhone Insider App & check the Lockscreen section

Not only is this app ridiculously buggy on my 920, bit it also seems Microsoft totally forgot about metro design when making this app. Some of the fonts aren't even Segoe..

It's nice to have some variety. If everything was in Segoe it would feel a lot less customizable.

That's the big problem with it. It feels and looks like something slapped together instead of something that is an extension of the OS.

Neither of poki or readit use segoe as primary font. And they are some of best designed apps on store. Just saying :)

The fonts in those two apps are pretty. Those in the lock screen app are disgusting and look cheap. Belfiore has to go, period.

its never buggy on my Lumia 930. Maybe because you have only the Preview of WP8.1?

But its so slow need more work

I wish we could drag the different elements to rearrange them on the lock screen, change their font, their size, their color, etc. and then sync everything with all our devices.

Great suggestions, would love this too.

What comes after seconded?

I was honestly hoping for a bit more than the standard "push picture upwards" action that we've always had. I was hoping it would be actual unique lockscreens, like so maybe devs could make exact replicas is android or IOS unlocking, our completely new ways to unlock your phone. Still cool though.

Actually, with the API (at least from the looks of it) they can. Here's how it works. There is a hidden page (screen) in the app with the password or screenshot of the home screen behind it (depending on weather or not you have a password.) So you could have anything on that page, you could have widgets, you could have a mini app, you could had an imitation lock screen, whatever. I really want to reverse engineer the .APPX but im not sure if I can, I haven't done it before

I'll need more customizations to replace the traditional lock screen with one of these. It's fun but I don't see myself using it as it is.

Wait till other developers get at it.

That's exactly what I intend to do ;)

Well all we need is the documentation of the API. The API is already in the OS, or obviously this app would not work :-)

Android and IOS copy machine are currently working overtime.

are you serious... Android?!?!?!? hello!!!! lives lockscreen have been existant on Android for years

Just like notification center, on screen buttons........right?

wp app store dead trigger 2:-)???

It's laggy on the original ATIV S (1GB RAM)

Judging by the comments here, our ATIV S are not the only ones suffering.

Acceptably smooth on L820. Thank god for that.

Uninstalled after 5 min. More of an app than an actual system integrated lock screen. I know it's a beta but the fonts and design are godawful.

I have already had state weird state issues where the Bing image can't be downloaded and I can't unlock the screen. It only slides halfway up. I set it back to a static image. Hopefully they figure this out. If I can't unlock my phone I can't turn off the live lock screen.

very slow on 520 and lumia performance is decreased according to me

It's pretty decent. What other's should keep in mind is that this app is still in BETA mode. And considering it's a free app, I see no reason for complaining. If someone else feels they can do better....prove it. But as for now this app is great and has a plethora of potential. So I can't wait to see how it evolves from here.

It is awesome for Microsoft to give us a little customization here and there. Hopefully they will give us more options and probably allow some devs to do their own ' Live Lock Screen' ***ahem Rudy Hyun.. *** so far I'm using lock mix app ass my static one

This was developed with Rudy huyn lol but I get you. The endless possibilities

Oh I know he collaborated with them. I meant he shud release his own exclusive. I don't know. I his wish there are more options. I guess we have to wait for it til next year. Cross fingers

Never heard of "lock mix app ass". lol :)

Lol sorry.. I guess the word flow always or I always type ass lol

Ha ha. No worries. I just thought it was a funny typo. :)

Good app, using rotating clock. As I mentioned on the first post, needs numbers on the clock, 12, 3, 6 and 9 are enough, increasing app functionality and keeping the design. Needs a weather theme, one with animated weather icons would be great. As for bugs, I noted one, third party apps that are on quick info in the lock screen are not showing the icon correctly, tried lock temp and Skype and the app icon is replaced by a star icon. As for lag, rotating clock could be already showing the time when we turn on the device, instead of rotating till it reaches current time, not sure if it is a bug or intended to be. Using it on Lumia 1320. Minor some expected bugs, great app for a beta release! PS: I was forgetting one bug, I have the pin code active for security reasons and when you swipe the screen up, it struggles with the text saying to input security code, sometimes showing it sometimes hiding it, in the end completely hiding it.

app is laggy and is pretty useless compared to something like amazing weather HD. don't get why they took months to make something like this.

It's a beta mate, they released it so people like us can make comments about any improvements and so they know exactly what needs fixing/changing first.

I think he means they took too long in the sense that they kept saying they were making performance improvements to it before releasing and yet there are blatant performance issues and bugs with it, which I agree with. I really don't get why they can't build these into the OS because it is pretty apparent that they can't make it better integrated with the lock screen and OS if its a separate app since apps don't even get that much freedom.

It is a separate app, which means it comes with new APIs (I'm not a dev, so I don't know much about it). With those APIs, other developers can make there own Lock screen app, which even make the OS more customizable, just like Launchers on Android. If it was totally integrated into the OS, there is no way other devs can make something like this, and obviously the OS becomes less customizable I think...

No, the APIs are not in this app, they are on the OS, along with all other APIs. This app is just using them, providing it's own animation storyboarding and content. Therefore you will see changes to content and the nature of the animation, but the OS is doing most of the work.

Lag noticeable on L1520, but ok for a BETA... ;)

I just saw they removed Flipagram from the Windows phone store -.-

Honestly, this app not like what i want, i mean i want the new lockscreen to guard my phone with another option not just with password require, like pattern on android or swipe right like iphone....

It's probably possible with the API. Would be a little bit of a hack but im sure you can.

It must integrate with other lockscreen apps.

Great start! I see where this can go!

I would recommend to integrate this with choice of using lockscreen screen app so that images would change on their own.

Works smoothly with my 820. Nice job MS Very cool!!!! As usual people don't understand what beta means Whiners never quit do they.....

Totally agree... But this IS Whiney Phone Central!!! All we ever get on here is whining for an app or feature to be released. So MS try and release at least a taster of said apps or features. Then all we hear is "It's shit, MS are shit, I'm leaving for Android or iOS" I'm sure when Cortana gets released officially, there will be comments like, "Cortana doesn't wake me up in the morning and make my breakfast for me"... Bleat, moan, whine!!!

Waited for it son much and deleted right away :) Maybe ill get it back when it come out from beta

I hope can set time for theme like it does with background and it will great if it allows to in deep setting like choose what theme with what background and set time for all of that . More theme of course :) I'd like themes like in the lock screen preview app has and improve performance which I believe Microsoft will do it .

+1520 is the scaling off for the rotating clock for anyone? Doesn't work as smoothly has the preview

The app is really good for a beta, and the more u use it, the smoother it gets.
But what really bugs me is that notifications of third party apps appear as a star not their respective icon. This doesn't occur with first party apps though (calls, msgs..etc).

Is already confirmed that in the future developers will have access to this APIs?? I don't see this. I need more themes and at least one with weather conditions built int. Can I dream with it? :)

It's not guaranteed that they will open up the API but it is there and it is open to store apps so we could have an undocumented API, iOS has hundreds of them.

Try downloading and launching the app. That usually works.

Good app but i think it have a lot of problem need to fix on official version

It replaces kids corner, so until it does, I'm not using it.

The one with the yellow text is defiantly laggy and should be fixed otherwise all the other choices smooth

All I want is WP team to make camera comparison between WP 8 and 8.1 on 1520.. :-)

Although 512 Mb is abit lag , but I still appreciate Microsoft effort !!

It doesn't work (reverts to regular lock screen) when Bluetooth is connected. Odd bug.

My primary qualm with this app is the lock screen movement. I liked the feel of the original lock screen, with it's momentum. These lock screens either make a dead stop and drop down or zoom upward once you lift your finger, not at all natural. For this reason alone, I'm debating whether to keep using this until they fix it. Otherwise, the options and animations are great, and I hope to see this develop further.

I like it, would like to see some of the information that Awesome Lock had but I have no lag on my 1020 with the Developers Preview

I have try it i like the movement of the time and day when you unlock, but i still prefer Awesome Lock i get the bing image too or i cant set more than 1 picture, i have the live weather and much more !!! Live lock screen need alot more features and improvements...

Waiting to see what developers can do because this is really underwhelming.

Like it but will not use due to Kids Corner loss

Cool app & I like the new Lockscreens ... But the White Blank screen that pops first is annoying ... I won't use it for the time being ... But looking forward to see the improvements.

White Blank screen? Haven't seen that. FWIW, I'm using Bing for the background.

Yes ... It appears right when I wake up the phone & stays for about two seconds & then the Lockscreen pops up ... It happens with all Lockscreens & wallpaper choices ... I tried rebooting the phone & stopping some apps from running in the background, but no use. P.s. I got an HTC 8X

OK, now I seen the white screen when using one of the apps default backgrounds. However, on my HTC 8X it only appears for a brief moment (Less than 1/2 second.) As I said in my original response, I chose to use Bing as my default background image. I also chose the 4th option for the lockscreen. Not sure what else to tell you other than the app works well on my 8X. FWIW, it seems to start a bit faster over time.

I've been testing for a few hours now (same combination as yours) & indeed got a bit faster .
Thanks man, I appreciate your help.

The first one is the best lock screen for me

What happened to the dots? I was looking forward to that one in the animated lock screen preview. :/

This app still needs a LOT of work

I lost my weather lock screen

i dnt no how the pepole is using ths app nd reviewng its working pretty good in my 630 owsum jzt a little time sometimes it takes aftr pressing lockscreen button which is nt even noticable i lkd the betaa too wrkng grt .....

Pure garbage in my opinion...

My only question is, is this app really that difficult to make? In all seriousness. I am not a developer but this doesn't seem that difficult, but they are releasing it in beta which I don't get. As others have asked, why not just release it for developers to do with it what they will and not even worry about a beta?

i agree,.. why it take too long.. and its beta version? there's nothing special in this update as far as im using it

Lol I see two clowns above you

Why call them clowns? it's a legitimate question, didn't MS announce this at build 4 months ago? 4 plus months to create some sliding wallpapers full of bugs.

Kid's Corner has to be disabled, no go for me. Kid's corner is a great feature of WP when I hand my phone to my daughter.

Same. This was surprising for me as well. I use Kids Corner with my daughter all the time. So I will probably deactivate the Live screen until they make it available with both Kids Corner.

There is sometimes a lag once the screen is unlocked on my Icon and then scrolling is available for the start screen. I'd say about a second or two delay. If it becomes too noticeable, or happens every time, I'll turn off the live screen until a update fixes the issues or its out of beta. Thanks.

We need feedback button :D

My battery just fuckd up!

Really? Does it draining battery as well?

I used it just for 40min And battery drained from 44% to 23%

Wow, I installed the lock screen app and still monitoring, you noticed about the battery draining issue after few hours from you installed.
So far I installed the app more than 3 hours but it still ok for my battery performance. Thanks.

im monitoring my batter also :> it increase a 7 percent battery usage as i estimated.

From morning until now with not heavy online usage, every 20 mins goes down 1 to 2%. But if under standby mode with lock screen and no usage, 1 hour dropping 2%.

Pls fix the notification symbols instead of STARS, this should not take long time to fix and launch for lower RAM users. Gotta be same performance with default screen lock. Thanks.

It's nice playing with it since it came out just hope they open it up for additional options from devs

Most important is MS must fix the preview developer version for upgrading to official cyan.

Erm... No it isn't that big of a priority now that official 8.1 is here!!

It is! Because not all people want to roll back to 8.0, back up their phones, then do a hard reset afterwards, when only few people are having the Bitlocker issue.

Unfortunately, rolling out the official Cyan is the prioity at the moment. I'm sure MS are working hard to overcome the bug, but Bitlocker is critical as loss of personal data would be a definite no no. It's not something that can be 'cobbled together' just to please the masses. It would need to be tested extensively to make sure the fix will not introduce more serious problems....

Thanks for sharing information and I totally understood that official rolling out for cyan is important either. But should MS has a team there and can work it out concurrently even official and PD issue settlement? I just assume but if it is not then FINE.
WP wins a lot of Samsung users, and I'm the one also. Hopefully MS would not delaying or dragging some launching apps or firmware, this is important as everybody know. U lost the golden moment then u lose the business. Thanks.

The demo lockscreen app that came 2 or 3 days ago, in that app there were 3 really nice animations, but where are those animations in the original app??

That is what I m also wondering. This all are useless the ones in preview were cool

Waiting for API, I have other three themes ready to be published :/...

It is really laggy on my 920....i hope that is fixed in the official release

Add optional display of Email, Calendar, etc. as in the standard lock screen.

Why don't they allow apps to change the start screen background!!!! That should have been a no-brainer :/

I was really hoping for some different ways to unlock the phone besides the ugly pin number keyboard

Why not make a picture unlock app? I thought this would come out to be more cohesive with Windows 8.

The hidden-time and date style like is weird. That would drive me crazy. "What day/time is it? It's cut off!" I use the diagonal one. Most practical, yet most flashy, imo.

It's pretty obvious WP is in a bad state when everyone is this excited over an arguably horrible and useless app. And this is coming from someone who loves Windows Phone. Yes I know it's beta but come on guys, this is not even remotely close to good quality.

I understand your point of view, but it happens on all platforms ... I remember when Instagram & Flipboard came out to android (I was using it at the time) & everyone was losing their minds ... The instagram app was much worse than this ... I used it :)

I will wait for It to get improved. Feels laggy

Seems a good attempt and like to see new improvements wanted to keep the zoom feature as show by venesoft but not there waiting for it now like the swipe to move the clock like that lock screen ( first lock on the Lumia in the main picture of article)

Works Great with lumis 521

A lil laggy on my 521 but in all, I love it. Makes my lock screen look super dope!

Read all the comments here, lots of negatives over a beta app which I suspect is in beta becoz MS worked to get it running on 512 devices. Personally for me its another great feature of the OS and I cant wait for the future updates. As someone above mentioned weather and enhanced lock screen features would be nice.

I agree, I can't believe all of the whining.. This is a great feature to make WP unique. And people wanting it unlock like an iPhone or Android can get freakin lost... Why would I want my 1020 to do anything like those garbage phone OS's?? I love that it is rotating the images I selected every four hours.

Different content can be provided by other existing, or new apps, not this app. Look at this app as a demo of a new OS feature.

I noticed that the app has different accent colors than the phone

Ugh beta, potential.... I hear these words too much on this site.

It doesn't have the option to disable it, WTF! I had to uninstall it, so I can change my lock screen again.

Go to settings>lock screen and choose any other app.

None realizes that this is just a normal app using a lock screen API. Everyone thinks that it IS the new API.

It's cool, but I flick the start screen up so fast normally, I don't notice the animation. I need to slow down what I normally do in order to see any animation at all.

I'm surprised more people don't realize this. The animation is just pointless eye candy because no one unlocks their phone that way. It makes the app even more useless except for the different clock styles. Really badly designed clock styles.

yep, lets hope for the better when its out of the befa

The circles theme doesn't show the hour ! Really nothing special

Those two dots are your time first one minute 2nd one hours 3rd one false... Hahaha

Installing it on my Lumia 1320 with 8.1 DEV PREVIEW:(... is the official 8.1 Lumia cyan already available for Lumia 1320? (though I won't be able to install it even if available, unless I downgrade) sigh

1. Disables Kids Corner.
2. Really thought Rudy was better than this. #DealBreaker

Its not all about Rudy...Ms Decides Rudy Works

Ehh nothing special about the app for me. Uninstalled it. Its laggy on my 920. I know its in beta. I'll check back with it if it ever makes it out of beta. Or they should just, in a future OS update, add this functionality to the start screen.

I don't see what is the fuzz all about. But it is my imho. I'd rather stick to my usual Glance/TV show combination.

After unlocking there's a little delay for the touch input to work, on a L1020 8.1 DP.

Ditto. Give it a couple updates

It's in beta, I won't complain, I'm using it anyway!

It's ok to give opinions, to get it better.

I'm really missing something. Where is the animation?

In the diagonal lock screen, the text flew out at an angle. That was the animation. In the clock-style lock screen, portions of the screen rotated as if they were part of a clock face. That was the animation. In the half-hidden-style lock screen, a portion of the time is obscured, and grows more obscured as you swipe up. That is the animation.

512mb ram support!!!! Gud!! I appreciate...

Locks up the phone after a bit. Have to soft reset, uninstall for now.

Rip awesome lock... Here is a tip for 512mb users... If u want to use this app lag free turn on double tap to wake up features..from settings and use it to turn on your lock screen without using unlock button... And dont forget to give me a thanks :)

Let me see. I have it on all time though.

What do you mean rip awesome lock? Any app dev can use the API with their particular content. This is just an app using an API. It is not THE API.

If lock screen animation become hit then no body will use awesome lock... That's why i told rip

They will because awesome lock will also use the API, as well many others. Is that surprising...?

Thank you for your thorough and exhaustive review of the new Lock Screen App. Your use of scatalogical verbage was absolutely brillant.

It's a bit laggy in my Lumia 920 too, but it's ok for a beta version and of course great job MS to made it available for 512 too. Yeah need improvements but I'm sure they are working on!!! What about Rudy Huyn? Is he still working on the project?

It's a pity that we need to choose between this and kids corner...

Good for a beta. Many new beautiful things can be implemented through this. Can feel a little lag too. Hope they open the APIs for developers soon so that they can do wonders with this. :)

I like the Zune-style lockscreen that was shown way back in February. That would get me to look at 8.1 again. As it stands...I will NEVER get 8.1 on my phone. I want my Hubs, social integration, and working media app with its separate now playing screen. If they were to integrate Zune aesthetics and features more into 8.1 that would be a help to ease the anger of some long-time Zune users.

As Daniel had pointed out, that Zune style lock screen was fake. But I really hope MS is working on something like that.

I need that stripes one!!! Was a big fan of that style!!!

Zzzzzzz. I'll stick with Amazing Weather HD thankyouverymuch

I ses everyone complaining about a bug with the artist background ... But it didn't showed to me since I've installed WP 8.1 preview for dev ... Is it normal ?

I don't have that either.

Although i think this is pretty cool, but didn't we hear this same concept since the launch of Windows 8, more accurately similar idea on lockscreen. When WP8 launched they focused so much on live lockscreen but in the end...no one really care for it that much...i think this will be the same for this app which they seems to put a lot of effort into... i don't really get MS's direction, but it's cool to see this kind of stuff i guess..

First impresion: Nice concept, clean I also notice the lagging [635] but aint that bad as many are crying about, also have it in my [925] and it works perfect. Someone above mention that the app was over hipe I agree with that to a point. I want to give Rudy an [A] for this; problably change the grade when it's out of beta. Second: Let's be proactive and give feedback so they can improve and give the app more options, I really do not care what you post, sometimes negative feedback can be constructive. I seen a lot of ideas above let's send then to MS so they can act on them.

Cool but not as much as expected from Microsoft

Is there no way to turn it off?

Why isn't the native default lock screen one of the choices?!... and even worse, when you uninstall the app it ruins the default lock screen by showing that stupid 'resuming...' message for like 5 seconds!

Agreed. I hope someone figures out how to get rid of the resuming... message it shows every time now. Really ruins the phone experience

I installed it and removed it soon after again, then I got a 2 seconds resuming every time I turned the phone on, which is extreme on a 930. Solved it by installing again and turning it off, then uninstalling. I see this more as a proof of concept, let's see what the developers make out of it..

How do you turn it off before uninstalling it I have the same issue as you with my 930

The live part of the app is the clock with the dots that rotate. It's actually kind of weird how the clock slices and rotates part of the image. I don't see anything special about this app. The other choices don't do anything "live".

I think they should create real API animation for lock screen

I don't like it. The arrangements are weird and since it removes the kids corner option it pretty much does it for me for now. Since its beta I realize it might be more interesting to me in the future.

Now see, this is what I call STYLE. That bounce is really needs a couple more bounces to make the animation really work. But even using the Bing picture of the day, this is far better in appearance for the lock screen than a the clock on top a quote. Style and professionalism. This is working.

Agree. I expect the app's abilities will expand over time.

Working flawlessly on 520 with just a less than a bit lag!!

I gave up on this really quickly... So slow and delayed even after unlocking I cant tap or swipe for a few moments. Also sometimes my flick won't make it fly all the way up, and it comes back down which is infuriating. A nice idea but would be so much cooler if it was native, not an app.

I believe that this feature will become part of the OS, just like the other apps like Calendar, Xbox Music, Xbox video. Or, it will be added in the settings.

#awesomeness, I hope they add more unique options soon though

If you want high definition of thousands collection offline windows phone wallpapers. Check start backgrounds HD at windows phone store. This live app need 2000 x 4000 resolution for great live lock.
http://www.windowsphone.com/s?appid=27fcbb99-2aca-429c-8114-cb5588f3ef39

Bleh..... It doesn't show calendar events, nor music controls or other notifications. What's the point of having all these animations? Make something useful for the power users please....

Wherez da stripped one that we saw before few days ?

It will be updated once the dev gets the API.

That app is not from MS, It's from other developer.. They'll update the app once MS releases API. I'll not sure when..

Very quickly if @Belfiore allows us to use that API too (not only to "privileged"....). This was not fair and hurted all the WP developer community, there are MANY other good devs over there.
Hope he understood this was a mistake...

The API is already released. This app is using it!

The API is already released this app is using it!

Works well with my L925 WP8.1 & Cyan! I like it! I spent about 15 minutes or so figuring out which one to choose! This is what I hate about customization! You spent hours and hours! Yay! But it kinda like it. No lag for me. Now I'm thorn about keeping my Glance off coz I have this one oh well...choices, choices, choices! Darn! I think more than functionality this is more of an eye-canday than anything else. I'm surprised it works for 512MB too!

So finally its here.... The day news came about WP8.1 this was the feature along with action centre soch excited me most..... They told that it will be out for 1gb device only but thank God at least beta version even 512mb use can enjoy.... :) thanks...keep it up!!!
I liked it....specially the first theme!!!!

Ritesh bro, are you getting stars instead of app icons??

Yes... When i see it, I have uninstalled the app...

Download and... uninstalled.... I did liked the circular abstract clock, but it's hard to tell time and could not be bothered with the rest.

It shows stars instead of notifications icons as like WhatsApp.fb.messsages instead it shows stars ? Hope all having same stars . N its totally different as we saw In preview few days back

Anyone getting starts instead of app icons?? And I think nothing special in it. Just customization, need some actions like music controls, gesture support.

Venetasoft lock screen preview app has great look than this.. But i like it.

Since this app lacks weather and scores for my favorite teams, I'll stick with Awesome Lock Free! Love that app.

There are alot of rough edges in this app, still is cool to have one.
Animations doesn't look natural and when unlocking, underneath of it is just a low-red screenshot and not the actual screen where you left from. What I'm more excited is when they finally open this to developers, this where the awesome things happens. I also notice it doesn't work with artist background when music playing, it shows that this really an app that doesn't have much integration with the OS, since artist backgrounds are handled by the OS (See WP8.1 Xbox Music, it's hit and miss compared to Music+Videos on WP8). What is promising though is that they can make a Live Lockscreen for Xbox Music (and hoping also for other music apps) to show artist photo animations like on Zune, this would be a indeed upgrade to what we used to have since WP7, also it "fixes" the artist photo bot showing on lock screen.

Most pleasant surprise from Microsoft. +512

Just one comment, i think the font is way too gigantic. Hopping for better performance in next update! Thanks!
Edited: Need to add more, i think the startscreen lies behind the live lockscreen is a screenshot of last startscreen used because when i unlock, the startscreen updates to the actual live tiles available. I hope this can get fixed on official release. Thanks.

Yeah, to big if using a 5" screen (on my Lumia 930)

Personally this feels gimmicky to me...i may be on my own with that opinion but its mine.

I think you are on your own

Wish the circular clock had the numbers inside the white circles like we had seen! Would be my lock screen of choice if added back.

didn't work - uninstalled

Dear Cyan testers,
I don't know who you are. I don't know what you want. If you are looking for time, I can tell you I don't have time. But what I do have are a very particular set of skills, skills I have acquired over a very long waiting for your update. Skills that make me a nightmare for people like you. If you let my cyan update go now, that'll be the end of it. I will not look for you, I will not pursue you. But if you don't, I will look for you, I will find you, and I will make you see cyan everywhere.

Rofl.. Thank you for the laughs.. :D

The phone comes to normal lockscreen after restarting

It would be great if they release the API then developers can play with this.

The app is cool, am using the round lock screen, but it shows lock screen notifications as a star

Sad that kids corner is disabled. Hope that is addressed before it goes gold.

Just awesome, don't know why people complaining about it....#winphan

Not sure why you lose the kids corner. That really sucks :-(

This app is great even if it's just beta. It's true that it has some problems, but sure reviews are going to help Microsoft make this app better.
I just hope that they can create a lock screen similar to those Samsung galaxy ones

The app needs more polishing and improvements before I can use it. It's really slow. But I'm sure with updates, it will be a really good app.

Does not work properly when phone (L1320) is PIN locked. The PIN entry field is hidden. Same happened with the action center. Here are more details...
http://forums.wpcentral.com/windows-phone-8-1-preview-developers/285192-password-field-hidden-while-trying-unlock-phone-tapping-unread-notifications-lumia-1320-a.html

3rd and 6th designs not working my Lumia 620

Well, I just noticed that kids corner is deactivated when we apply this lock screen, I can just pin it to my home screen, and everytime I give my phone to my nephews I should deactivate the live screen. A lot of work to be done!

Installed, clicked on the icon and... nothing happened. Absolutely nothing. Rebooted. Tried again. Still nothing. Didn't launch. Considering all the negative comments here, I guess that's a good thing. Uninstalled. I'll be back when they lose the Beta tag...

After first use the lag becomes less

I'm not seeing any problems on a 1020 running dev preview.

It seems when you lock the phone it will navigate to another app that will bring to animated lock not actually the lock screen live. It seems like a trick.

is laggy,back ground image from bing is not clear and notification icon like message,whats app are showing as stars.....otherwise good

NOT MUCH LAG ON my HTC 8x but quality is low unlike what we see in joe belforg? and i wish to add option like screen saver, like lumia devices when screen is time out there a time display on screen add notification also,..

If only I could set the date and time to another language without messing with the region settings.

To get rid of 'resuming' after you uninstall, you need to power off for 1 minute then power on. Once you've done that, go into settings and change the background of the lockscreen to anything. Power off then on, go back into settings and change the background to whatever it was (I changed from photo to bing and back).

Omg thankyou! I thought I was going to have to restart my phone again. This solved my resuming issue :)

After uninstall, I immediately went to Lock Screen settings and changed it to Bing. Was good after that. :D

Not so good for 512mb RAM devices

You don't really recognize the start up loading when you set your background under start + theme settings to black

The Bing picture quality is worse with this apps

Its something different in look of Windows Phone.

I wish you could use moving backgrounds like droid phones or living pictures.

Ya , currently minimum time is 1 hour , but later it'll be of in minutes , probably.

It will be updated and then it'll work like Rocket.

Does it appear in app list, or in settings?

I don't get if hiding password is good when you swipe up to unlock.

Like the abstract clock out of the 6 as it is the most animated :P, I believe Joe Belfiore called it "Tokyo" at Build 2014.

Could have been the codename for it. :D

+1., But, its not working good, didn't show time, just empty circles.

Kids corner doesn't work if you use this app.

For 512 mb users, if you're having problem, simply disable it by turning on kids corner. So you can disable live lockscreen without uninstalling

Uninstalled. Seems its eating my precious 512ram. Will install when it gets better (or when i got phone upgrade).

Every where, even in the market place, if you just read people comments, are meaningless. Because we are on preview version. So, bugs are always welcome.
I liked. Beta programs alot. Their issues are the key to repir till the final version is out but I don't know why people take it seriously that it has bugs and wont work or dose not respond.
M on preview version, my photo gallery dose not respond, action centre hangs when I receive immence notifications, apps dose not work properly, nokia cam problem everybody is aware about, unnecessarily without touching in the app lead me to start sceen. Lol just have patience. If fact people should support the developers to work more on that.
M telling you our patience are going to be worth!

I uninstalled the app and every time I turn on the screen, it says "Resuming". How do I get rid of that?

Did you try to soft reset?

You should've turned it off first...

The diagonal one and the one which shows the day of the week arebest the

You have to turn off kids corner in order to activate it.... :/

Started reading the article saw words "released" "beta" and "8.1" instantly went over to download the app.

I'm not happy with the lock screen app.. I was expecting something more.. Those 6 lock screens they are providing are as similar as we were using before (standard lock screen) plus it's lagging while unlocking my device! Hope they'll release a bug fixing update! :)

Give then some time, its just beta. :)

Great app add some more type of lock screen.. Keep it up..Good Luck

Wallpaper nhi lag rha lock screen pr.. Phle live lock mai jao wha se set karo..

Works with almost no lag on my Lumia 925...

I hope Microsoft opens up the API. The API looks like it's a specific hidden page within the app...

Lets hope they improve the performance for 512MB ram devices

There's Nothing special about this App just some clock animations. Thats all.

It's a beta. And have a lot of potential for more interesting animations.

One issue I notice with the beta it's I get stars instead of notification icons.

I m not able to see my lock screen notification icon in live lock screen

not compatible if u have a password

Yep, it's completely compatible. I have a password and it works.

Amazing!!!!
Downloading now!!!

The hidden-time and date style one is weird. That would drive me crazy. "What day/time is it? It's cut off!"
I use the diagonal one. Most practical, yet most flashy, imo.

Seems to take a second or so to actually unlock the screen after sliding up. Anyone else notice this too? Lumia 1020 here.

It should allow you to choose a lock screen to go with different pictures in the set of backgrounds you choose. You could use the analogue clock with a a picture where it looks cool to have parts of the image rotate, but then when the next picture is something you don't want to get twisted up, it could use a lockscreen that doesn't garble the picture. It would be cool to see a sunset/mountains picture with the analogue clock, but if another picture in your rotation is your girlfriend's face, then if it uses the same lock screen the clock will make her look like something from a Japanese horror manga.

No kids corner support, hope on the next update this will be fix, ehat is the use of kids corner if you cannot use it when you want live lock screen.

okay so far.. need the actual app icons to show rather than the star icon.. and different styles/animations. Allow us to mix themes (eg. fonts from one theme with animations from another) .. good for a BETA.. looking forward to improvements

hey how to disable it? finding it booring n lag are too much! will wait for an update

how to disable it???! lots of bugs on 720 (512mb ram) will wait for a update

Doesn't lag for my 720 at all. :)

And in place of WhatsApp notification icon it is showing some star. Did anyone noticed?

3 out of 6 are just same with a different font

On my 8x the lag is very noticeable, between 1 and 2 seconds between pushing the power button and the screw being ready. I thought I'd like it but I've gone back to Simple Calendar lock screen instead.

It's so so. Interesting idea.

Awesome Lock is a way better app. Posts more information on the screen such as app notification, news clips, weather, stock market, Currency exchnage, etc. No lag at all. even on 512GB phones, either. Also allows you to pick from lock screen bacground pics on device or Bing. OK, so Awesome lock is animated. Big Freakin' Whoop: how many of you actually care that the clock moves when you are unlocking your phone? MS missed it with this app, IMO.

Wp8.1. :( When will you come for 920..

Love the idea, but like some of the animation items in Windows Phone 8.1 It's a little bit of a slow down for some of the options. It's not to say the items themselves are slow, just that the way WP seems to work is that animations are easily interruptable by other tasks. So pulling down the notification tray while an app is loading or resuming means it will consistently close until the app's located. Similarly this lockscreen app doesn't allow me to unlock easily while it's loading. It's quick, but definitely not quick enough, it will continuously close as it loads the animation. So some are fine (like the sliding diagonal time) are quick enough, others (like the clock) shows this issue. But!!! This is on my lumia 920, I've no idea what the newer phones' speed and processors are doing (from the video's they seem capable). That said, I hope to see more options and details and apps like this come through, more API access and so forth. Why? Because as long as it's optional, optimized and done right, most people will enjoy being able to have this kind of thing, and it will help the OS grow for those who love personalization. Many die-hards may dislike things like this, as they do indeed tend to slow the OS down if used. So having these kinda things as an option are welcome, in my opinion. Also, I understand most of this is still technically beta, so I'm holding out hope these things don't continue to be this way...

Awesome lock screen.....
Works on 512 Mb RAM too....

Where is that strip style animation??

How is the pin implemented?!

The start screen is blurry when you slide up. And when you unlock the screen it takes about 0.3 sec for fate and time to appear

I think bit lagging. Awesome lock is far better. Needs to Introduce sth more features and information rather than animations

Not impressed much. I want to use bing weather instead of plain images

Ya facing a lill lag but its ok... At least something new on screen

A "favorite live love screen" instead of lock screen lol.

'Microsoft managed to get the device working on low memory devices'...lol,

Why a star symbol for whatsapp notifications? I hope they solve this issue

Love those animations when unlocking my phone! The first one is my favorite. Works almost smooth on my 925, lagging sometimes.

Not at all impressive..I was expecting something different

As soon as you unlock the screen the touch looses response and you struggle to register a touch or scroll at first instance. Using the Lumia 1320 would not recommend downloading the app just yet.

The third one is the worst in my opinion! Bcos it doesnt show you the time properly! Specially when the time is like "10:32" for example (4 digits)

To remove this app safely, restart your phone. This will restore your old lock screen. Then uninstall the app.

People it is just a start and I believe MSFT will update soon

Just remove the PREVIEW from animated lockscreen preview. Thats what we want! Current version is just piece of shit!

Works well on my 625 but the Bing picture of the day lost its quality but other than im grateful that microsoft released the app on 512 MB... More improvement is coming thanks micro soft

Does anybody know when the APIs are expected to be free for every developer?

Absolute minimal lag,I guess will also depend on what apps you are running in background,I face no problem on my 520 PFD.

An awesome app but disappointed that it's so laggy even in my Lumia 525 with 1 GB RAM :(

I really like this Zune themed lock screen. I'm glad Zune still lives in some form.

There is no benefit in using this app, just wasted screen real estate. What about next appointments, weather info ...

Would be nice to integrate this with additional lockscreen functions, e.g. the ability to view weather, location, etc.

Everything fresh/innovative/new MS releases is in beta. Clearly indicating that they are playing catch up. I was excited about this when I saw the demo. Now after testing it for 10 minutes, its like meh. I think the fonts used in most of them are pretty childish and ruin the look. Weird one is also the one that has some of the text going under the picture. Weird because it hides the date. Thats pretty important number.

Using live lock screen on Lumia 930 and really like it. I am not noticing much lagging, nice work MS.

One second lag in my 630. But its good customization. Hope new updates and getting over beta, will make it awesome.

The Bing Daily Background is in really bad quality...

Yes! Finaly! Thanks Microsoft! Your support is great!

It is not that good that I would turn off the children corner for it.

Feedback. Is the round one with white dots supposed to be a clock interface were is the numbers on it

I thought it would have some more functionality...

I've downloaded it and its been working on and off. I'm gonna try to disable glance to see if it works a lot better...

I don't really like it. Makes the phone more laggy and the animations are nothing special. To unlock the phone with gestures, like windows 8.x actually can, would be much more useful. Uninstalled it after 5 minutes.

Downloading..... Fingers crossed.... Hoping for an excellent app...

To fix the resuming screen bug, do a soft reset by pressing the power and volume down button simultaneously for 10sec. Then go to the lock screen settings and switch to a different locks screen provider.

better when moved app to phone storage.....still in beta version its working fine with my L620

I'm not feeling the vibe yet...

Just a fucking app .... Microsoft...please do some thing thats is innovating as wel as user-friendly....

It was a very long wait for a reportedly super awesome lock screen, in the end it turns up unfinished and pretty boring... Meanwhile the rest of the world continues to wait for Cortina and Cyan !

After a day with this, I stopped using it. It's far too much of an obstacle to using the phone. It's harder to swipe away than the original lock screen, and it takes a few seconds before the phone starts responding after you get past the lock screen. I hope this and Xbox music aren't the beginning of a new, laggy era of Windows Phone. It's feeling like WP and Android have swapped places since 2011. My sister's cheap new Android is smooth and our new WP 8.1 apps chug along at a fraction the framerate of their 2010 counterparts.

They took 4+ months to create this?!

It's quite stupid when you have white background cause then you see the half second that it's loading(on a ascend w1). But when you make the background to black in the settings you don't really recognize it :) it's only not immediately after pressing the power button... All in all a nice app, though I thought there was some more functionality

so many people complaining about it being buggy etc, it's a beta! if they'd just release the final version a while later, everyone would be complaining about msoft not listening to their users!

Uninstalled it. The 8.1 default screen shows more Information. Overhyped.

I find the bugs , http://youtu.be/qC1UTdjk81w

Once upon a time Microsoft used to spend ages developing apps and then released finished articles, now they don't, really disappointed in this much overhyped unfinished lock screen

Children's corner is gone if you activate it. Hence, I can't use the lock screen app.

No problem here +920 just wished there were more settings to fiddle with. Hope to see it come out of beta soon.

Is that it ! Was expecting alot more.

Why don't MS make Glance available to all Lumias? Huh, that'll teach em to release things prematurely.

I think the leaked videos showed another effect, one that is not present in this version of the app?

This app is a big shit, as Microsoft knows to develop.
Microsoft is amateur on world of mobile.
The 3rd party apps are always better

Not impressed. Thought more customization was going to be packed into this app. My current lock screen app adds tons of options

I liked the Tokyo from animated lock screen preview better ... Here, it doesn't even finish the animation before unlocking..

Only I'm feeling the battery drain or you guys are also..?

Oh no, now even after I uninstall the lock screen app, my phone needs to load when I pressed the lock button to unlock my phone... HELP!

I dont't see any option how to turn the app off. It seems the only way to turn it off is to uninstall the app. Any other ideas?

all the hype this app was given for these simple executions???? can't wait for the contract of my L925 finishes and will jump back to android. am really fed up of this '3rd world country treatment'

The FOURTH theme is not working nice!! Doesn't show time, just circles alone :( Hope they will fix it

Not bad but needs more themes. It also lags on my ATIV S. What's it like on a 512mb device?

Where are the other 2 clocks ?

After uninstalling the app I have ~4sec lag when waking up the Phone... So frustrating! I'm on 820

Was it 4 or 5 months since we first saw this app(?) and it looks pretty much the same. Was expecting more progress than this.

Everything is cool but need to fix some bug...
And in 512RAM it lag... And phone app also lag...
But according to preview of this app which we downloaded previously this one is worse seriously...
But still good work....
Work hard...
Thank you..

It looks nice, but it's very basic atm. I'll check again when it is finished.

Everytime I press the unlock key the "resuming" message is displayed, followed by a pause, and then the lock screen appears, for the pin. Also ALL my tiles are transparent. They were steel, solid coloured before. This is happening AFTER I uninstalled that lock screen app!!! Can someone tell me how to turn off the transparency effects?

3 out of 6 are just same with a different font... Wait where is strip and zoom

Works kind of crappy, it has a delay when i power on the phone, and after i unlock the screen.
Lumia 820

Its kind of a let down to not be able to have Weatherflow on my live lock screen.

Cool app...not liking the fact that it disables kids corner...hope they fix that soon...and I'd like my notifications to not be displayed as stars...

I uninstalled it in 5 minutes, it's slow and laggy and offers no extra funcionality over normal lock screen except that the phone takes 2 more seconds to wake up. I know it's beta, and righlty so, I will check it out again once the final is released. I'm getting pissed with WP a little, it's slower every day.

Was having issues with it so I uninstalled and reverted back to the stock lock screen, however now whenever I wake up my phone it displays "resuming" before showing the locksreen or sometimes doesn't show at all and goes straight to the homescreen....anyone else having this problem? L920

I think it was a little over hyped myself. It has potential, I always wanted something like the Android live wallpaper on Windows phone and can see this evolving to something like it just poorly executed transitions in my view for the supposedly number one software maker. I know it's beta but transitions are a bit of a let down. Hopefully they can come up with something that will wow

I am loving it in my Lumia 630 :-)

This is good news for al those 512MB RAM babies! Yes it works on cheap devices also!!! This with the recent 40(!) games released with 512MB RAM support should shut you all up for good ;-) Posted via Windows Phone Central App

On Nokia Lumia 920 quite laggy, but looks nice, like the screen with the yellow writing. Hope they cure the lag though the beta testing

New lock screen is sick. I can only see this getting better and better and better with each update.

I can't believe how bad this app is considering how long its been in the pipeline. It isn't even close to beta standard. What's worse I've uninstalled it and now the traditional lockscreen gives me the 'resuming' lag for a few seconds every time I go to unlock. I might have to roll back to to 8.0.

after using this live lock screen beta, everytime I swiping it to unlock then sometimes it's resuming.. (idk resuming what apps? cuz I didn't open any apps before) is it just me, or anyone here feels the same? I got another one that I felt after using live lockscreen beta, when I open BBM and then I lock my screen, then when I unlocking it BBM apps resuming and enter like I'm quit BBM before I lock my screen, it takes a while for entering apps. anyone?

Not working on my Lumia 520 /720

where is my comment goes?

Loockmix is s waaaaay better app that allows more info and options displaying everything from reminders, countdown, appointments, horoscope,.. and more! plus all the usual info.

Lockmix app is way better.

It's nice, though I am very boring and just have a plain orange background. Looks good with the orange 930 though!

I was really looking forward to getting one of those ones from the previously released app, but it isn't there

No lag on my Lumia 520...run smoothly

It is not working smoothly in my Lumia 630

Its a bit slow compared to using bing. I also would like an option not to have to clock there but can't wait to see a moving bing image in my lock screen

How to get back to normal lockscreen?!?!?!

This app really is beta. What I like about WP is the clean design and that's exactly what the app fails at. It uses thick ass fonts like from the WinXP era, it downscales the background image's resolution to whatever low mess and it makes it difficult to actually tell the damn date and time which is often the reason why I look at the lock screen. I played with it for a minute and then it had to go.

If they can eliminate the lag entirely I can see this getting integrating into the main OS

Working on 512Mb RAM device... Working fine on Nokia Lumia 720 with Windows Phone 8.1 Developers Preview.

Wow. Seriously over rated app. Many have holding their breath for months......for this?

too laggy for now,will keep it installed

so how do you turn this off and revert back to the default lockscreen of the OS?

WOW,IT WAS AMAZING,THANK YOU JOE,LOVE THIS APP <3

Still a lot of work to be done ... a good start, but I cannot get why this was so hyped ...

Crap app, deleted it after 1 minute

It destroyed a bit on my phone, after I installed it on my Lumia 925 each time I press the lock button and then again it shows "resuming" and this takes 3-4seconds. Uninstalled it, same scenario. Dunno excatly what has been changed, I did uninstallation but same scenario appears and it all started after I installed this.

Nice app, slows down my unlocking experience, hope its fixed in the final version. As of now have removed it as it slows it down.

Its in beta form right now..will improve with future updates

What does the star ⭐ with the number mean?

1. Restart phone to complete install or lag will be visible. 2. Do not change lock screen to anything else until you'll uninstall this app. Otherwise original lock screen will have the same lag.

Installed and working fine so far on my 1020. I haven't run in to any bugs or lag, but it is beta and people really need to understand what that means. The install for a few minutes, complain, and uninstall is a waste of everyones time and is just rude to the developer. Closed betas are cleaner. Public betas forces the developer to ignore most of the comments, since they dont help find the bug, which is the point of the beta.

Open the API to us..We will show what we can do with that i..but stills hats off to Rudy....Thank You

Are you actually making phylosopycal discustions about what beta is??
what the hell guys?
If you don't like this ap, open it in app developer and fix bugs yourself.
if you don't know how, ether wait for an officiall relese or learn to code m8ts

Hey everyone, has anyone else had an issue after uninstalling the app? My 920 with 8.1 now needs about 10 seconds after double tapping or pressing the power button in the device for the stock lock screen to come up. I'm going to be resetting the phone to see if it fixes itself.

Sorry but this is absolute garbage...beta or not...MS should be held to a MUCH higher standard for releasing apps or updates to the OS...and that includes Xbox music. Say what you will about Apple and iPhone, but having owned an iPhone for 4 years ( including the 5) I was never subjected to sub par performing 1st party apps the way MS puts them out here on its own OS. They are testing mine and alot of peoples patience and devotion lately....

Works surprisingly well on my 720 considering it was constantly slated as needing a minimum 1GB to function. It is a little buggy, but for a beta it is perfectly acceptable. I agree with a previous post that when interested developers get involved the designs and effects will undoubtedly be spectacular.

Uninstalled from my Lumia 925. My own images wouldn't work, would just display a black screen with the lock screen over it. It looked like a very poorly made app considered Rudy Huyn was behind it, none of his apps are in as poor quality as this and I assume MS is behind it. The lag and fact that the home screen is unusable for a second was enough to make me uninstall it.

Good for a first beta, let's see Microsoft squash those bugs and make it even more awesome! +820

I don't get why it weeks to develop this app. I found the screens rather useless, except the first one, but the animation feels clunky (easing formula looks wrong, really). Hope the updates will bring useful stuff, or I'll stick to the default screen.

What a shitty app! You see always stars for every notification!

What a shitty app indeed. Just stars for everything.

Love the concept, but I hope they bake it in. Its a bit too buggy to want to use it. Also, I hope they give you the option to add more than 1 detailed notifications.

The first one is great ! It seems ok on my lumia 620 ! I only face minor lags ... hope they fix it ....

Great apps, slowly filling the gaps compared to what Android phones can do. In the next updates we need more themes/animations.

This app is more in alpha stage than beta. It's too slow even with a single image. The content being processed doesn't warrant the slowness nor the recommended 1gb of ram. I removed the app after a minute of testing. This app is clearly poorly written.

1. Restart phone to remove wakeup lag 2. Do not change lock screen in the phone settings untill you'll uninstall this app. Otherwise you'll get the lag with standard lockscreen

So I had to uninstall it cos I could not unlock my phone. The lock screen thingy kept coming back.had to restart my phone. Using Nokia Lumia 520

Since installing it, I've found a lot of ' Resuming...' Messages around the lock screen. That is acceptable for beta, but after uninstalling it, I've found the message still keeps coming up. Not sure why that would be.

But if I press camera shutter button the animation isn't showing.

After uninstalling this app my lock screen always goes "resuming", anyone else have the same problem?

Needs more options for customization but otherwise much more welcome addition than the built in screen.

Meh, it's too buggy right now. It completely stopped working and was getting resuming. I had to uninstall it. Lumia 1020

this app is not that cool..!!!! but it's definitely better than the previous version of lockscreen.... kinda 7/10

Needs more animations.... These are hardly anything to write home about. But... The first one is cool. Need more like that. I think its great MS has at least provided the API to do this. Live start screen wallpapers now. I looked at a Galaxy S5 a few days ago and I must say... Android seems to me coming along. Given I hate android... Still makes me wonder what's taking MS so long. Think about it... Since the beginning we have always felt we hadn't had anything ground breaking... And .... Today, we still don't. We have settings... Yes.... But what about things android doesn't have. They're barely putting up a fight. MS made what... 24billion$ in one quarter? So almost $100,000,000,000,000 ($100Billion) in one year.... Well what the fuck. You don't go out and buy a 67 Mustang just to drive it around in first gear till you blow the motor. Put it in second gear for Christs sake!!!

I loved the customization of the app, but I switched back to the original lock screen because it lagged up my 1020 really bad. I noticed it through out the entire phone and not just when I was unlocking the phone. I'll wait until the final version is out.

Why do I get a star sign for WhatsApp notifications instead of the WhatsApp logo?

I love the lock screen app. Thanks! The rest of you are just little loser bitches with nothing to do but complain about a lock screen and make wishes. Get a life you fucking troll assholes. Yes that feedback from reading all you whiny as stupid comments.

Yup there is a little lag between pressing the power button and turning on of display
LUMIA 620
But still good app

I really don't see what's great about this app. Am fine just using Bing picture of the day. But then that's just me. Great if its working for others.

I don't like the bouncing on the rotated version..

Da da da da da da, whiners, whiners, whiners, whiners, whiners, all over the place.

Don't see why everyone was chomping at the bit waiting for this to come out. Downloaded it yesterday and while it works fine on my icon and even the lag to wake with wifi seems to be gone(best feature IMHO), there are better lock screens in the store for functionality. Sure it's beta, understood, but no calendar or weather on the lock screen? Just the time and date? Let me know I'm missing something simple here. I'm probably going to keep using it as it does not have that annoying lag to wake, but don't see the big deal that everyone was so fired up about. Oh, and one color for font? Geez...Lock mix rocks over this bad.

Not as cool as i thought. Why were we all excited for this??

I have one question are these APIs available to devs, like can I make an app that puts random artist on background automatically from the nex Xbox music API

Icons of some apps like WhatsApp and Facebook do not appear in the quick status area... Instead a star appears making a confusion as to of which app is the notification there

Icons of some apps like WhatsApp and Facebook do not appear in the quick status area... Instead a star appears making a confusion as to of which app is the notification there

t mobile сделал мне пропозишн.или самсунг галакси 5 или нокия 1520.я взял последнюю.я верю в microsoft

So bad there is so much lag so I uninstalled it but now my lock screen always says resuming then brings it up

I had that. Had to reinstall the app but then disable it by toggling Kids Corner on and off.

Has anyone noticed a significant battery drain once the app was downloaded and installed?

Screen freezes after unlocking..!

Decided to uninstall only because it was very laggy for my taste, I can wait for final release I I'm sure the bugs will be squished by then : )

I am currently using the 'circles' lockscreen, works best if there is a photo, or in my case, a pattern. However, want the notification icons to be the actual app icons instead of just stars, that way I can tell the difference between emails and social notifications.
Hopefully the next beta update could include, a way to customise each lock screen; i.e. Text colour/size/boldness, even font choice.
But I've got to remember, it's just a lock screen app.

Awesome app.. A bit laggy on my lumia 520 but enjoyable too. The circular design in perfect and will be more perfect if they'll add numbers instead of those circular needles

This app feels a little unstable to me #1520

Alot of lag yesterday.Today way better.Don't know why it's smooth as butter today.

Beta but it really needs performance and battery enhancements.

Played with it a bit; not a fan. I do, however, understand the appeal.

Um mal einen Kommentar auf deutsch zu hinterlassen. Funktioniert, nur bei z.B Zeitgleicher Musik wiedergabe wird der normale sperrbildschirm angezeigt. Es hat bei meinem L920 auch hin und wieder ladezeiten für den homescreen (die uhr oben rechts ist dann länger nicht zu sehen) aber ansonsten KLASSE und an alle die diese BETA noch testen: MSFT lebt hier von den eingesendeten Bugs also auch mal einen einsenden ;-)

I was expecting a little more with it being called a live lockscreen but if you choose the circle clock it's quite cool. A little gif animation would have been better I think

I like it. Works fine on my 520. I use the giant, thin digits. Nice having a new pic every hour. My Lock Screen Text app works.

Well , I downloaded the app and so far its working, I like the new look

Don't understand the developers intension..though its just beta.. There should be something ( I thought it would contain different password styles).. We need more productive apps

It disables Kids Corner :( I hope that changes +925

Did not even work on my phone. Uninstalled it ..

Finally it's here.
It ll make Android users more jealous though it's in beta version

I installed the app, didn't care for it because it was too slow. My normal lock screen worked fine until this morning. I deleted temporary internet files and now every time I unlock my phone it delays and says resuming before I can swipe up to get into my phone. I have a Lumia 822. Soft reset phone, made sure artist pics not showing on lock screen too. Still didn't fix it. Anybody else experience this issue? I would imagine its probably related to this app because of how laggy it was.

They should create real API for lock screen animation.

They should hire venetasoft and add more API for lock screen manipulation

Uninstalled the app, it was killing my battery

Don't know but it's working fine on my fone. Although when I installed it it did lag & then I'd got some kind of update with regards to additional language support & some update post which it started working smoothly :)

Its a bummer you have to turn Kids Corner off to even use this app

It's a bummer you have to turn Kids Corner off to use this app.

Got the "resuming delay" aswell ... damn ...

I assume since the app is in beta that its still glitchy, but ive noticed that the lockscreen app lags when you wake your phone to unlock it. Im running it on that OG developer 920.

This app should be implementes in the OS itself. And then they should allow other developers dessign new lockscreens.

Nowwww...... I now that the app is in Beta but it's just piece of trash.
I didn't see so much bugs and lags in my life! I am sorry :(

What don't they get about the fact that it's impossible to make a smooth lockscreen app? Not one exists on any single phone OS. It has to be built-in. And so I'll pass.

This is bull shift... It's crap

This is gonna push Windows phone into the big time, I can feel it...

It really doesn't do anything, except the option with the spinning wheel

Performance is really degraded, I just used it for 1-2 minutes and uninstalled!
I think we should wait for improvements in transitions and delays in appearing of keypad for typing password.

Lockmix app is so much better

Don't know if anyone has picked up on this but it won't work if Kids Corner is activated. That's a show stopper for me.

I wanted to give this some time, but even for a beta, this feels like a kludge. When I unlock, it definitely recalls a screenshot from 15 minutes ago. I understand it's a beta app, but shit.... C'mon

I play with it for 10 minutes and didn't like. It looks cool at times but the font choice is bad and there is no weather, battery percentage and etc that would make it useful. Also its hard to read at times which does not give it a good way to use it. Also Nokia glance does not layout to the lo k screen app so makes it harder to read.

Looks really cool. I wish there was a way to actually put the time behind the image in the third one

How to add custom text to lock screen? Reminders aren't working for me. Help me out.

This app is great, working fine in my 920. However I feel, its consuming lot of battery. Is it happening with my phone only or somebody else has faced this problem ?

930 never had lag before installing this app!!! guess I was just lucky before. app uninstalled until out of beta I'm afraid

It could be really cool if Windows Phone has Picture-Password unlock style like those Windows 8 pcs...

Installed and also deleted .

Is it me or is this app rather inconsistent with the WP design style? The font use is rather off, way too bold and blocky. Combined with the diagonal layout in one of the options it really doesn't fit in the 'Metro' design style. And that's from Microsoft themselves? Featurewise it seems a bit gimmicky too. I've been reading highly anticipating messages but I can't see what the fuss is all about.

Feels and looks a bit gimmicky.

I thought that "Live Lock Screen" would mean we can jump right into apps a la Android... But never mind. Nevertheless this is a good app. My favorite is the analog clock lock screen.

to get this, do we have to sacrifice the existing lockscreen functionality?
I really like having weather apps show the forecast on my lockscreen... but it'd be nice if there was a way those apps could animate the part of the lockscreen they control.

Not bad; need live wallpaper supported

After installing the app, there's either a delay after pressing the power button until I see the lock screen, or there's a delay in loading the home screen after putting in my pin code. Didn't change after uninstalling the app or reinstalling it. Annoying. Never did it before. The delay is about 8 seconds. Definitely too long.

It's funny that it was supposed that this app would be available only for 1GB+ devices, but the funny part is that this app runs much better on my dad's L520 than in my L1020 haha

:) concept of this app is excellent but..their r lots of bugs

am/pm should be present on 12h time format...