Hands-on with Microsoft's latest phablet, the Lumia 640 XL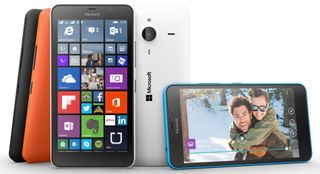 Alongside the Lumia 640, Microsoft also announced a phablet version for those with large hands (or a thing for big phones), the Lumia 640 XL. The company kindly took a few minutes at Mobile World Congree to walk us through the new Windows Phone and you're able to relive all the action in the above video.
Priced at $245 (219 euros), the dual-SIM LTE Lumia 640 XL from Microsoft looks to bring robust hardware at an affordable price to those who want a smartphone with a large display. Oh, and our own Richard Devine says it looks devine in orange.
Get the Windows Central Newsletter
All the latest news, reviews, and guides for Windows and Xbox diehards.
Rich Edmonds was formerly a Senior Editor of PC hardware at Windows Central, covering everything related to PC components and NAS. He's been involved in technology for more than a decade and knows a thing or two about the magic inside a PC chassis. You can follow him on Twitter at @RichEdmonds.
Heh nice pun with Devine ;)

Oh thanks! I love to make people angry .

Why do they put Microsoft branding on it twice? Put Lumia/Microsoft on the front and a little windows logo on the back. They just don't understand marketing and branding apparently.

That's how the Nokia Lumias are branded. And there is no wordmark/logo for Lumia.

I have an 830 and it only shows Nokia on the back. It's minimal which is nice. But MS needs to brand these things better. I think the modern Windows logo is cool and you want to constantly be showing people your icon...like an apple, or an android.

http://www.gsmarena.com/nokia_lumia_830-pictures-6638.php

Yeah look at the camera module!

Yeah, they showed the camera taking a photo, but that's about all this video did. I really wanted to see if the phone was fast and fluid. How long does it take to launch the lumia camera? It's basically got the same CPU as my 635 which takes forever to launch (on 8.1 and 10). Why give us a hands on when all you're basically going to show is tiles on the start screen?

Meh....ready for a 1520 successor

Not really. There will be a new flagship later this year, the 940 is closer to a lateral move, or a replacement for a broken one.

940 does not exist yet, so how do you know anything about it? lol

Just because windows central hasn't reported info on it doesn't mean info doesn't exist. http://www.pcworld.com/article/2890533/microsoft-announces-the-lumia-640...

I don't understand this link/article. It's just an article talking about the 640 and 640 XL not the "940" that's "coming later this year". I don't get your point. What's the meaning of the article if it's not taking about the "940" at all. Lol

I have egg on my face on that one. I got 940 and 640 confused. Didn't even pick up on the fact that 940 isn't a thing, even though I used it in my reply. I was thinking 640 the whole time.

Well, if it's the 640 that you were taking about than I'm still confused. Because, you said "just because Windows Central hasn't replied info on the device doesn't mean it doesn't exist". As far as I know. Windows central has wrote at least 5 Archie's taking about the new 640. Also even if you really were referring to the 640. You still not making sense because. Again, they have reported about the 640. As the matter of fact this is an 640 XL article your commenting on.

It was taking into account the comment regarding it not existing. I made a mistake and I admitted it.

It's cool man. The best thing to always do is what you just did. Realize that you just made a mistake. We all make mistake from time to time.

The only real shame is the fact that MS is taking so long to finish W10. I realize this stuff takes time but they've been in phone limbo for way too long. They shouldn't wait much longer than a release date of May for a true flagship.

No reason to ditch the 1520 IMHO.....,but das jis me

Exactly!!! But it would be long wait to get varient of 1520 though.

It's a lot better than I expected

Yeah! And looks great too!

Me too. And as usual, the equivalent price is wrong, presuming they mean U.S. (as opposed to Canadian, Australian, Hong Kong, etc.) dollars. $219 Euros includes a minimum 20% sales tax. Remove that, and you have $175 Euros. Convert that, and you have $196.50 USD.

Increase it in Canadian TELUS pricing it would be $600 to buy it outright.

Price listed is always BEFORE local taxes, subsidies, etc. Has nothing to do with us being "wrong".

The Euro pricing Nokia/Microsoft offers traditionally includes the legally mandated VAT sales tax in Europe, though, doesn't it? This is true of Euro pricing in the articles talking about PCs and Xbox on Windows Central, too. I've seen several articles on the site that do a straight currency conversion from Euros to dollars without removing VAT first. It makes a difference. It converts to either $245 or $197 USD depending on VAT treatment. If you removed VAT first, or specifically confirmed that 219 Euros didn't include VAT, then fair enough. But this trips up many people from North America, as Canada and the U.S. generally add on sales taxes at checkout, but they're legally required to be included in the advertised price in many countries. Canadians and Americans are often unaware that the rest of the world doesn't follow suit.

Tempting...but I'm in in for the long haul. Flagship.

Microsoft is really doing a great job replacing Nokia, with a great Hardware-Price balance.

I totaly agree, they're getting the balance right from the start. The only sticking point is that they've had to do this in spite of the existing Nokia lineup but I think it is the better choice, since they can differentiate with their own branding and the hardware will be fit for Windows 10 and well beyond.

I am thinking that they will drop the 1300s series and replace it with XL at different other series. The 1300 was always confusing. Who is with me? :)

They just did that. 640 XL is the 1320's successor.

I'm with you. I think, too, that Microsoft will launch at MWC just entry-to-mid-level smartphones. I'm positive about that.

The lack of camera button is disturbing.

No pureview, no camera button. How it is now.

Still disturbing. Does the Lumia 525 has Pureview? It does have camera button. :)

This logic is followed from x30 series

all x20 devices had a camera button ... since x30 the camera button is reserved for high end

Now that's how you say it, not "No pureview, no camera button.". :)

Camera button is for high end devices starting from 830..... But Nokia brought it from 520 also

It also shaves cost. At lower price points that really matters.

...and it allows most Android hardware to be Windows capable. Cheap Android manufacturers skip the camera button which was a Windows requirement at the beginning that changed with WP8.

I love the specs but the screen is too big, for me anything over 5" looks ridiculous :/

Then the Lumia 640 is the device for you.

I'd probably say 735 more so than 640.

I also don't like phones with big screens. Compact phones which sit well in your pocket and hands having screen size less than 5" are for me.

Times are a' changin'. Even apple's smallest device is 4.7in.

that's funny. anything smaller than my 1520 6 inch screen is way too small for me. many times i wished my lumia 1520 was 6.5 or even 7 inches, as i use my phn for reading and plying games, surfing the web, texting,...............more than phn calls. so larger screen phn, is a must for me.

Romavable battery? Swapable covers? If so I'll gladly trade my 830 for one.

The 830 has swapable covers and a removable battery too?

Yes, and I wouldn't give them up.

Romavable battery? Check.
Swapable covers? Check. But unlike the 830, there's no wireless charging.

Mmmm. Tough choice. I like the colors and the big screen (tried a 1520-too big and corners too pointy). But I do like my wireless charging.

Wireless charging is a non-negotiable for me. As is glance, which this does support.

Did he say full HD display??

even if he did it must be an error.
a snapdragon 400 with 1gb ram can never support a 1080p screen.

It's 720HD. Good enough at this pricepoint.

I have a 625 now!! Is the display better than 625?? If so, i m ready to go for it!! :)

Yes it is much better than the Lumia 625

Cheaper and yet on par with Microsoft's "affordable flagship".

no pureview, camera button, or aluminium frame.
those things aren't so important. hence they chopped them off to save costs.
and as always, newer phones always offer more for the same/less price.
that's how it goes. STEPS TO CHECK IF YOUR PHONE IS OUTDATED: Has your phone been released in the market? --> It's outdated.
:)

It can be out dated as long as I can make a call.

Can be charged wirelessly via wireless charging shell like Lumia 735?

No camera button is disappointing. It's a race to the bottom. Bah.

I think this phone must get the camera button, 13mb camera + ziess, it is a pro

But like 735 it isn't Pureview.

What is PureView and how is it different?

PureView is software related while Zeiss is hardware related I guess... ;)

It's both. Just because it is a Zeiss lens doesn't mean it can combine with Pureview tech. And yes Fahmi it is more mp. What is your point exactly?

It should get the camera button

What does surprise me, is that it's just 1Gb ram, thought it would have more tbh. That said, I may get this as a replacement for my L820.

MICROSOFT, WHEN ARE WE GETTING A TRUE FLAGSHIP????

With Windows 10 where u been.

Read this article and stop begging http://www.windowscentral.com/microsoft-confirms-windows-phone-flagship-will-arrive-once-windows-10-ready

You think caps makes any difference? You're still as annoying with or without.

Second 0:15 it has a 30mp Zeiss lens haahahaha.

He clearly says 13MP camera -_-

Now that's a mid range device that looks premium. I hope it won't have any glitch like MS' recent phones.

Should me my upgrade from 920 and if UK price is as low as 150 pounds ill buy it outright.

About £180 at release would be my guess. It will drop though.

Nice phone! good to play with untill sucsessor of 1520 and/or 1020 is realsed....

I bought a Lumia 830 just 3 days prior to this announcement. Lumia 830 is better I did not regret after watching this......

The L830 is definitely better. It's a higher range and has a better fit and finish. But the L640 XL is in a different price range.

I considered 640 XL's specs, not the price... They are little better than Lumia 830 especially the RF camera.... But, if there's no premiumness and metal, there's nothing ;)

The aluminum chassis is absolutely gorgeous on the L830. I totally agree with you.

The rear camera is not better than the 830. Front facing certainly. Barely any difference otherwise.

As discussed above, specs aren't considered here, the design is :)

Rear camera is not better, lumia 640 XL have 13MP, but lacks pureview and OIS 830 also have cameta button and metal frame

i really like how it looks! + it's huge camera

it's a decent midrange device, imo

Its a great Phone, but only 1gb... No.

For what purpose you need more?

Some guys think if their phones have more RAM in it they are somehow using much better things LOL

I don't like the round corners. I'm in love with the 1520's design.

+720
Round edges looks bad for me

When can we expect this phone to be released?

I wouldn't be surprised if it takes as long as late April to be released

The only thing its missing is wireless charging and the camera button hmm...

Really hate those on screen keys

Agreed. I get that it's midrange and that you have to cut costs somewhere, but that, coupled with lack of camera button makes it a tough sell for me.

You'll only get camera button on Pureview devices.

It's better for watching videos in dark

Yeah, and no accidentally opening cortana or go back while watching videos or playing games.

I love the on screen buttons. When you put the phone in landscape and see them rotate to the correct orientation or swipe up to make them disappear, makes them better than capacitive buttons in my view. Posted via the Windows Central App for Android

I like the retro-ness with the vintage processor!

Haha... that actually amused me more than it should have done

Where does MS says it is a dual SIM LTE?

How can we have Lumia without wireless charging! Disappointed...

Why is it a miss the majority of lumias don't have wireless charging.

That's the point. I got my Lumia 920 partially because of its wireless charging function and now asking me to go back to usb charging... You got what I mean.. Its kinda feel like going backward... instead of using cordless phone, you are back to using corded phone.

they are not asking you to go back to usb charging. this is not a 9xx series phone, its a 6xx series phone. 2 different price points

The L920 was a high end release...pick up something on the higher end L830/L930-Icon/L1520 amd you'll have qi built in. The lower end devices don't include them to shave cost and reach their destined price points. Or wait for May to hear about the next flagship with W10.

My contract is dued long ago. The specs are awesome for that price but I don't mind paying slightly more to get the 640XL for my kid if it comes with qi charging. If only they have the extra option while I wait for the next flagship. What a waste.

Lumia without wireless charging is disappointing.. I will give it a miss.

I hope they bring all the colors to at&t.

Lol, well you know for sure AT&T will have Black...

someone must have Ava Devine on the brain (nsfw)

Will it work on T-Mobile USA.

My next phone glad to get rid of this 635. Now all I need is a T-Mobile release date

no camera dedicated shutter key?? thats too bad!

This along with the new features in Windows 10 and the new 810 chipset are making me even more anxious for a flagship phablet (XL) this year.

Did he say Living Gallery?

I want to see a 1020 successor

A bit short article for a "hands-on" article.

Watch the video instead. I already wrote an impressions piece and we have 20 other articles on this phone.

Man, your responses are classic.

Daniel would fit great with the DMV folks.

I love rounded corners, they prevent the screen from breaking when the phone falls

On the heels of the new Galaxy line and LG M9 this is a monumental embarrassment and disappointment. I just don't get it.

At this price range.....you can't complain.....satisfied with the specs but at least camera keys should be given.

640XL is better looking but I prefer 5" screen size....so I'll go for L640.

Looks nice but I wonder whether or not will this becoming to the US for T-mobile, want to upgrade my 635

Elop mentioned it coming to T-Mobile.

Yup, I'm another fan of square corners ala 1520. I'm still on 920. Rounded edges to me just simply not right, and distracting

I'm SO ready! I'm slightly disappointed that it has the on-screen nav buttons. But I'll get over it... Come on AT&T!

It's not that bad. You will get used to it. Plus for some reason some sites play videos in full and the navigation buttons disappear when tilted horizontally.

I used the 635 for a while & HATED it. But I think it's because I consider that screen size to be "small" now. It felt like the nav bar was taking up precious screen real estate. But with a larger screen & hopefully an update that brings the little arrow that allows you to minimize it. It's gonna be great. Honestly I'm getting it regardless. Orange & Cyan look awesome.

They lost me with no camera button.

RECORDS show that fewer and fewer folk in the USA are connected to land lines at their homes and this is trend also happening here in Australia. Consequently the Phablet has a welcome place as a home phone in many middle class homes old landline phone becoming redundant. I myself am one of these persons who now does as much on a Phablet as I did on my iPad in the past and only drag out my big laptop for rather more serious stuff. SO what do I use as a mobile you might ask, well this might surprise some but out of the 3 other devices a HTC M7, a iPhone 4s & a little HTC Windows phone 8s, the latter is my everyday user particularly since updating to WP 8.1 which includes CORTANA here in Australia.

RECORDS show that fewer and fewer folk in the USA are connected to land lines at their homes and this is a trend also happening here in Australia. Consequently the Phablet has a welcome place as a home phone in many middle class homes and the old landline phone becoming redundant. I myself am one of these persons who now does as much on a Phablet as I did on my iPad in the past and only drag out my big laptop for rather more serious stuff. SO what do I use as a mobile you might ask, well this might surprise some but out of the 3 other devices a HTC M7, a iPhone 4s & a little HTC Windows phone 8s, the latter is my everyday user particularly since updating to WP 8.1 which includes CORTANA here in Australia

My issues with the 1320 have been the camera, not just the 5mp, but the camera button itself, continually launching and taking pictures of my hand or the floor when pulling the phone out of my pocket, no matter the settings I chose. So no button big plus for big phones imo. Other issue is lack of wireless charging, especially since, like 3 other Nokia phones I have owned the USB charging port gets worn or damaged very easily. It will charge, it just takes a steady hand and some of my kids Legos strategically placed at the cord. So unless this USB issue been addressed by MS at the hardware end, it is negative. I will probably buy one and just not use it while its charging, which is what I think caused the problem. BTW, never had this problem with other phones by other manufacturers.

See, people with 830 &730 those devices are a looker and the have NFC and wireless charging.
But 640 & 640XL are straight to the point.

OMG, another lowend cr*p for "normal" ppl. They don't care about users, who want something more... They care only about producing as many cheap devices as possible to gain market share. Disappointed.

Bloody hell! I just read the specs. It has everything including Sensorcore, magnetometer, ambient sensor, NFC, audio equaliser, led flash, ffc, user replaceable battery, huge ass 2500mah battery, microSD, exchangeble shell.

Too bad no camera button. I like the shape though.

Has Microsoft gone mad? No dedicated camera button with ZEISS-Pureview Camera. I don't understand the logic.

I will be buying one of these. Definitely.

This phone is looking very promising. Really like what Microsoft is doing with Lumia.

Want to know more about the XL and other announcements? Microsoft's website has more info http://news.microsoft.com/event/mobile-world-congress/ plus pictures, videos, specs, etc.

Nice phone and all, but watching Elop at the presentation was a turn down for me, he should be fired

I know he gets a lot of bad press, but at least he knows how to put on a good presentation, unlike the Samsung launches. Posted via the Windows Central App for Android

nice phone but why has it to bigger with every new model ? i have a l720 now and i want to upgrade it. but i have no good option yet . i guess the comming flagship wil also be large screen so . why not release a 4.3 inch phone pffff/ i dont need a 5 inch phone .so at this moment i dont have a good option to switch over to an other device . this is bad. or did i miss something ?

Yes you missed the fact that 4.3 is way too small nowaday :) Kidding asside the footprint of the 640 should not be considerably bigger than your 720 and will definitely still feel very confortable in your hand, and the advantages of a 5 inch screen far outweight any negatives (which don't really exist).

Just for the record, other tech sites are writing a lot more than two short paragraphs about the XL and I find it beyond frustrating that the presumed top source for coverage of Lumia and Microsoft products has such slim coverage of the very subject they're suppose to be on top of.

I feel sick. My upgrade isn't until November, and I want this phone. Damn.

I've never seen Nokia or Microsoft make a phone with a 13 megapixel camera and a wide angle selfie lens.Sounds like the galaxy note 4 maybe......

Nice it looks awesome in white.

Buying one for my daughter to replace her 635. For only being 7 I am impressed how responsible she has been with her device at home and school for the past year so I'll upgrade her. She'll be excited to use skype to contact me while I'm at work.

I find it interesting that people keep bringing up the 830 in comments about the 640xl. If you're willing to spend the extra money, sure the 830 has some nicer specs, but it costs almost 50% more. Seems to me they're aimed at different market segments, and the 640xl looks like a great bang for the buck phone. Might try to pick one up off contract and save my upgrade from my 920 for the flagship when it comes out.

Bah! They lost me at 5.7 inch. 1520.3 still FTW!

The back shell of the 640 XL reminds me of the DV8P, minus the circles, which is a good thing, I'm really liking the styling of this device! CYAN ftw! Only think I can think of that would have made this better was if it used the Snapdragon 415. Pretty sure this speed differences between the two probably wouldn't have been worth the extra cost though. Really looking forward to seeing what they have in store for the 1520's successor! Possibly going to be calling it the 940 XL? A 5.7" screen sounds like the sweet spot. I really love my 1520, but 6" isn't for everyone, I can see more people being open to a 5.7" phone.

why ms is omitting the hardware keys with soft ones those not look good in screen they are ugly with a black strip they should bring the hardware keys it brings a windows feel in a lumia phone

LOL. Other phone makers are making more premium and higher spec phones. MSFT is going the other way. What's next? Lumia 330?

Why is it that it that this phone has 13mp camera and carlzeiss lens but not a pureview?What constitute a phone to have/be a 'pureview'? I'm asking this because I have a 925 and it has pureview (and camera button) but it only an 8.7mp camera

If it uses the technique of downsampling photos into a 5mp image then it is Pureview

It is not for me. I would have to give up my 1520's camera button, wireless charging and other features, along with a bit of display territory. The only plus would be the dual SIM, but I will hold out for a flagship. Am I making a mistake?