Hands-on with Sony's VAIO Flip 11 PC hybrid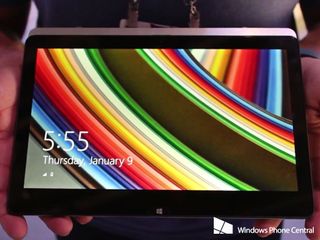 Sony makes some killer hardware, which is why we'd love to see them making a Windows Phone. The new Sony Xperia devices running Android are pretty incredible. They're waterproof and can event take images underwater, which would take your Instagram game to a whole new level. While we're dream of a Sony Windows Phone, we at least have tablets, ultrabooks, and all-in-ones running Windows 8 from them. We've seen Sony's VAIO Flip line before, but there's a new 11-inch variant in the mix. Let's check it out.
Sony's VAIO flip now comes in a whole range of sizes. You've got 11, 13.3, 14, and 15-inch variants. We played with all them at the Sony booth during CES. We walked away pretty impressed with these machines. The 11-inch version especially combines great build quality with some respectable specs. The included Active Pen is great and should make this a nice machine for diving into Adobe software on the run. You can get the device in either black, silver or pink aluminum. All powered by Intel's Pentium quad-core processors. Pricing starts at $799.
Get the Windows Central Newsletter
All the latest news, reviews, and guides for Windows and Xbox diehards.
So Dan has you showcasing his videos now, eh Sam? Lol

I think he meant i series. Probably just a mistake.

I saw Pentium somewhere else also, but I believe you can upgrade them to i series as well

Why AMD? Pentium is always going to be step ahead of AMD and if you clueless why Pentium answer is Sony and Apple knows what is best unlike your brain fart comment

Huh? Where do I mention AMD? And no need for the attitude.

Will you do a piece on that Sony tablet that had the magnetic keyboard? I found it pretty cool but don't remember the name and would like to know more about it.

That'd be Sony Tap tablet line, mate =)

Aside from Sony's "killer" hardware, their units come with a killer price. I would pay $599 for a hybrid like this

Assuming no one comes out with a Wacom toting device with a similar style and specs I'll be grabbing one of these in the next few months. They're pretty great and an ideal drawing device if the Surface Pro is too small for you. The 13 and 14" versions apparently have very loud fans though and the 14" apparently suffers from a poor screen. I've not really heard anything bad about the 15" version yet but they still seem pretty difficult to get ahold of.

Maybe that's why you haven't heard any strikes against it? (You know, no one can get a hold of one to be dissatisfied by it).

So tempted to get that T-Mobile Sony phone. Good camera sensors (supposedly) and waterproof? Seems more durable than Nokia phones :) But WP is so nice. Sigh.

Probably in the future Sony will make a WP8.x water proof device. Wait a little, unless you need a device asap of course.

My ex has it. Waterproofing works as advertised, and the camera is pretty damn good, too. If they carbon-copied the device for WP Blue I'd buy one in a heartbeat.

Oh I thought the water proofing was a marketing gimmick. Looks like I was wrong lol. After Sony dropped Ericsson, their phone line up appear to have gone up a notch (i say appear as i havent owned 1 nor do i know anyone with 1). Although Sony Ericsson phones were pretty decent.

Sony will never stop surprising consumers with their products due to a market share iralavant to it's competitors cant wait for many gadgets that I saw on CES 2014 Sony rocked

Why AMD? Pentium is always going to be step ahead of AMD and if you clueless why Pentium answer is Sony and Apple knows what is best unlike your brain fart comment

Is your PC doing alright? o.o

Hahaha.. Two very random double posts from Milli1974.

Just saw the vid, interesting concept and like the fact it comes with a stylus. Will wait for the hands on review before writing this one off my list :p.

Nothing special, i personaly find the offers from Asus and Acer much more applealing, but maybe its just me

Anyone know if the fan issue on the flips have been fixed? I like the design of the flip and I want one except i keep reading that the fan is really loud all the time which is keeping me from buying one. I hope it gets fixed!