Hands-on with the Windows Phone 8 devices, my thoughts on the selection available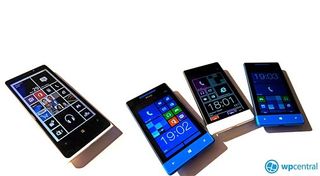 Last night I was finally able to get my hands on all the Windows Phone devices here at the UK launch event. The impressions are by no means reviews but simply my feelings at this crucial hands-on moment.
Here are my thoughts from the evening as I get my hands on the HTC 8s and HTC 8x, Samsung ATIV S, Lumia 820 and of course the Lumia 920.
Samsung ATIV S
I'll have to admit that the first device I really wanted to get to see was the Samsung ATIV S. While this is in no way a unique design from Samsung, being based clearly on their Galaxy SIII it does have some appealing attributes. That 4.8" display and expandable storage option have kept this Windows Phone 8 handset on my radar for the last few months.
Samsung certainly aren't new to making Windows Phone and this devices feels polished and complete, I thought the screen was gorgeous and those Live Tiles look stunning on the larger display. This device is pretty huge, and even in my big manly hands felt a little on the large side but that is offset by the extreme lightness of the unit. It's unclear if this is final software but the screen didn't feel overly quick when it came to scrolling and responsiveness, still it was no slouch.
HTC 8S
The 8S is HTC's mid-tier phone set to come in at a much lower price than its big brother, the HTC 8x. With only 4GB storage, but sporting a dual-core CPU, many have been expecting this unit to be a bit of an under performer. Not so, the performance of this device is superb from my extensive hands on time, no sign of screen lag or tell-tale signs of tiles re-drawing slowly.
This device is snappy, make no mistake. Some haven't been too impressed with the styling of the 8s, I happen to think they look stunning. A huge nod is going in the direction of the ZuneHD in my opinion, most notably the design of the bottom row of buttons, that bar is all too close to how the Zune looks. The colours look great too and who could turn down a white phone with that high contrast colour scheme, it looks pure class.
Lumia 920
Heralded as the hero device of the entire Windows Phone 8 launch line up the Lumia 920 needs almost no introduction. The hardware specs of this phone are simply awesome, packing new super sensitive touch technology, puremotion technology and a top notch camera this is the device with the most to prove. I have to be honest, I have had my doubts about the size and weight of the 920 and worried about it when I did the comparison chart a while back.
My concerns evaporated as soon as I put this in my hand, its extra width seems to offset the extra bulk. In fact the device feels really solid and well made, my hands are certainly not oversized so I don't see this device being an issue to hold for the majority.
Do we need a name for the white 920 with high contrast theme?! It really is awesome to behold.
The stand out thing from my time with the device was the quality of the screen and more importantly it felt so much more responsive than any other device I held that night. When scrolling through the display there was no lag and the tiles kept right up. This alone has impressed me more than anything else about the device.
The demo units they had on display were nearly all white, switch the device into high contrast mode and you have white body, black screen, white display background and then back to black again with the tiles. I have to say I was really impressed with how it all looked and felt. Do we need a name for the white 920 with high contrast theme?! It really is awesome to behold.
Sounding off
My take away from the event, there is a choice of Windows Phone devices coming that is simply in a different league to what we have had before. From the 8s to the 920 they are all good performers, have great designs and of course come with that next-gen software we have all been waiting for. I will have more in depth time with these devices in the coming weeks.
Liking what you see? Have any questions? Let us know in the comments.
Windows Central Newsletter
Get the best of Windows Central in in your inbox, every day!
Nice, can't wait to get my white 920 and run the same color scheme.

Wow @the white 920 with tha high contrast theme. Just wow...

Thanks for all the info! I heard Verizon is getting the Ativ S, any news on T-Mo getting said device?

I hope that Verizon gets the ATIV. Lackluster review above on a great phone. Everyone has their own bias; seems wise to go by a Microsoft Store or Kiosk and see them live. I would like things to boil down to the ATIV verses the 922 @ VZW. If the 922 is actually lighter and has a camera as good or better than the 920, then there will be a lot to consider. Of course, won't be long until Microsoft starts to leak and tease the Surface Phone. Fun decisonis to make - it just gets annoying when others try to insult your research and intelligence. (Much like the elections.)
Maybe WP Central can do a "fact finder" type of article?

922 = 920, different radios.

The 922 is still just a rumor as is the surface phone. You can't compare things that don't exist yet and haven't even been announced.

Verizon is not getting the Ativ S. They're getting the Ativ Odyssey in December. Nothing is known about the Odyssey to date. Not even what it looks like.

Well, looks like I was mistaken.

And now I want a cyan, yellow, or white Lumia.... Decisions, decisions... Thank you for the awesome contrast shot!!!

Can't blame you for wanting to get your hands on the ATIV first. That's my next phone without any doubt. It's also gonna be the best selling W8 too. People who leave Android want bigger screens and a sd slot..

It's the phone I want too. Loving that huge battery as well.

Yes and it's removable. I work in a warehouse and it kills my HD7 battery very fast (always searching for a signal). I have one of them wall chargers that holds my extra battery. Whenever it goes dead I just swap batteries and plug the dead one up. This is a very important feature for me.

Is the Samsung ativ dropping in T-Mo though. I hope so. If not, I'll be waiting for the next round of phones and hope they get a beast. Not into the HTC line-up personally. My HD7 was good to me and still is...minus the horrible battery.

+1
I was looking forward to reading the contrast between the 8x and the 920.

When scrolling through the display there was no lag and the tiles kept right up.

Are you saying that other Windows Phones lag? I don't understand this poiint

I think it's due more to the high refresh rate the 920 has on its screen. That's why a difference is noticed.

It's the 60Hz refresh rate of the screen that allows for more smooth animation to be displayed. Other devices are not "lagging" per se, it just doesn't appear at smooth or you see more blur.

That 8S with the black Tiles and black background looks also interesting.

any comment on the suspectedly scratch-prone gloss surface of the Lumia 920's unibody? I really want a white one but I am unsure whether it will look ghastly with tons of hairline scratches after a few weeks in my pocket (certainly I wont use a case for this beauty!)

I was there last night too and I was hoping my mind would be made up between the 8X and 920. I'm still unsure - so many pro's for both devices! The 8X simply feels great in the hand, the screen & cameras are excellent and the audio is mental! The 920 is a bit of a unit but, as you say, it's solid and comfortable. Technically, it's right on point with the PureMotion evident in scrolling and readability. Build quality on these two look amazing. The Sammy was a slight shock - I had no expectations for the device but in the hand it looks every inch a good quality phone. Perhaps it's a little dull next to the flagship handsets from Nokia & HTC. The 820 and 8S are fantastic phones too - I think the 8S edges it for me in that range being slick and looking fresh in grey and lime/yellow. Would have been nice to see the yellow 8X and 920, I was told they didn't have any as of last night. Shame. By the way, either I had way too much free beer last night or you didn't post your thoughts on the 8X? I couldn't see it up there.

I think this shows the beauty of choice available with Windows Phone, just imagine a iFruit fan selecting their phone:
-. Should I pick Black or White, and how much storage do I need (or how much money do I want to spend...)
IMHO, WP power is all around picking your options and features... after all we are not all the same and or like the same things. Its a phone for People...

Quite right! Plenty of options out there and this is just the start (for WP8). You can only hope the market enjoys them and we see more investment from OEM's in the future.

Easy enough of a decision actually. Just read all the HTC 8x reviews to see that HTC never learns and almost all of the problems that the HTC One X had, which allowed the GS3 to walk away with it, are still present in the 8x.
Just read the Techradar review for the nail in the coffin. Poor battery life on the global HSPA+ model. So unless LTE suddenly and mysteriiously uses less battery than HSPA+, it is game over for HTC, again.

On the ativ s review u said your hands were big, then on the Nokia review you said your hands were average?? O_o

I was kidding about my big manly hands - they are only average :) RB

So happy the 8x wasn't featured again. Getting bugged of how much importance its getting over the 920. Its in all windows phone 8 reviews.

Perhaps it's the only phone everyone has had time to review, or even had at all. That said, I'd like a comparison between the 8X and 920.

Probably because the 8X is the only phone on 3 carriers (Sprint seems to be sitting out WP8). The 920 is an ATT exclusive.

Wonder why they gave 8X to all attendees :)

Cuz its much easier to give away a Mustang then a Bugatti

I just rolled my eyes so hard I could almost see behind me.

Good thing I was already in the can, because I laughed so hard I peed.

How much storage space left on a 32GB Lumia 920?

Good question! I would like to know too

OCTOBER 30, 2012 7:24 A.M. caleb23 wrote: Morningstar today about Nokia:
Share price assumption at this moment: 2.40 euro (Nokia share is in Helsinki right now 2.06 euro, in New York 2.56 dollar)
Best scenario (if WP8 phones go well): the stock price will go to about 7.70 euro per share)
Worst scenario: no bankruptcy, because Nokia would be sold in parts before that.
Estimated price for this: intellectual properties over 1 euro per share;
other business parts (smartphones, featurephones, NSN) at least over 1.50 euro per share.
And NAVTEQ´s price not included (Nokia bought NAVTEQ with about 7 billion euro). All in all even in this case, Nokia share price would be at least over 2.5 euro. Pretty much like my thoughts and analysis.

Best case scenario: the one who thinks that Nokia will fail is a moron.
Worst case scenario: IS.

The white 920 looks amazing in the high constrast mode, the HTCs as well, a really awesome way to diversify the phone experience from time to time.

What really excited me is the super responsive screen, that PureMotion tech is pure gold. :D

My 800 is awesome...I'll get lumia920 in the Q2 of 2013 may be by then there will be more options in Nokia lumia lineup
Pretty excited to gets my hands on the 920!!

Did I miss your impressions of the 820 or are they missing? I want to know if the lack of Gorilla Glass 2 on the screen was obvious, whether or not the cases you can pop on and off are good quality and whether you think they'd get a lot of dust/wear and tear in them etc? I'm also interested to know if the overall build quality of the Nokia's surpassed the HTC's in the midrange.

You didn't miss anything....
He forgot both the 820 and the 8X.

top notch excited for microsoft nokia htc and sammalammadingdong that said i think they are all fine designs and they will be perfect for each individual that being said heres hoping that those on verizon get that odyssey/note wp :)

So torn between the 920 and the 8X. #firstworldproblems

Samsung ATIV S for me. Removable battery is a must and microSD storage is a big +. What were Nokia and HTC thinking? They leave us tethered to a charger cord like all my friends with iOS. I couldn't imagine owning a phone without a swappable battery! Not an option.

Yea ur gonna need a removablebattery with Samsung they suck so bad with there phone that I'll need to buy a new battery anyway and on top of the cheapass plastic you will need new parts after switching the battery out since the phone is so breakable lol

More clueless Samsung hate from people who do not understand what good manufacturing and durability is.

I'm not sure why you think Samsung is so bad?
I've had my Samsung Focus for 2 years, I've only had to reboot the thing maybe 4 or 5 times in that two years (due to apps freezing). I've also used the same battery that entire 2 years and the battery still lasts longer than a full day with moderate use.
I would be buying the ATIV S, except I like the tech a little bitter in the Lumia 920. It's a hard decision, because I like the styling/rounded edges of the Samsung phones a lot better than Nokia.

This is probably the most idiotic thing I've read all day. You never fail me pizza, you dirty little troll.

Ive owned a samsung omnia 7 since the beginning, a beautiful design device amoled screen inky blacks but it has always been Samsungs Hub windows phone software that has been disappointing.They just didnt seem to care also find this with my galaxy note, beautiful hardware ugly touchwiz ui.when compared to HTC sense etc I hope this changes with windowsphone 8.and they start developing their own signature wp8 apps(maybe wp8 will make exclusive apps less relevant I admire HTC for their bold new looks(california blue) and still have my HD2, but watching how Nokia just keeps releasing their own exclusive apps to such a high standard. Its 920 CYAN please. I found 8 gigs on the omnia fine as long as I occasionally dejunked a lot of stuff I had downloaded. Personally dont find user extendable storage to be such a big issue, removable batteries are nice though.coz my phone always seems to start to tellme its about to turn all the lights out when Im far away from an electrical outlet out in the field so to speak.The wireless charging accessories seem pretty pricey too but undoubtedly there will soon be a selection of no name qi chargers and has anyone with iphones noticed any battery degradation over the years?

Man, I think Microsoft has done a great job. I'm in line with my titan 2, and thought it couldn't get any better. I was wrong, and I'm not waiting for my upgrade to get the Nokia 920. I'm saving cash for it now. Oh, by the way I love the article!!

Does the Xbox tile still show our avatar r does it just sho a controller

Nokia Lumia 920 looks amazing...

Ativ S supposedly ha hspa+. Why the hell tmo would not take it!?

I spoke to a tmo rep on Thursday and she said they were getting a wp samsung device late november....when i questioned her she was looking at her screen....here's hoping.

Thank you. At least somebody knows something. Crossing fingers friend.

Im skipping this release... I want the OS to be edge to edge,I don't wanna see those borders.. So there you have it...nice phones though im staying with my lumia 900 for another year..

First ran WP7 on my HD2, worked like silk. Now have a Nokia 800 which I adore. So you could say that I am hooked on Windows Phone. Sadly, I am going to have to wait a while to get my next phone, but you can rely on it that when the time comes, I will be shopping for the Nokia 920. What a machine!!
Just thought I'd add my 'tuppence-worth :0)

nokia lumia 920 is the best there even some one with no phone info can tell

nice change of site guys its cool
nokia lumia 920

Wow, the first thing I will do with my WP8 is to set "that theme" : white background and black tiles.
This would be such a FRIKING NICE feature : Skip/Overwrite Default Tile and allow only a flat Tile with only the name of the App (default color or custom color).

Um, ok..... You stated you'd give your impressions of the phones you handeled, yet you forgot to describe the HTC 8X and Lumia 820?????
It would have been nice to read about a hands-on comparison between the 920 and 8X...... Thanks (sarcasm).

Thanks for reading! I did not forget to write about these two, I had opted to not describe them for this article for a number of reasons. You'll be reading no end of comparison between the 920 and the 8X. We'll be having tons more content about longer term impressions coming up. RB

That Lumia 920 in white will be my Christmas gift this year!

I think it's pretty silly to hold out your initial reviews on the 8X simply because of other reviews. Normally I like to hear multipile viewpoints to get a better picture. That said a nice write up overall, still curious on the Ativ Odyssey and if that means the Ativ S is going to somewhere like T-Mobile or AT&T?!

I'm hoping for Ativ S on tmo. That big screen is what I need for my movies and productivity.

Samsung ATIV S sounds like a winner! thanx

That High Contrast Theme is so awesome... I want to hug it.

A white phone with the high contrast theme is a "Tuxedo" themed phone. Obviously...

Lumia 920 looks beautiful with any theme.

This is exectly the theme that I want to run once I get my White 920 :)
Windows Central Newsletter
Thank you for signing up to Windows Central. You will receive a verification email shortly.
There was a problem. Please refresh the page and try again.