Harman Kardon Invoke speaker with Cortana revealed, coming this fall [Updated]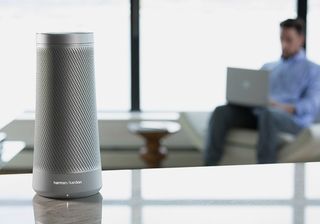 Updated May 8, 2017: Both Microsoft and Harman Kardon have now made the Invoke official. The Cortana-powered speaker will arrive in the U.S. this fall with "premium sound," Skype calling, and smart home controls.
Original story: That Harman Kardon Cortana speaker we've been getting excited about in recent weeks has quietly, and perhaps prematurely been revealed. Invoke is coming soon and looks about as we'd expect it to.
Harman Kardon has quietly pushed its website live, first noticed by the team at Thurrott, and is inviting early registrations for folks interested in purchasing one. It's an Amazon Echo-esque design with a cylindrical body packed with 360-degrees of speakers. Visually, the nicest touch is the Cortana logo that lights up on the top.
The site has since it appears been taken down, but not before we've at least been able to see some images of the Invoke. Considering this week is Build out in Seattle, we'd be hoping to hear more on not only this device, but the Cortana Skills Kit that powers it.
Image 1 of 2
Naturally, there's no price information or exactly when it'll appear right now, but it's the first proper look we've been able to get of the device. It's looking pretty nice, and we'll certainly be front of the queue when it does eventually go on sale.
Windows Central Newsletter
Get the best of Windows Central in in your inbox, every day!
Managing Editor - Tech, Reviews
Richard Devine is a Managing Editor at Windows Central with over a decade of experience. A former Project Manager and long-term tech addict, he joined Mobile Nations in 2011 and has been found on Android Central and iMore as well as Windows Central. Currently, you'll find him steering the site's coverage of all manner of PC hardware and reviews. Find him on Mastodon at mstdn.social/@richdevine
I registered my email with the site for the Invoke. The site was saying "Coming Fall 2017" at the bottom of the page.

Does the site load up for you now? Keeps erroring out here making me think it was a mistake

For those who want to see the page (now offline on HK site), it is still in the google cache !!! http://webcache.googleusercontent.com/search?q=cache:http://www.harmanka... Enjoy!

Nop, it doesn't load anymore, it seems the page was taken offline... I did receive an email from Kadron-Harman thanking me for registering with their newsletter (no mention of the invoke on the newsletter, just normal currently available products).

The site is still live (U.S. user here). Try this link: http://www.harmankardon.com/invoke.html

Site loaded for me with no issue just now and registered successfully.


Is the site crashing as often as Cortana crashes for me on my phone? Will this Invoke crash when asking questions to Cortana too? haha. It has crashed for me three times just today when asking her a question. She is the moodiest assistant I've ever had LOL.

I just want the skills on my new phone when I get it :p Speaker is nice if you want it, but I am sure my phone and bluetooth headphones will do nicely :) I'm positive we will see this at build, give the obvious focus at build on skills api. Which still begs the question - whats the shanghai device?

If they can find a way to make a flat speaker that conforms to the Surface design language without compromising sound quality I'd be into it. Panos, make it so!

Hmm so this is that hardware to be presented in Shanghai probably.

It would seem odd for Panos to be there for this.

Right! So there's still hope for something new and interesting :)

He will make your body ache for this device, with just his words. Even Chuck Norris will no resist

Or perhaps this is only 1 piece of a larger puzzle like a "surface" home hub for IoT and future home automation. Imagine a surface tablet on the kitchen wall as a Family hub.... with a mic array (similar to the one in the Surface Studio) so that Cortana can be called upon from across the room and Hello camera to load the user profile of the family member looking at it !!! This would be a new category-defining product line, hence the need for Panos to present it!
After all, at Build 2017 (just a few week before the hardware event), one of the focus will be on Cortana skills... Surface Family Hub anyone?

I like the idea. I feel since it's in China, it will be the launch of a Hololens for consumer reference design reveal.

You are giving MS too much credit......

I hope this is the year Microsoft pushes for Cortana to be available worldwide all with all their other services

its not that easy. they can really only do it language by language and even then, certain languages while they're the "same" have common idiosyncracies that need to be understood to make it work properly. I don't think any digital assistant is available everywhere yet. Some of them have a presence everywhere, like Siri, but not all their features work.

There are two things, the language recongition and the services. The language recongition, as you say, needs to tuned to each region, and then the services need to be regionalised, so a basic example is retrieving the correct news sources or showing things in the correct units (celcius vs farhenheit). My issues are 1. they already have language recognition for a heap of regions, they've been using it since the TellMe days, but they still haven't rolled out Cortana to some of those regions. And 2. some of the services are already regionalised but not available - like the MS Health integration, I can access the dashboard here in Australia, units, etc. are all correct, but I can't have the Cortana tile that tells me how many steps I've done for the day? That makes no sense. - OR the regionalised version I finally get is worse/less useful than switching to the US region and using their 'unregionalised' version. Mirosoft really needs to pick up their Cortana rollout if they want it to be useful outside the US.

I agree. I'm living in South Korea. What I want more than unification is Cortana Korean support. I want Cortana to be available worldwide. All the same features as the United States.

Why can't Microsoft lead instead of follow? Once again a third wheel product.

Because hardware development is hard and expensive! MS spending spree without return of investment are over. They are playing it close to their chest and not spending mindlessly.

Exactly!!! They always a day late. Then when the product doesn't sell Microsoft abandons ship. Zune player, Windows phone, Microsoft band and now the speaker. I doubt it'll be able to control my nest too...

Wonder if there are different colors, or at least black, available? Are HK products typically silver metallic?

Thurrutt are also suggesting black

Ah thanks. External links not visible or obvious on the WC mobile app; was able to see it from browser...

Yes, on the Kadron-Harman page I have seen before they took it offline, there were a black one and a grey one (picture above)... Check other news sites, some have captured the picture with the black one... The HK original page is still in Google cache: http://webcache.googleusercontent.com/search?q=cache:http://www.harmanka...

Looks nice, can't wait to hear more about it.

Nice and premium. In hindsight, if MS started Lumia and Windows Phone off as a premium product, I think it would be faring better today.

Nokia did it. Then, MS got Nokia and plummeted quality while keeping prices too high, particularly with the 830 and 950. The 920 launcched with comparable specs to the top Android options on the market, in some cases better, but at a lower price. MS killed that part upon their acqusition, as the 830 launched with similat parts to 920, at the same price, but 2 years later.

I too was shocked by the sheer quantity of plastic phones with 512kb / 1GB of Ram and 4GB/8GB of storage that was coming out of Microsoft/Nokia Lumia combo... Way too many indistiguishable lower end models. Other than the spare 520s w/ kept around for guest... we always bought the Premium Lumias on offer... 920s, 1520s, (2520 sob, sob), 950XLs. Of course we bought them about 6 months after they were of offer to lower the cost of acquisition substantially.

Windows Phone had high market share previously due to low cost phones, the 520 and its variants were killing it.

The zune player was top notch and failed. Microsoft doesn't do well at marketing. The only exception is the surface and they are down 26% with the 5 nowhere near ready

I love how the dude in the background is holding a MacBook. SMH.

Cortana doesn't discriminate.

Of course not, on this device she is having a hanky-panky with Tux the versatile penguin.

Are we sure it's not Windows IoT?

I'm not so sure, it might be Surface Book or even Surface Laptop.

Your eyes must be better than mine. All I see is a blur. Could be anything. Some HP's and Dell's have their logo emblazened in a circle on the back of their laptops too.

Thats not a MacBook (do you work at the Genious bar or what?) its an HP!

Can it project a Cortana hologram? If not, I'm not interested.

At the minimum it would be cool if they had a device to project Cortana on the wall to interact with.

Cortana in a Mixed Reality head mounted display? That way you can also redecorate your entire "virtual" house and have holographic Cortana! That would be cool!

The typical question... Are they going to advertise it?

Do Harman normally advertise their products?

Hopefully it will be available in Australia on launch. Quite excited about this.

US only.. says it on the site.

Just have to wait the year or 2 now for it to be sold outside USA. :/

So does this do the same thing as Cortana? If so I'll gladly buy it over the amazon echo.

So, how egregiously overpriced will MS make this to chase people to the competition?

Microsoft won't really have a say in it. It's not a Microsoft device. In fact, it's closer to being a Samsung device than a Microsoft one.

Samsung bought out Harman Kardon earlier this year. There certainly seems to be a awful lot of Saumsung/Microsoft partnerships going on lately, which I'm not entirely opposed to.

Wow, I had no idea. Harmon Industries is not a small company.

Not to brag, but I already have a Cortana activated living room media device. It's called Kinect.

Yeah, I dont really see what the hype is all about. It's a Speaker. My perception of this is another "Me too" product to go up against Alexa.? I dont own any of these devices and I dont see my self owning anyhting like this in the near future or even at all. I have a JBL powerup with QI Charge. Thats a speaker with dual function. And when connected I can still say "HEY CORTANA" for the same experience.

But don't you have to power on everything (ie tv, xbox) in order to use? It's not a very good solution if all you want to do is check the weather.

Microsoft really needs an audio-only replacement for the Kinect. So you can use an Xbox for voice commands, in game and when idle without a headset...

It's about all we use our Kinect for. I can't remember the last time we used the optical bits of it.

So a year after initial teaser? When all others will have screens, this comes without one. Again, too little too late?

Which ones have screens? That's nothing different than what i have now with my surface. I can say, "hey cortana..." and the surface will answer my questions. But honestly, i'm currently using an echo right now and i would say that it's biggest advantage is to call Alexa out from across the room without a need to be directly in front of a screen.

How good it sounds is going to be just as key as how well Cortana works with it.

True. I mean... it is a speaker after all. I wonder if this will be battery powered for portability?

What I don't understand is, why a smartphone company that already has a digital assistant just make my phone do all of the things this speaker can do? I don't need the speaker when I'm away, and I can put my phone down on the coffee table when I get home so I can talk to it. Done! ... and if more than one person (smartphone) is in the house, then any voice commands or music playback can be in context such as when my wife says "play top 10 playlist", then her phone would play the music on the speakers in that room only. All you would need is a dumb BT speaker in each room or in ceiling speakers (which I already have).

the mics are generally *much* better on these things than on the phone.

This!!! I was really impressed with now the echo can hear me clear across the room. And i've been told numerous times that my voice does not carry.

What anyone company are you referring to? Samsung?

Not sure if this will be any good... I already have an issue when I have my surface in the same room as my Xbox and my phone. I say "say Cortana" and all 3 devices start going off.... Adding a speaker I'm sure will just add to the confusion lmao

they really need to find a fix for this issue. like either a priority system (if all three hear it, the highest priority takes it) or even adding personalization to it so its not the exact same trigger (for a non-creative example, "hey mobile cortana" or "hey xbox cortana", etc.). Especially on devices that stay plugged in. I can understand not wanting to create custom phrases for the phone due to it being resource limited in comparison to other devices, but laptops/PCs/speakers/consoles/etc should allow it.

While I'm glad to see any OEM supporting the ecosystem, I don't see why someone would use this to listen to music over a full sound system. My surround system as part of my home theater equipment is fantastic. Are people going to ditch their current sound systems for this?

1. Not everyone has a full surround sound system. This will probably retail under $200. Your surround sound probably cost more than $1000, probably much more. 2. Do you have full surround sound in your kitchen, bedrooms, and bathrooms? That is likely where these things will be. 3. Who says this can't interact with your surround sound. This should work with smart homes very well so you could command this device to play audio from your surround sound system.

That's why Amazon Dot was invented. Same microphone layout, processor, connectivity with exception to line out for external sound system. In a smaller package that cost less. Cortana device could be done the same way.

*** Brian already said what i was thinking...

it looks fantastic. If youd have asked me about 1 year ago id have been up for a Cortana powered speaker like this but after the whole windows phone debacle and the terrible pace of software updates and reliability and the restrictions in edge with new tabs not opening to your default home page I really cant justify buying anything windows. shame cause some of their hardware looks awsoem, just sshame they stoped supporting my 930 after 3 years with the creater edition, shame they pushed me over to android a inferior os on mobile and shame they cant even have a android groove app for the ipad or even one that reads s7 edge sd card, the default facto for people to store their huge music librarys. A Still harmon Cortana speaker would have been awesome 1 year ago.

Not necessarily disagreeing, but three years of support for a phone is very good. They're technically obliged to do only 2 years, and with Android some devices are often left behind much, much quicker.

ps still cant get plex app or plex desktop to work with Cortana sad really.

2 things: 1) I guess it will be supported on US only. After some months maybe on uk and that's it..... So no point. Alexa Rules.....
2) What is the support of smart home will be getting? I mean are they support hue lights and other smart devices. Because if they use again
3d party apps, they are doomed. If you dont take care this there is no point at all....

I have and Echo and a Dot. Alexa is ok.. but last week while at a conference, I got two Google Home Speakers... and they win. I think they look slightly better (and they're customizable), but thats not why.
They win because you can set them up in groups on the same network... so if I say "hey google, play Pandora on my home group", it will play the same song synced across all my "home group" speakers. Thats something Amazon should have done by now. I want this speaker as I'd prefer Cortana, but if they don't have multi-room speaker syncing, its a no-go for me. Side note: I now have an Amazon Echo and Dot for sale. :)

Can't say I need this, not without some improvements to Cortana. I haven't heard anything at all for over a year about any major improvements to her capabilities. Although I've noticed a few Here and there with answers.

Arrrgghhh ...!!! another USA only !!! It is amazing how USA company believes that there are no buyers outside of the USA... there is a world beyond the US border !!! I want a Studio and a Dial, but can't buy it in the UK !!! even though it as been launched months ago in the US...

Microsoft realized how much money they were missing out on by not sharing 100% of your private conversations with the government

http://www.harmankardon.com/invoke.html

This will be nice if they open it up to Sonos and/or more music services. My wife and I subscrive to Google Music and Apple Music. I tried Groove but the 1000 song per playlist limit is idiotic and Spotify's 3333 song download limit is almost just as dumb. Google and Apple Music are the only two services that do what we want by allowing us to have large playlists, some auto-generated playlists, and actually being able to rate songs. If Groove or Spotify did this while getting rid of their restrictions, I would do this. Unless something changes, I'll likely be sticking to my Google Home unit. It is nice to see MS getting involved with in the home assistant market though. I'm sure this will sound better than both the Google Home and Echo.

Wow, I've be a Groove subscriber for many years and had no idea they even had a limit on playlist. Considering the average song is roughly 3 mins long 1,000 songs would be about 50 hours of music. That's alot of music, it's surprising to me that people have encountered that limitation. Groove does have recommended playlist now, sometimes they're good but not great. Beats Music had the best recommended playlist of all the music services I tried before choosing Groove.

I'll jump from Amazon echo if it can control: -ecobee 3
-harmony hub
-xbox
-lutron casetta wireless dimmers Assume it will do proper calendar and reminders. Calling is also a plus but I'm guessing echo will have that soon.

I can never get my echo to control my ecobee 3 correctly.

I wonder if you can link two together in a room to force left / right channel for better stereo sound.

And its US only. Typical for MS. They need to see that there are other countries as well. Its not like Cortana is only available in the US, so I dont see a reason for this MS Band "availability".

This is not an MS product

Interesting, Samsung owns Harmon Kardon. They closed the deal sometime this year. Clearly this was being developed prior to the deal announcement in Nov 2016. I wonder how that will impact the support of this device, now that Samsung has Bixby? At least Samsung and Microsoft are on good terms, and hopefully there will be other OEMs developing these using Cortana.

I looked at the * on the MSDN site which mentioned Cortana in the USA only and wondered if HK would release in other markets with something else... like Bixby.

Keep in mind it needs the software side for home automation etc. And right now i believe there are about ZERO supported home automation apps for Windows. There used to be a couple but have all abandoned windows. I was one of the fools suckered into buying a bunch of Insteon stuff, and had then considered switching to Smartthings until they too jumped ship. I don't have faith MS will build all the software themselves, they'll expect 3rd parties to do most of it. Have a feeling this may become the next MS Band.

Oh man, I love the graphite one...totally buying it.

They seriously need to have it handle home automation. I wanted to use Windows 10 and Cortana for all of my Insteon and Hue needs. Alexa handles everything and is the neatest, integrated solution - it just works. I need Cortana to bring on these services as my Windows 10 Home hub just gathers dust on the wall right now :-(

im curious if this will even be compatible with windows 10 mobile. i actually don't know how these speakers work, since i refused to buy an alex

It already says its going to support mobile. The website says you can set it up from your Win10 PC or phone.

Seems good. Buy why only in the US?????

I still don't understand the point of these Amazon Echo and Google Home devices.

This is going to be interesting with Samsung owning Harman/Kardon

Looks like Sammy may be making this one after all then.

neah...I don't want anything with MS tech inside. Not future proof.

This seems to be available only in the United States for 1-2 years after launch. Microsoft should make Corana available worldwide as soon as possible. Google or Apple is learning a variety of languages. Cortana also needs to learn a variety of languages.

Both Amazon's Echo and Google Home are way far out ahead of Microsoft in this, but it's good at least to get another entrant in the market, for competition. That said, it's really Microsoft's fault-----like many of their other ventures, they let Cortana flounder without much forward progress and have limited market accessibility (basically North America and UK only). Their consumer plays, which is what Cortana is, are a constant story of being a day late and a dollar short.

If they can competitive price it against the Echo, I'd buy one or two for sure.

A *Harmon Kardon* brand speaker is not going to be competitive on price against the Echo. That's why it's a Harmon Kardon; it'll be expensive and premium. Echo is more mass market.

So basically announce and release 17-26 weeks later, while the competition announces and releases within a week. Have we learned nothing from Windows Phone/Mobile?

I am still concerned that with Samsung buying Harman/Kardon that this device will end up unsupported by Samsung, and of course people will blame Microsoft somehow.

Finally. I'd love to replace my Echo units, where appropriate, with Cortana replacements. Of course, Cortana's integration with SmartThings, Hue, etc, are paramount to this even being a useful possiblity.
Windows Central Newsletter
Thank you for signing up to Windows Central. You will receive a verification email shortly.
There was a problem. Please refresh the page and try again.