Harman Kardon Invoke speaker with Cortana revealed, coming this fall [Updated]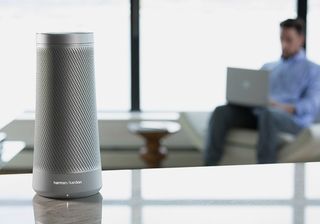 Updated May 8, 2017: Both Microsoft and Harman Kardon have now made the Invoke official. The Cortana-powered speaker will arrive in the U.S. this fall with "premium sound," Skype calling, and smart home controls.
Original story: That Harman Kardon Cortana speaker we've been getting excited about in recent weeks has quietly, and perhaps prematurely been revealed. Invoke is coming soon and looks about as we'd expect it to.
Harman Kardon has quietly pushed its website live, first noticed by the team at Thurrott, and is inviting early registrations for folks interested in purchasing one. It's an Amazon Echo-esque design with a cylindrical body packed with 360-degrees of speakers. Visually, the nicest touch is the Cortana logo that lights up on the top.
The site has since it appears been taken down, but not before we've at least been able to see some images of the Invoke. Considering this week is Build out in Seattle, we'd be hoping to hear more on not only this device, but the Cortana Skills Kit that powers it.
Image 1 of 2
Naturally, there's no price information or exactly when it'll appear right now, but it's the first proper look we've been able to get of the device. It's looking pretty nice, and we'll certainly be front of the queue when it does eventually go on sale.
Richard Devine is an Editor at Windows Central. A former Project Manager and long-term tech addict, he joined Mobile Nations in 2011 and has been found on Android Central and iMore as well as Windows Central. Currently you'll find him covering all manner of PC hardware and gaming, and you can follow him on Twitter and Instagram.
I registered my email with the site for the Invoke. The site was saying "Coming Fall 2017" at the bottom of the page.

Does the site load up for you now? Keeps erroring out here making me think it was a mistake

For those who want to see the page (now offline on HK site), it is still in the google cache !!! http://webcache.googleusercontent.com/search?q=cache:http://www.harmanka... Enjoy!

Nop, it doesn't load anymore, it seems the page was taken offline... I did receive an email from Kadron-Harman thanking me for registering with their newsletter (no mention of the invoke on the newsletter, just normal currently available products).

The site is still live (U.S. user here). Try this link: http://www.harmankardon.com/invoke.html

Site loaded for me with no issue just now and registered successfully.


Is the site crashing as often as Cortana crashes for me on my phone? Will this Invoke crash when asking questions to Cortana too? haha. It has crashed for me three times just today when asking her a question. She is the moodiest assistant I've ever had LOL.

I just want the skills on my new phone when I get it :p Speaker is nice if you want it, but I am sure my phone and bluetooth headphones will do nicely :) I'm positive we will see this at build, give the obvious focus at build on skills api. Which still begs the question - whats the shanghai device?

If they can find a way to make a flat speaker that conforms to the Surface design language without compromising sound quality I'd be into it. Panos, make it so!

Hmm so this is that hardware to be presented in Shanghai probably.

It would seem odd for Panos to be there for this.

Right! So there's still hope for something new and interesting :)

He will make your body ache for this device, with just his words. Even Chuck Norris will no resist

Or perhaps this is only 1 piece of a larger puzzle like a "surface" home hub for IoT and future home automation. Imagine a surface tablet on the kitchen wall as a Family hub.... with a mic array (similar to the one in the Surface Studio) so that Cortana can be called upon from across the room and Hello camera to load the user profile of the family member looking at it !!! This would be a new category-defining product line, hence the need for Panos to present it!
After all, at Build 2017 (just a few week before the hardware event), one of the focus will be on Cortana skills... Surface Family Hub anyone?

I like the idea. I feel since it's in China, it will be the launch of a Hololens for consumer reference design reveal.

You are giving MS too much credit......

I hope this is the year Microsoft pushes for Cortana to be available worldwide all with all their other services

its not that easy. they can really only do it language by language and even then, certain languages while they're the "same" have common idiosyncracies that need to be understood to make it work properly. I don't think any digital assistant is available everywhere yet. Some of them have a presence everywhere, like Siri, but not all their features work.

There are two things, the language recongition and the services. The language recongition, as you say, needs to tuned to each region, and then the services need to be regionalised, so a basic example is retrieving the correct news sources or showing things in the correct units (celcius vs farhenheit). My issues are 1. they already have language recognition for a heap of regions, they've been using it since the TellMe days, but they still haven't rolled out Cortana to some of those regions. And 2. some of the services are already regionalised but not available - like the MS Health integration, I can access the dashboard here in Australia, units, etc. are all correct, but I can't have the Cortana tile that tells me how many steps I've done for the day? That makes no sense. - OR the regionalised version I finally get is worse/less useful than switching to the US region and using their 'unregionalised' version. Mirosoft really needs to pick up their Cortana rollout if they want it to be useful outside the US.