The Harman Kardon Invoke with Cortana works just fine outside the U.S.
Are you a Microsoft fan that's outside the United States yet interested in the Harman Kardon Invoke? Well good news, it appears to work outside the US.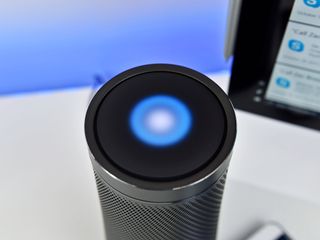 The Harman Kardon Invoke is currently a product that is sold exclusively in the United States, which for Microsoft fans and users outside the States sucks. Luckily, the age of online shopping exists, and it's possible to find online retailers who are willing to ship the Invoke internationally. Me being the crazy Microsoft user that I am, I decided to purchase an Invoke from Amazon US and had it shipped over to the United Kingdom.
I've had a several people ask me if getting the Invoke shipped internationally is worth it, especially since it appears the Invoke isn't supported outside the United States. Well, the reason I got it shipped was so I could check if the product works when connected in a non-US country. And I can confirm that it does work, but not without a little tweaking on your PC first. The first issue is that the area where you connect the Invoke to your device missing on versions of Windows 10 that isn't English US based.
Luckily, you can manually add the app required for this by downloading it from the Microsoft Store. This will allow you to correctly setup the Invoke on non-US Windows 10 installations, but then there's another issue. While the Invoke technically works when using Cortana in the UK, the device can't do much as all the services and skills that the Invoke is good at are US only. There is a way around this too, however.
Microsoft knows Cortana sucks outside the US, which isn't great for fans and users who want to make the most out of Cortana. So, Microsoft built in a feature that allows users to manually change the region that Cortana is set without actually having to change the region of the entire OS. This means I can be running Windows 10 English UK, with Cortana set to the United States. This does mean Cortana will orientate to displaying US-centric news and other oddities, but it does enable the required skills and functions that make the Invoke useful.
US is still required, but that's okay
Without switching Cortana to the US region, doing things like playing music or controlling home automation is impossible. When set to English UK, for example, Cortana can only do things like check the weather and answer simple questions, which is not great for a smart speaker. When the assistant is set to Cortana US, however, it works perfectly.
That means that even in the UK, I can use the Invoke just like someone in the US can. I can use voice commands to play my Spotify library, connect up my Hue lights and control them with voice, and even ask Cortana about the status of tracked packages. So far, it's worked with no issues. I know some people had issues with alarms and reminders going off an hour late or early, but I haven't hit any such issue on my device.
I've only been using the Invoke for about a week, and so far I've loved every minute of it. I was originally using an Amazon Echo Dot, but I have switched that out for the Invoke. The Invoke has some incredible speakers built into it, which makes it great for music listening. I'm yet to suffer from any incorrectly heard voice commands, meaning even with my British accent the US Cortana can understand me just fine.
Now, I'm not sure how this works in non-English speaking countries. I would assume anywhere where Cortana works; the Invoke can be used. I don't know if you can use a non-English speaking language with Cortana set to the US, however. But if you're living in another English speaking country that isn't the United States, I can confirm that the Invoke does work well. Just make sure you switch Cortana to the US first.
Of course, this isn't an excuse. Frankly, it's a joke that Cortana is so bad in countries outside the United States, but there's not much we can do about that. Microsoft itself knows Cortana sucks outside the US, which is why it built in the option to allow us to change Cortana to US in the first place. Hopefully Microsoft puts more resources behind improving Cortana around the world throughout this year.
Get the Windows Central Newsletter
All the latest news, reviews, and guides for Windows and Xbox diehards.