Harman Kardon's Cortana speaker will reportedly support Spotify, Pandora, and more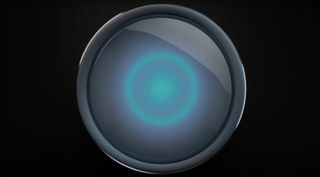 We recently got a glimpse of the setup experience for upcoming Harman Kardon Cortana speaker, called Invoke, on Windows 10, and now an update to the Cortana app for Android is giving us an even closer look at what to expect. Specifically, an update rolling out to some users and spotted by MSPU packs a new devices section that reveals the speaker will support a range of streaming music services, including Spotify.
According to the report, the device setup experience is close to what we saw on Windows 10, only with an additional option to set up a default music service. As you'd expect, the list of services detailed in the setup process includes Groove Music, but Spotify, Pandora and others make an appearance as well. The full list of streaming services includes:
Groove
iHeartRadio
Pandora
Spotify
TuneIn
It's not entirely clear how many users have received the update enabling the devices section just yet, and it's always best to take these kinds of early looks with the requisite grain of salt; things can always change. It's also worth noting that the text under the Spotify setup appears to be a placeholder, given that it's an exact copy and paste of the text for the Pandora setup. Still, it wouldn't be entirely surprising that a device like the Invoke, which would be taking on a category currently dominated by Amazon's extremely capable Echo, would tie into some of the most popular online music services in some manner.
As for the Invoke itself, not much is known about the speaker outside of what has been gleaned in our looks at the setup experience. The Cortana-powered speaker was initially teased with a video introduction (seen below) in December with the promise that it would debut in 2017. It's entirely possible that we could learn much more about the Invoke with a reveal at Build 2017 in May, but we'll have to wait and see.
Windows Central Newsletter
Get the best of Windows Central in your inbox, every day!
Dan Thorp-Lancaster is the former Editor-in-Chief of Windows Central. He began working with Windows Central, Android Central, and iMore as a news writer in 2014 and is obsessed with tech of all sorts. You can follow Dan on Twitter @DthorpL and Instagram @heyitsdtl.
Just it allow you integrate with Amazon Music? Am sorry but Amazon Echo is already a household name and this will be a poor mans choice

Doesn't look like it. Given Amazon's generally terrible platform support for their services, I wouldn't expect this to ever support Amazon Music. Amazon doesn't want anyone using a non-branded device to use their services.

Only thing I'm waiting for is pricing. If it's more than dot than I am going with dot.
Tried being all in with Microsoft's ecosystem but they make it hard for you to be. Literally

Ummm, it's going to be more than dot. The question is how is the pricing against Echo. Comparing the pricing of this and the Dot is completely irrelevant.

Am I missing the difference? Could you inform me please? (genuinely asking)

The speaker is far inferior than the echo's as well as the echo is voice activated.

I didn't know about the disparity. Thanks. So I'll go for the echo and not the dot. I thought the dot was v2 basically

The dot is also voice activated and can do everything the echo can. It just doesn't have a decent speaker built in. Aux port and Bluetooth take care of that though, IMO.

I could have sworn that the dot was only accesable through button? Was that changed? Was it the tab that didn't voice activate then?

I believe it's the tap but I've also heard that it may be able to do that now.

I've done some research and you were thinking of the tap which was changed.

So they are all voice activated? Because I could have sworn at one time the only one with a full blown speaker and voice activation was the Echo.

Dot is voice activated as well. You are thinking of the Tap.

Shouts out to the 4 people who downvoted me for exercising my buying power with $ that I earn. Clowns lol

And then when U say Hey CORTANA... What's the weather outside? She'll do the thinking thing, Then she'll say the internet and I aren't talking right now Try again later! lol

so true....Cortana is so temperamental

That's been happening to me a lot since Windows 10 Mobile. I do not remember Cortana having so many issues on Windows Phone 8.1.

She became completely cloud based

She sucks on the Xbox One now too. Sometimes she just spins... Why does it seem Microsoft updates can make things worse?

Sorry to say but Cortana never disappoints me when I ask her to play music and this particular device is primarily meant for music. BTW You keep asking weather updates. Good luck for that.

Because you listen to mainstream music like Britney Spears and Justen Bieber. Go offroad and Cortana is dumb as ****.

It really isn't. I haven't seen anyone using it for more than a week really.

Yawn. Tired of waiting for ms and it's partners' consumer play.
Just come out already

I wouldn't be surpriused if this never came out. Would be par for the course for Microsoft. And honestly, it would be better if they didn't. If they ever do come out with this, you know they won't support it and just kill it off in a few months. So no bother getting excited about it.

Well here's the thing... We know Cortana will be supported bc she's too entrenched in w10 and this is harmon/kardon which does have a good reputation. It's just the history that Microsoft has with its partners and how they go south is alarming and the speed of this coming out is on a snail's pace

Yeah...because they never have gone heavy into something to bail on it because they didn't have immediate success. 🙄

It's not on Windows 10, so like the Band it's a dead end for updates.

I doubt very much it's not using W10 (full or some IoT variant), that'd make little sense given their overall strategy.

You underestimate how badly Nadella is running Microsoft and Windows future. http://news.softpedia.com/news/how-ironic-harman-kardon-s-microsoft-cort...

That's pretty sad, if true... Still, at least the most important element is still being utilised. I look forward to interfacing w/it via the W10 BASH tools (they're getting srsly solid/extensive/well-rounded for a dev), LOL!

No, I wasn't joking. Invoke is powered by linux. Really.

Unfortunately, those are now dangerous assumptions. We "knew" that Windows 10 Mobile would have Microsoft's support because of their big UWP strategy push. And we all know how that panned out... While I would love to buy this, I probably won't, due to the very dangerous territory that Microsoft has now entered...they have now misled their devoted fans so many times that few people (myself included) are willing to take yet another chance on their nascent hardware support.

"And we all know how that panned out..." To be honest, we all don't know how that panned out yet.
We know how it feels right now, but nobody knows for sure that they're dropping Win10M. And if they do, only to replace it with Win10 on ARM which does exactly the same thing.. then so be it! I am personally conflicted here. I'd like this speaker becauase i have 20GB of music on OneDrive, but I don't trust them anymore

I'd want it to further flesh out the ecosystem but it's Microsoft. They never cease to amaze me

That's the problem, even Nadella doesn't know. He's the most clueless CEO in history. Azure and O365 revenues up over 50%, and still Microsoft's revenues are down. He's terrible, and their stock price will drop like a rock the second the Azure/O365 growth spurt ends. Short sell it while you have the chance.

Very unfortunate that those are dangerous assumptions! Smh!

MS won't advertise this the way Alexis was advertised.......... So, what's the point?

Alexis has been advertised?

Hell, yes... How DAFAQ else does everyone know about her? Everything has been advertised... Don't even try to attempt to make up excuses for MS's lack of effort.

"Hell, yes... How DAFAQ else does everyone know about her? Everything has been advertised... Don't even try to attempt to make up excuses for MS's lack of effort."

Says the guy who gets the damn product's name wrong. It's ALEXA. Guess that advertising is not

too

compelling.

😂😂😂😂😂😂 And, you keep quoting me on MARKETING.. You can try to cover up MS's inability to market a product correctly as well, Daniel... You can also praise MS's stank keyboard on WM... At least the keyboard on WP8.1 had some idea... SMDH.

Wait a minute, Daniel pants... Wasn't it you that disagreed with me about marketing, probably 2 years ago to this day?... Please. Band, Zune, WP, more... I called it years ago; this is what happens. Screw all that now.. Turns out I was ABSOLUTELY right, and you're seriously gonna sit here and dismiss my PERFECTLY CALCULATED (we'll see once again) comment about marketing???? Please. 😛

There hasn't been much advertisement outside of Amazons own services. Nobody here knows about Alexa/Dot/Echo unless they are already using amazon services so... No... It hasn't been advertised and no... Not everybody knows about her... Hardly anyone knows about her.

Wrong.. Don't let your bias get in the way of reality....
I live in Dallas / Fort Worth, and ads have ran.... People talk about getting "one".... Where do you live?

Alexa was indeed advertised.

I don't even watch TV and have seen and/or heard Alexa's ads

You damn right it was.. I have Multiple friends with multiple "Alexiusgezxiouse" products, yet they have ZERO phones running Windows....... What does that tell us🤔🤔🤔🤔🤔🤔🤔🤔🤔🤔🤔🤔🤔🤔🤔🤔🤔🤔🤔🤔🤔🤔🤔🤔🤔🤔🤔. Anyone want to disagree, be my guest.

I'm hoping they make a smaller cheaper version of like echo dot. I don't use the built in audio and would like to output sound through a receiver.

Plus, the dot was at a good value for those who wanted to try it out. Like me...

What's up with the negativity, guys? This thing looks awesome! Just look at that Cortana halo on the top! 😍 If they really give it a shot, this could go somewhere. The connected home devices market has not been secured by anyone yet, each platform has pluses but there are still a lot of reasons to develop Cortana for the home.

They need to fix Cortana first.

Because MS (and HK) will refuse to let the General public know about this... No Marketing = No Point.

Exactly...Since we won't be using it much longer on Windows 10 mobile. They need to fix her on Android. Then at least I could send and receive text like I use to on my 950 XL. Texting while driving is brutal on this GS8+!!!

Actually I have Cortana on Android (a Pixel, shh, don't tell Google that I replaced their assistant with Cortana), and I can send and receive texts on my Surface Pro 3. I am in the Cortana beta on Android though, so I'm not entirely sure how much of that is on the general version.
To the point of the article, using beta Cortana, I recently got the devices and music options. Was wondering what they were for.

Trust me, you just told Google yourself that you switched.

I thought I was clearly being facetious. If Google really cared, they could see that I downloaded Cortana from the Play Store. They would have known long before my post here.

I am being facetious as well.

That's a good point. Isnt Cortana on android much less capable than on w10m?! If so, and I'm sad to say, this is DOA with it's competition if w10m goes out to pasture with no replacement coming REALLY soon...fall, after back to school ends, is too late for an foundation of something new to get established and grow before holiday season...but what do I know.
Edit: Forgot about Famtana/homehub improvements that are supposed to come. I just don't know if I'm willing to wait until September and I am not spending my money twice in similar accessory products in different ecosystems.

Uh... What does her capabilities on Android have to do with this product? Android makes Cortana worse, and this product, thankfully, does not run android.

Fact: Cortana's capabilities vastly differ depending on what platform you use her on.
Example: Cortana w10m =/ Cortana android/ios/xbox/w10.
Fact: Seeing this is powered by linux and not w10,...
Estimated guess using logical progression:... I related it to android and guessing it'll have closely resembled functionality.

The 'General Public' do not use full PC's on a daily basis for most tasks anymore, which is why Windows is not a consumer brand going forward. Any 'consumer' attempt at marketing misses the point. MS in the eyes of the general public = 'old' PCs and their technology. The name represents something they feel is not useful to them now. The only consumer thing MS has going is Xbox. And once again, like Mobile, it's been proven that the market can (with Nintendo poking around every now again) bear 2 fully realized ecosystems , and MS was good enough to get in and establish themselves early enough in the modern console generation with Sony. Look, Apple only came back because they stepped back and suddenly ditched the idea of their main legacy business, and went with a small consumer electronic device- but the bigger part was establishing the music licensing deals and infrastructure to go with it. And they went from there. They became mobile, with PC's a vast insignificant portion of the business, which they've really all but ditched as well at this point. MS is done with consumers when it comes to Windows. They'll still sell PCs to people, but it will diminish over time, and enterprise will be what is left of the what we consider it. The only way they come back is if there really is the next big thing, and MS is fast enough to establish themselves But that would be a titanic change that would have to occur.

What is concerning is everything that theyve been work on, they aren't #1/2 in any category in turns of consumer facing products that aren't Windows.
Mixed reality (which most ppl think of as vr...yes I know WE knows the difference. I'm talking about general public). Nope.
Digital assistant. nah
Car systems. No
Home automation. Uh hun
Wearables: Lol
Mobile: ...
What's next are those things and they are virtually non existed.
I do give them gaming with project Scorpio. I think the next big thing won't be coming anytime before those things and ms's brand may be dead before the next big thing arrives that completely overtakes the world. I also question your "fast enough to establish themselves" claim.

@Zachary
Very true and well put !!

Genuinely asking if my comments contributed to the negativity you speak of?

I want on of these so badly - have been playing with the dot, but being a groove subscriber this is a big must have gadget for me...and harmon kardon are a good make for speaker, can't wait

I'm a dot user myself and would switch because of groove.

Don't understand people always moaning, they never speak about the product that has been reported. Always off on a tangent....Reminds me when I worked in an old peoples home...moan moan moan.

Agreed... Bunch of moaning tarts !!!

Just looked at every original comment/ post above this and they all actually talk about the product being reported. So far I disagree with your comment but admittedly, I haven't read below this yet so it makes me wonder if you're speaking about a few specific people. I Will read under this now.

Why did people download that comment? It's hard to argue against it.

Look at my comment above. I responded to Someone's claim about non related comments. I read each one and factually responded and got a downvote. Some people here are just really out of touch. Like clowns.

Unless it comes with massive dev support for thermostats, smart lights, etc. this will be a dud.

why cant microsft just let me set a default speaker and microphone for cortana. make eveyones life easy for once. I've bee asking for over a year now. Is it too easy? this should of been done in 2015 not maybe 2017

Licenses deals to make $, I suppose. They are a business. Although, I could create a few models to monetize this decision but maybe the margins aren't big enough for ms

The rubber sides will eventually rip, you'll get free replacements for three months, then they'll discontinue support for the device and you'll wish you would've just bought a Fitbit...um, Dot...instead.

I see what you did there.

NPR One integration would be nice

That's a lot of bass in the video for Harman Kardon, I use the LGs and no bass in them, from what I understand that's pretty normal for them. That being said I'm looking forward to Cortana devices!

LOL. I clicked on the video and my phone responded to the "Hey Cortana" request.

I did the "Hey Cortana" training on my PC and was stupid enough to leave my phone in earshot. Cortana on the PC said "Your device will now respond when you say 'Hey Cortana'" and Cortana then had a conversation with herself explaining that she didn't understand herself. Meanwhile my Amazon Dot sat in the corner ignoring the pair, it DOES light up when the adverts for alexa come on but it's clever enough to hear the rest of the advert and KNOW its the amazon advert and goes back to sleep without bugging me. However I did find myself shouting to both Alexa and Cortana to tirn the lights on the other day and both ignored me at once

I'm looking forward to this myself, looks a much clasier product than the dot, I will hopefully get one to try :)

Should have supported Napster too. Napster is the only streaming service with a Univeral Windows App

That's great...I'm not buying anything MS for a good while.

Harman is own by Samsung, it's surprising to see this with Cortana and not their own Bixby

It seems as if Samsung is working closer with Microsoft than ever before. Harman Kardon speaker; The inclusion of the Xbox logo in their advert for their QLED tv; Galaxy S8 Microsoft edition. I am expecting that Samsung will release a version of the Surface Phone (if it even exists). It appears that Samsung has chosen to work with Microsoft in this next stage of the technological revolution.

Yes, the Samsung purchase was final on March 10, 2017.
This throws doubt into the future of this partnership with Microsoft on this product.

Just thought of the backlash the visitors of this site and site's alike will bring if linux running Cortana is better than Cortana on w10.
It's going to be hilarious

no thank you!!!! until IFTT and home automation work with it.

Missing: Apple Music Google Play Music

With bot intergration and alexa skills intergration this will leave the others in the dust.

Why would any ios or Android user buy this? Dead on arrival. Microsoft doesn't have the platform to spinoff new products. Fix mobile first.

Because it might sync with their Xbox, maybe?

If it integrates with the Xbox it could be a winner as a voice control or media extender, or even a wireless sound bar. If I could get Cortana to play media frim my nas it would also be a winner.

hey cortana play music works on xbox one right now.

I can't wait for this to come out. Alexa is pretty useless if you don't do home automation, and Alexa can't answer some basic questions. I have the Echo Dot, and the speaker is pretty poor (yes I know it's a size restriction). Cortana is more useful than any other digital assistant out there, so I'm all for this.

Amazon doesn't own a search engine. I believe Alexa uses Bing but I don't know to what extent.

Definitely getting this speaker when it comes out due to it's Cortana and Groove and other music services support.

intresting but not a priority for me. i dont use her as much and hey cortana is hell in my home my xbox and pc go off. so i turned it off on my pc as i prefer the xbox over it.