The Harvest now available on Windows 8, but still no love for Windows Phone 8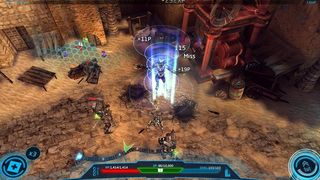 The Harvest has returned, but not on Windows Phone 8. The popular RPG is still available for Windows Phone 7, but has yet to be updated to take advantage of Windows Phone 8. Now those who are using Windows 8 will be able to enjoy the addictive gameplay as the title has just been made available on the Windows Store. What's more is The Harvest has been expanded on.
If you're not familiar with The Harvest, it's an advanced RPG set some time in the future. Hostile aliens are attacking planet Earth and are turning organic life into cyborgs. Known as The Harvesters, the beings are using humans and animals to create the machinery. It's the player's job to halt their progress and save Earth. Taking command of a human-controlled mechanised infantry unit (many are available), the war against the invaders is both exciting and intense.
RPG fans will enjoy playing The Harvest as it sports exploration, character development and story progression - the foundations of a solid experience. It was highly rated by Windows Phone consumers who enjoyed the waves of hordes. Be sure to check out our previous review of The Harvest for Windows Phone to see how we enjoyed the gameplay.
Players can now enjoy synchronous multiplayer, which would be a top feature for Windows Phone if implemented. The synchronous co-operative multiplayer enables friends to battle it out together in story mode. Leaderboards and achievements are available, providing incentive to get stuck in and unlock goals. Numerous upgrades are on offer to keep everything interesting and the storyline is engaging.
Will we see The Harvest updated for Windows Phone 8? We'll be joining a number of consumers in prayer and letters of request to Microsoft, but we'll have to see what the future holds. The Windows 8 launch could be a good sign. The Harvest is currently running $6.99 and you can download The Harvest (opens in new tab) from the Windows 8 Store, as well as the Windows Phone Store if you're using older hardware. Thanks, einztrigger, for the tip!
Rich Edmonds is Senior Editor of PC hardware at Windows Central, covering everything related to PC components and NAS. He's been involved in technology for more than a decade and knows a thing or two about the magic inside a PC chassis. You can follow him over on Twitter at @RichEdmonds.
Another missed opportunity to boost WP with cross platform play.

The WP7 version doesn't have any co-op, how could you have cross platform play.

Got this game on sale back when it was DotW on WP7, never got around to getting past mission 3 because I was too distracted by my Xbox :/ I would adore the chance to finish it up on my Lumia.

Yes, that's what I mean. I dont mind replaying two missions.

Having bought this game back on my Optimus 7. I really wish I could play it on my Lumia 920. I never got all the achievements and given it's price, I think Microsoft could make a WP8 version.

I just want them to update the WP7 version to make it compatible with WP8. I paid for it and can't even play it. I have some missing achievements I need to get

Relax, not long until it's out on WP8 :)

You know this how?
What's the ETA?

He says that thinking people will just believe him..

Can anyone comment on the Length of the campaign?

Way over 20+ hours if you complete using all unique characters. I'd say if you rushed it you could complete 1 character in 5 hours.

Well, the speed run achievement is to complete the campaign in under 4 hours, and it's not too hard... You can do it in 3 hours pretty easily if you don't go after all the powerups and kills for max XP. I'd guess most people would spend 6-7 hours on their first playthrough, then around 4 hours on subsequent playthroughs when they go back to get the achievements for using the other mechs.

That's why I got refunded over 30 bucks (Xbox pnts) for these reasons.

If it doesn't come to WP8, will have to see if I can get refunded. I have this game and about 8 other games that I can't play no more.

This game is great and I loved it when I had a WP7 device. I only WISH it was available for WP8, and I would so play it again if it was, especially with new gameplay. I'm tempted to get it on my Windows 8 desktop as well, just to play it! This game is SO WORTH IT!! Best game out there and we need more like this!!

The dumb thing is this....i got the 8x in November, i then re-downloaded the game and completed it on the 8x. A short while later it was no longer available.

Still waiting for Temple Run: Brave on Windows 8/rt.

No trial, and it ram glitchy as hell on my Dell Venue Pro. So I'm not paying $9.99 for anything after I've already had a rough run with it, until I get a test rub first. It should be mandatory that all Xbox Live games have a trial.

What glitches did you encounter? Because I assure you, you're the minority.

Stupid thing is the original runs on WP8! I bought it on my HD7, and played it a lot. Never got to play it on my 920, but I managed to find the xap and sideloaded it on the 920, and guess what. IT WORKS! The only bit that doesnt work is the cut scenes, it says sorry we can't play this file on your phone. But everything else works perfectly!

may i know from where you get xap file that actually works, i tried so many websites and not a single xap worked, even my lumia 920 is unlocked and i have developer account

do you have to purchase the game again if you already bought it for wp7?

For W8, yes. If it ever comes to WP8, no.

Played it when it first came out and have all the achievements. Quite enjoyed so I understand people wanting to replay it on WP8, however we be more interested in The Harvest 2 to come out....

Already bought this when i had an l900 miss it now i upgraded to an l920.

I do wish it had a trial though.

One of my favorite games back on WP7. Got full achievements for it. Shame the Windows 8 version doesn't come with a free trial. Mostly I'm wondering how much new stuff is in there? I see in the game description that there are 2 new mechs and a multiplayer mode now. Anything else? Extra campaign? Even bigger upgrade tree? Need to figure out if this is worth re-buying.

Isn't gameloft supposed to come out with 12 games? I only count 7 so far what are the other ones and whats the time frame for their release
Windows Central Newsletter
Get the best of Windows Central in in your inbox, every day!
Thank you for signing up to Windows Central. You will receive a verification email shortly.
There was a problem. Please refresh the page and try again.