HDR Camera for Windows Phone 8 updated, bugs fixed?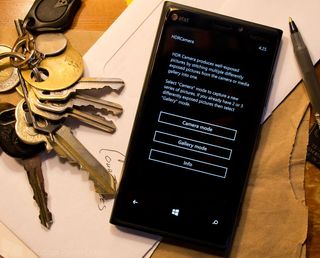 The other day we took at look at the Windows Phone 8 photography app HDR Camera. The app had potential for creating HDR images with your Windows Phone camera but was plagued by several bugs that messed up image alignment, had the app crash frequently and distorted the camera viewfinder.
An update was released today for HDR Camera, taking the app to version 1.02. The update changed the Exposure Compensation terminology from "steps" to "EV" and contained bug fixes. Not really sure what the pressing need to change "steps" to "EV" (which I assume is short for exposure value) but we were curious if the bug fixes addresses the alignment, stability and distortion issues we experienced with HDR Camera.
Quick recap on HDR Camera is that the app takes three images of the same picture at different exposure levels. The bracketed exposure images are then stacked or merged into a singular image that should have greater dynamic range for colors. It should give your colors a little more pop and pull more colors out from the shadows.
The previous version of HDR Camera failed to align the three images and even if you manually aligned the three images, you ended up with photos that looked like this.
The other two major issues we had with HDR Camera is that after creating an HDR image, when you would go to create a second image the app would crash. Secondly, every so often the viewfinder would seem compressed as if the app was struggling to initialize the camera.
Well... the update seems to have corrected the alignment issues. I took about a dozen HDR images and each were aligned correctly. Granted a little work on the saturation and brightness levels would help, the alignment was good and held throughout the post-processing.. I did try to tweak the saturation and brightness in the processing screens but the image faded too quickly to a grayscale image. I think if the app dialed down the saturation levels on the initial processing just a tad that would help.
The update also appears to correct any compression with the viewfinder.
What the update doesn't address is the stability. After each HDR image was saved, the app crashed when I attempted to create a second image. This occurred with both the Nokia Lumia 920 and HTC 8X.
While the update does improve the app with regards to alignment, it's still very frustrating to have the app crash after every photo. Without a trial version, HDR Camera is probably one update away from being worth a shot.
HDR Camera is currently running $1.99 and is available for your Windows Phone 8 device here in the (opens in new tab) Windows Phone Store.
George is the Reviews Editor at Windows Central, concentrating on Windows 10 PC and Mobile apps. He's been a supporter of the platform since the days of Windows CE and uses his current Windows 10 Mobile phone daily to keep up with life and enjoy a game during down time.
There is a small problem, I can not try it, without buy it!

HDR imaging isn't for the average cell phone photographer. To get a good image you need to know the ins and outs of some very powerful software you can't get on a smartphone. No one can expect a true mapped HDR image without putting it through a real piece of software.
this app is doing everything its required to now. Take 3 identical photos at different f-stops, align them for HDR tone mapping. To correctly bring out an amazing photo, you'll need a secondary processor on your Desktop. Nik Software makes amazing apps, as well as Photomatix.

How fast does it take the three photos? Quick enough that I can get a goof image without camera shake ruining them???

The app takes photos about half a second apart. Not exactly goof proof but with a tripod or some other form of support it's manageable. I think what attracted our attention to this and HDR Photo Camera is that the app tried to create an HDR image without just adding a filter to the image. Both are a step in the right direction and it's nice to see someone trying.

So I would be 100% better off using camera pro's bracketing and using my own HDR aligner / mapped, if i want custom results. Didn't know it tried to tone map on its own.

High Dynamic Range photography. Wiki it. 3 images @ different exposure (brightness kinda) levels combined, to pull out all shadows and highlights. Makes for a SUPER detailed and vivid Image. Check them out on Flickr for some insane examples.
Windows Central Newsletter
Thank you for signing up to Windows Central. You will receive a verification email shortly.
There was a problem. Please refresh the page and try again.