Help beta test a great new Honeywell Evohome remote app for Windows Phone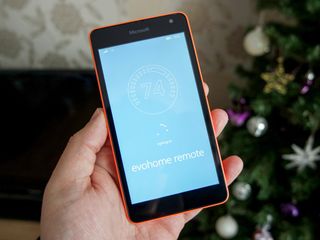 The Windows Phone developer community often comes up with the goods where official support may be lacking and that's definitely the case here. Developer, David Horn, has taken it upon himself to build a remote application for the Honeywell Evohome connected home heating system but needs the help of some keen Windows Phone users to help beta test it. That's where you come in.
If you're familiar with Nest, then Evohome is along a similar line. It's a connected heating system that allows you to use such things as mobile devices and voice activation to control the temperature throughout your home – and much more besides. There is no official app for Windows Phone, but this looks so good that we're not losing out so much.
So, how can you help? Since this app hits a bit of a niche, beta testers are going to be harder to find. But, if you have an Evohome installation at home and you want to help, simply hit the link below to register and go from there. This is the developer's very first Windows Phone application having been developing before for Android and iOS, but if first impressions are anything to go by, we're glad to have him.
Richard Devine is an Editor at Windows Central. A former Project Manager and long-term tech addict, he joined Mobile Nations in 2011 and has been found on Android Central and iMore as well as Windows Central. Currently you'll find him covering all manner of PC hardware and gaming, and you can follow him on Twitter and Instagram.
Thanks for the wonderfully insightful comment ;-)

Niche product for sure. I wish we had an option for wink enabled devices.

Does David Horn have a twitter account or contact information?

Link at the bottom of the post is how to get in touch about testing

I have a Honeywell WiFi thermostat. Not sure about the Evohome. Would I qualify?

I have same situation question

I have the Honeywell therosta and wisk we can just have the myconnect app for Windows and Windows Phone...pretty simple.

I too have Honeywell wi-fi thermostat and did sign up hopefully that qualifies right now I pin the Honeywell login page to my start screen and use that as the app to control the thermostat but, if there is an app that will do it that could be much better.

I think the honeywell api will know what thermostat you have. i also have the honeywell wifi thermostat. I started creating an app for it (check temp, schedule, adjust temp and schedule, cortana integration). just need time to finish it. :)

Hi - I'm the developer. Based on the information provided by Honeywell the app *should* work, but since I don't have a WiFi thermostat to test with your mileage may vary... The app might look a little sparse since it's really intended to be a multi-zone solution. Hoping to get the first batch of testers' details added to the store tonight.

Hi David, did you manage to get the first batch of testers' added?

Hey David, I have an evohome system and can test allongside both Android and IOS devices. Please add me to the test group. In our household we have a Lumia 1520, 1020 and 735.

WP Does need more Home Automation apps with more complete features.
Insteon is nice, but they aren't the only player out there. I see this as a move in the right direction with another format on WP. For that, I thank Mr. Horn for bringing it to the WP platform. However, some other formats need to come to WP as well including IRIS and WINK. (Lowe's & Home Depot's implementations). If we could get those two on-board, it would be huge. I hope this app raises their brows and they bring IRIS and WINK to WP soon as well.


Good luck! I have an ecobee and use the unofficial app on WP and love it. Plus, it is super Metroooo :D Glad to see some more options for others on here!

I'm in. I'm all about saving energy, the environment and my wallet.

I don't have a wifi thermostat but ill take the link to a WP community. Thanks for helping the WP store

I know several people using evohome in the Netherlands for the heating of individual rooms. You can set the temperature for each connected room seperately which is very nice. I'm getting excited to buy now there will be a windows phone app. Hopefully Honeywell doesn't interfere and will accept it.Is the developer on speaking terms with them?

Hi this app would be a great bonus. Have full evohome installation with all 12 zones enabled. currently using android app but this means I have to carry two devices as my phone is a Nokia Lumia. Signed up over a week ago but have not heard anything yet, would love to beta test this app, think you could be on to a real winner!
Windows Central Newsletter
Thank you for signing up to Windows Central. You will receive a verification email shortly.
There was a problem. Please refresh the page and try again.