Here are the known issues in the new Windows 10 Mobile preview build 10512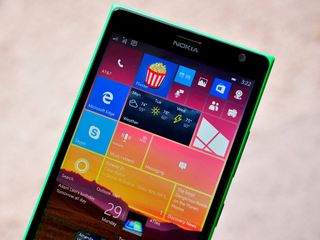 While Microsoft has made many improvements with this new Windows 10 Mobile preview build 10512, there are still quite a few known issues with this version of the mobile OS.
Here's the list, as posted by Microsoft's Windows Insider head Gabriel Aul:
Mobile hotspot doesn't work in this build. When sharing the Internet from your phone using Mobile Hotspot, devices will fail to get a valid IP address from your phone and will show no internet access.
Two-factor authentication for your MSA with a phone number doesn't work in this build. If you reset your phone and go through the first run experience, you won't be able to input more than 2 characters for validating phone or text authentication. If you have a secondary email for two-factor authentication – you can choose that. As a workaround, add secondary email for two-factor authentication.
Some phones might spend a long time in the post update migration experience – just let the phone sit and it should complete this migration.
Apps that use background audio such as Groove, Podcast, Pandora, etc. will crash when launching after receiving an app update from the Store. Rebooting the device will resolve this issue.
Some phones with a large number of tiles pinned to the Start screen may get stuck in a state where the device shows "Loading…"; the device will need to be reset or rolled back to Windows Phone 8.1 using Windows Phone Recovery Tool.
Some apps may fail to update through the Store with the error code 0x80073cf9; uninstalling the application and reinstalling it will resolve this issue.
The Movies & TV app will not work in this build (video playback is currently broken).
Source: Microsoft
I don't think I should update. How can video playback not work!? Does this mean for example, I like Kissanime but it uses the movies and tv app to play video, will it work? (just to be sure)

Damn...it started downloading in background. Any way I can cancel the download coz it seems that this build cant be used as a daily driver. Any way to move back from fast to slow ring and not installing this upgrade?

Not that I can see. Fortunately I hard reset right before starting the update, so my data settings reverted to "don't use a metered connection", so it won't download unless I connect to Wifi.

For me the show stopper is no mobile hotspot :(

For me as well. That's 90% of my usage is the mobile hotspot. No internet at home without it. I need a second phone that I can just "play with."

For me too Posted via the Windows Central App for Android

Turn off WiFi. Then restart your phone and go to Windows Insider and switch from Fast to Slow updates. This will prevent the phone from automatically downloading 10510. Turn back to Fast when the next release comes out. If too long then leave the Insider program and come back later.

Use thirdparty app to play untill next build :-) They said there wouldn't be long between builds now ;-)

What the hell they corrected all this month then??

You mean two months (since the last build).
Its a shame they wont make any efforts in the mobile OS :\

I am also curious to know how a company with over 100k employees takes a whole 2 months to fix 2000 bugs but miss all the ones I complained about in the last build...!!!!

I am guessing you're pretending not to understand and just whining for the sake of doing so like a child. If you're not, then let me help you understand: 1) Not every person at Microsoft is a developer, 2) Not every developer at Microsoft is working on Mobile (or OS), 3) Not every developer at Microsoft that is working on Mobile (or OS) is working on precisely the same feature set(s), 4) development generally occurs in sprints addressing this or that, eventually all of the changes will be merged into a single branch that becomes RTM, until that time occurs, many branches may be worked on simultaneously all at different places in the process (unfortunately, what we see may appear to be regression of some features/ stability). What we see with every build that steps forward X but steps back Y is a result of this process. Eventually, all positive changes will be merged. The process may be better described, but this is the jist of things. Why am I defending? Because it's ludicrous how some people are responding to COMPLETELY OPTIONAL TECHNICAL PREVIEW BUILDS partitcularly since there is some amount of effort involved in receiving these builds (i.e. some user can't accidentally update the phone without some amount of effort involved). I have a friend that eats at a particular restaurant quite frequently. The same location (of a large and rather ubiquitous chain). He orders the same bloody thing every time and every time they get his order wrong. He complains and get's angry. It would be nice if they got his order right after 10 times of getting it wrong, but they don't. What does he do? He continues going there! Why, for the love of things Holy, would he do that when not 5 minutes the opposite direction is another location? Seriously people, if this is such a traumatic experience you should probably stick to 8.1 until RTM. Even then, it might even be better if you waited another 6 months or just move on altogether so we don't have to see your dribbling complaints.

Maybe not enough people compained at the user voice and too many people complained here so your voice was heard. Not all 100K employees are working on Windows 10. Would you rather be in dark about all of this windows 10 business and be moaning about they're not tellinus anything or know how things are progressing.

2K bugs... which ones? The ones no one even knew about? How about those critical that still present in this build?

Obviously not a developer then, are you?

Shame about using mobile hotspot but am really glad they fixed the bug where phone froze after phone calls, most annoying for me, then the next would have to be apps on SD card not working after reboot, that was annoying as well. I think by my read that the video problem is related to the movies-video app but not sure about that.

Oh man I was so excited about this build..

It appears, that has now been replaced by utter disappointment :P.

Has anyone gotten the Project Astoria apk app injection to work on this build? I tried it but Im gettin an Error 14. Im sure it has to do with the build.

so 3 posts.... 1 announcing the new build, one listing improvements, and a 3rd for bugs and issues? isn't that a bit much?

One more for people just reading headlines that summarizes all the headlines ;)

No it's useful since doing it all in one article creates confusion and might make people miss the import stuff. Like of you want to know about bugs etc you now have an article dedicated to those bugs.

Three clicks are better than one ;)

"creates confusion" You guys have a serious attention span problem. More than 3 paragraphs? TL;DR, right?

There will a 4th ICYMI. I guess they do that because more articles = more clicks = more money from ads.

"Knows issues" seems to be a showstopper! :(

If MS were a doctor: We have fixed your twitchy eye, ingrown nail and hair split ends. However, your right arm will have to be amputated and eyes removed from the sockets until further notice.

Lol. Thanks for the laigh

Agreed. For me its the mobile hotspot. Will that be fixed in a new build by mid October you think? My brother installed latest DV update and loves it. My 925 is my only phone (biso phone) and cannot afford not to have internet sharing to my Surface device.

No video streaming on Edge too?

No! Video playback is broken in Movies and TV app only! Read the article!

Yeah video in everything else still works thankfully or this would have been a deal breaker. This build is really been excellent on my Lumia 920.

This seems like a step backward to me, with the loss of Video playback and hotspot.

Yes. I read that and thought I'm not upgrading!

Yeah, can't lose hotspot.

No! Video playback is broken in Movies and TV app only!

Only in the Movies and TV app. Everywhere else is crispy clean.

Switch to slow ring, known issues aren't good for me, last build is still running smoothly and I hope they roll out quick updates to fix most of the known issues on this build

I'm in the Slow Ring. Can't have my Icon giving me issues through the day. Build 10166 is stable enough for me.

They don't update the current build with fixes. You have to get the next build to get fixes. No worries though, as they have mentioned that phone builds will come faster on the fast ring from now on.

Well, it seems I can't. It already started the update process, even though it's stuck at 0% downloaded. This sucks. Edit: switched it from automatic install to manual, so hopefully it won't install until I tell it to.

Why are they going backwards how are Microsoft so crap

They're preview builds, you should expect things like this now and then. It's not like these issues won't get fixed

I disagree. With each successive build regardless of alpha, beta, preview or RC, regression bugs should be the first things tested and fixed. We should not expect something as fundamental as video playback to be broken after it's been working and we should expect the start screen bug to be fixed after 3 months. We need to stop hand-waving these things, especially when the rumor is that Mobile will RTM next month.

The app can be updated through the Store, there will probably be an update within the next few days fixing the issue. It's a preview OS, fixing one bug can cause another one to pop up. Just because it's been working before doesn't mean it HAS to be working next build. As with the Desktop builds, they are relatively further ahead of us in terms of builds. A build goes through like 3 different sets of users before it reaches preview members. They will have nightly's on top of that.

I'm a dev, of course I know that fixing one bug can cause another, that's why we do regression testing at ALL phases and stages, from dev to beta to preview to release. It's unrealistic to think there will never be bugs, but it can be completely realistic to expect that functioning code won't be re-broken and then released.

It's unrealistic to think there will never be bugs, but it can be completely realistic to expect that functioning code won't be re-broken and then released.

Windows 10 Mobile hasn't been released yet. Wait for the final and stop installing tech previews if bugs (even if they were previously fixed and are now rebroken) aren't acceptable to you.

Released as in released to QA, then insiders. I would've said RTM if I meant officially released.

Obviously a component of the operating system is currently being re-developed and video playback has been affected. Preview software does not represent a progression from beta. Windows 10 Mobile is still in development stages although it might be feature locked. This means certain aspects of the operating system could still be changing such as improving video playback efficiency. In addition, squashing some bugs could cascade causing other components to become unreliable... basically creating more bugs. These bugs do not mean the build isn't nearing RTM. The sky isn't falling.

But this isn't the case... They are messing the OS day by day

Clearly TP isn't for guys like you!

Becuase these are the areas of current development. Changes have been made to some parts of the system which have affected other parts. There will be major bugs until the linear process of changes is complete.

There's no pleasing some people. Yes they took a few months. However over 2000 bugs were fixed. Suuuure the bug u might have wanted fixing, may not be fixed yet, or a new bug has come into motion, however you are the one who opted onto the experimental preview builds. So expect bugs. With new fixes, means new/edited coding. With new coding, more bugs appear while old ones are fixed. People complain Microsoft take their time with the builds, but then are disappointed when the builds feel rushed with some minor/major bugs. Don't like it? Don't use it. No point in whining. Sorry for the rant but we seem to see this kind of comments in every build article and its extremely annoying.

This seems to be major set back for people using it as Daily Driver!

No one should be using it as a daily driver unless they're comfortable with the instability.

That depends. Like Gabe said, they are focussing on core improvements, meaning performance and stabilty improvments. If this build is faster and more stable dan build 10166, than It's good enough for me.

Losing hotspot is a deal breaker for me, unfortunately. Hoping they release another update that fixes it soon.

I really can't relate. I get that hot spot is important to some, but other than that.. *shrug* I've used moliplayer to watch videos, it's much better in many respects than the built in app.

Time to remove all the damn tiles from the start screen!!

Read the article and boy the first thing i did was unpinnning all the beautiful live tiles. You'll be missed my baby square boxes. :'( Not for long though.

Wait... is this an upgrade? This seems like a huge backwards step. Anyone finished upgrading and checked to see if any new p hones support Android apps?

I am fine with touch getting unresponsive after the call ends. But this issue list is bit too much. Will wait for another update. :|

Yeah right, then they wil say you will have to get this build before the next.

looks like I might have to stick with 8.1. Can they get 1 build where all major apps work? Not being able to watch store bought movie and tv shows is a big problem.

Bugs list longer than improvement list. Can't stop it. Preparing installation.

It looks okay, I don't use a hotspot and I started to use VLC instead of MS video app long ago. Updates install fine. If the text notifications are now fixed, too, I am happy.

Since the Mobile hotspot doesn't work I won't update my phone

Now I want to know, if the start screen bug is STILL there (and has been there since 10080 as far as I can tell) AND they broke video playback....what the heck was the showstopper bug that held 10240?!?! Both of those issues should've prevented this build from being released.

I don't have the start bug on 10166.

The infinite Start loading loop.... I knew that diminish the amount of my live tails was a fix for it, but now the question is ....how much can I place before it's will happen again.... :-o

Some phones with a large number of tiles pinned to the Start screen may get stuck in a state where the device shows "Loading…"; the device will need to be reset or rolled back to Windows Phone 8.1 using Windows Phone Recovery Tool.

Alright, alright, I'll unpin some shit and kill the folders, anything to fix this bs. At least it seems like they're noticing the issue a bit more...

I have that issue on my 1520. I had to adjust to larger and fewer tiles and it stopped. I was hoping this build would fix that

Yes, at least we know they know there's an issue there. Still very annoying. I am reluctantly unpinning tiles I don't want to unpin right now...

Locking and unlocking the screen every 3 secs did the tric for me after awhile. Just press the home screen button twice when before locking it again.

I had the issue with the previous build but it seems disappear after you swipe down and access the settings a few times.

Dammit. I thought we were getting a stable build but this is shit... I can't stop it now *sigh*

A bit disheartening that the new issues outweigh the ones that were fixed. Might have to move to slow ring for a bit, no video playback and hotspot are show stoppers for me.

There is something seriously wrong at Microsoft.

When they were restructuring Windows division they fired a lot of testers. I hope that they don't expect unit tests and Windows Insiders programme to do their job instead. Even the big Windows 10 is a bit shit and they keep releasing updates frantically as if they were Apple and not Microsoft. W8.0 seemed more mature when it was released.

couldn't agree more. They've been working on Windows 10 for years, and now that we're closer to launch, there should be more features and less issues, but it's the other way around.


TP isn't for guys like you! just leave...

Men I ain't installing this build

Does the hey cortana work in this build Posted via the Windows Central App for Android

How do they get these regressive errors? They talked about new branch, but I'd expect them to merge all fixes there first before releasing anything :(

Video doesn't work? man this is a deal breaker to me. wtf?

No! Video playback in Movies and TV app is broken only!

not sure if upgrade or downgrade I'm not upgrading to this build yet.

Well, judging from the list of things that won't work, I'd say this build isn't much better than Build 10166! All of these issues existed in Build 10166, so what did they actually fix (other than maybe making it run a little smoother)!? In fact, with Build 10166 I actually was able to use my mobile hotspot, so how did this get "broken" in a later build? Come on Microsoft, you can do better than this!

What the heck, what should expect more from this bald.

Why are people complaining about bugs in a beta? This is test software that is not intended for sole use. I'm more than happy to test on my 920 and stay bug free on my M8 with 8.1

I'll tell you why I'm subjecting myself to using the preview on my M8 and not just my 920: If they don't get enough of us M8 users testing, they'd never know that Dot View was broken, that there doesn't seem to be a HTC section in the WM10 store and that the start screen bug isn't Lumia specific. I think it's important that if they are listening to feedback (and it seems like they are) that they get it from those who aren't just Lumia users.

It's not that there are bugs in general, it's that specific bugs for basic functionality expected on a smartphone these days (mobile hotspot, hanging up on a phone call without having to reboot to use the phone, pinning stupid amounts of tiles without the screen playing up) appear in a build that is meant to be a progression from previous builds (meaning less bugs).

Progression doesn't always equal better in a development cycle, changes often have unexpected consequences this is why carriers don't allow freedom of updating. And as for manufacturer specific apps, well in this case that's HTC's sole responsibility to make happen. Don't expect MS to fix it for them. Reporting third party issues to MS will fix very little.

Think I'll hold off a little longer.

Meaby, and just meaby, I will jump in the Mobile Insider Boat in the next Build, but this one seems a little too "not that bad" but still some deal breakers like the one with if you have a lot of Live Tiles you may need to Roll Back, and no Video Playback? Nope, really really nope.

None of those affect me, 10512 here we go!

Uninstalled windows insider and forget about the beta.

Can somebody confirm if only Movies & TV app is not working (which i don't use) OR any kind of video playback is not working (Youtube, camera roll, whatsapp etc)? That would be a showstopper for me!

Ok. I installed it and video is working fine apart from Movies&TV app.

Sounds like a pretty rough build.