Here's how well Intel RealSense works with Windows Hello
Windows Hello is no secret, nor is Intel's partnership with Microsoft when it comes to using its RealSense camera technology to make full use of the facial recognition aspects.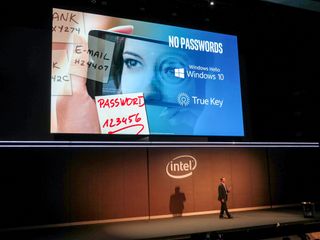 At the opening keynote of Computex 2015, Intel executives spent a brief moment on stage demonstrating how well things work, and how secure it actually is. Using a face mask to try and 'spoof' the cameras into thinking you're someone else just won't work, as shown in this short video clip.
The Intel RealSense camera technology goes beyond being a simple webcam, with aspects to sense depth, too, and the effects are impressive. We've seen Microsoft demo Windows Hello at Build, and this is every bit as impressive. There seems to be absolutely no lag whatsoever, with the PC unlocking virtually instantly after it sees your face.
It's very cool stuff, and we've already heard from Dell that some of its new laptops launching soon will have RealSense on board, with Windows Hello being a prime use case.
Richard Devine is an Editor at Windows Central. A former Project Manager and long-term tech addict, he joined Mobile Nations in 2011 and has been found on Android Central and iMore as well as Windows Central. Currently you'll find him covering all manner of PC hardware and gaming, and you can follow him on Twitter and Instagram.
Does this need new hardware in phones?

New hardwares :/ btw new hardware reminds me of what happened with hands off voice search. How does ok, google works in Moto G, which has almost same hardware as Lumia 730 but hey, Cortana doesn't?

Because Motorola built a specific chip for it. It worked on the Moto X before it was ever brought to stock Android.

The same way that in amber L720 didn't have Double-Tap to Wake because it didn't have the hardware requirement. But in Black it magically got an upgrade in hardware to have this feature.

Lumia 730 doesn't have the always-listening chip that's present on the Moto.

technically microsoft could turn this on in all phones, but it severly drains batteries... the high end qualcomm chipsets included HW functionality that could listen without drawing significant power

just adding some details: I have a Moto G, and the "Ok, Google" only works with the screen on (unless charging, then it stays always listening because it doesn't have to worry with battery life). Only on the Moto X, which have a special low power listening hardware, you can wake the phone with voice.

Yes, it will need new hardware.

yes, and I believe I've read a rumor that the new flagships will have retna scanners in them.

Ahh yes, I knew I read something biometric would be added.

In the same resentation, Intel demostrated a tablet with the real sense camera. They showed how the tbalet could look at a box, determine its size. You could then tell the computer how many of each box you need to ship and the tablet would show you how to stack the boxes to minimize the total package size. Great for warehouse operations. The camera is small but it does need two lenses so that it can maeasure distance. Much the same way as your two eyes provide depth preception. There is another lense, which I believe is an IR sensor. Combing the IR and the 3D image of your face, the camera can recognize your face. But I dont know if it is 99.99% accurate or 98% accurate. IN other words, it may not be able to distinguish between identical twins or a simbling that looks very similar.

Is there a link to that RealSense demo with the box? I would love to see that

Yeppers, I was actually about to head back to android this year (4 years into my 1 year WP trial). But, depending on price, I've put off new phones and now laptops, until around september. Should be a good idea of what's on the playing field then due ot all the new hardware that'll be needed for some of these features. My hope is that MS partners with Qualcom for their fingerprint tech, or devs their own, but I think the partnership is better.

I have been using the Surface 3 for that last few weeks and have found it holds battery power quite well, better than my haswell powered Dell laptop. Also it is pretty quick in using/opening applications. Seems a bit slow in loading web pages, but not sure if this is because of my wifi connection. I have not used it tied to an ethernet cable. NOte I had to buy a $10 adapter to connect the ethernet through the USB 3 plugin.

I like the SP3 for what it is, I do think it can still be better in some regards (particularly the hardware/driver issues) but I like it and would be on it if I could validate the purchase (my 5 yo Asus is still kicking). I do wonder though, as an aside, if it really is so hard to make a dock with a stiff hinge so it can sit on your lap. Options is all I'm talking about.

I am talking about a Surface 3 not a Surface pro 3. Further the SP3 has good hardware specs, given that it was released about a year ago. The SP4 will be stronger when it is released around October. Why would you need a dock for using the Surface Pro 3 on your lap? My question is not important. But you do highlight the power of the iOS ecosystem. When you sell 60 million iPhones over a 3 month period, then you have alot of people that will buy an option. If your business model requires 10,000 customers, you will find it easier to find those 10,000 customers when you sell 20 million devices a month versus 3 million devices. This is why the iOS ecosystem is powerful and the WP ecosystem is weak.

Better push that out another couple of months, the scuttlebutt has been that new Windows phone hardware won't be out until around November-Black Friday-ish.

Ah, is that true? Well, at least they will make the holiday season. Unless it's like the 830, and they end up doing something mediocre, missing the US, overpriced and so on.

Exciting times are coming

What if you get a new haircut or something ? Or something happens to your face ? What then ? Serious answers please.

Then log in manually. At that point update your profile ;) there is always a way around.

A haircut should not matter. If you have a dramatic change to your face, log in with your password (Windows Hello doesn't replace it) then reset Hello with your new face. D-

Yes, you retain the ability to log in manually if needed.

It most probably has a look at your eyes and not your face overall.

Issue is if you're wearing glasses and you have long hair which covers parts of your face, these are real problems for identifying users, but if you take your glasses off and move your long hair that is covering out parts of your face, I'm pretty sure it will be more accurate.

Infrared sees right through these things.

I can't wait for this!!! I hope I can but a new sign camera for my desktop....

i also send feedback about a new mic because mine is at my camera and if i want to talk to cortana my camera must be on.

my thought too, I hope Intel gives this technology to Dell but also for OEMs that sell external PC hardware like Logitech. I think USB 3.0 speed should be enough to support this tech on external camera hardware.

Actually,.. the current cameras that you get when you sign up for the Intel real sense/microsoft hello developer kit is made by logitech. Or at least it was about 2 months ago.

Why wouldn't intel give this tech? It seems they made this tech to license it to its OEM partners. I'm sure it requires intel chips. So, it would lock more OEMs into Intels hardware.

Windows mobile 10 with Intel processor.. I wish....

Dell has already introduced Intel Real Sense cameras into many of its products in this year...great to see Microsoft working so closely with its partners to make everything ready in time...features, drivers and devices everything...seeing this feels like no one was actually prepared for Windows 8...but this openness and open development cycle is reaping and will continue to reap big benefits

The new Lenovo and Asus machines also has real sense cameras. Right?

The Asus one announced yesterday does, yes. Just mentioning Dell because we met with them today just before the Intel event. Fresh in the mind!

Well I've been thinking of getting a webcam, now this narrows down my choices lol.

I wonder how it'll be on phones.. I mean when you just want to look on your loockscreen if there's a notification and the phone automatically unlocks.. That must be annoying

probably activated by a button.

I think there will be an option, so that the lockscreen is stil there and you only have to swipe up to unlock the phone. Just like if you are using no pin.

In the video.. It is on the password input screen.. Not on the lock screen..they swipe up first then windows hello is activated.... so this is how it may work on the phones as well..swipe up first then look.

I cant see how i will be using this new tecknology..... as the first thing i will be getting after this whole fiasca is a HoloLens. I am actually shocked that people are seeing this as TECH! HOLOLENS! ----- you put a pc on your head! and you see things fly around the room! am i the only one who knows about this device :P

HoloLens was best Microsoft's secret kept for 5 years. It's amazing emerging tech that is more awesome that Virtual Reality will ever be, because holograms mix reality with augmented tech, so you don't have to render the whole background with textures, you just focus on objects that need to move or have special properties. Take for example Minecraft, you can use HoloLens at your living room and if you have plants or other furniture,it can be the background and your Minecraft hologram only worries about the blocks and the interaction you will do to build a cabin or another building. This saves a lot on powerful graphic requirements as Oculus Rift which needs to render 100% virtual stuff, while HoloLens only will render about 30% or 40% of the whole room

Lol.. I've actually been thinking of being in bed and staring at the ceiling watching tv..

Hololens is good for certain things, but it's not right for everything. Desktop and laptops aren't going anywhere. You still need a keyboard and mouse to do many types of tasks. Hololens is great for artists, designers, scientist, doctors and any other filed where visualizing your work is useful. For those of us who work with 2d objects like spreadsheet, photos, documents, etc, hololens won't be all that useful.

What I want to know is, does it recognise that there's someone else infront of my computer after I've logged in and moved to get like a cup of coffee. For example am at a coffee shop or at school and I sit infront of my computer and it logs in (as advertised) now, say I move away and go to the bathroom or leave my computer unattended for abit... if someone sits on my computer, does it automaticly lock it's self so they cant use it or is this a one trick pony type thing?

You are wright send this to gabriel aul twitter and let me know what did he reply

Windows key + L. Not really that hard.
But what you're saying suggests the camera always be on to detect whether you're in the room or not. That could be a problem for laptop battery consumption ;) just a wild guess

So maybe you can set it to have that feature when it is plugged in and not when it is not plugged in. Seems like a good use-case for Enterprise customers who do a lot of 3rd party proprietary/defense/security. It would be really cool if it could detect someone was looking at it and lock the screen if that person does not have the privledge to do so. High Security mode. I would imagine that the field of view for the feature is not that large though to see people looking from the side. Finally those of us who are required to use the stupid aftermarket privacy filter would not have to. Better yet, have the camera take a picture of them and have it pop up on the screen. In the case of a flight, you would probably get some good pictures of people snooping...

I really don't get why, after untold amounts of money and years of research on Kinect, that Microsoft just let Intel come in and grab the advanced computer camera market like this instead of taking it themselves.

Microsoft's already a step ahead with HoloLens, in case you didn't know the Kinect inventor is also the HoloLens inventor.

I know all about Kudo Tsunoda. I am excited about HoloLens but it is not a replacement for Kinect and is not an excuse for Microsoft failing to miniaturize Kinect and dominate this upcoming market instead of leaving it for Intel to capture.

Microsoft are software before hardware, if they can save money on not developing the real sense camera they will, they properly make money of it, they might be using kinect patents

They've been making camera hardware via Kinect for a half a decade already. This was a huge missed opportunity for them to capitalize on those sunk costs.

It's doesn't seem like they are worried about it. They are actively working with Intel to develop this tech and make it integrated into windows. Maybe Intel is licensing some kinect patents. Most likely, kinect would be too expensive and power hungry to be used in laptops.

Exactly--they're clearly not worried about it, or they realized they missed the boat and are trying to buddy up with Intel, even though they were the captain of the boat until just now. Yes, Kinect in its current form wouldn't work, as it's way too big, but they could've taken what they learned from developing the hardware and software for it the past 8 years or so and adapted it to cameras in PCs, tablets, and phones, as Intel has done. Now Intel's making the money on that and not Microsoft.

Will Windows help come to SP3 or does it need new hardware?

I don't think SP3 support it.. at least SP3 doesn't have the right webcam to support it. Try bing around and you'll know the minimum requirement. Btw, I am a SP3 user.. :(

You should of known that a long time ago , this tech has been out for ages and the surface pro 3 does not have IR camera, i might buy the surface pro 4 and sell my 3

Will there be accessory cameras you can buy to add this to desktops?

There is a phone in that image does any one notice it??

The image refers to more than just Hello. Intel was talking broadly about its security applications.

I really like the way Ms is going open ,cross platform and so far fair.

I want an APU powered Surface :(

I'll believe it when I actually use it myself. When they showed the kinect on stage too it worked perfectly, in real life it's a hit and miss.

No, the kinect didn't work well on stage, it was a freakin' disaster. Bam!

Kinect facial recognition worked just fine for me (on xbox one). If I'd walk into the living room saying xbox on, I could sit behind the coffee table and it would log me in no probs. You did have to be in front of the camera but that's not exactly an obstacle when you are talking about phones and tablets. But then, once they allowed auto sign in, I just turned that on and haven't used the facial recognition since. I would very much like it on my pc though and I would definitely try it on my phone. I know there have been face unlock apps on android for a long time so bring it on.

The new version works fine for me too but the comment was about the initial live showing.

Strange if the demo you are talking about was anytime after the xbox one release date. Because facial recognition worked fine day one xbox one launch.Maybe I'm mixed up about what you're referring to. Anyway. My point isn't really to argue, just want to support/use this type of technology on my devices.

No, talking about the 360 version.

That's certainly some pretty cool tech. But whatever happened to Kinect? Is it not good enough, becasue if not they should replace the Xbox systems with RealSence instead of Kinect. Hate to say it but...

probably couldn't fit the tech into a laptop screen.

would i need a special camera for the feature or is only intels chip and software required in a device?

When I saw it .. I just thought I want to know... But I guess my hardware is not capable for feature :/

I really want to test this because i'm skepticle. Not in the technology, but how fast it takes to log in. Even when I type in my password oo pin, it takes a couple of seconds before I can actually see my desktop. Maybe I'm being petty, but if they eliminate that delay, it will be great.

We all saw this kind of tech villans use in movies. Finally its our turn to do it in reality !! Amazing.

I'm upset knowing windows has always been pushing forward with technology but they don't get credit for what they do.. Instead Apple 'reinvents' it and people act like they're the first to do everything

This was demoed earlier this year. A company called PLAE that makes shoes collaborated with Intel and Volumental to to create a tool for parents to take pictures of their kids feet and order from home. Pretty sweet.

Anyone have a link to the whole keynote presentation?

Ethan Hunt could get past it.

I want one of these F200 cameras. There's a guy selling the SDK online here. It's expensive, but it's the usual price these imported gadgets cost in my country. Should I get it? The camera there is a finished version or is it an early revision of the hardware that will be refined later?
Windows Central Newsletter
Thank you for signing up to Windows Central. You will receive a verification email shortly.
There was a problem. Please refresh the page and try again.