Here's Satya Nadella's email to Microsoft employees about today's big leadership changes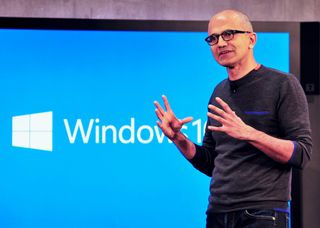 Following today's press release describing the big leadership changes that Microsoft has made, the company has issued the email that CEO Satya Nadella sent to the company's employees.
The email goes into more detail about why Microsoft is making these leadership changes, which include the departure of Stephen Elop as the head of its Devices and Services division. For that specific move, Nadella wrote:
The full email is below:
From: Satya Nadella
To: All Employees
Date: June 17, 2015
Subject: Aligning Our Strategy & Structure
Team,
As we approach a new fiscal year, I'd like to share with you how we are aligning our structure to our strategy and the changes to our Senior Leadership Team.
Over the past year, I have said that Microsoft aspires to empower every person and every organization on the planet to achieve more. To do this, building the best-in-class productivity services and platforms for the mobile-first, cloud-first world is at the heart of our strategy, with three interconnected and bold ambitions:
Reinvent productivity and business processes
Build the intelligent cloud platform
Create more personal computing
To better align our capabilities and, ultimately, deliver better products and services our customers love at a more rapid pace, I have decided to organize our engineering effort into three groups that work together to deliver on our strategy and ambitions. The changes take effect today.
Terry Myerson will lead a new team, Windows and Devices Group (WDG), enabling our vision of a more personal computing experience powered by the Windows ecosystem. We will combine the engineering efforts of our current Operating Systems Group and Microsoft Devices Group (MDG) led by Stephen Elop. This new team brings together all the engineering capability required to drive breakthrough innovations that will propel the Windows ecosystem forward. WDG will drive Windows as a service across devices of all types and build all of our Microsoft devices including Surface, HoloLens, Lumia, Surface Hub, Band and Xbox. This enables us to create new categories while generating enthusiasm and demand for Windows broadly.
Scott Guthrie will continue to lead the Cloud and Enterprise (C+E) team focused on building the intelligent cloud platform that powers any application on any device. The C+E team will also focus on building high-value infrastructure and business services that are unique to enterprise customers, such as data and analytics products, security and management offerings, and business processes. Today, we are also moving the development teams who build our Dynamics products to C+E, which will enable us to accelerate our ERP and CRM work even further and mainstream them as part of our core engineering and innovation efforts. C+E will work closely with ASG to ensure the end-to-end experience is cohesive across communications, collaboration and business processes.
Qi Lu will continue to lead the Applications and Services Group (ASG) that is focused on reinventing productivity. This group is leading the charge in building productivity services for digital work that span all devices and appeal to the people who use technology at work and in their personal lives. ASG has already made advancements in these areas, and the only change as part of today's announcement is that the engineering efforts to build solutions for Education will move to ASG.
Changes of this nature require us to look at our leadership structure overall, and as a result a few Senior Leadership Team members will leave Microsoft at the conclusion of a transition period.
When Stephen Elop returned to Microsoft, he oriented MDG to create the best Microsoft experience through its devices, inclusive of hardware, software and services. He has been a strong advocate of the need to drive focus and accountability around the delivery of these experiences and has helped drive tighter alignment toward the ambition of more personal computing. With the structural change described above, Stephen and I have agreed that now is the right time for him to retire from Microsoft. I regret the loss of leadership that this represents, and look forward to seeing where his next destination will be.
Kirill Tatarinov is going to explore what's next for him. Under Kirill's leadership, the Dynamics business has grown to a nearly $2 billion business with an ambitious wave of products on the horizon. Perhaps most important though, Kirill and team have shown us that participating in a meaningful way in the CRM and ERP market opens up new opportunities we can uniquely take advantage of by bringing Dynamics into Microsoft's mainstream engineering, sales and marketing efforts. I am very thankful for Kirill's unswerving leadership in bringing Dynamics to this point and building a strong leadership team to carry it forward.
After more than 25 years at Microsoft, Eric Rudder has decided to try something new. Eric has played a number of key roles at Microsoft including founding and growing the Server and Tools business in its early days, leading Microsoft Research, and most recently driving our advanced technology and education efforts. I will deeply miss Eric's passion, technical and business acumen, and keen intellect, and I appreciate all he's done for Microsoft.
Lastly, a number of months ago, Mark Penn shared with me that he is planning to leave Microsoft in September to form a private equity fund, among other things. Over the years, Mark has leveraged his talents and insights on Microsoft's behalf. From helping craft a Super Bowl ad and helping design new business and marketing models to his work in data analytics, Mark has helped me set the company on a new course. I'm thankful for the wise strategic counsel Mark has provided, and I look forward to seeing what he does next.
I've worked closely with Stephen, Eric, Kirill and Mark and have incredible respect for each of them and wish them well.
I'm counting on our Senior Leadership Team to inspire innovative products and services and lead excellent execution. Our competition and our customers don't care about our organization structure — they care about innovation. While we are distinctly aligning our engineering structure and core capabilities, our ambitions are interconnected. Success requires all of us — and particularly the Senior Leadership Team — to work across boundaries as one Microsoft and in harmony with our partners. Here's the new team effective today:
Chris Capossela, Executive Vice President and Chief Marketing Officer (will now also take on responsibility for Dynamics and Education marketing)
Kurt DelBene, Executive Vice President, Corporate Strategy and Planning
Scott Guthrie, Executive Vice President, Cloud and Enterprise
Amy Hood, Executive Vice President and Chief Financial Officer
Kathleen Hogan, Executive Vice President, Human Resources
Peggy Johnson, Executive Vice President, Business Development (will now lead our partnerships with mobile operators around the world)
Qi Lu, Executive Vice President, Applications and Services Group
Terry Myerson, Executive Vice President, Windows and Devices Group
Harry Shum, Executive Vice President, Technology and Research
Brad Smith, Executive Vice President and General Counsel, Legal and Corporate Affairs
Kevin Turner, Chief Operating Officer (will also now take responsibility for the Dynamics sales and partner organization)
Jill Tracie, Chief of Staff
I'm certain that matching our structure to our strategy will best position us to build products and services our customers love and ultimately drive new growth. Please feel free to send any questions you have to one of the Senior Leadership Team members or me.
Looking forward to what we can do together.
Satya
Source: Microsoft (opens in new tab)
Windows Central Newsletter
Get the best of Windows Central in in your inbox, every day!
Hopefully he doesn't get a big payout for failing

New twist plot : elop back to nokia hahaha

I disliked this stupid nutalla from the beginning, this makes me dislike even more. For starters, without Elop, whether this site exists today is in question. Daniel, read my comment, say if you agree.

This site existed long before Elop was around, and it will exist long afterwards. Also learn to spell the CEO's name. "Nadella." It's not hard, and even a 1st grader should be able to spell it if he was given the name in the title.

You really are an angry mushroom, aren't you? Ba dum, tssh!

What's an angry mushroom?

Sattyat forgot to tell the staff to bring back Rooms...

Hope he doesn't carry Microsoft innovations to Apple.

Oh please let him...with his "brilliant" track records, Apple would be gone in 5 years tops.

U hate him so much? I feel bad for him. He has a bad record. I,guess he might going for his own start up.

I don't hate many people. But he made the list. Well...at least he accomplished something, I guess =P

Could be due to yet another shift in strategy.
IMO, this may be Nadella fully reversing the Nokia acquisition,and writing it off as a loss.

I doff my hat to this fellow.He has steered Microsoft well since he's come in. I hope some big things lie in the 'phone hardware space' ahead of us.

So Xbox now falls under Terry Myerson, yes?

Phil Spencer is still head of Xbox.


Xbox falls under the management of one of the 12 divisions above.

Xbox manufacturing now is under Myerson is the new part; the actual Xbox software team was already part of the Windows team.

Combining Windows and Devices makes sense. Neither work in a vacuum. If the OS guys want to provide a feature, the hardware has to be able to do it; and if the hardware guys want to use a particular component, the OS has to be able to use it. The two should be working together.

Peggy Johnson is probably one of the more important people on this list as far as I'm concerned. She's key to getting our phones out there.

Yup. Was looking at that and figured this is who I'm really interested in. Seems like her work will a heavy impact on WP.

This is the polite way in corporate world :) I am sure Elop said goodbye to thousands at Nokia and Microsoft himself :)

I mean it really was rude from Nadella. This "Stephen and I have agreed.." part. That's basically "you got fired". Normal polite way for division leaders is something along the way that its their decision to move to new changes, spend time with family etc. (Elop has lot of kids and perhaps a new wife in making) Ballmer and Elop should join to make a new company!

I still don't see that as being rude. He had an opportunity to leave for better opportunities, but he stayed. With the structural changes in leadership, he didn't have a place in Microsoft anymore. You left out "I regret the loss of leadership that this represents, and look forward to seeing where his next destination will be." which isn't rude. Elop would have been able to shape the news of his departure like spending time with his family, but didn't.

I see this as, "You don't really fit in with our new vision and we're not happy with the results. However, you could work out just dandy in a different corporate environment, so we're going to talk you up real good to help you get a fat check someplace else, because we just really can't use you." Nadella could have stated, "This bum didn't get the job done, so he's out," but that doesn't flow well with the karma he believes in. Be nice, even to those who have wronged you. Try to work things out with everyone to the best of your ability, while trying to do the right thing. The right thing here is getting Microsoft heading in the right direction, which I think this does.

A new wife in the making, eh? Hololens or a blow-up doll?

This is the first restructure under Satya, correct? I'm confident that this move will be for the better. I do agree that there are three distinct "parts" of Microsoft. However, even though they are separate, they still have a lot in common. This will be A LOT o fwork for the VPs, but it'll be worth it :)

Band 2? Yes, and it "should" run a version Windows as it is included in the "Windows as a service" train of thought and it is a Microsoft product. Will it run Windows? Who knows. It would be great if it did.

I did not see my man. Joe Belfi...

Joe B. is a lower level exec working under Terry in the WDG.

I really like him I don't know why :D

I really like his style, I hope that I can be as good a presenter as him.

Yeah me too. Apple speakers are really good, but they tend to sound prophetic when they speak. Joe b. is natural when he talks and i like it better.i feel comfortable watching and listening to him when he speaks.

Seems capable, but man, that hair cut. Wow.

He talks really well in every presentations. Many of ms presenters need to enhance their public speaking skill. Joe b. can do it very very good. I really like him too.

Panos Panay from The Surface team is a really great presenter. Probably the best I've seen from microsoft.

gotta agree Panos is the best ive seen from MS and a close second is Joe. Panos speaks with confidence and so comfortable on stage like he's been your friend for years.

Niiice.... but we all know the real master mind behind all this.. Joe B's hair.

It has been suspended without pay, Nutella says its because of cut-backs....geddit....CUT-BACKS!!! :|

The hand of the king is dead...

Good News... Hope he doesn't join any OEM to ruin there stuff... He is a Trojan IMO...

Well, I wouldn't call innovation the only thing I care about with microsoft. I think that is seeing things a bit too narrowly. If Satya is publicly speaking again in the next few months I would like to know what he and microsoft consider the definition of innovation.

Wow that is a pretty narrow Engineering Products organisation. How can Terry manage hardware as well as OS platforms effectively, and is Scott G really the right man to be in charge of CRM an Dynamics Enterprise services, surelt hat will distract him form his techncal genius on moving Azure forward. Surely need a wider base, perhaps with Scott H taking on some Azure technical Director. . As for Elop, he obvilulsy feels pretty miffed off, and felt it was time to move on. But not many at Nokia or Windows Phones fans will be sad to see him go. Should have put Joe Belifor in charge of Windows Phone.

I see your left hand is faster than right one , FORM in palce of FROM , i do this too :D

Should have announced he was leaving....

So the Operating Systems Group is being merged.... What happens to Joe Belfiore then?

he is a middle tier executive. he reports to Terry under the WDG group now.

Could someone please thoroughly explain the bitterness towards Elop?

Symbian/Meego crowd is one and then he was a competitor to CEO of MS so Nandela folks are happy for him to go.
I personally think he did a stellar job with conditions he had.

He's going to work for Jolla. Hahahaha

Political speak for your fired...

Elop has Eloped. Watch for him to show up at google.

IMO Elop is a hardware guy, since Google sold Motorola, I'm not sure if Google is the correct company to start working with.

While Elop was CEO at Nokia, helped to build the best camera a phone has ever seen (talking about Lumia 1020, sorry iPhone 6, but the Lumia 1020 still beats your camera), but in Microsoft, I didn't saw him announce anything important. I wish him sucess on his new job.

All was canned by Nandela. Frustration to not be able to do his job must have been one of the reasons he resigned / got fired. Hopefully the talent making new Lumias in Finland and elsewhere won't be nandelazid as well.

He built a great camera phone at the cost of the entire smartphone division of Nokia. The cost benefit seems off here.

Here's my version: Team, Since I took over and have successfully peed on just about every spot of ground here at Microsoft, I'm happy to say I've destroyed just about every fresh approach undertaken in the past few years. I was even able to virtually destroy Nokia's phone reputation by purchasing the devices division and then force them to build nothing but sub-standard devices on the cheap so I can saturate the market with low-end devices, just like Android. However, in order to make me feel better about my boneheaded decisions, I have to get rid of a few more people who disagreed with me. Note that it might not be a good idea for you to stand too firmly on the what you thought were fresh ideas. I liked Windows 7. Windows 8? Not so much. Sucks to be you. Sincerely, Satya

I worked in a large company. Middle management. I saw this re org stuff all the time and you can bet your butt these folks got sacked. We use to talk about it all the time when we would get these letters and make fun of them. We knew most of these people either directly or indirectly and knowing someone's personality fills in the blanks. For certian folks that you could not fire, they would just do away with the Job. It made HR's role that much easier. As in this case.

Good move Nadella, but now it's your time
Go home!

Isn't he a Third-World person to run a First-World business? I mean he has a different cultural background! Maybe he does not understand that type of business...

Or maybe his various degrees in the relevant subjects (from US universities no less) make him just the kind of person to run a global business? Especially in a market that's being won/lost on how the emerging "Third-World" markets are catered for?

So frankly: work as ONE Microsoft or leave..

So did they fire the marketing genius responsible for the windows phone success?

things change every day. could they not wait a few more days..

I hope this means a flagship is on the way...

Nokia fans will never forgive this Elop. He killed my beloved brand and operating system(Symbian).

Without Elop i dont think WP would have reached the market share it is currently holding.

So the email is saying, very politely, 'hey you bunch of losers get the hell out, you are not exactly been helpful here'.

Two things 1. All these guys are high up enough and many have enough years that they leave with Golden Parachutes. 2. With Elop leaving and the talk in the letter about accountability its probably likely that getting the Windows 10 Phones out (especially the highend flagships) is probably badly behind schedule. Don't hold your breathe for a follow up to the 1020 or Icon/940; they probably won't come until December at the earliest (Wish I was wrong).

These news about valuable people going away makes me think: Is really Microsoft considering the implications of its actuations? I'm afraid of what it means for the competition who can take advantage of this situation in their own benefit, hiring those people full of knowledge and expertise, and much relevant, the information they can share about Microsoft plans. Look about what happened with this technician from Nokia with high expertise in camera lenses who was acquired by Apple, and probably there are more examples as that. Besides is beeing rumoured ongoing plans by Nokia to return to the smartphone business. I'm very concerned and anxious about Windows 10 and what it has to offer in terms of universal execution and high performance. In addition I'm planning to acquire a newly released Windows Phone ready to run Windows 10 properly, giving me a unique experience. I hope my plans finish in a happy end, knowing Microsoft is going to support me without time limit in a way beyond. Well, I just wanted to share my fears about this new cuts.
Windows Central Newsletter
Thank you for signing up to Windows Central. You will receive a verification email shortly.
There was a problem. Please refresh the page and try again.