Here's what will be included in the Call of Duty: Infinite Warfare multiplayer beta test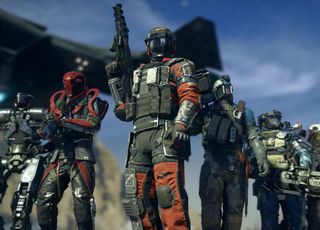 Activision has revealed what gamers can expect from the upcoming multiplayer beta test for the sci-fi shooter Call of Duty: Infinite Warfare. Xbox One owners who have pre-ordered the game will be able to download and play in the multiplayer beta from October 21-24.
In a blog post, Activision says that the beta will include the Team Deathmatch, Domination and Kill Confirmed gameplay modes, along with the all-new Defender mode:
The beta will also include at least three maps from the full version:
FRONTIER: Circular, two-lane, fast-paced; Frontier is a small section of a giant space station that is in orbit around the planet Neptune. The action is funneled down a long, central corridor with side paths offering an element of strategy and a constricted lower lane for players craving chaos.
FROST: Linear, three-lane, medium-paced; A research facility set atop the icy surface of Jupiter's moon Europa. Ample opportunities for vertical combat and rapid encounters around sleek modular elements highlight this frozen battleground.
THROWBACK: Bent, three-lane, medium-paced; This throwback 1950's 'Main Street USA' locale sits on a giant, rotating, torus-shaped space station. A large circular lane rings the perimeter, while a large center square with multiple avenues of approach and two opposing windows offers a wide range of engagement opportunities.
The beta will provide access to three of the game's six Combat Rigs (Warfighter, Merc and Synaptic). Here's how they will work:
Finally, the beta test will give players access to two of the game's four Mission Teams (JTF Wolverines to start out with and Orion Initiative as they progress). Heres's what that feature's all about:
The full version of Call of Duty: Infinite Warfare will be released on PC, Xbox One and PlayStation 4 on November 4.
Check out our hands-on impressions of Call of Duty: Infinite Warfare multiplayer
See at Microsoft Store (opens in new tab)
Windows Central Newsletter
Get the best of Windows Central in in your inbox, every day!
Crap. I'll pre-order this in a week or 2..... Love COD games...

I thought about getting this until it became clear they are treating their customers badly with the MW Remastered nonsense. Tying that game to IW so deeply and barring folks from trading in IW if they just want MWR is plain dirty. As such, I'm passing on this one out of protest.

Heres what all happen. I'll remember the good ole days of cod4, want it, the remember the days after Cod4 a and cancel. Just let it die. Posted via the Windows Central App for Android

Embarrassed how poorly that came out on my phone. Posted via the Windows Central App for Android
Windows Central Newsletter
Thank you for signing up to Windows Central. You will receive a verification email shortly.
There was a problem. Please refresh the page and try again.