Here's what's been fixed and what's still broken in Windows 10 Mobile build 10572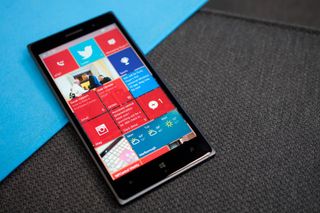 Each previous Windows 10 Mobile preview build has included a list of fixed items and issues that still remain. Build 10572 is no different, including the possible annoyance of having to roll back to Windows Phone 8.1 before you can upgrade to the new build. Here's the full breakdown of what's been fixed and what's still broken in Windows 10 Mobile build 10572:
Notifications, such as new messages, can be received without first unlocking the device.
Cortana's background activity has been optimized for power usage.
We have fixed some of the issues that were causing the Start screen to not load. Additionally, we have made some performance improvements to the Start screen.
We have made performance improvements to Acton Center, including swipe to expand and dismiss notifications. Swiping to expand or dismiss notifications should happen more quickly.
The alarm icon now appears on the Lock screen when an alarm is set in the Alarms & Clock app.
The proximity sensor during calls is now behaving as expected on devices that may have previously failed to turn the screen off.
App downloads in the Store were sometimes getting blocked by a service hanging in the background – this should be resolved and app downloads should be more consistent.
The keyboard will switch languages less aggressively now.
Taping restart for apply an update will reboot the device immediately now.
And here's a rundown of the known issues in build 10572:
Visual Voicemail sync is broken on some devices. You may need to call your voicemail directly within the Phone app > Settings > Change more settings for Phone > Call Voicemail.
Opening message threads within the Messaging app will crash on dual SIM phones if the second line's Messaging tile is removed from the Start screen (even if only a single SIM is used). The second line's Messaging app will also appear to be removed from the All apps list. To work around this issue, the second line messaging tile must be linked to the first line messaging tile by opening up the first line in the Messaging app then go to Settings > link tiles.
On Dual SIM devices, unpinning the second line Phone tile from the Start screen will make the entry disappear from the All apps list. Rebooting the phone will cause the tile and application to both reappear.
Photos cannot be selected for sharing through third party apps like Facebook, Facebook Messenger, Instagram Beta, WhatsApp etc.
Some devices will get into a state where the Phone app will continually crash upon launch. Resetting the device will recover it from this state.
Devices that have updated from Windows Phone 8 to Windows Phone 8.1 may lose the ability to connect to Wi-Fi on Windows 10 Mobile Insider Preview builds or may fail to update to Windows 10 Mobile Insider Preview builds all together. You can use the Windows Device Recovery Tool to first update your device to Windows Phone 8.1 and then upgrade to the latest Windows 10 Mobile Insider Preview build.
Source: Microsoft
Get the Windows Central Newsletter
All the latest news, reviews, and guides for Windows and Xbox diehards.
Dan Thorp-Lancaster is the former Editor-in-Chief of Windows Central. He began working with Windows Central, Android Central, and iMore as a news writer in 2014 and is obsessed with tech of all sorts. You can follow Dan on Twitter @DthorpL and Instagram @heyitsdtl.
share photos and phone app sometimes crashes sounds the worst in this build. Its not a deal breaker for me and Im installing it right now...

Ya same here, I read the Microsoft blog, this is practically rtm except if u have a dual sim, I'd say the photo sharing is the only reason its not rtm if u have a single sim phone :D

There are two ways to share a photo. Perhaps selecting the photo(s) from within the third party app might work. Who knows.

I think if you send the photo within the photo app will work just fine. As far I understand the issue ocurr just in third party apps

If you share photo from within the photos app there won't be any problem

Yeah, and the share photos bug was fixed in the 1057x build after this one.

So.....does windows hello work with this build (even tho we don't have phones with the hardware yet) because the 950 & 950XL demoed on stage at the MS event had windows hello working.

I'm testing it out for you right now, wait here until I have an answer for you!!

Windows Hello was demoed on the 950 during the event? I think I missed that. All I remember seeing was dude showing off Continuum.

At one point the Roper unlocked the phone with the scanner. It wasn't showing off a feature, he simply needed to unlock his phone. He mentioned it while doing it, but it was hard to tell how well it worked.

Does anyone know if this build has openvpn support?

Just in time for my vacation. I was worried I was gonna have to use the battery-burner build from a month ago on my trip.

Seems broken (no photo sharing)

I wonder if there IS still photo sharing from the individual apps, just not from the Photos app? At first I thought that was the case, but now I'm not so sure. I hope that's the case, otherwise it's a huge issue. If it's just from the Photos app, less of an issue.

It's an issue when opening the photo picker from within apps like WhatsApp, just gets a blank screen then goes back to the conversation. I've been sharing pictures from the photos app and choosing WhatsApp and that works fine just annoying to keep switching apps to send photos.

Yes it is as you said. The new FB universal app is the only one that can share photos from within the app.

awesome....downloading now...

Is this Build ready for a daily use on Lumia 930?! :)

If u don't mind the photo sharing bug. But definitely reset after you upgrade (within 10 not back to 8) it helps a ton

How do you know? Have you already got this build installed and tested?

No, but I was running the last build on my 521 (and the 521 isn't a very good phone) and I used that as a daily driver. I'm gonna get this one on my flagship. and I've read the windows blog saying what all has happened. They'd be lying if it wasn't daily driver worthy considering the last one was on 521...

Hello, the last build wasn't so good for me on 520. It kept lagging and hanging, and apps weren't updating. Also speech for English US was not downloading, so no Cortana. I reset my phone twice after upgrading, then tried downgrading again, and couldn't bring myself to upgrade again. How did you get it to work? Posted via the Windows Central App for Android

Nothing special, I just rolled back to 8.1 and then installed the build. There are some apps that won't update in W10M because they aren't in the W10 store, so I just make sure I update all the apps before I install the TP.

Ya same here, went back to 8.1, upgraded and reset as soon as I could...not sure why it didn't work for you, sorry though, that doesn't sound fun

This pretty much is best practice M.O. No one needs to test that anymore. Resetting after downloading and updating to a new build always helps.

Also I recommend not loading a backup on setup but instead start with a clean slate. That made a huge difference in the last build.

Can u tell me this build is used for daily drive??

"Photos cannot be selected for sharing through third party apps like Facebook, Facebook Messenger, Instagram Beta, WhatsApp etc." That's a big one. Kind of an odd one too, since it works in 10549. Maybe related to the improvements in Messaging?

Builds. Branches. Regression, even. That's all.

Surprised that photo sharing bug didn't headline the issues list.

No actually this has a been a problem for the past two builds for most users. One of the biggest complaints so far on insider.

Awesome, downloading now. I would reset within Windos 10 Mobile but I hate that all the extra functions such as Glance Screen are no longer available, and the SysApp pusher method refuses to find the apps in the store anymore, so I'm stuck with perpetual glance and other things. Hopefully it won't require a full reset upon upgrading.

I had the same fear with the last build (10549). I did a hard reset anyway and still got glance screen working just fine. I am inclined to believe that that issue was solved.

I did that with the previous build and still no luck. I honestly think it's a case-by-case basis, like how some apps disappear.

you can go into the store and browse through your apps. there you should find glance screen and you can install or open it.

I had glance working on 549 on my 920 but not this release. The store is trying to update it but gets an error. The link for glance is under extras but it does nothing.

I think you help the mobile dev team more when you don't reset. A high majority of users will not reset when the upgrade comes in December and I'm sure the dev team could use all of the feedback and bug reports they can from in place upgraded devices. Plus you get to keep your glance screen.

If I can't share photos, I can't live

Haha yeah if this is no photos shared period, then this is no go for me. :)

Ya hopefully they'll fix that in the one coming out in a few days tho (crossing fingers)

Sounds like it's still crap to me. Sticking to 8.1 where everything works. Maybe in November they will have a build with no bugs.

There will always be bugs, just as there are bugs in 8.1.

Yes but no big time bugs like in 10. At least in my case, everything that doesn't work in 10 works in 8.1.

no build will be bugless ever, especially not until rtm, and if everything worked as it was supposed to, then it wouldnt be a beta build then would it?

Yes... Yes it would still be a beta build.

Fix the Band connection. Its a Microsoft product!

I agree! It's quite sad that it doesn't work very well.

Its extremely spotty. Sometimes the notifications come in hours late or sometimes they double up. Really annoying.

Are the icon resolution on the notification already fix!?

I was using my Band in the last build and it worked fine. Some of the third oarty apps i use don't run properly. on that note, my Band 2 should ship soon!

Agreed, Band 2 already pre-ordered but hoping this is fixed with 10575 maybe.

What about battery? That has been the biggest issue for me. Does the Cortana fix take care of that?

Turning off Skype in Messaging app did it for me. Now my battery lasts at least 1.5 days. This is with the previous build ending with 49. The app was constantly downloading data for days...

So no actual new features still? I'll keep waiting.

Umm... did you miss the part about being able to send texts from Cortana on your PC with this new build or missed calls showing up on your PC? And that's just to name a couple.

Considering not listed in this article, yes. (I haven't read the others yet.)

I just sent a text to my sister on my PC and it was awesome!

Is there a way to share photos?

You can print them and mail them to friends.

The potential issue with phones updated from 8 to 8.1 is a little unsettling. The latest device image for the Lumia 810, since T-Mobile abandoned it, is Windows 8.0 on Amber. I have to use the Developer Preview to get 8.1 before updating to Windows 10.

Just installed it on my 930 .....screen is blank ....can soft reset and thats about all it does at the moment

Let it sit for like 15 minutes. My 1520 did the same. It will finish.

Mine did this as well on the 10549 build. This time I just let it go for a LONG time with the blank screen and it eventually came on. Its actually doing stuff in the background.

Just little bug fixes...again.. This can't be rtm...i guess for mobile it will be released incomplete. Just like the desktop version

MS didn't say it was RTM. (Which since they said another build is due out next week, makes that point pretty obvious.)

It's ridiculous to have to roll back to update! WTF!

Why is it ridiculous. Its a beta version of a new os. It would be different if we had to roll back to windows phone 8 then upgrade.

Agree. Hesitant to update again via rollback to 8.1 especially since Gabe said the next build in the internal ring has that fixed. Think I will wait since no major fixes for me at this point.

I'll wait for 10575 build and even till after WC goes through what's fixed and what remains issues....

Wait till next Tuesday for another build. This one is for those who want to go back to 8.1 and test it out.

Yea, it's pretty silly of them to break it, fix it, then break it again for a couple builds.

Meh. Not enough improvement to move from 8.1.

How can we not be able to share photos in apps like Facebook and WhatsApp when it works fine in the previous build. How could this be a broken feature? Posted via the Windows Central App for Android

Sometimes when developers get too enthusiastic in making a chunk of code better (performance improvements, maintainability) they break something. When the bug is fixed, it will work better than before. Development is always 3 steps forward, 10 steps back, 2 steps forward, 15 steps back and then boom 100 steps forward.

Ahhh, shut uuuuup:)))))!!! Who cares about facebook, whatsapp, whatever? Get a life people;).

Devices that have updated from Windows Phone 8 to Windows Phone 8.1 may lose the ability to connect to Wi-Fi on Windows 10 Mobile Insider Preview builds or may fail to update to Windows 10 Mobile Insider Preview builds all together. You can use the Windows Device Recovery Tool to first update your device to Windows Phone 8.1 and then upgrade to the latest Windows 10 Mobile Insider Preview build.

That's a long awaiting bug right there!

I think theyre saying if youre STILL on Windows 8, then upgrade to 8.1, then to 10, there might be a problem. Meaning if you do all these updates right after each other using the phones update setting. Instead, If you use device recovery tool on your PC itll instantly update you to 8.1 and then there will be no problem.

I'm keeping the build I have I need my photo sharing to work .

And still absolutely no mention of the problem trying to use the HEAVILY ADVERTISED Band feature that allows you to speak to your phone from the Band. It worked perfectly in 8.1, it FAILS in every single version of 10 Mobile with the Icon ( and apparently all otehr phones ). It is heavily noted on the Feedback site, and I have tried numerous messages to Gabe Aul, and yet this entire topic is IGNORED. Yeah, I'm rather unamused. At least put it on the list of items not fixed ... don't just ignore us. There are too few friends of Windows Mobile left to reply with deafening silence.

There's a silver lining is that the crippling start screen bug went unmentioned for about 3 months before they even acknowledged it, but they did eventually did. I'd like to think an acknowledgement of any Band issues will come sooner than later with the Band 2 being released at the end of the month.

I think that's matter need new firmware for both phone and band... Maybe they are not released yet until rtm... Maybe Because downgrading build on band is impossible regarding build insider preview for phone is about upgrade and downgrade between 8.1 and 10

Yes, sooooo much better, its crazy. Really starting to feel like WP 8.1 in terms of performance aside from the remaining bugs and hiccups... my only issue is I somehow lost my text message history

And whatsapp Crashes my lumia 1020 after installing this build.

I wonder if they'll make it all work before release?

Won't rush but chill out and wait for build 10575, hope there will be no more rolling back sighs!

Seems Faster....FOR REAL! Windows Central app opened quickly and in app article also opened as you would expect. Yes. Finally!

For pepople moaning because we have to roll back, just wait for the next build that should be coming next week, and won't need to roll back.. This Build was released under consentiment of people who voted YES..

I know, its like people think THEY HAVE TO UPDATE. If you don't want to.....DONT. Just wait until next week. I guess people just love to complain.

The video on Lumia Camera and LC Beta is no longer working - L830 *Revised....after rolling back and reinstalling, this appears to be fixed.

I also still have the "loading" lag on startup.....more than a little annoying.

Is that to do with the endless 'loading...' loop relating to the Start screen or have Microsoft fixed it properly as they've said?

I'm sure that's exactly what it is. I've had the problem before and after I was "fixed". The last build was better, this one is worse.

I take it back! I missed the part about rolling back to 8.1 before I installed. Now that I have done that, and reinstalled the new build....problem solved.

Did they fix wordflow not working in the edge browser?

Battery and heating issue?

Anyone know if quiet hours can turn on automatically when you have a busy calendar appointment in this build?

Windows 10 Beta, aka Soon, aka Poop!

That broken list is getting shorter and shorter. Keep it up Insider team!

These updates are fixing 6 but breaking 20 & it's is annoying. Hoping for better Battery life because having one phone with Win10MTP will have you phoneless. Anyone know if Band connection is working or not?

No matter what device I try it on, I can never get past 10166. It will never update. I gave up on W10M until its actually released.

I just tried out the text from PC feature and it works without a hitch! Just hope they make so you can RESPOND to incoming text messages from your PC. Not just send.

Hlw staff please request for internet speed meter build app in window 10 .. This will be controlled from data sense app.. We can on or off it from data sense.. It will show us full detail of data usage day wise or month wise by single app usage wise.. Upload and download speed show us in phone status bar.. There is lot of space available.. Please request to microsoft update data sense app with this ability.. Now window 10 work with background work.. So it is easy to add this feature.. Please add it in between battery and sim network where emplty space available.. Please staff .. Huwei mobile also made this feature default.. They also provide user in own build like own app locker, own call recorder, own battery meter, own data sense, own cleaner for clean extra files, own recorder, or many features.. Please say to microsoft add some feature in window 10 also.. Update first data sense..

Plzz do something Microsoft we don't wanna go again that 8.1 we need direct update... Plz help us..

is a hard reset after upgrading still recommended? how does that bug with photo selecting work?? is it like when you select a photo in the photo app and you want to share it on say facebook, it doesnt work??

Anyone with a L920? Works on it?

Android apps are working in this build?

The moment we get 8.1 smoothness I will day the OS is ready to get released officially.

The moment we get 8.0 smoothness is the day the OS is ready to get released officially!

Can anyone confirm custom ringtones and notifications in this build?

Yes, I can now use my custom ringtones. But I lost the Windows10 sounds! :( I liked the W10 alert sounds, now it's the old W8 alerts... ugh

Confirmed, and can use either full DRM-free songs or ringtones - so lots of customization! Don't think you can select what part of a full song, though - still would need a functional ringtone maker for that.

and I bet Cortana hasn't been fixed for us Aussies (can't download language/speech packs). I can't try at the moment. I don't have the free time (4 hours) do roll back, update download... When I can, I might do the whole process again, This time getting Cortana working in Win 8.1 before doing the upgrade.

For god sake fix error 80004008.. It really haunts me and many others.. Coz once it appears ... U cant update the app without resetting the phone!!! And we are talking about fully polished Wp8.1 here .. If such error still exists in wm10 .. Ima outt windows camp ... It really drives u nuts

just tried out the picture app problem with kakao talk. It works!

have they fixed the selection of quick actions for 1st and 3rd? on 10549 the setting app crashes if you try and change them?

Is Bluetooth audio streaming fixed? It's broken in 8.1 denim..

I'm not sure what you mean, I use BT to listen to music daily from my car stereo, and it's always worked in every version, including 8.1 Denim and the Windows 10 Mobile builds I've tried.


I have upgraded to Win 10 10572. After upgrade all of a sudden my phone stopped recognising my SD card. Please guide if anyone have solution to it.

Same issue here on 640XL. Rolled back to 8.1 and 64 GB SD card was found, but after the build 10572 install it's not seen in the Storage Setting. I pulled it out and reinserted with no change. Big bug.

Ok, so the one step that I didn't do (usually do) was the Reset Phone after the upgrade from 8.1 to 10572. After the reset finished, it found the SD card and I can select where to store. Problem solved, unfortunate to have to take that extra step and time.

same here, what i did was a factory reset and it was recognized, sad that i had to because it was working all last night then suddenly stopped today

Wait. So does that mean you cannot share photos altogether?? Or can you using the photos app? (if not from the third party app itself)

There is a SD card installed in phone. But phone storage is showing no SD card. And Apps downloaded on SD card are showing unavailable.

I think it's from Photos, when you press and hold or use the share icon.

This update it so waste of time always rolling back to 8.1 lol its so annoying

Does glance screen work properly in this build? I think I remember people having trouble with glance on older builds and I never heard if it was fixed. I don't want to update my 928 until I know glance will work as I use it all the time.

It's working for me on my 1520, but it's been working flawlessly on the last two builds for me as well.

on lumia 735 i have only 3 remarks: camera have a lamping when try to use, the light go up and down very fast... sometimes in outlook apps the keyboard write wrong letter (example the "e" became "€" and the back slash doesn't work into the store there isn't some apps that i have in 8.1 mobile


Lost my messaging history :(

Same here! Such a bummer :(

Does as anyone having problem on the lock screen notification?

"Acton Center, including swipe to expand"

What? How does this work? Not in the list of notifications, could it be in the pop up?

I can confirm that I was able to share a picture via the stock (not Beta) Facebook app... so not sure what all the hullabaloo is about with sharing photos in 3rd party apps. Yes, it has been iffy in past builds, and the photos app still crashes on occasion here, but I'd say after 12 hours of use this is definitely daily-driver status for tech enthusiants (but not your non-tech-savvy friends and family).

Perhaps it would be easier if they used Android and created W10 skin for it.

new fixes, new bugs ... i'm tired

Skype Preview app still broken. Keystrokes are producing wrong letters

I have installed in Lumia 730. Phone is working absolutely fine except few things:-
1) Proximity sensor not working. Its real pain as "hold" "Speaker" gets on while call.
2) Cortana is working however doesn't read text messages ever after giving "read" command.
3) "Quiet Hours" was initially active but stopped working later. Cortana doesn't send message as text reply.
4) Battery is draining fast.
5) Screen feels to be flickering while scrolling down the news page.
6) My post doesn't reflect in comments section.
7) Screen is too bright as equivalent to HIGH in automatic.
8) Can not change picture in dialer or in people.

Looking forward to updating to this build. The proximity sensor and keyboard issues are most welcome. I'm glad Microsoft is setting these tiny stuff! Posted via the Windows Central App for Android

I don't know this has been spot it already, but jas anyone notice that the Windows store lost the hamburger menu on this preview update!

Can anyone confirm if Microsoft Band has full support yet? On previous builds only calendar notifications worked, no sms, email, or calls would sync.

damn i didnt know how much i would miss VMM now that its not working on my 830 lol.... oh well heres hopeing 10575 comes swiftly!

I have a small issue with the sdcard. I had install some new apps in my sdcard and then i make soft reset then the apps in my sdcard doesn't working anymore then unistall first and install one more time the apps and working. lumia 640 lte ver 10572 from reset to factory setting everything from begin.

It's by far the most stable release so far... but... No tile or lockscreen notifications for separate mail accounts anymore. Only the "Outlook-Mail" app is recognized. No tile or lockscreen notifications for Whatsapp, Facebook messenger and perhaps others (I only use these two). Some apps are installed to SD card directly, when launching them nothing happens. I have to move them manually to internal memory to get them work. Some apps are installed to internal memory and won't appear in the launcher (Microsoft Authenticator for example). I have to move the app to SD card first to get it working AND appear in the launcher. This is a very strange issue. The Photos app still shows most of my pictures twice as soon as I select "show OneDrive photos". I already have activated the checkbox "connected photos" to show identical photos only once - without success! This issue is existing since several builds before, but still not fixed. WiFi Hotspot doesn't work for me. It can be activated and my tablet connects to my phone, the phone also has full signal strength - but it doesn't "dial outside". As soon as I deactivate the mobile hotspot, data is working again. As I wrote, I think it's stable for a beta. But far away from an RTM in this stadium! Oh by the way, I am using an Lumia 640 XL Dual SIM.