Hey Cortana causing echoes for Lumia 950 during phone calls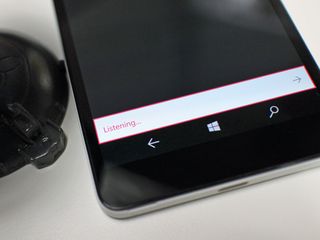 Believe it or not in 2015 some people still insist on using the smartphone for phone calls. All kidding aside, there is one unique issue that seems to be taking place with the Lumia 950 (and maybe just with the AT&T version).
Some users have noticed that during a phone call there is a very noticeable echo. Such occurrences sometimes happen when there is a bad connection, but this one seems to be reproducible. Luckily, a temporary workaround has been discovered.
In our forums, rickms80 figured out that by disabling the hands-free Hey Cortana voice-activation calls will no longer have an echo. Others have since confirmed the finding observing that turning off the feature resolves the issue until Microsoft patches it.
Hey Cortana is Microsoft's hands-free and passive listening service that lets users activate Cortana with just their voice. It is similar to OK Google and Siri functions on newer iPhones.
The reasoning behind the bug now makes sense as rickms80 explains:
Interestingly, we have not seen the same complaint about the Lumia 950 XL, so this may be an isolated incident. However, if you are experiencing the echo, you now know how to use a workaround. Fingers crossed the latest Insider release addresses this problem. That update is expected early this week.
How to enable Hey Cortana for the Lumia 950 and Lumia 950 XL
To turn off Hey Cortana (which is off by default) you can read our guide above that shows the steps to activate and deactivate the service.
Source: Windows Central Forums; Thanks, Justice R., for the tip
Daniel Rubino is the Editor-in-chief of Windows Central, head reviewer, podcast co-host, and analyst. He has been here covering Microsoft since 2007 when this site was called WMExperts (and later Windows Phone Central). His interests include Windows, Microsoft Surface, laptops, next-gen computing, and for some reason, watches. Before all this tech stuff, he worked on a Ph.D. in linguistics and ran the projectors at movie theaters, which has done absolutely nothing for his career.
Interesting. I've had Hey Cortana turned on since I bought my 950. No one has mentioned hearing an echo that I've talked to. Is it a subtle thing or really obnoxious?

May be related to AT&T HD Voice and Hey Cortana too. I have not heard it, but it obviously bothers some people.

People calling me have been complaining about it since I got the 950. You don't here it. The caller heres the echo of your voice in their earpiece. Also I find the auto focus on the 950 to be badly flawed. The hardware is nice. The OS is a train wreck

Does seem to be 950 specific. I have Hey Courtana on for my 930 and no echo issues.

Yes and also, as reported, only on AT&T service. That's a little weird, but I do indeed have AT&T service. Too bad because I was really getting used to Hey Cortana on my new phone now. I couldn't enable that on my 1020. They definitely missed the holiday season, but hopefully this V10 OS will be stable and "done" in another couple months. They really can't go advertising this too enthusiastically yet. Well, I wouldn't. They just need to consider this an extended beta test period

My wife and I both ran into this problem. Glad to know there's a workaround. However, this just hightlights again that this stuff is still not ready for primetime. The 950 is a complete disappointment.

I'm just amazed that I haven't experienced a single one of the bugs/issues on my 950 that I've seen reported.

Is it possible that a fix would involve turning down the mic sensitivity during calls and as a side effect make you harder to hear on the phone?

I wouldn't know. I live in the middle east. The only echo I hear is " next week hopefully "

Hey Cortana..ortana...tana...ana...ana...a.

Even I thought the same ;p

That explains a lot. Happens random though. Not during every call for me...

I have been geting a ton of complaints about an echo on the other persons end since using my 950. Thanks for the tip.

They definitely should have delayed this flagships....Well the whole OS till next year. It wasn't ready to begin with and the fact that there are soo many bugs compared to 8.1 is unacceptable. Especially since people are paying a lot for these flagships.

We were all so impatient. They gave in

If it was delayed to next year, there would be even more complaining.

Yeah, i think this community and fans would have responded well to another delay for both hardware and software. Lots of rationale people around would have understood and stuck with their 2-year-old phones. /s

Ridiculous argument since Microsoft could turn off even more buyers that purchase one of these and decided to return it because of a horrible experience than wouldn't have waited. First impressions are key. Is it really best to launch an unfinished product early over a complete product a little late? Saying that waiting another month or two would have turned more away than users who will return their devices because of these issues is not something you can predict. That said, I can live with these issues. I am a Windows Mobile user and this is what I've gotten used to, but others aren't so forgiving if their brand new phone has unfinished/buggy software on it. people are more likely to forgive mobile software with issues if they have apps, Microsoft can't afford to have both strilkes against them.

That's the thing. This isn't really targeted towards new consumers. It's targeted towards mostly fans of windows phone and possible enterprise, though enterprise will most likely be more specifically targeted with the next release later next year. that's why there isn't advertising. they're preaching and selling to the choir. the percentage of people who will 'live with these issues' is probably higher than those who would have returned it.

Well when you put it that way. You are right. Microsoft did make this phone for the fans however I feel really bad for any new customers who experience these bugs. They might never buy a lumia again. Oh well, Surface Phone will change everything ;)

My 1520 would have been 3 years old had they decided to wait. I got mine at launch. I think it was wise to release them when they did. The Windows community can only take so much

And honestly, they haven't really launched full force yet. No TV ads, no promotion at all except the October 6 event. People buying these now are people who have been wanting to buy them for a while.

Agree. Very little harm done. I cant imagine ANYONE who is not already using a WP who is buying a 950, at least not in the USA. There is just zero market for a windows phone now, as almost everyone is quite aware that very little is availabe for third party apps. If they don't know, they will be warned by salesreps at stores. The fact that W10M is not done is of little consequence to sales right now

Agree. Delaying was not an option. Too many wheels were in motion with business partners. They did the right thing. They are also doing the right thing keeping this all low key and not really advertising it. Leadership on the OS team need to be fired

Well, it doesn't really help Microsoft's reputation neither. Just look at Amazon.de ratings: There are more 1 and 2-star ratings than there are 4 and 5-star ratings. An average three star rating for such a high-end phone surely doesn't build trust for the brand. http://www.amazon.de/Microsoft-Dual-SIM-Smartphone-Touch-Display-Megapix...

I would have loved to see a 950 on WP8.1. Why the need to release it with W10 when we already know, from the desktop release, that it needs a tonne of work to bring it up to W8 standards? MS recruit a load of community testers, have the biggest test community ever, and manage to release things in a WORSE state than before? Crikey, only MS.

LOL
what does it matter any way, only 10 people still have Windows phones and this site is shutting down in a few weeks.

In the US there was a 3 years separation between an actual, distinct flagship. Microsoft had to come to market with something. For me, the problem is feature creep. Microsoft decided to overhaul every single aspect of the OS and it's evident that they simply ran out of time to address every glaring issue. Of course, it might be that the switch to Windows 10 necessitated this overhaul because they couldn't just carry over apps from WP8.1. At the end of the day, they didn't have a choice. Making us wait another year would be a lot worse than having to tolerate some annoyances for several months. And trust me, some of those issues are extremely frustrating but the stuff that does work is pretty good.

After Sinofsky left MS just can't deliver. Nadella must go.

Thing is, I don't think these bugs/issues are as widespread as some here would have you believe. As I said earlier, I have had a single problem with my AT&T 950... yet.

Disagree. The OS isn't buggy enough to delay. I've been running the Win 10 Mobile on my 1520 since they released it. Without a doubt, the last two updates have been great. Perfect?...no. Then again, that would be suggestive, anyway. However, I find it interesting that so many people would crucify MS. If anything, the two companies can work together to resolve this, if this is indeed the real issue. Besides, Android and iOS had issues in their OS builds, too. It is impossible to address every conceived issue, prior to releasing an OS or hardware. If companies delayed for every glitch in hardware and software, nothing would ever get released. Besides, even if they knew the glitch was there, it might have been hard to replicate. Therefore, they might have thought it was isolated.

I've had several people tell me they can hear an echo during called. I'll try disabling Hey Cortana. I don't use it anyway

I haven't seen this issue in the unlocked dual sim Lumia 950 with Hey Cortana always listening. Would be particularly interesting if this was specific to the AT&T locked version only.

Are we talking CB radio echo turned on effect? If so, glory. Leave it on.

Same here in Germany. Unlocked version of 950 on Telekom Germany

Hello..............it's me

Hey, everybody! I found Lionel Richie!

Hey, Cortana! I found Lionel Richie! *shows search result*

It's you I've been looking for. Wondering where you are tonight. Hello.

I've only had a couple of incoming calls but I did experience echo on an unlocked 950 on AT&T's network. Also a complaint on an outgoing call but signal strength was low (one bar) which could have contributed. I do have Hey Cortana enabled.

At&t 950. No echo issues here. On the contrary people are amazed at how clear the calls are.

Good find! I've had tons of people tell me about the echo and I usually turn down the volume on the headset and it gets a bit better. Didn't know it was related to Hey Cortana. I'm shuttin' that sh*t down like it was Drake at the mall. Hopefully Microsoft gets a fix in the works...

My Icon has done this for the past year with my Sony car stereo when using Bluetooth. The further the phone is down in my pocket - the better. Maybe this upcoming fix will help with this. Then again, they may be completely unrelated.

No issues here yet, AT&T, HD Voice enabled, Hey Cortana enabled

Hey cortana keeps the microphone opened and when it's a call in progress the mic it's opened as full,duplex occurs in such case hey Cortana active listening should shut off till the call ends a thing that don't occurs

I had several people complain of the same thing ('speakerphone' like sound, echo) on my dual SIM 950XL when using it on GoPhone. But agreed, very few 950XL owners report this, not sure why I'm the lucky one. :)

If you could set Cortana to Quack, the echo wouldn't happen....

A couple people have complained about an echo on my Lumia 950 XL, so I hope this is the culprit and it can be patched later.

is it possibly because the location of the mics on the 950XL is different to the 950? Of course, its likely a bug that will be fixed..."coming soon"

I turned off "hey Cortana" on my 950XL because she never responded when I said "hey Cortana" but frequently launched, in my pocket, responding to background noise. Same issue on my SP3. Not in my pocket obviously but sitting on the desk.

Anyone seen a review for the XL? Not seen one here or anywhere.

I have this problem. I don't hear the echo, but some people that call me do. It doesn't happen with every caller or even with every call with a specific caller. I'd wondered if it had something to do with AT&T HD voice. I'll try disabling Hey Cortana and see if that helps.

I've been having this problem with my 950XL (not on AT&T). If you quickly put the call on Hold and then take it off, it fixes the problem in-call... If you don't want to disable Hey Cortana.

Such echoing is also prevalent on my 830 (which doesn't even support voice activation) with harsh screeching voices. I have to lower the in-call volume to about 5 and still hold the phone few centimeters away from my ear. Really fed up of it. Had no such problem before upgrading to W10M build 10586 (specifically).

I have had complaint about it since I got my 950. Some of it was related to the AT&T HD Voice that I have since deactivated and that resolved some connection issues along with some of the echo. Hopefully disabling this will fix the rest of it. Truthfully it doesn't work right anyway. Only time I really want to use it is in the car and the BT functionality is so shoddy that it never works over my BT speaker. Back onto DP for some fixing soon, I hope.

I got an update for Microsoft Phone just now. Wonder if it's the fix?

My wife can hear an echo of herself (she's on an iPhone 6S) when I'm on my Lumia 950. Turning off Hey Cortana doesn't fix it, so I'm leaving it on. We're on AT&T's HD Voice since both our phones support it. The only way to avoid the echo is if I put my 950 on speakerphone.

Microsoft Lumia 950 XL - Sound Quality/Echo Problem - Hey Cortana Problem: Complaints of poor sound quality and echo on recieving end of phone call placed from Microsoft Lumia 950 XL Carrier: ATT (local ATT store not aware of issue or work around) Phone: Microsoft Lumia 950 XL Firmware/Software status: phone reports itself as "up to date" Status: Feb. 10, 2016 - Turning "Hey Cortana" off fixes sound quality issue.

I have turned this feature off and still hear myself and a very loud background noise when i call my 950
Windows Central Newsletter
Thank you for signing up to Windows Central. You will receive a verification email shortly.
There was a problem. Please refresh the page and try again.