How to enable Hey Cortana for the Lumia 950 and Lumia 950 XL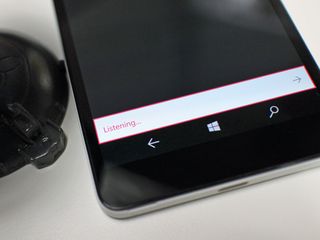 If you are thinking about getting a new Lumia 950 or Lumia 950 XL (or you already have one), you may want to remember to enable Hey Cortana. For those who are not familiar Hey Cortana is Microsoft's hands-free solution to activating the Cortana personal digital assistant. Simply calling out 'Hey, Cortana' while your phone is in standby (the display is off) summons the helper to do your bidding. Once activated, you can then dictate a text message, check the weather, or activate an programs that utilizes commands like the Windows 10 Weather Channel app.
For those already used to Hey Cortana you may be think that enabling the feature is obvious. However, Microsoft did change it on the Lumia 950 and Lumia 950 XL when compared to the Lumia 1520 and Lumia 930. This change is actually welcomed as it now matches Windows 10 desktop.
Under Nokia Hey Cortana was located under Settings > Extras > Hey Cortana. Those 'Extra' settings were Nokia customizations that fell outside the default settings of the OS. However, with Windows 10 Mobile Microsoft has the chance to start to build those features into the OS itself. As a result, there simply is no Hey Cortana configuration under Settings anymore as it has moved directly to Cortana.
Here is how to turn it on!
Enable Hey Cortana (Lumia 950, Lumia 950 XL)
1. Launch
Hit the search button to launch Cortana (or choose the Tile or Cortana from the app menu)
2. Menu
From the upper left split-view menu (aka Hamburger button) choose Notebook
3. Settings
In the top area of the Notebook select Settings
4. Enable
From the menu items listed enable Hey Cortana. You also have the secondary option to train Cortana to recognize just your voice or anyone. To train for your voice select To me and the program will walk you through the steps to learn your manner of speaking.
That's it! Once completed, you can now just say Hey Cortana anytime you are near your Lumia. Cortana will pop up on the display, and you and you will hear a beep letting you know that you can speak your command. This behavior differs from the desktop version where you can just say "HeyCortanaRemindMeToGetSomeBreadTonight" with no pauses.
[Edit: Turns out, another change with the Lumia 950 and Lumia 950 XL is you do not need to pause after saying 'Hey Cortana'. Cool!]
It should be noted that using Hey Cortana requires some extra battery as the microphone needs to stay on when the display is off. Although the battery usage is exceedingly minimal if you find yourself struggling to get by through the day without recharging you may want to consider disabling it.
Do you plan to use Hey Cortana on your Lumia 950 or Lumia 950 XL? Let us know in comments!
Where to buy
Want to know which Type-C cable to get? How about a micro SD card? Read these guides for the best tips.
News
Want all the latest news on these phones? Hit these topic pages for all that we got.
Microsoft Lumia 950 XL main page
Support and help forums
Want to chat about the Lumia 950 and Lumia 950 XL? Jump into our forums and ask others what they think or get help and advice on your new phone!
Windows Central Newsletter
Get the best of Windows Central in in your inbox, every day!
Daniel Rubino is the Editor-in-chief of Windows Central, head reviewer, podcast co-host, and analyst. He has been covering Microsoft since 2007 when this site was called WMExperts (and later Windows Phone Central). His interests include Windows, laptops, next-gen computing, and for some reason, watches. Before all this tech stuff, he worked on a Ph.D. in linguistics, watched people sleep (for medical purposes!), and ran the projectors at movie theaters because it was fun.
Hey Cortana, when will I receive my 950XL?

When will they let us rename Cortana? It was promised during the first tech demo years ago but hardly mentioned since...

Then I wouldnt count on it..

Does enabling Cortana make a huge difference in battery life?

I really don't think so. I mean, the tech was designed to be used like this, so it should be very efficient. However, nothing is free, so technically it must use a tiny bit of juice. It is certainly not noticeable, imo.

As far as I've experienced, Enabling Cortana, Location, and Hey Cortana feature really drained the battery of my Lumia to a noticeable level ... May be it's just me :-/

No it doesn't and if you use Cortana for do something it will be better for your battery life.

not seeing cortana app in the list after enabling can only turn on with the search button on the new 950 from att anyone else have this issue?

Nope, I still show Cortana in my app list after enabling it on my ATT 950.

never showed up on my wifes phone, no way she is gonna allow me to rebuild it for that small app

Hey cortana may I get those phone for free?

Be more assertive. You're saying it like she's your master. You don't want her to figure that, seriously.

Yeah, I am curious, are there any estimates or measurments on actual impact of battery life?

It should theoretically only affect standby time, which is too long to be reliably measured (incoming calls, random location usages, etc). The normal battery life will remain very much the same.

Can't find the option using old or new way on my L930 with Win 10. Should it be there?

Can't find it too, looks like "Hey Cortana" system app got uninstalled, would really appreciate a direct link to it in the store for me to try out.

Hey Cortana https://www.windowscentral.com/e?link=https2F%2Fclick.linksynergy.co...

Settings->Extras->Hey Cortana?

I downloaded from internet again

Does Hey Cortana work through a headset (wired or bluetooth)?

Bluetooth I can confirm... Never tried wired

But I'm not sure whether it was my phone or the mic on the Bluetooth device that was actually receiving my voice at that time.. Now you got me confused as well... Let's wait for someone who knows about it better than me :D

Yes, it works with bluetooth headsets. I used it a lot.

Okay.. So I was not wrong.. Thank you.. What about wired headsets?.. Have you Tried it before?

Hey Cortana work on my 1520 with 8.1 but not with windows 10

It was turned back on a couple of builds ago. I have the 1520 with the latest build and it works.

Doesn't work on 10586 for me on my 1520. I may do a hard reset, but I'm too busy right now.

Same here - never able to get it to train on my 1520.3 .. how would a hard reset fix this? just curious

After updating to 10586, i was able to use hey cortana. But when i did the hard reset, it was gone.

Same here. I was able to use Hey Cortana on build 10581, but as soon as I did a hard reset, I lost the ability to train Cortana. This continues in build 10586.11 even with reverting back to Win8.1 first. MS needs to fix this like YESTERDAY!

Hey Cortana
https://www.windowscentral.com/e?link=https2F%2Fclick.linksynergy.co...

Hey Cortana Y U NO enable Hey Cortana in Canada???

Or in Germany... On PC it works fine also in German, but on mobile it still says it's not supported for my language.

So it's not just me. Go to know. Get it done Microsoft.

Still waiting Cortana here in Mexico...

On my 950, I can say "HeyCortanaRemindMeToGetSomeBreadTonight" with no pauses and it works just as with the PC. I discovered it yesterday and I like it better that way, it is a seamless and natural experience as long as the 950 is in a reasonable range of my voice.

Huh, you're right. Guess that changed. Will make an edit, thanks.

You're welcome and thank you for the article(s).

no hey cortana for lumia 930?? How come it is not available?

Settings->Extras-> Hey Cortana. Turn on and train it for your voice recognition

Gonna enable it now. I keep playing hi-res video clips on my new 950...i just cant get over how gorgeous its display/screen is!

So for non-950 handsets, the option doesn't show up in Cortana settings and must still be enabled via the system app (at least that's the case for my 930). I assume this will eventually be made the same but I do wonder why they didn't just make it consistent right from the start

I don't even see it in Settings? (930)

Can hey Cortana work with my limia 640?

I'm afraid no. It is a premium feature for flagship models.

Why do I not see the Hey Cortana option on Lumia 930 any more?

Consider this. Try looking on both locations. Settings > Extras and Cortana's notebook. If you can't find it anywhere, that means the app got removed (just like Lumia camera) during a factory reset. My suggestion is to download the app called SysAppUpdater and manually find and download the app. Good luck

I can't get "hey Cortana" to work on my Lumia 1520 on the latest windows 10 preview. I can get to the training section, but it doesn't hear me when I say hey Cortana and it says, "sorry can't hear you, please try again" anyone know how to fix this? Loved this feature

She's sentient now and is misbehaving. || not sure about your actual issue, sorry.

downloaded the latest windows 10 build in my1520 , had to hard reset after installing, then nothing, I can't activate hey cortana, the option is not there, any thoughts?

Try installing the app manually via the third party SysAppUpdater app.

Check my comments above... WP central link is there for hey cortana

Is this specifically for the US again, or is Hey Cortana available again for other countries that already had the 'Hey Cortana' feature? ​(ie In Australia with a 1520)? I'd like to know, as I don't have Hey Cortana feature available on my 1520 that I've updated to build 10586.

Hey Cortana, when will the 950 get a good review?

10586 on a 1520 is a Hey Cortana Beast. I've practiced enough to have some fun with unsuspecting folks. And the continuity between Desktop and Mobile promises to be amazing. I can't wait to equip my truck with some near future Continuum leveraged in-dash video\audio setup that is completely Cortana driven magic. If touchscreen support comes to Continuum, the automobile possibilities are fantastic!

Can you unlock your phone by saying "hey cortana unlock my phone"

Daniel, You and the millions over in the west have missed the prep steps that Microsoft needs to perform before you can enabe Cortana on your phone (or your computer or tablet). Firstly and mostly - Cortana NEEDS to be available for your region. As you know only the big five plus India (and China) will have Cortana by January 2016 (English, French, German, Italian and Spanish, don't know if India is English or any of the Indian languages, as well as I don't know if China means English or Mandarin or any other chinese language). So for most of us what you have described above is not an option. I would love to see (on all Windows Phones) that Cortana IS ENABLED from the start, she recognises our region and THEN asks "Hey Per, what language would you like me to speak?" and if that language is not yet in the list she would say "Sorry, Per, I don't speak that language just yet. Would English be alright for the time being? I will notify you when you can change." Then she could start her school room excercises. You should consider follow-ups comparing these flagships performances WITH and WITHOUT Cortana and everything Cortana related.

That's a really good idea.

I have hey Cortana on my 1520 listed, but when I select it under extras it just says not supported on this phone. What can I do? I already did a hard reset.

This is getting tricky now when you have a win10 phone and tablet PC in the same room and say Hey Cortana.

lol never tought of that.

Got my 950XL...although Cortana has returned to Canada (without needing to change region/language settings to US), Hey Cortana is not available((no option displayed). I'll mess around with the region/language settings to confirm it is available...

Hey cortana does not work on Canadian soil. Everything else seams to work. Lumia 950xl

It would be nice if Cortana didn't respond on both my desktop and my phone when I'm home. I can't believe MS hasn't run into this during testing. They've got to be able to come up with a way to make sure only one machine responds back... Hey Cortana on the 950 XL works great. No delays, and it picks up on my "Hey Cortana" pretty much ever single time.

Hi, I'm from Canada and using Lumia 950 XL but there is no option to enable "Hey Cortana", Please help me out. Thanks

Hi Hardeep, I'm in Canada as well and have the lumia 950. Hey Cortana was not an option for me either, but you can circumvent this by changing your region to the US and setting US english as the default language. I just went through setting it up and it is working, though I don't know what, if any affect changing the region will have.

Cannot find it even here, although cortana works here in India. Can you please help me setting it up Daniel.

Re Canada. It does work if you change the language to US English and Region to United States. Checked the weather and it was still in Celcius. Also checked traffic and it pulled up local info. I'm not sure what if any downside there is.

thanks! thought I was missing this feature lol

the article says you can launch Cortana from standby with "hey cortana", but this is not true. i spent 30 minutes with ms customer service trying to get this to work, in the end they confirmed the feature does not exist, although it may one day. considering that this article played a major role in my decision to buy this phone, i am less than impressed to discover it is wrong.

Does lumia 640 xl support "Hey Cortana"??
Windows Central Newsletter
Thank you for signing up to Windows Central. You will receive a verification email shortly.
There was a problem. Please refresh the page and try again.