Prep for Lumia 950 & 950 XL: Getting the best microSD card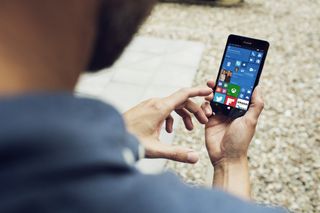 The Lumia 950 and 950 XL both come with 32GB of internal storage, but they also have microSD slots for even more storage. Both phones support micro SDXC 3.01 standard-compliant cards.
Ready to hear something crazy? The maximum capacity that exists for the card technology is 200GB, and you can get one right now from SanDisk. And theoretically, both phones can take up to 2TB microSD cards, although those are not on the market just yet
Buy the SanDisk Ultra 200GB microSDXC card (opens in new tab)
With 200GB of storage, SanDisk says you can store up to 20 hours of Full HD video. When it's time to move your data from the card, read speeds of up to 90MB/s allow transfer of up to 1,200 pictures a minute from card to PC. Getting this card, however, will cost you about $160 on Amazon.com.
If 200GB is too much storage, or if you want to spend less, there are microSDXC cards with lower capacity that are more affordable. For example, you can get this Samsung 64GB EVO microSDXC card (opens in new tab) for less than $20 at Amazon.com.
Notes
microSDXC cards currently range from 64GB to 200GB, but it can theoretically go up to 2TB
microSDHC cards are older than microSDXC cards and range from 4GB to 32GB
microSDHC cards should work with the Lumia 950 and Lumia 950 XL
The Lumia 950 and 950 XL support Ultra High Speed, Phase I (UHS-I). Look for cards that support UHS-I for maximum performance.
What to look for
The Lumia 950 and Lumia 950 XL supports microSDXC cards with UHS-I. Therefore, when getting a card, look for these terms and branding on the labels.
Regarding buying cards on eBay, just remember to check the seller's ratings. MicroSD cards, especially the high capacity ones, are notoriously counterfeited and faked. Make sure you are buying a reputable card from a trust-worthy source with a money-back guarantee.
In terms of raw performance, the SanDisk Extreme PRO 64GB (Read Up to 95MB/s; Write Up to 90MB/s) for $49 is likely your best bang for your buck. Sure, you're not getting 200GB of storage, but you do get very fast read and write times. We'll be taking a closer look at both the Extreme PRO and the 200GB Sandisk next week.
Buy SanDisk Extreme PRO 64GB from Amazon.com for $49 (opens in new tab)
I hope this helps when buying a microSD card for your Lumia 950 or Lumia 950 XL. What capacity card are you going to grab? Let us know in the comments!
Have any other microSD card tips? Share them in comments.
What about speed of the card chosen?

This is addressed in the article.

The read speed is ok but the write speed is terrible. Dunno why you recommend this. The samsung evo line also has terrible write speed.

If the price is really good (compared to faster-writing cards), and you're not one to swap things in and out a lot, getting that card might be OK. For me, I'd basically throw my music on once and call it good, so a slow initial write would be tolerable, and the so-so read times would like do nothing to hurt listening quality.

Okay first things first: (A) Not everyone needs or wants fast write times, especially if just using for media (B) Some people want a 200GB card, so it is a legit thing to say "here it is" To amend the article (and to address your concerns) we are adding the Extreme PRO, which does have very fast read/write times, albeit at a lower storage of just 64GB.

200GB is not conventional, and you try to avoid recommending it :/ Even if they had 256GB on the market, most read/write operations have linear running time. Assuming people are buying 200GB to store 200GB, performance will be --VERY BAD-- on WP.

SD cards, even slow ones, are fine for music playback, documents, picture albums (but not your camera roll), ect. I cant imagine needing 200GB, but different people have different needs.

So what would you recommend?

A conventional microSD card. 16GB/32GB/64GB/128GB (powers of 2) Or you can settle for a 200GB card that is less reliable, more expensive, and slower. Reliability should be a top concern for people who are storing so much information on a single card. Especially after the OneDrive policy changes. For people who are pirating (and somehow do not care about expense) this card should be suitable. 200GB is a lot more room to store movie/music downloads :P

Isn't there a 128gb fast read/write as well?

(A) This is for a high end phone with 20MB camera and 4K video recording capacity. A fast write speed would help in many situations. (B) There are many microSD card that have 40 to 50MB seq writing speed, such as Samsung PRO+, PNY Turbo, Lexar 633x/1000x... The PNY Turbo is on sale today on Amazon.

I'm using Lexar 64GB 633x UHS-1 and it's working fine. Just imagine 2TB of storage, guess it will support external hard drive.

This is the SDXC specification. All phones that are SDXC compliant will theoretically be able to support 2TB SD cards. On the other hand Lumia 950 and 950XL will come with USB OTG support, and will support NTFS formatted volumes. Default cluster size in Windows 10 should get you a hair under 16TB of storage space ;)

With 90Mb/s, the cheaper SanDisk Extreme (not Pro) MicroSDXC 64 U3 works well and is enough even for shooting 4k videos.

I looked at amazon but I see uhs-I 1 and uhs-I 3, which one would be better (this is omitted in article)?

Is 3 better/faster for 4K recording, speeds up to 95mbps.....not sure.

thaks, taking the 950 series have 4k video ill be getting uhs-I 3 then

There is the latest model listed on Amazon that is specific for 4K: http://www.amazon.co.uk/SanDisk-Extreme-microSDXC-Cameras-Version/dp/B01... And it seems to be the U3 model that is for full 4K - scroll down the page for details.

Class does matter here: Class | Max speed 2 = 2Mb/s with SHDC class 10 4 = 4Mb/s with SHDC class 10 6 = 6Mb/s with SHDC class 10 8 = 8Mb/s with SHDC class 10 10 = 10Mb/s with SHDC class 10 U1 = 10Mb/s with UHC class 1 U3 = 30Mb/s with UHC class 3

The 200GB SanDisk is the fastest I've found so I picked one up in preparation for my 950XL

I also picked one up, but I'm not sure that 200gb SanDisk will support 4k video recording. As someone mentioned, the write speed is really bad on it. I'm really happy with Lexar x667 128gb. It's very very fast! On sale for about $70. The included tiny usb3 adaptor is also really nice.

http://www.amazon.com/Lexar-High-Performance-MicroSDXC-Reader-LSDMI128BB...

Or just travel forward in time and get a 2TB card for yourself. Sounds easier.

Then why buy 950 at all if you're travelling in time! :P

Time traveller please buy one surface phone with 2TB internal storage for me on the way back ;)

also get me a Surface Pro 8

Hololense 4 please. No need for a phone or surface then...

He went forward but realized no one had heard of Windows Mobile save for a few ancient scholars who just laughed at him. went back to 2015 where all was well...

I just came back and apple doesn't exsist anymore Microsoft brought them that's why you didn't hear about them there they don't exist in old form now there its just one os, apple and ms joined into one to take out goggle.And they dont sell memory card as storage uses light and 100 Petabyte's is small as you can get

2 DIFFERENT interpretations of the same time period? Oh no, we're doomed!!

Now that was funny! Thanks I need it.

When you do travel in time (or buy shrooms), don't forget to let us know by how much Microsoft reduced the free OneDrive storage for customers.

While your there, find out if there will be a third shipment of 950 XLs... (Update) Their future website says coming soon...

Beware of the Borg. You don't want those freaks chasing after you.

Hahahahahahah!!!! Posted via the Windows Central App for Android

I am back... Nintendo started making Windows phones and took over 99.99% of market share. Oh, and Sora is in Smash for NPhone 14.

That is awesome. Extra 200gb on the way.

but you can't get one of those, yet.

You can get almost 3 of them for the price of one 200GB!! :P

Yeah ... but then you can not put all those 3 in that block in the phone where you can put that one 200 GB :D

me to hate to get 200 gig then a 512 comes out

You are correct - In 1981 Bill Gates supposedly said that 640KB of memory "ought to be enough for anybody. Long time ago and denied: Gates responded to a student's question about the quote: "I've said some stupid things and some wrong things, but not that. No one involved in computers would ever say that a certain amount of memory is enough for all time." Later in the column, he added, "I keep bumping into that silly quotation attributed to me that says 640K of memory is enough. There's never a citation; the quotation just floats like a rumor, repeated again and again."

Thaaat's where the MS-DOS Mobile quote comes from :O

I have 128gb on my 1520 and I still have soooo much free space

I bought two of the sandisk 128g cards; one for my Surface Pro 4, and the other is waiting for the arrival of my 950XL.

Yeah 128GB is the sweet spot right now for microsd, you can get decent ones for around $50 which is what I paid for my 64GB one back when my 1520 was new.

Personally, I'm going to wait till next week to pickup a MicroSD card. I'm willing to bet there will be some good deals on high capacity SDXC cards on Black Friday.

Best buy will have a 128GB SanDisk for $45 if I remember correctly

That's a pretty good deal. I'll have to keep an eye out for that one. Thanks!

PNY had one yesterday for 39.99

Oh yeah, you make a good point. Maybe I'll wait for next Friday too.

I was just thinking the same thing. Was going to look at Amazon's prices now, then remembered Black Friday. I might also wait until then to get a phone. I remember getting my 920, only to see a sale at AT&T a week or two later. The refunded me that price, but I'd rather just not go through that again.

I did actually order one at Amazon yesterday, as part of their PNY sale. Only because I was able to get a 32GB wiith 90MB/sec read speed for $10. Regarding price drops for the 950/XL, I don't expect that to happen until maybe late Dec (like a week before Xmas). Simply because these devices are being released just a few days before Black Friday. I would be quite shocked if there were any sales other than maybe $50 off or bundled items

But, 200GB sd cards on a phone... Won't that have impact on phone's performance??

How? With Windows Phone 8.1 and Windows 10 Mobile you choose what to store and where. Music can go to card, apps to phone, photos on card, maps in main, etc.

No, it just means you can store more videos / photos / music.

It will not impact the phone's performance, but with all that extra memory it takes extra electrons to fill the memory. Those electrons can be quite heavy, adding 20-30 pounds (yes, pounds!!!1!) to your phone. If you are concerned about weight, I would suggest you get a 16GB memory card. It may not store as much, but it will save you about 18 pounds of weight that you will not need to carry around.

Lol everybody seems to make a joke today... i like it! Posted via the Windows Central App for Android

Since about half those bits will be zeros which don't weigh anything, your estimate is off by a factor of two. It'll be more like 10 to 15 lbs.

Depends on the type of pounds we're talking about.

I use an app called Electro-Freez to stop my electrons so they have no mass. My posture is a lot better now too.

So what's meant by class 10 in relation to performance?

Class 10 has a higher transfer rate afaik

UHS is a newer class speed.. C10 means minimum write speed of 10mbs UHS-1 means the same.. but the difference is in the connection speed, If you're using a normal device that don't support UHS.. the maximum bus speed is 25mb. a UHS-1 device have a maximum speed of 104mb/s (the sandisk have a speed of 90mb/s The minimum write speed is important when you're recording..(need to record the data faster than the camera is generating) and the bus speed is important to read data.. (when you're open the photos app with hundred of photos on SD or launching a game)

Thanks for the info. So does this mean they'd be fine recording video straight to the card? (including 4K, which I would rarely use, just interested)
Also any recommendations?

This. So, do they support uhs3? According to http://www.sandisk.com/HD uhs3 is required to support 4k videos. I haven't found a microsd card over 64gb that supports uhs3.

If you plan to record in 4K, you should really look for a card with a class of U3. They usually support WRITE speeds up to ~50 to ~60mb/s. You will most likely only find this in 32GB or 64GB flavors.

What is UHS-1 U2 do compared to U2?

Got a 128gb they sell for £35 but the 200 gb is about £130 odd its mad

Yeah, microSD prices aren't as close to linear as SSDs are.

Well-timed article!! I was just wondering about this very question this afternoon!!!

First time I'll be using a SD card in years! I'm pretty sure the onboard will be enough but I have a high GB card that I'll throw in, just because I have it spare.

I sure hope you mean MicroSD card because the slot is way too smal to fit an SD card.

....when phone arrives turn off OneDrive backup for the photos and live cloud free life happily ever after.... 'Mobile first, Cloud never'

You do know how easy it is to make your own cloud now right? WD and Seagate got some terrific products available... =D

128 gb is the sweet spot. Only £50 200gb is quite a bump in price and not worth it for me

Apple charge 100$ for every 32 GB increment for flash storage that's ridiculously cheap. Insane.

Not every 32, every doubling, I think. 64 is $100 more than 32, 128 is $100 more than 64, if I remember correctly.

32/64/128 so 32 GB is $100 (way too expensive), and 64 GB is also $100 (also far too expensive). Especially if you consider that you can buy a 64 GB Micro SD-card for around $30.

The best choice for performance price is the SanDisk Extreme 64 microSDXC Card. Best latency and good read and write performance

Was just thinking the same. Write performance should be an important consideration for anyone planning to store their camera roll photos on their micro sd card. I'm thinking I'll buy another 64gb extreme pro even though I would love to have 128gb, hopefully they release a faster card in a higher capacity soon. Posted via the Windows Central App for Android

You are right. Those 128 and 200 Gb models do have much worser write speed (about 18 MB/s) than those very nice Extreme (Plus/Pro) versions (from 50 up to nearly 90MB/s).

Bought the 64GB PNY U3 Turbo Performance featured here yesterday on Amazon for less than $20 ;)

Pre-ordered my phone, and then went to Amazon and bought that card. It is not as fast as the one I have in my SP3, but it is not as speed critical.

Theres a flash sale on sony cards on http://www.bestbuy.ca/en-CA/category/memory-cards-card-readers/20085.asp...

I went for the SanDisk 32GB Extreme Pro microSDHC UHS-I U3 Card - 95 MB/s

Bought the 128GB Sandisk a few weeks ago. Made sure it was the 80/mbps model. And got it for under $90CAN on eBay. Can't go wrong.

You might want to get a faster one 10 MB/s is pretty slow. 8 mbps = 1 MBps

Given his laziness in capitalizing the "M," as well, it might be MBps.

Yeah i assumed so. Just one of my pet peeves. The internet marketing departments abuse the confusion, i'm just trying to do my part in making sure the internet is educated. It isn't going well.

Bits vs Bytes argument aside, you might want to check your write speeds before you try to do anything like record video. Those cards usually have around ~20MB/s write speeds and will be slightly choppy at high frame rate 1080p recordings and very bad for anything 4K.

Really? My current 64GB Sandisk almost keeps up and it's a 40MBs card. The one I bought was Ultra SanDisk Memory 128GB MicroSD SDXC Class 10 80MB/s

I have a 64gb on my 1520 about 1 & a half yrs now and it ain't full yet so d 128gb should be good enough for my 950xl

Hmm, this i need, i maxed ouy my 128GB card, but maybe one should wait for 1TB cards?

If you maxed out a 128GB card, then you might be better off carrying around a portable external hard drive with a USB-C adapter.

If you want to check if an sdcard is legit, use the program 'h2testw' on your computer. It can tell if an sd card is good or not. To test the read/write speed of the card on the phone, I use an app called 'Hardware Tests' by Amaze Pictures.

Ordered a sandisk 128g card from amazon just 2 days ago for around $45. Now I just need the 950. Tick tock.

on my 1520 the scandisk 128gig that I had didnt effect my 4k recording performance at all. So it is the one I will be using for my 950 xl (if the actual stores ever figure out when they will be coming in)

I'm guessing you never changed the setting where video is saved, so it was probably going to your internal storage, which I'm guessing is faster than the SD slot?

I got suckered on eBay on a counterfeit 64 GB card. Fortunately, I filed a complaint with eBay and got a refund. Ended buying one on sale at Best Buy.

Your best bet is buying name brand ones from Amazon like Sandisk, PNY, Lexar, Sony, Samsung, etc.

Happened to me almost 6 yrs ago and I didnt know about the refund option. Lost my $60 on a fake peice of plastic.

Just received my 128 gb Lexar SDXC UHS-I including a USB 3.0 card reader for only €80 wich is about $85. Speed, 95 MB/s. Fastest card I found is the Lexar SDXC UHS-II with a speed up to 150 MB/s. Now I have my sim, my memory and my back cover (on its way). Only thing missing is.......my Lumia 950

Cloud first. OneDrive with 5 gigs should be enough for normal users.

The cloud only helps if you have an internet conenction. If you plan on doing a lot of traveling, especially internationally, it's good to have an microSD card. Earlier this year my partner and I traveled through a handful of countries on a 2 week trip. We had limited access to the internet, so a good amount of storage was occupied just by maps downloaded for offline mode. Add in pictures, videoes, and music, there wasn't a lot of space left afterwards. Cloud should really only be used for backup. Not for primary storage, like music, or photos. Heck, just in the last 3 months I've taken several GB worth of photos and videos on my phone.

Using a SanDisk microsdxc 64 GB class 10 card in my 1520 atm. It works seamlessly so I think ill continue using it in my future 950xl.

I got a Sony 128 for $45 last time windows central reported the sale on amazon. Thanks guys! The sd card is now waiting for the 950 xl to come home!

Forget price of card and size of card, forget even speed of card, just like you should never buy a TLC SSD you should never buy a TLC MicroSDXC card. It will bate you in with price but don't do it, spend the extra 10$ and buy an MLC MicroSDXC card.

Uh, I'm an idiot...can you explain what those are? =[

Here is a conceptual idea of what they are, (follow the link below for more detailed understanding). This is only a conceptual understanding. Imaging writing words on a sheet of paper; thats would be called SLC (Single level cell), thses types of memory card and SSD's are expensive, last a long time and fast) Now imaging writing words on that same sheet of paper, now take another sheet of paper, place it on top of it and write more words, thats MLC (Multi Leve Cell), its cheeper than SLC. Imagint a word on layer one (the first sheet of paper) become damage, you wont be able to read any word on Layer two (The second sheep of paper). Cheeper than SLC, wont last as long as SLC but will last much longer than TLC. Now imagine writing words on one sheep of paper then write more word on a scond peace of paper and place it on top now thake a third sheet of paper place it on top of those two and write more words, That TLC (three leve cell), its very cheep but if one word is damaged on any level (sheep of paper) you wont be able to access any words data on any sheet of paper.
TLC is cheep (hence 128GB MicroSDXC cars for 45$), Slower than SLC and MLC and wont last as long. http://www.speedguide.net/faq/slc-mlc-or-tlc-nand-for-solid-state-drives-406

What we really need to know is how to put all my music on the SD Card so I can listen to it. So Far the could steaming of my collection of music is horrible.

I use media monkey for my non Groove music.

I've never used more than about 24GB using my 1020. Another 32GB should suit me just fine. I picked up two 32gb Sony cards when the Amazon deal was posted last week. $9 a piece, plus $5 off using Bing Rewards. $12 for 64 GB
...not bad at all

For best performance look for UHS-I U3 cards - these have high write speed and low latency. Sandisk Extreme Pro has hit 20K IOPS in tests. Cheap cards are in the 400-1500 IOPS.

If you're going to do 4k video recording or install apps it's VERY important to remember that the read and write speeds quoted are the maximums, not the average! Check the product page and make sure that the write speed is at least 12.5 MB/s (which is 100mb/s) so you get ZERO stuttering or lag while filming or gaming. Also remember, capital MB is a megabyte which is eight times larger than 1 mb (a megabit). If you want flawless performance I'd recommend the 64GB Samsung PRO Sd Card or Sandisk Extreme! The former's maximum write speed is 80MB/s (640mb). While it's not going to be running fullblast all the time this is 10 times the bitrate of Lumia UHD video! You'll never have to worry about lag. Hope this helps :)

Finally something helpful. Thanks for the specifics

i was just about to ask why is it so important and i didnt think it would matter because its on a phone. but when u state that for capturing video and recording str8 to the card then it makes sense, good info to know

Can I get the SD card out or does it get stuck permanently like the 830?

You should also do one of these on USB Type-C cables. I'm looking on Amazon for new cables now: I'm so used to having so many Micro-USB cables everywhere, so I can always grab one and plug in my phone wherever. Then it occurred to me a week ago that I need new cables, so I'm looking now. Likewise, I'm seeking a Quick Charge compatible car charger and wall wart. Appreciate the article guys, I hope you do more for cables, wireless chargers, cases, keyboards, etc.

I agree with this. I would love an article on quality Usb type-c cables and maybe how to make sure you are getting a good charging block and car charger. It had to figure out if you're getting good cable/charging blocks to avoid getting "phone charging slowly" warning.

I just bought Samsung Evo 64GB. It should be enough for me since I've been using an 8GB card for the last 3 years and 64GB feels like a huge jump for me :) Also, 128GB one is more than double the price of 64GB one.

I've been using the 200gb SD card with the 640xl. Other than it stating 180gb of usable space, it's been working great.

I love phones that support microSD cards.

...with their consent, iHope. O.o

I went all in and gor this SanDisk Extreme 64GB card. I had a slow card with the 1520 and paid the price for it with audio glitches in a video I was recording.
http://www.amazon.com/gp/product/B013CP5IWO?tag=hawk-future-20&ascsubtag...

I have 2 SanDisk ultras sitting here that are perfect and waiting for a 950xl

I was just shopping for one of these for this purpose. Get out of my mind.

200GB...Why couldn't they make it an even 256GB? If they're gonna do that, why not a 96GB card, then I could get that and just have a handy 128GB of storage on my Lumia 950! I dunno... =p

This sucks, due to security reasons we can't use any phones that have external cards for company use on our servers.

They should be able to configure MDM to require Device Encryption (find in Settings -> System). Device Encryption applies to all storage, including any memory card in the phone. When Device Encryption is turned on, all new data stored to the memory card will only be readable in the phone that stored the data to the card. Note that any existing data on the card will not be automatically encrypted by enabling Device Encryption. Microsoft has yet to update all their Windows 10 Mobile documentation, but most of what they have from Windows Mobile/Phone from 6.x forward should apply.
https://msdn.microsoft.com/en-us/library/bb416357.aspx
http://www.tenforums.com/printthread.php?t=8205
https://social.technet.microsoft.com/Forums/en-US/a5eb15d0-b0a1-4242-8c82-2ebccdba28f9/intune-endpoint-mobile-device-encryption


So, do they support uhs3? According to http://www.sandisk.com/HD uhs3 is required to support 4k videos. I haven't found a microsd card over 64gb that supports uhs3.

When I opened your link, my computer detected a malware/virus.

According to the article the new Lumias support micro sdxc UHS-1. Does anyone know if they also support the faster UHS-3 standard? UHS-1 standard have a minimum of 10 mb/s serial data write speed, whereas the UHS-3 standard have a minimum of 30 mb/s serial data write speed.