Highscreen preparing to launch new affordable Windows Phones in Russia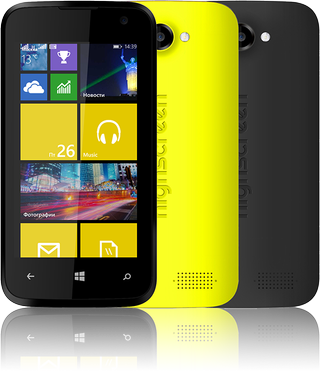 Russia-based Highscreen is looking to launch two new Windows Phones. The brand (owned by Vobis Computer) will bring to the market WinWin (pictured above) and WinJoy, two interesting names to match the variety of colors that will be available. These new handsets will be affordable solutions for those looking for an absolute bargain when it comes to picking up a new smartphone.
To cement plans to launch two new Windows Phones, Highscreen has both the WinWin and WinJoy listed on the official website, coupled with specifications for the unannounced hardware. The WinJoy (pictured below) is the cheaper of the pair, but both Windows Phones sport similar components. We're looking at 4-inch displays (800x480), Snapdragon 200 CPU, 512MB of RAM, 4GB of internal storage (expandable via microSD), 5MP rear shooter and 0.3MP front-facing camera.
Where these handsets differ is in design, dimensions and battery. The WinJoy has a 1,700mAh power plant, while the WinWin clocks in at 2,000mAh. As touched on already, both will be affordable, priced at 3690 rubles ($90) and 3990 rubles ($100) respectively. The new Windows Phones from Highscreen are expected to launch in Russia soon.
Via: WP7Forum (Russian)
Windows Central Newsletter
Get the best of Windows Central in your inbox, every day!
Rich Edmonds was formerly a Senior Editor of PC hardware at Windows Central, covering everything related to PC components and NAS. He's been involved in technology for more than a decade and knows a thing or two about the magic inside a PC chassis. You can follow him on Twitter at @RichEdmonds.
These phones are bad. I wont even start describing why...

But THIS IS HOW ANDROID IS EVERYWHERE NOW. So it's PERFECT for Windows phone platform.

Lol. Ever heard of Android one line up of phones less than 100$ with better specs & Moto E.Android has way more options and most of all it is miles ahead of wp in apps,games and overall experience.

Yeah, but I've heard from at least 1 person that there is stutter/hangups in 1 second intervals everywhere. And this is on the higher specced Moto G.

Why do you people keep regurgitating shit that isn't true? It's really quite sad.

Check out Cherry mobile here on PH. they're producing WP also :D

I like the device's names. I hope they turn out to be good products.

More windows phone on more OEM it's time to android step down

Snap 200 & 512mb ram WTF Srsly Microsoft shouldn't allow such low specs.Lag as hell (Resuming,Crashing & what not) & peeps say wp are lag free.Just tired of using lumia 920 wp8.1 is just Bs wp8 was better.

I have a Lumia 530... No lags at all! Amazed... My Lumia 1020 with WP8.1 lags more than my 530... :/ No lags with Games hub, no lag with Skype, no resuming... or loading... screens, etc... Lumia 530 seems much more fluid than my last year's 'flagship' Lumia 1020.
Not just that, but my friend's old Samsung Focus is a lot more fluid than my Lumia 1020.

you don't know about you talking... realy... a have a more potent smartphone. a Lumia 635, and lag... you dont put so much apps running in the background... because this your phone is so "fluid"... don't compare this way... please...

I have a Lumia 630 on 8.1 and befiore that a 520 on 8.1 and I had no lag or crashes on either. Maybe your 920 is just getting ready to die.

Don't say this Bro. My Screen has already a thin pink line of dead pixel from top to bottom.

Oh no! Im sorry top hear that. I had the same problem with my iPhone 3GS before the home button died, Pick up a cheap 520 or 630. The 520 is $40 at target with no contract and I got my 630 from Cricket for free

Dead pixels are the worst.

Yes indeed.Just irritating.

Better than Lumia 530 for the price. :/

Just no.. It starts with the look of the devices ... And that's where is stop .. Hope its just a joke

Competition for the 530 with a larger battery on both models AND a front cam, albeit small .3 mp. Still I wish my 521 had those two with what it already brought.

At least they have proper Windows Phone buttons

Haha indeed but miss out Nokia's suite of apps & add-ons.

Now in Russia we can buy BLU Win JR as Highscreen WinWin. Vobis Computer should announce their rebrandings for BLU Win HD and Xolo WIN Q900s.

they look good and the price is fantastic and you get a wp so whats your problem people?

these oems have to keep 1 gb ram minimum to give better performance

Nobody wants to make high end windows phones anymore...the only new high end phone is the htc one that everyone on here is pretty much gonna burn because of past experiences with an htc phone. Is it doomed to budget phones now? Microsoft should at least make one high end phone before the year is up IMO

I'm not sure if this is Microsoft's intent or not, but Windows Phone has become synonomous with budget low-end now. I have a co-worker who bought a Windows Phone for her young son. She's an iPhone user. She said "I got a Windows Phone for him because Windows Phone is cheap." Pretty soon, all anyone will ever see are low to mid range Windows Phones on the street. That perception, in my opinion, will hurt the brand in the long-run.

Like it hurt Android? lol

Wow one more new windows phone family member also came

WinWin and WinJoy, the names are just ridiculous!