Take some hilarious selfies with Warp Photo Booth for Windows Phone 8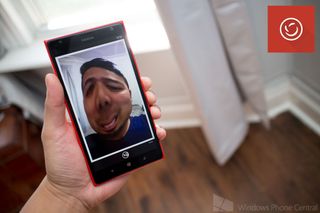 The word of the year for 2013 was 'selfie.' If you want to have some fun with selfies, then definitely check out Warp Photo Booth for Windows Phone 8. Just launch the application, and take a picture with a very funny distortion effect. It's a really simple photo app and we're having a lot of fun with it.
Head past the break to watch our hands on video and walkthrough.
Features:
Switch between the two cameras.
Live preview of the effect.
"My warpies": your personal gallery.
See each warpy one by one in full size.
Easily share a warpy with any sharing application installed on your device
When you open Warp Photo Booth, it activates the front facing camera. The distortion effect makes you look incredibly funny. Move and tilt the phone for different looks. If you're happy with what you see, click the capture button at the bottom.
Want to use Warp Photo Booth on a friend? You can switch to the rear-facing camera.
All your photos are stored in the warpies gallery, ready for sharing. Warp Photo Booth uses the built in Windows Phone sharing option, so you can send these photos to Facebook, Twitter, Instagram, Email, MMS, etc. We prefer sending the photos to 6tag.
There's currently only one warping effect, but an update is expected to bring more. The developer, Théo Rémy, also shares on Twitter that he is bringing in-app purchases to Warp Photo Booth soon.
If you are a Mac user, then this app will probably remind you of Apple's Photo Booth application. We're liking Warp Photo Booth so far and we're looking forward to the update with more warping effects.
Warp Photo Booth is a free download at the Windows Phone Store. Check it out and let us know what you think of it in the comments!
Windows Central Newsletter
Get the best of Windows Central in in your inbox, every day!
I think my selfies don't need an app to look hilarious

But you can make them even more hilarious.

LOL❕❕❕❕ Word to the wise... For those who like to take pictures of themselves in front of mirrors, please clean the toothpaste stains off the glass before getting the shot.. It just looks ghetto..

Aaaaand, flush the toilet first.. Please.

Yeah.... Nasty biaches...
.................
Wait, if she's hot then I like to see it.... ;-)

Stil, flush the toilet first please...

Yeah, Mark, the article is fine, but I want to see some sample shots from the app ;)

Sorry about that. Thought the screenshots and video were enough to show you how the photos look.

Lol um... I think you misunderstood me. I was joking that the pictures were natural ;p

Already putting this app to good use :)

I saw,that cover image of Mark on Instagram. ;)

any photo apps out that turn you into an anime character?

MangaCamera http://www.windowsphone.com/en-us/store/app/mangacamera/a1634bc6-6be9-4f...

Thank you. I'm a Nokia owner though :(

use fidder2 and install it at nokia. I have nokia too and this app is installed.

Check out "SnapToon" for Windows Phone http://www.windowsphone.com/s?appid=af045560-f50b-4180-a779-10bcc95a2f8b

Useless for my dust-ridden front camera.. =(

What phone? Had the dust issue with my 920 after only 4 months. No dust on my 925 front camera yet

Yup, first batch of the 920, HW revision 6.5.0.0 - price for being an early adopter..

I used a couple of shots of compressed air toward the seal above the front camera to clear it out. Still, that front camera is not that great.

Tons of times, it keeps coming back.. Don't use it much anyway.. I'll deal with it once I'll be switching chassis and digitizer one day..

That problem was not fixed for the firsts L920?
My 720 dosen't have a single dust particle..

SAMSUNG already has a W8 app that does this plus more.

This is just awesome, great app!

WarpPic - my suggestion.
soon this dev will be posting an ad here in wpc for renaming this app when apple sues them. That's my suggestion
Windows Central Newsletter
Thank you for signing up to Windows Central. You will receive a verification email shortly.
There was a problem. Please refresh the page and try again.